Browsing articles in "TaniaQ"
Pink Bikini! That's my favorite color. I guess the color of the bikini does not really matter as long as the cut is sexy. But since I like a nice pink bikini, I thought I would show one of mine off. Well? What do you think? About the color and also the cut. I adore them both.
Another thing I like about a sexy bikini other than the color is how it makes a girls body look. My little pink bikini here makes my boobies look bigger and my ass a lot more round. It also fits nice and tight and I like the feel as well. If you like the look I would love to know about it. Make sure to rate my photos or at least comment on them!
Because of the snug fit on my tits and even my ass I will often wear a bikini as panties and bra. Since I am small in general except my cock and that's easy enough to hide. I also like to wear my pink bikini with just shorts and heels. When I do, I can then strip off the shorts and run for the water if I want. It's sexy and often a turn on and that means a quick fuck some times. Bikini's make easy access for that and its exciting.
If you know of another type or color of bikini that might look good or even great on me, Please let me know! Post comments here or in my website about it. Also if you like you can just buy one and send it to me and the next time I film I will wear it for on you.
That's actually how I got this pink bikini. It was from a fan. He loved it on me in the photos so much he came to see me. But I cant show you those photos or that video. Those were private!
Join me now and lets talk about things. Clothing and what ever turns you on.
Slutty High Heels and stockings. Well guys. As you most likely already know, my name is TaniaQ. And yes that is me in the photo below. I was posing in my Sluty High Heels and thought that I would share a photo from the set. I hope that you like it as much as I do. Its very sexy and I was really turned on shooting this set. My cock was really hard and ready to fuck some ass that day.
I guess I always get really horny when I shoot photos and videos. So come and shoot with me some day. Then we can fuck really hard.
Click the image below to check out my website tour.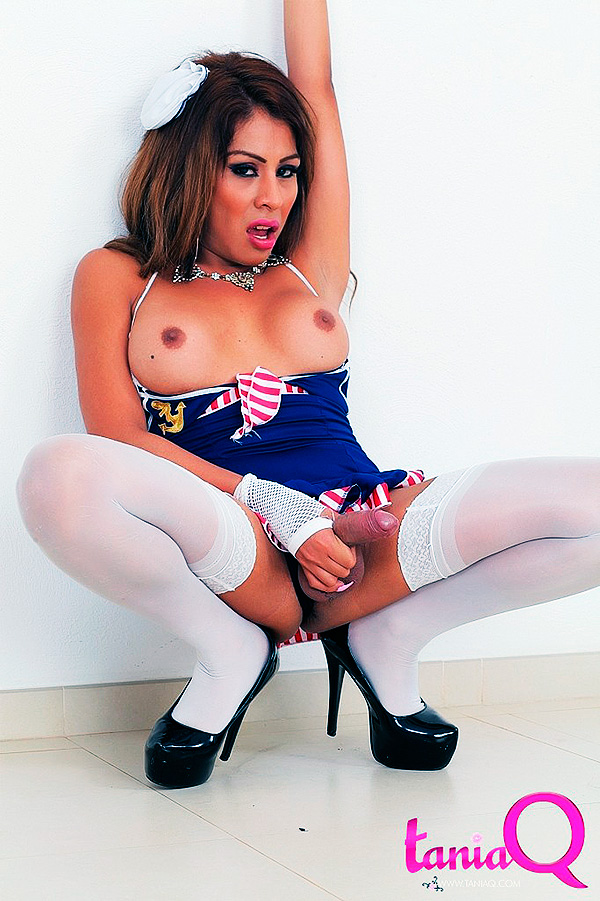 Click here now to join me and see the rest of this photo set.
Other wise you can see more sexy sample photos and videos of me here on this site. Just be sure to understand that these are lower quality than the ones in the members area.
Stockings on TaniaQ! Hey guys it's me TaniaQ! I wanted to get your opinion on some stockings. I wanted to know what you think. Do you like them on your favorite tranny?
Stockings are often a great accessory for sexy lingerie and they make a girls legs look nice. So when I first stated using them I thought they looked great as well. Also they lend a sexyness that not all lingerie has! While I have them on also like to have on sexy heels. I think its another way to improve the look. But I really need some opinions on them.  Will you be nice enough to help me with that?
Another thing is that they tend to make a girls legs look longer. And for some reason you men love a girl with long legs. I guess its the idea of them being wrapped around your waist when you fuck her tight little ass hole.  Do you think I'm right? Gosh I sure hope I am. And if I am I want you to come and show me. Make me feel your body between my legs. Let me feel your cock as you thrust it deep into my love hole.
Because I love lingerie so much you will notice I have them on in a number of my videos and photos. Please let me know in my website which ones you like and dont like. Also make sure to mention the over all lingerie. You can post in the members area and also post here on this blog.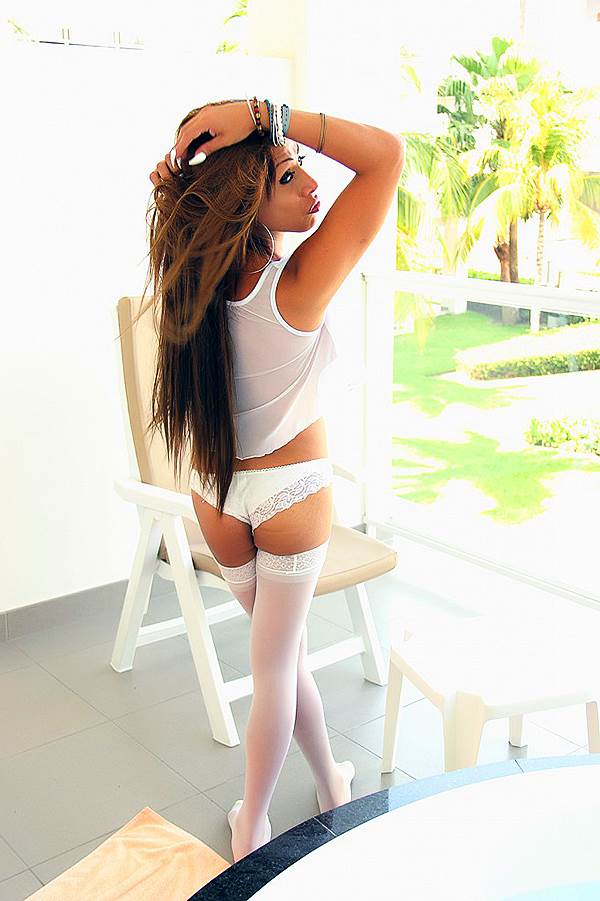 I also would like to know what color looks best on me, or what color you like best. I will add a poll below and I hope you will vote to help me out some. Also comment. I love to chat with guys about what turns them on and gets them hot!
I am always willing to talk so get with me as soon as you can. Let me know what you think about the stockings and what looks hot and not. Also tell your friends online about my blog and website.

 Loading …
When it comes to a wild trans girl doing things that turn men on. TaniaQ is probably the most likely girl to do something. She really enjoys flashing trans cock and bought this jacket just for that. She wanted something a touch longer but she actually wears this in public when she wants to go out. Tania says that flashing trans cock in public is a turn on for her as well as for the men that she flashes. She never does it where kids are and or women. Unless that is a couple more or less asks her to do it. Then she will.
As we have told you, TaniaQ is a wild child and really enjoys and gets off on doing naughty things in public as well as cosplay. That means she will dress up as a character for you at home to add excitement to a bed room romp! So now that you have had a taste of TaniaQ flashing trans cock its time to see a little more. To watch her get naked and jerk her fat cock for you. She loves to shoot her hot sticky load as often as she can and she wants you to watch her. If you are in, click the image below or a text link right now!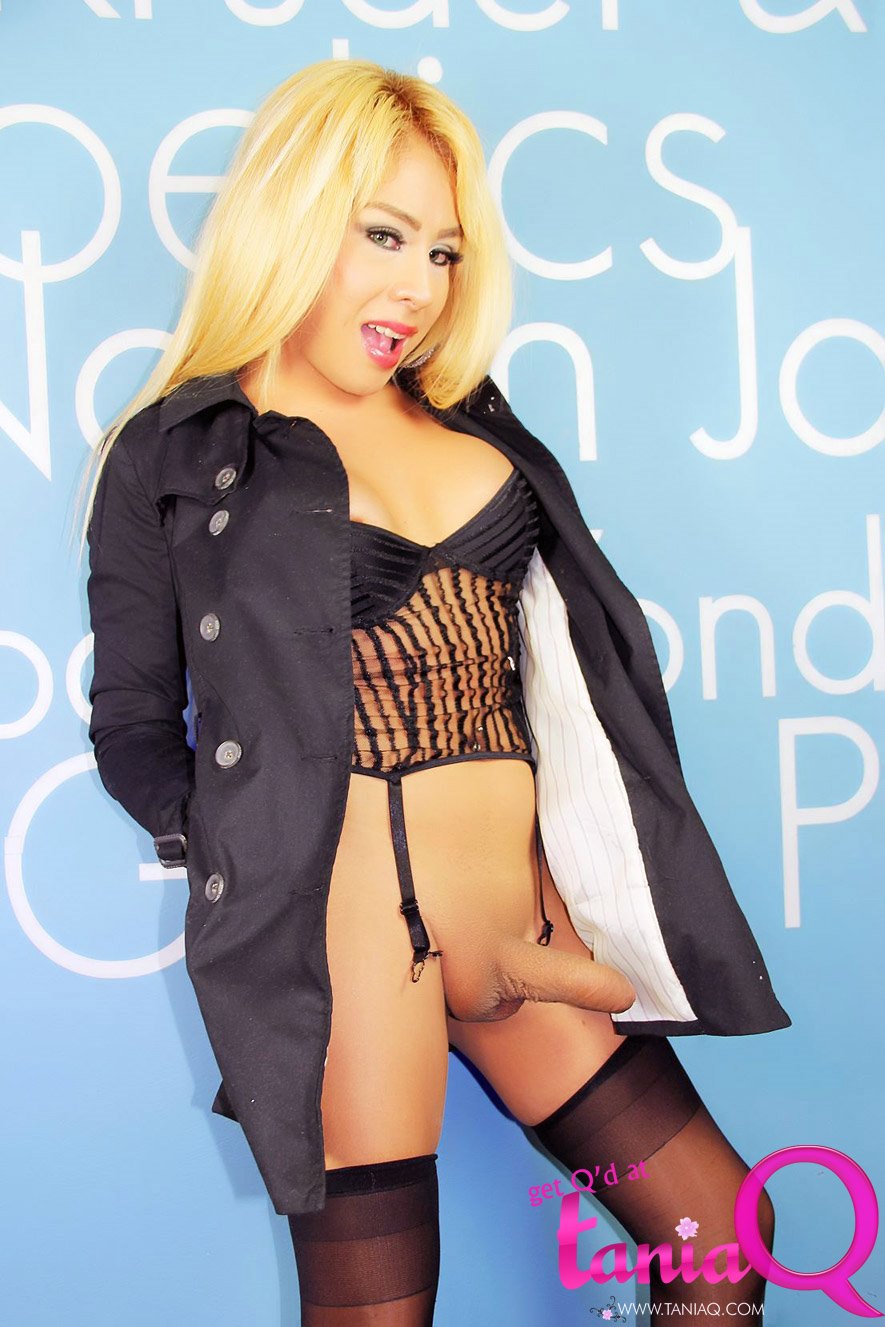 Hell yes I am IN for more of TaniaQ. Clicking right now!
When you go surfing for a hot trans girl, you need to look for a girl that is a bit on the wild side. That of course makes them a lot more fun to be around. And I want you to know that TaniaQ is your girl. Just take into consideration her photo here Trans girl Cock outdoors. You can easily see why its called that. But what you cant see that this Trans girl cock outdoors photo was taken at a pool in a public area. The place is for adults only so do not worry about that. But do keep in mind there were other people around and she was HOT. So she got her cock out to play with it.
A very funny note is that she almost shot her load in the water. But Im getting ahead of myself. So the pool is located at an adults only resort and Tania had been teasing a few guys by spreading her legs and letting them see her swimsuit. But her cock was tucked way back and they had no idea that she was a hung shemale rather than a GG. Until that is the Trans girl cock outdoors photo was taken. But by then it was way too late. The guys were hooked and Tania was hard.
Click on the image below to check out the rest of this photo set.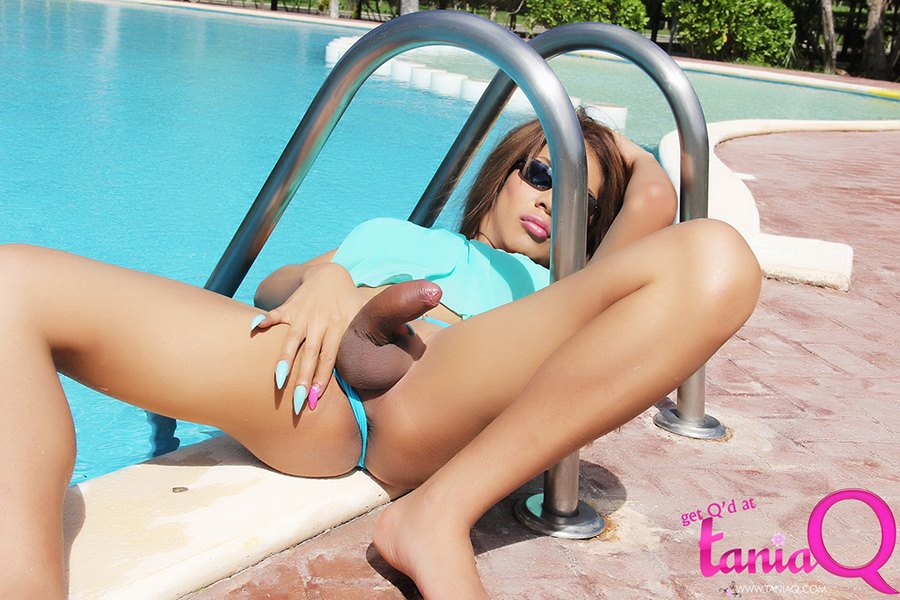 Trans Lesbians.
Yes guys I do actually swing that way. I can go full lesbian any time. Trans Lesbians that is. I do so love a girl with a nice set of tits and a big hard cock. Not always but some times. The raven haired beauty in the photo below with me is Natalia. She has been my friend for a few years and I always wanted to fuck her. When I started my website I messaged her and asked her to pose for it and of course with me. This turned into some hot Trans Lesbians sex and I was in heaven.
Click on the image below to see more right now and get off with me.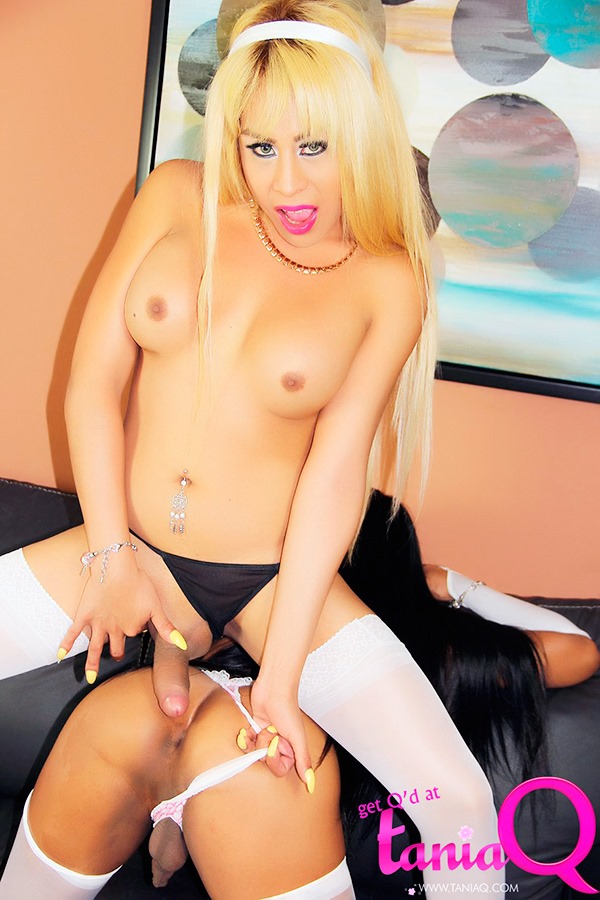 The video that we made after these photos was pretty hot. Natalia has a nice thick cock and it was very hard. The odd thing is I dont know if she was hard for me or the camera guy! But she had a lot of fun and on the way home wanted to know when we would shoot again as well as if I wanted to go out on a date with her.
Click here to see and read more about me and Natalia.
Otherwise I also have some sample photos and video clips right here on the site. So take a look at my hard cock!
Mexican trans Foursome! And this is super star packed. First of all, from left to right we have the busty Naomi Chi! Then Nikki Montero the first Latina tranny.Then of course we have me, TaniaQ! tight and tiny blonde with a big cock. Finally, we have our little bottom girl and she is none other than Nina StrongHold. Beautiful and also busty and loves to have all the attention for herself.  And wow how much she loved the cock and attention she got from us.
Click now and check out more of this Foursome set. You can click on this photo to see more or you can also click on one of the text links. They both take you to the same place. Further more they are going to shot you how hot things actually got that day. Come and watch this hot Mexican trans Foursome!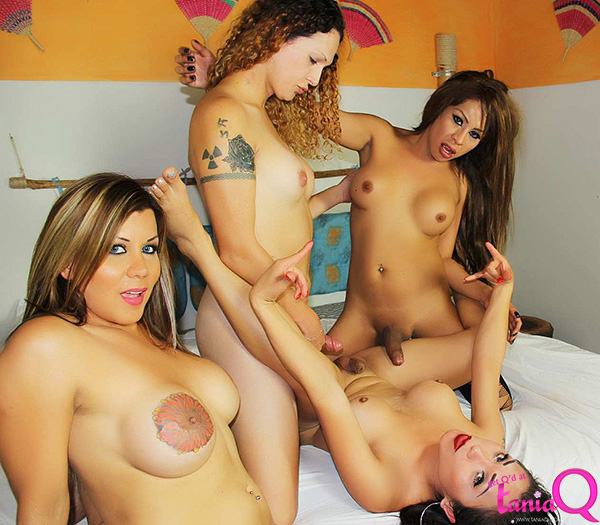 Come and join us and watch the movie as well. It was a lot of fun being naked with these amazing trans girls and I am sure you would love to get involved.
Click now on one of the text links above and see the rest of this set.
Otherwise you can also surf around on this site for more free samples of me Naked and hard.
Tight tranny asshole. TaniaQ wants to share hers! So yes, when it comes to a tight tranny asshole I have one. As you can see in the photo below. Getting your cock into me is like pushing a three inch pole into a 1.5 inch hole. So if you decide you want to fuck my tranny ass hole make sure and bring plenty of lube. Yes I do love a good ass fuck.
However I am so tight that you have to be gentle as you put the head of your cock into my hole. That first spread needs to be slow. Using a lot of lube so the ridge of the head of your cock does not rip me open. Don't get me wrong. That's the most pleasurable pain in the world.
But once your shaft is deep and the head of your cock is hitting my prostate then you can ride me like a wild animal.
Click here now to join my site and watch this being done to my tranny ass!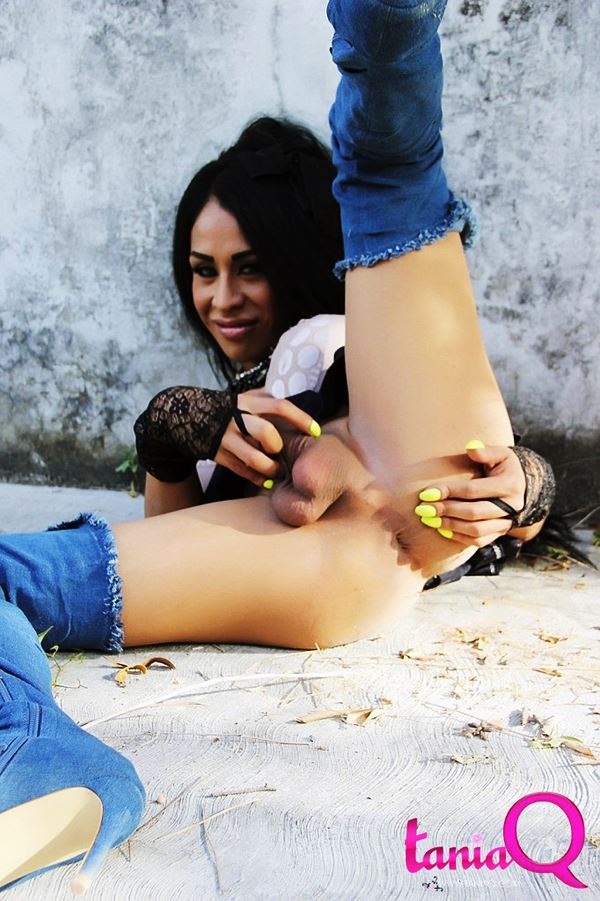 If you want to see some more samples here of me. You can surf around. I have both clothed and nude. So enjoy!
Otherwise click here and join my members area right now for some hardcore fun!
TaniaQ Open ass for sex! Come and get some! Hi guys. Its me TaniaQ and I am back with a new photo set to share. I also wanted to make it an invitation! So sit back and enjoy this sample photo of me in Open ass for sex! I want some cock and it goes right there guys! Right into my title little open ass! So if your hard and you already have your cock out. Its time to get it wet and dip it into my love hole! No NOT hesitate to come and sink your hard cock into my ass hole. I am waiting for you!
Click here to check out more of this photo set. Closeups and all!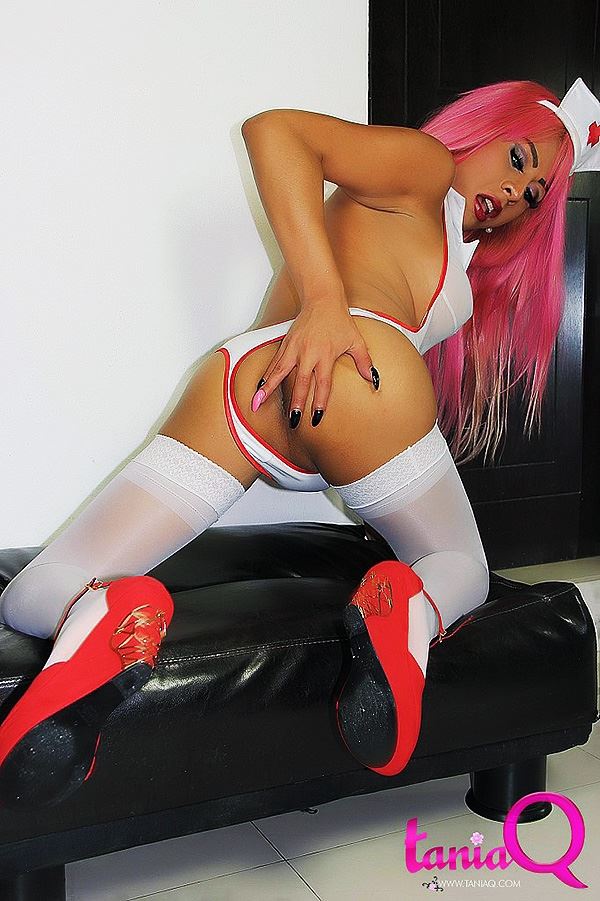 I love getting my ass hammered. And I love to do the same to a tight ass. So come and visit me and let me know how hot you got with this set. Then we can talk about who will top who!
I hope to see you in my members area today. You really do not want to miss my updates!
Click here to join me and also to rate and comment on my sets.
Otherwise you can surf more samples of me on this website right here!
Big Mexican Tranny Cock! Hi guys. For those of you who know me. Hello Loves! For those of you who do not. I am the interactive trans of your dreams. I am TaniaQ and I want to share my Big Mexican Tranny cock! For those of you who love an interactive trans, I am your girl. I have a nice tight love hole that is always ready for some cock. And I also have a big fat tranny cock of my own that loves to destroy and ass!  If you are up for some bottom action and hell even some top action lets hook up and get fucked together. We can flip a coin for who goes first. That way its random! So let me know what you are into and lets have some fun!
Click here to see the rest of this photo set and also the video!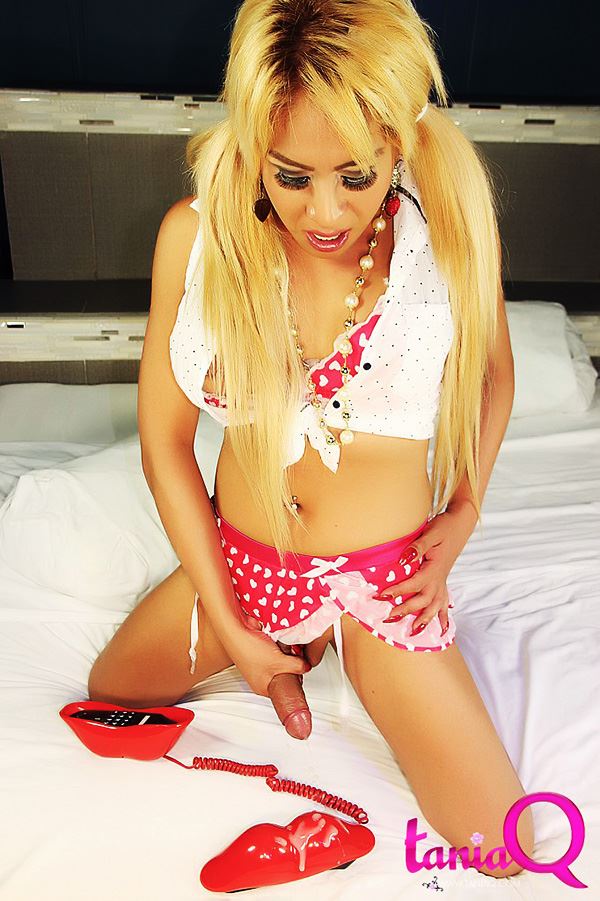 Do not miss your chance to get off with me. We can stroke together or me inside your love hole. And also you inside mine. Just let me know what you prefer!
Click here for more samples of my hard tranny cock on this site.
Otherwise get your membership right now for my site!
Tranny Tits outdoors. Come and see TaniaQ! Hey guys its me again TaniaQ and I had another shoot outdoors. This was on a side road and there were plenty of cars going buy. Some guys even stopped and watched. Its kinda hot to have men looking while I am doing these photos. Let me know what you think. Oh and if you want to see me model something specific just write to me in the members area of my site.  I can not wait to hear from you!
Come and see me and we can go shoot in public some place. It will be fun and exciting to do. I love doing it and it makes my cock hard. Its always nice to see a hot set of Tranny Tits Outdoors. So the next girl you see posing and flashing, make sure to let her know you enjoyed watching! I have plenty of them. One at a park. And a couple of them at a public pool. All of them show off my good parts!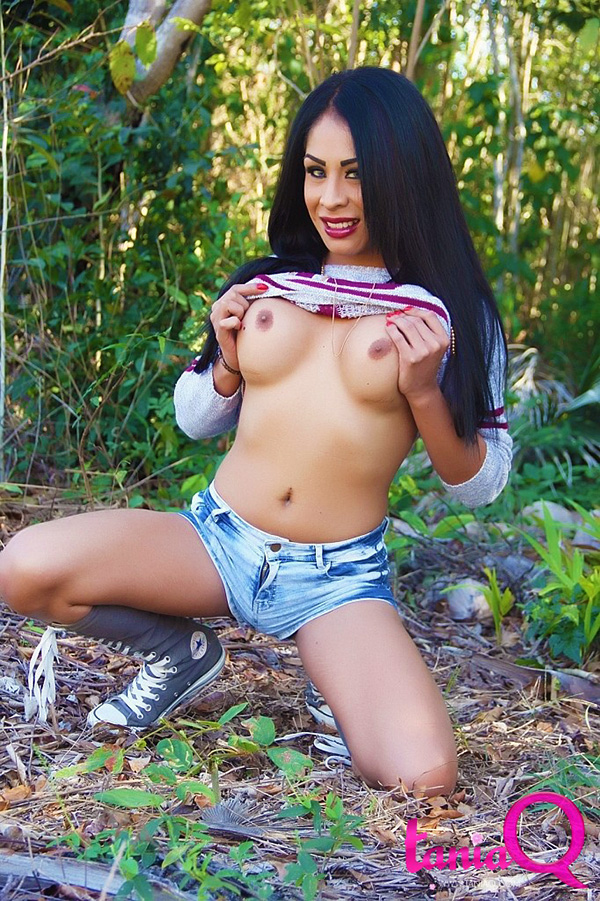 Click here and join my members area right now. You wont regret it.
If you want to check out some other samples of me. Click right here.
I'm waiting to meet you my dear!
Trans in Public. More like with me, its Trans in public half naked! 🙂 For those of you who do not know me, I am TaniaQ and yes I am almost always half naked in public. I like to have both men and women look at me. Sometimes it causes issues but usually just questions.
I am a very open girl and love to explain my life and choices. It makes people happy and then they dont mind so much when I am half naked in public. So come and check out the photo and also video sets in my members area to see more of me in public places. Half naked and usually hard as a rock. Just come and watch me and you will see. If we ever meet you can take some of my public photos and videos. You will love it.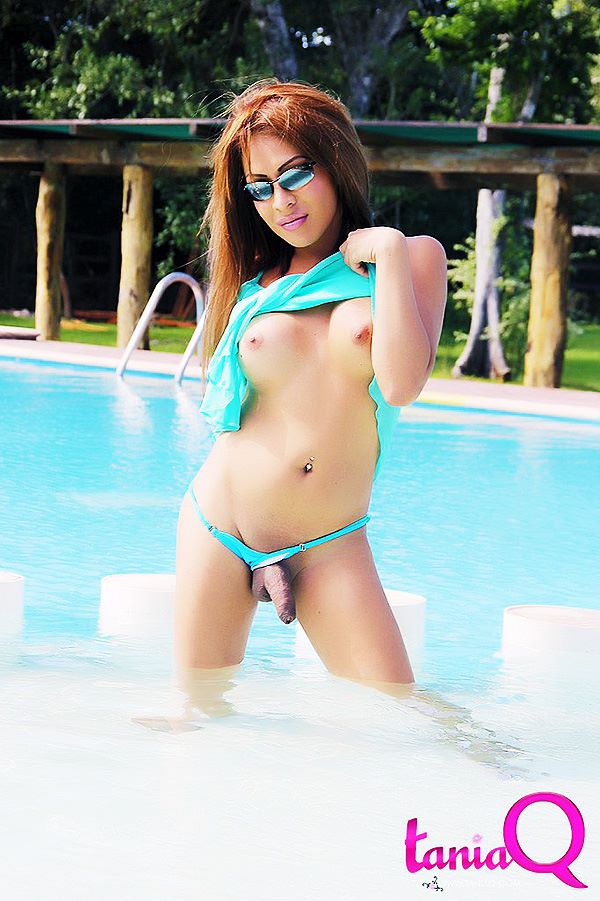 Click here right now to check out the rest of this photo set.
Otherwise if you want to see some other samples of me in public, click here!
Come and see me soon guys. I want to get to know you.
Hot Sites to check out!
Categories