Browsing articles in "High Heels"
Ass Fuck! I'm ready for your cock and some hard core action! Im also ready for a great ass fuck. We just now need to decide who receives and also who is going to take it. Since you seem to be looking for a hot tranny and a good Ass Fuck, I want to offer mine. I have a nice tight little ass that can take a big or small cock. Im very tight that way.
Another thing is I also like a good mouth fuck. So if you have a hard cock and need action, Im your girl! I also happen to have a big cock so If you would like I can put mine in you. Mouth or ass hole I dont care either. As long as we both get off.
This photo of me below is one showing off my tight little hole. I know for a fact you like it. You also get a nice shot of my hard cock and balls in this photo. And let me say, pushing my cock down that far was a bit hard to do. I have a thick 9 inches and I know how to use it. So right now, grab some lube and lets get it on!
For those of you that like it, I also wear a lot of costumes! If getting off with a hot maid is good for you, Let me know!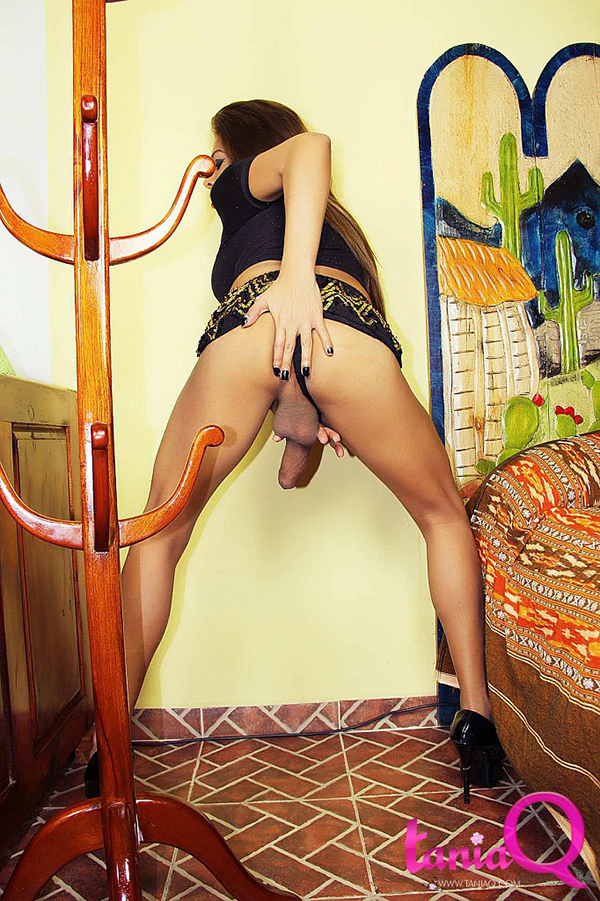 This photo set was a lot of fun to shoot and I ended up making a hell of a cum shot in the next video. Because Most men like to cum I want you to join my site right now and watch the videos. All of them and make sure you get off.
The members area is set up for you to enjoy yourself and see what others liked as well. Take a minute right now to join the site. Click here.
If you miss this, well, its your fault!
Anal Toy! How big do you like them? So, I am TaniaQ the babe that makes this blog. This site is used for my promotional photos. I love to show them off and need to know what all you want to see. I also want some comments form you. So let go of your cock with 1 hand and make sure to comment here on this site. If its text like ( jheiwjfbjdsb fh ) I will understand. 🙂
First of all. For those of you that do not know me, I am TaniaQ a Mexican Tranny and also a working girl. However with your help on my site I wont be working any more, just filming videos with you. So take a minute to look around here at this site and then check out the members area of my other and official site!
I think maybe your going to love it. All the content was shot in UltraHD! Well almost all of it. Some I shot with a smaller camera to grab some POV action! Check it out today and dont miss any of my updates.
Because I like to please you I want to know what you like in an anal toy! Personally I love a combination of fat and long. But thats only for when Im alone and also masturbating. For cock instead of an anal toy I will take it anyway I can. As long as its Hot with blood and hard!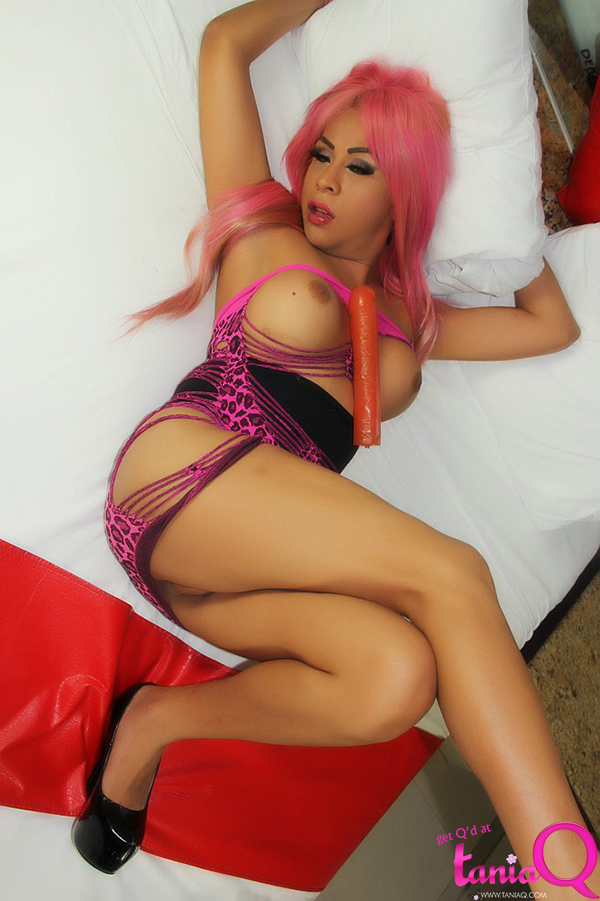 So take a look at the anal toy I have in this photo. If you have one similar maybe we can play together on video. That would be so amazing. I would love to do a video like that for my members area!
Take a few minutes right now to write to me and let me know what you think about my photos and videos. I will reply back as soon as I can. Also drop me some messages in my members area so I can reply there more privately!
Hard Nipples and boots! Yes I said boots! But I am certain your focus is on my hard nipples! Or at least I hope it is! If your a boob man you just might enjoy mine. They are very firm and my nipples get nice and hard when someone touches them. So yes that means that when this photo was taken someone had been touching them. Or maybe Kissing or licking them.  So tell me, are you into boobs? Or do you want to play with my tight little love tunnel?
Did I also mention that my tranny tool is a pretty big one? Its just at 10 inches long and very fat.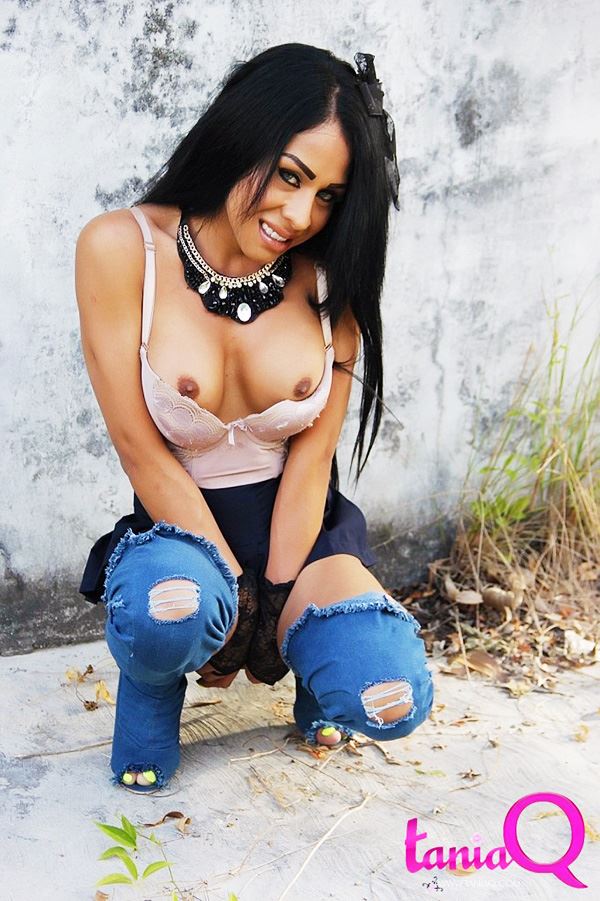 For those of you who like soft care photos and videos. I have them. But I also have hardcore and toys.
Let me know what you prefer and maybe you can even come and shoot with me? I am always looking for a hard man to shoot with and play with. We can get into some hot and hardcore fun on camera. That of course adds to the pleasure of it.
Click here to join my members area now.
Or surf some older posts on this blog. Also make sure to rate and comment as you go.
High heels! Or is it the shemale erection? So in the photo below, which one attracts your attention the most?
The High Heels or the tranny erection? Lots of men could care less about the heels. However heels make the leg shape a lot sexier and that in turn makes the cock look better. So you need to ask yourself which you prefer. Is it the heels? Or is it the shemale erection. Also could it be the combination of the two? When combined a lot of the times the girls keep thier cocks harder longer no matter what you are doing. Girls like TaniaQ just feel sexier in the high heels so they love to strut around and show off their cocks. That of course opens up more fun for you because of the things you can do. Just get your favorite trans girl to walk around naked and hard in heels. Watch the ideas pop into your head and watch your cock stand up rock hard as well.
Click here to check out the rest of this set in TaniaQ's members area.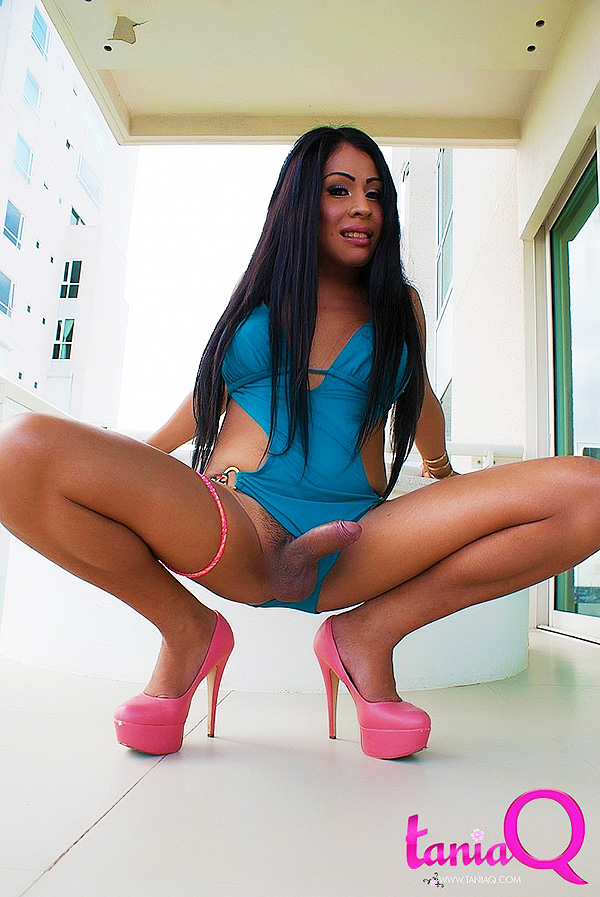 Other wise you can simply surf around this site for more amazing and hot photos of Tania!
Please rate and also comment on the sets that you like the most.
Categories
Hot Sites to check out!