Browsing articles in "TaniaQ"
When it comes to a wild trans girl doing things that turn men on. TaniaQ is probably the most likely girl to do something. She really enjoys flashing trans cock and bought this jacket just for that. She wanted something a touch longer but she actually wears this in public when she wants to go out. Tania says that flashing trans cock in public is a turn on for her as well as for the men that she flashes. She never does it where kids are and or women. Unless that is a couple more or less asks her to do it. Then she will.
As we have told you, TaniaQ is a wild child and really enjoys and gets off on doing naughty things in public as well as cosplay. That means she will dress up as a character for you at home to add excitement to a bed room romp! So now that you have had a taste of TaniaQ flashing trans cock its time to see a little more. To watch her get naked and jerk her fat cock for you. She loves to shoot her hot sticky load as often as she can and she wants you to watch her. If you are in, click the image below or a text link right now!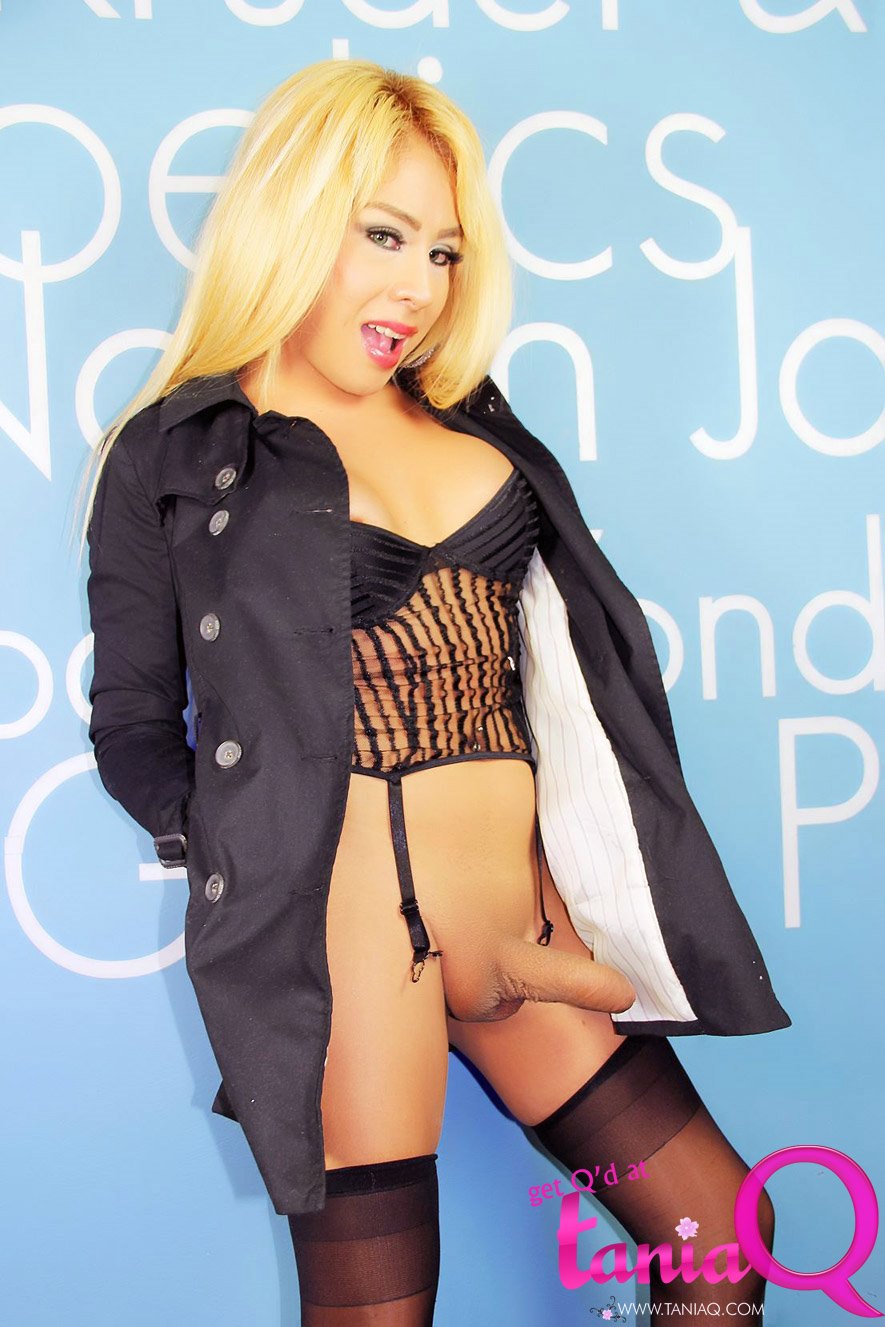 Hell yes I am IN for more of TaniaQ. Clicking right now!
When you go surfing for a hot trans girl, you need to look for a girl that is a bit on the wild side. That of course makes them a lot more fun to be around. And I want you to know that TaniaQ is your girl. Just take into consideration her photo here Trans girl Cock outdoors. You can easily see why its called that. But what you cant see that this Trans girl cock outdoors photo was taken at a pool in a public area. The place is for adults only so do not worry about that. But do keep in mind there were other people around and she was HOT. So she got her cock out to play with it.
A very funny note is that she almost shot her load in the water. But Im getting ahead of myself. So the pool is located at an adults only resort and Tania had been teasing a few guys by spreading her legs and letting them see her swimsuit. But her cock was tucked way back and they had no idea that she was a hung shemale rather than a GG. Until that is the Trans girl cock outdoors photo was taken. But by then it was way too late. The guys were hooked and Tania was hard.
Click on the image below to check out the rest of this photo set.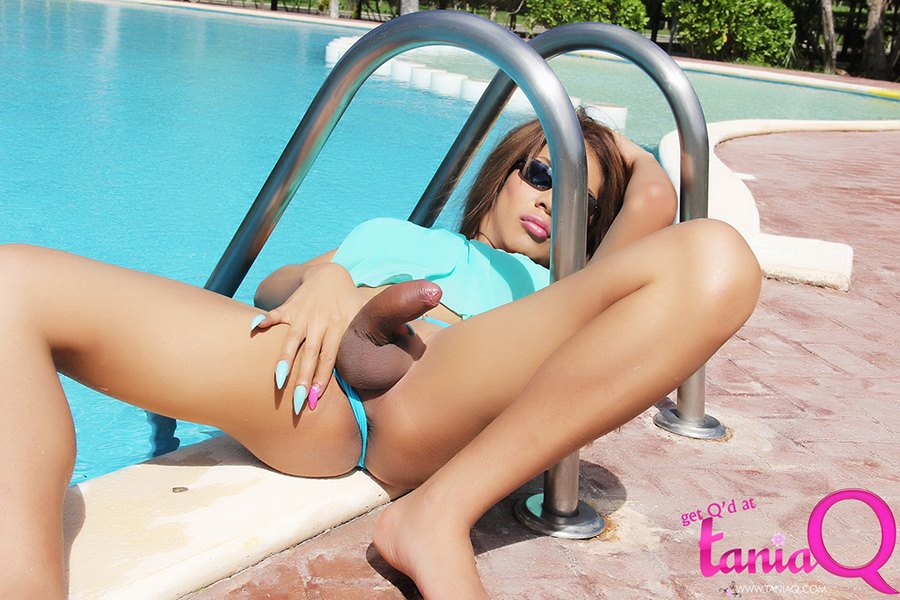 Trans Lesbians.
Yes guys I do actually swing that way. I can go full lesbian any time. Trans Lesbians that is. I do so love a girl with a nice set of tits and a big hard cock. Not always but some times. The raven haired beauty in the photo below with me is Natalia. She has been my friend for a few years and I always wanted to fuck her. When I started my website I messaged her and asked her to pose for it and of course with me. This turned into some hot Trans Lesbians sex and I was in heaven.
Click on the image below to see more right now and get off with me.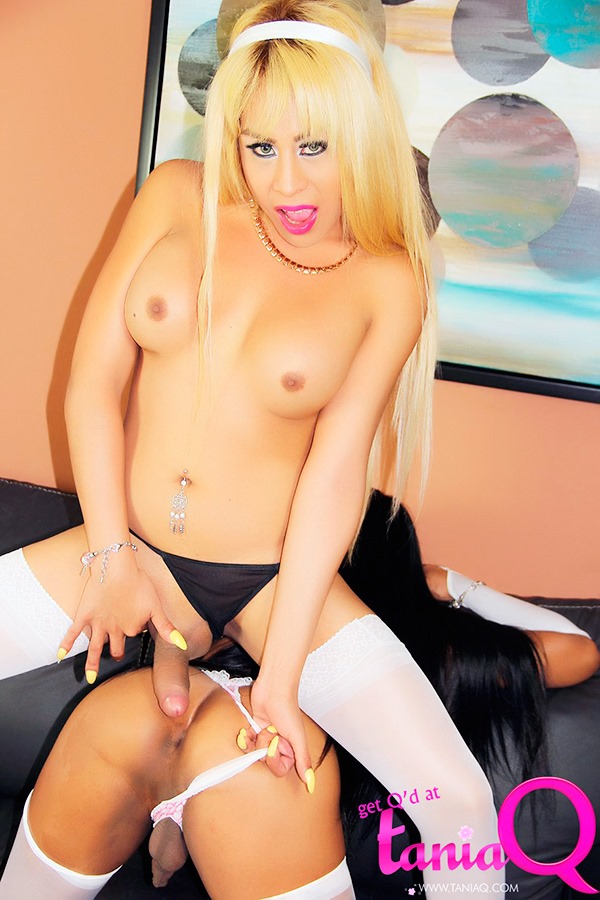 The video that we made after these photos was pretty hot. Natalia has a nice thick cock and it was very hard. The odd thing is I dont know if she was hard for me or the camera guy! But she had a lot of fun and on the way home wanted to know when we would shoot again as well as if I wanted to go out on a date with her.
Click here to see and read more about me and Natalia.
Otherwise I also have some sample photos and video clips right here on the site. So take a look at my hard cock!
Mexican trans Foursome! And this is super star packed. First of all, from left to right we have the busty Naomi Chi! Then Nikki Montero the first Latina tranny.Then of course we have me, TaniaQ! tight and tiny blonde with a big cock. Finally, we have our little bottom girl and she is none other than Nina StrongHold. Beautiful and also busty and loves to have all the attention for herself.  And wow how much she loved the cock and attention she got from us.
Click now and check out more of this Foursome set. You can click on this photo to see more or you can also click on one of the text links. They both take you to the same place. Further more they are going to shot you how hot things actually got that day. Come and watch this hot Mexican trans Foursome!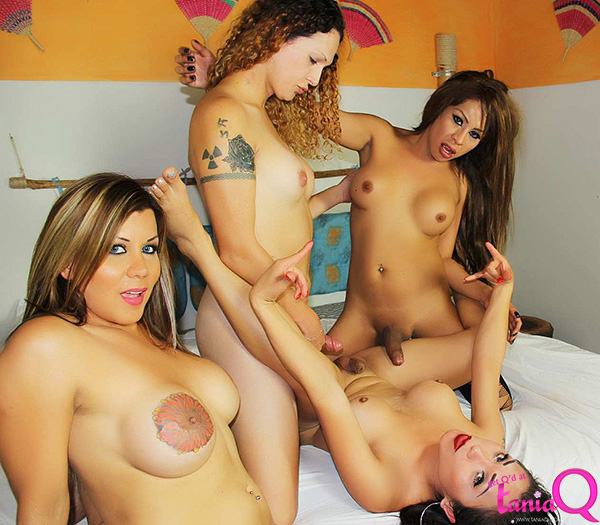 Come and join us and watch the movie as well. It was a lot of fun being naked with these amazing trans girls and I am sure you would love to get involved.
Click now on one of the text links above and see the rest of this set.
Otherwise you can also surf around on this site for more free samples of me Naked and hard.
Categories
Hot Sites to check out!