Browsing articles in "Cock"
TaniaQ hard Cock trans. So guys you have been looking for the right trans girl? Well here I am. I am TaniaQ hard Cock. Or at least that's how a lot of my fans refer to me.  If you really want to find out for yourself lets get together!
Take a look at the photo below. I was making movies when a fan decided to chat on the phone and have phone sex. Of course that got my cock hard to so we grabbed it on video and now you get to enjoy it!
Click here to watch my hard cock throb for you.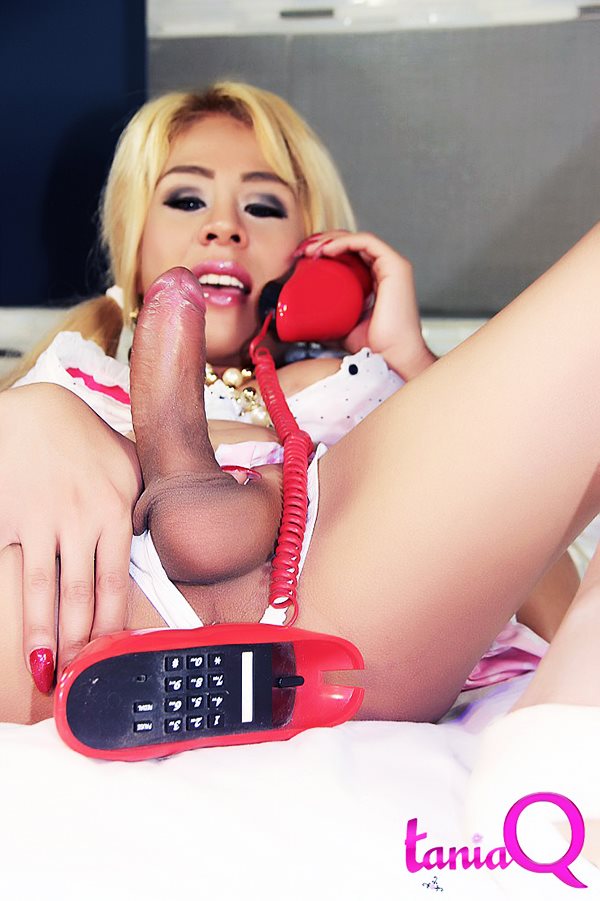 Otherwise you can surf around on this site for more samples. I know your going to get your cock out and hard and start stroking. But if you want to cum with me, you need to join me now!
I have told you before that TaniaQ is a wild child. So we are a bit surprised that she wanted to do photos and a video of phone sex. Do not get me wrong, Phone sex with TaniaQ is pretty damn hot. But when its for a video and photos for her site we were just a bit skeptical. And as always Tania brought a sexy outfit to wear. She got dressed up and climbed on the bed and pulled out a big red phone. Yeah Surprise!!! Then she popped in an ear piece and took a call on her cell. But she hid the cell. Apparently she had a guy on the line telling her what he wanted to do to her amazing and hard trans girl body.
Anyway the cameras started to go and she was using the phone to chat and also to play with. That or course was when we got Q'd. Tania literally started to have phone sex. Or should I say sex with the phone? Rubbing it on her firm trans girl tits. Sticking it between her ass cheeks and rubbing her love hole with it. And all while listening to the guy on her cell. Tania got hard and rubbed the phone and her cock together as well. I guess you just need to see this movie to believe it.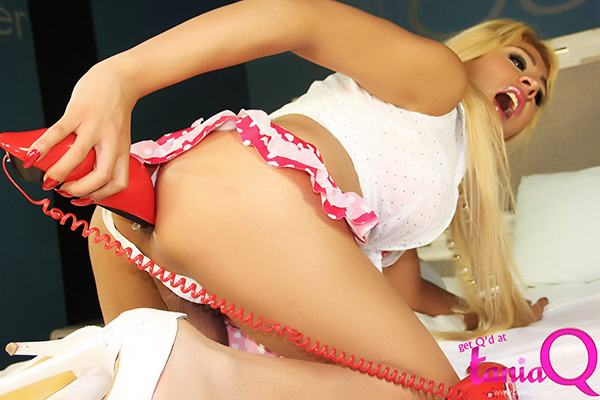 So if you want to enjoy a bit of Phone sex with TaniaQ. Log into her members area right now!
Now I am sure we have talked about this topic before. However, when I saw this photo and the set it is in, I just had to share with you once again. Spread tranny legs are such an invitation to a lot of people and most of you do not really know about it. Trans girls usually have to be more careful about how they sit. As well as what they wear in public. After all they need to rely on their panties keeping their cock tucked back an in place. Most of the trans girls that is. Some are different.
Take a look at this photo of these Spread tranny legs. Yes that is TaniaQ and she is showing off another one of her sexy outfits. But the super hot thing about this is, that she actually will wear this to a club in public. Not just the high heels, stockings and short skirt and short top. But also those lace panties. And whats so hot about those panties? Well they are not the kind that can control her cock. That means if she gets hard her cock will either pop out or rip them open.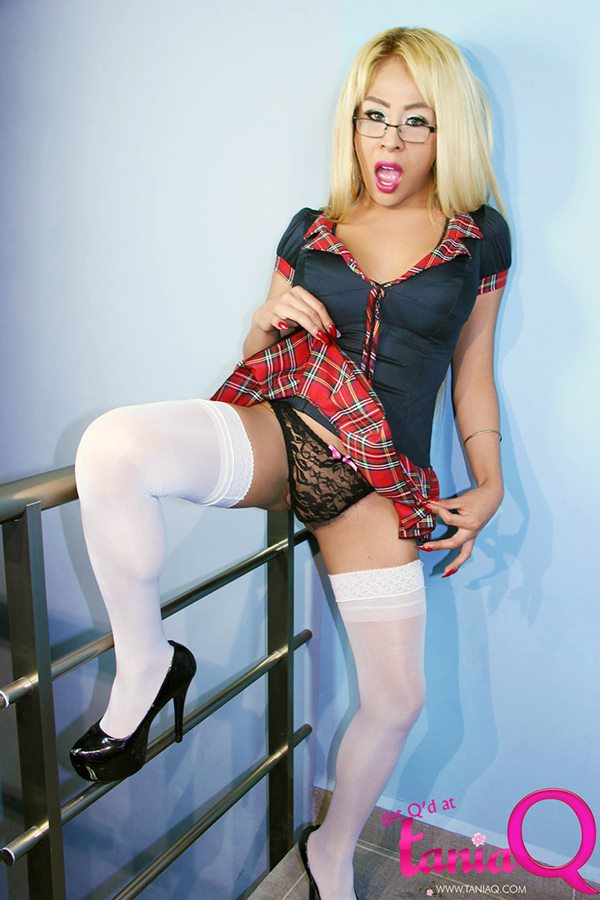 Now one of the hottest things about these spread tranny legs. Is simply that TaniaQ will do this in a public place if enough people want to get hot and have some fun.
Everyone and I do mean everyone loves a hard cock trans. There is nothing more disappointing than a trans girl that can not get an erection. So today I present you with a hot photo of our favorite Hardcock trans. Yes that means we are going to share a photo of TaniaQ showing off her hard cock. I know its rare that we do this. The turth is, this site helps Tania reach out to new potential members and that means that she needs to tease most of them. Then if they get hot enough they buy a membership and that is how she earns a living. So even if you know of her and about her its time to become her fan. Get your membership and support Tania so she keeps recording for her website.
As you can see she is a hot hard cock trans and looks amazing showing off her body. From her firm tits to her big cock and her tight little tranny ass. This hard cock trans girl has it all and wants you to take her and do with her what you want. You and flip her around like the fuck puppet she is and work every wet hole she has. And if its not wet, use lube! She loves to fuck and get fucked nice and hard.
Click on the image below to get your membership to her website right now!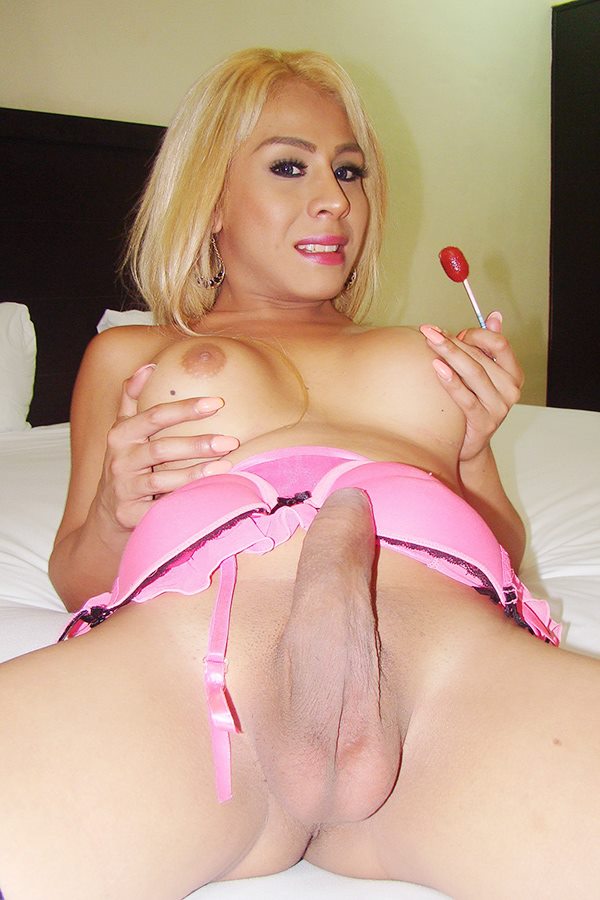 Hot Sites to check out!
Categories