Browsing articles in "Cock"
Tranny FLasher! Well it would have been fun! However where I live I would get in deep trouble. I also would have about a thousand guys chasing me, so I may do it anyway.
So I was considering this outfit for halloween last year but someone said I would end up in jail. So we turned it into a hot photo set for you instead.
Can you imagine. You walk out of your office. You are heading to your car, maybe chatting on the phone or surfing the internet or something. But your attention is only partially on the way you are going.  At one point you glance up. Walking towards you is a blonde girl. Average height. She has on high heels and a long over coat. Her hair and make up are done.  Sensual you think as she slowly approaches. You notice that she is making eye contact so you slow your step. Just as you do she takes her hands and places them on the sides of the jacket and whips them open.
Your first thought is what is this woman doing. Then you notice this is a Trans girl and she has a big hard cock pointing straight to you. What would you do?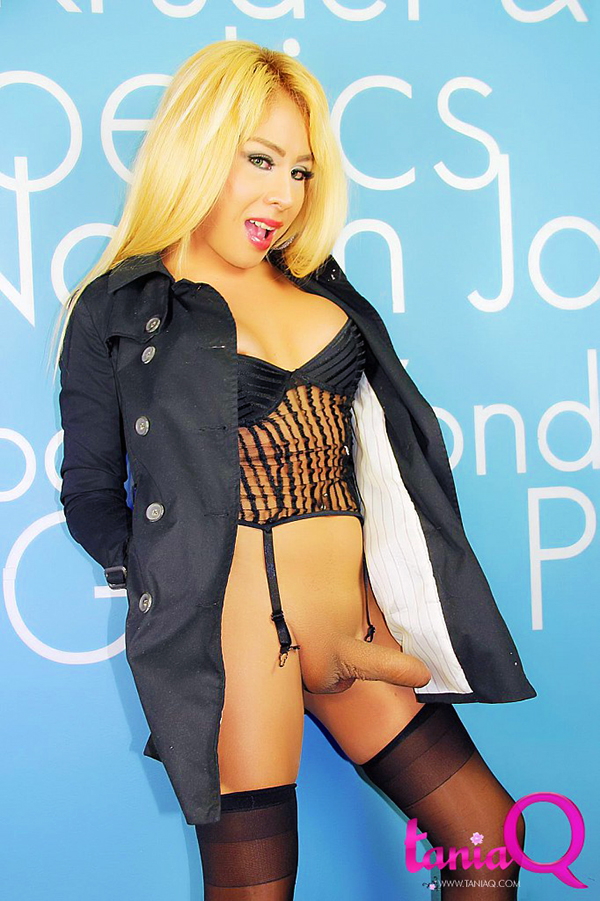 That's correct, I was going to go as a tranny flasher. Especially to the clubs and in very adult public places.
No matter. Join me right now to see the rest of this photo set and also check out all of the videos in my members area.
Make sure to say hello and rate my photo and also video sets.
Make sure and reply to this thread with some comments. Let us know what you would do. How you would react.
Also please make sure to look around at more sample photos of TaniaQ and her big tranny cock.
Tranny Lesbian Action with Nikki Montero! So, is everyone here familiar with Nikki Montero and also with me, TaniaQ? I am the lusty top in the photo below about to get my ass hole rammed with her big cock. If you have not watched tranny Lesbian action before its time you do so!
Because of the intensity of most tranny girls your going to love watching us fuck tranny lesbian style. And just so you know this video will be in both sites! Nikkis and also mine! Just click the links below to check out the movie! Oh, and dont miss out on the photo as well!
Almost all of the videos in my members area have been shot in UltraHD and have awesome photos to go along with them. So sit back and really enjoy them. If you want to be in a set with me let me know! Just contact me in the members area! That way we can hook up soon.
Do you see in the image below that both Nikki and I also have a good amount of foreskin? Since you are a man of taste and want to watch some tranny lesbian action, this is going to be a turn on for you.
Right now you have the chance to see the rest of this set! You also get to see the video and the action. So don't wait and don't miss out on anything. Join me right now!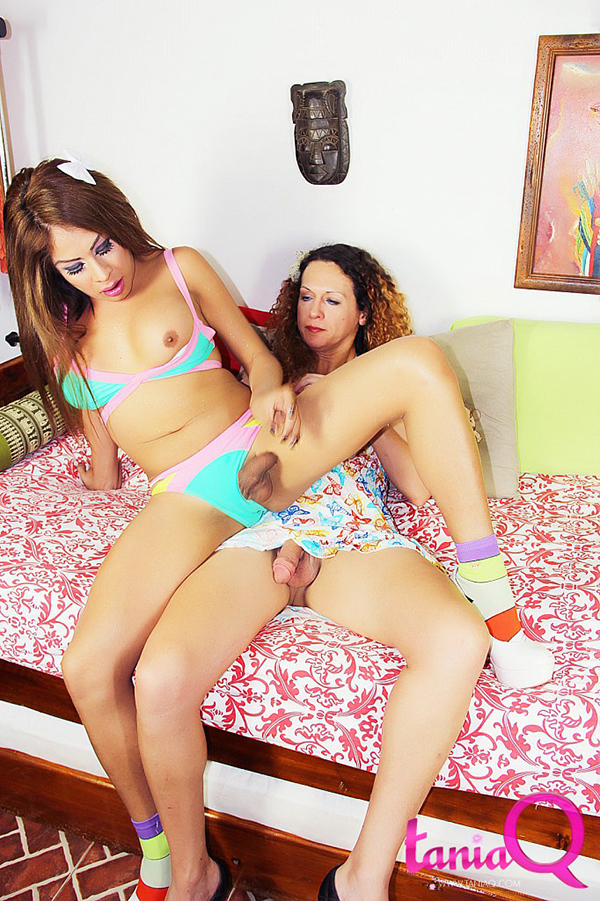 If you want to see me as the top with Nikki or any other tranny babe please let me know. I love fucking as a top or bottom. Sex is a big turn on and I want more and more. So get into my site now and lets at least masturbate together!
I want you to cum over and over and get off with me. Click right now so we can get started having fun.
Please comment here on the blog and also my members area!
Ass Fuck! I'm ready for your cock and some hard core action! Im also ready for a great ass fuck. We just now need to decide who receives and also who is going to take it. Since you seem to be looking for a hot tranny and a good Ass Fuck, I want to offer mine. I have a nice tight little ass that can take a big or small cock. Im very tight that way.
Another thing is I also like a good mouth fuck. So if you have a hard cock and need action, Im your girl! I also happen to have a big cock so If you would like I can put mine in you. Mouth or ass hole I dont care either. As long as we both get off.
This photo of me below is one showing off my tight little hole. I know for a fact you like it. You also get a nice shot of my hard cock and balls in this photo. And let me say, pushing my cock down that far was a bit hard to do. I have a thick 9 inches and I know how to use it. So right now, grab some lube and lets get it on!
For those of you that like it, I also wear a lot of costumes! If getting off with a hot maid is good for you, Let me know!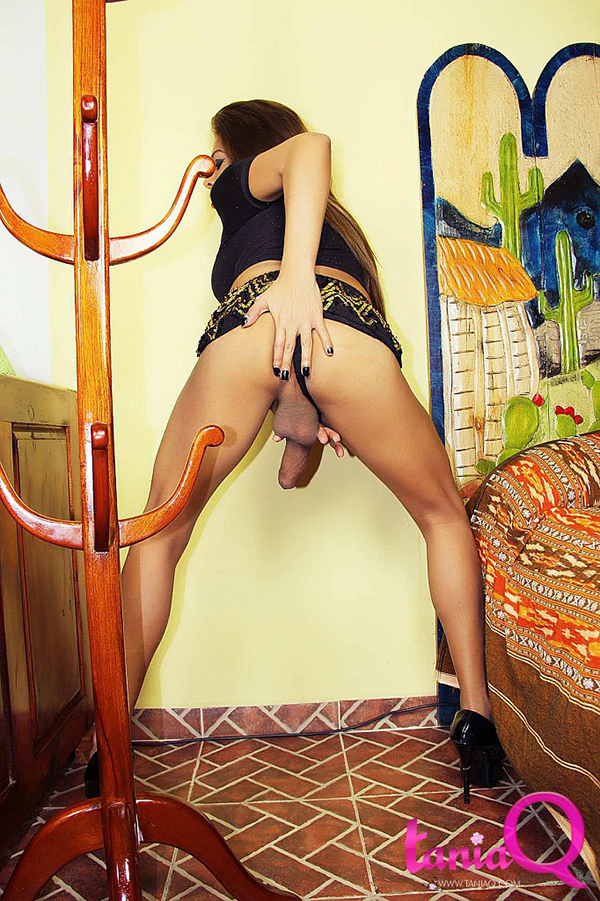 This photo set was a lot of fun to shoot and I ended up making a hell of a cum shot in the next video. Because Most men like to cum I want you to join my site right now and watch the videos. All of them and make sure you get off.
The members area is set up for you to enjoy yourself and see what others liked as well. Take a minute right now to join the site. Click here.
If you miss this, well, its your fault!
Can't see the cam feed? Then Click right here. Your Browser is blocking it!
When it comes to a hot trans girl with firm tits big cock and a tight ass. Well for me, I always think of TaniaQ. And of course thinking of her makes my own cock hard. And that is actually a good thing. Why? Well because then I can stroke off looking at a hot photo of Tania like the one below. Firm tits big cock and its all showing and ready for you to reach out and play with. Can you just imagine if you could reach through the screen and touch? How would that feel and would you? Or is looking at firm tits big cock and trans girls just a fantasy?
I think that if you wanted to, you would reach out and touch. Also, I believe that you should take that step, and Tania would love to do it with you. Get to know her. Read her blog and also chat with her in the members area of her site. Let TaniaQ awaken your new desires. Its ok. No one here will judge you. We love you.
Click right now on the image below and check out the members area of Tania's website. Make sure to see the rest of this photo set and all the others in her members area. Also enjoy all of her movies. She is waiting to hear from you!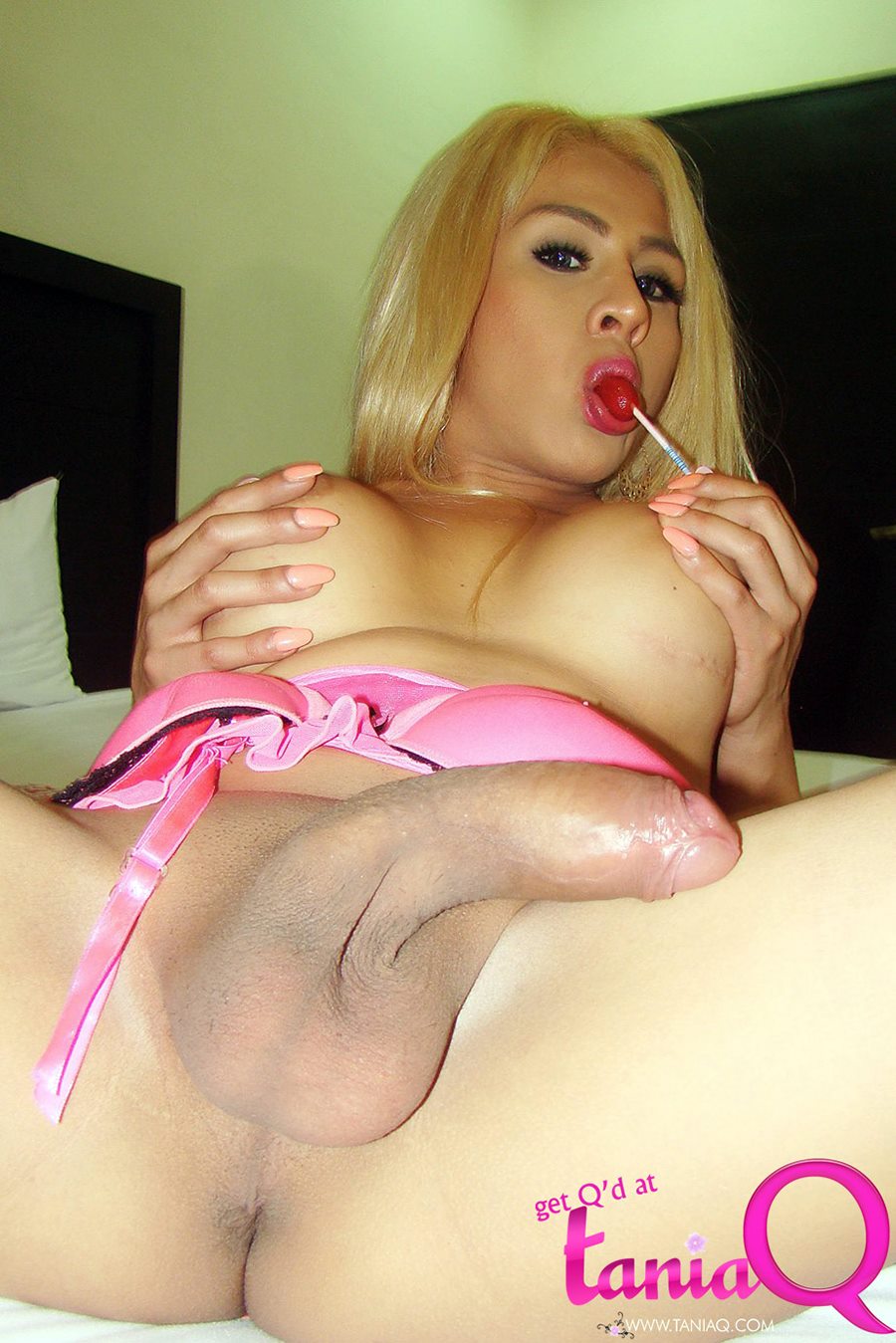 Those tits and that cock need your attention right now. So CLICK!
Can't see the cam feed? Then Click right here. Your Browser is blocking it!
TaniaQ loves flashing that shaved cock. She loves it so much that she does it all the time and in as many public places as she can. She is always careful that only adults are around. And TaniaQ wants men to watch her. If a woman is watching and interested in her cock. Well that's ok as well. But TaniaQ loves when a man sees her and reacts.
When Flashing that shaved cock, Tania will often have on heels and stockings with no panties. And either a long coat or a very short skirt. She loves to have her cock swinging and she will flash as often as she can. This of course gets her cock harder and harder and then before you know it. She has a full on erection that she is showing off.
Now that you know that she loves to do this. You can be on the look out for her when you go places. If you see her and she is dressed in something super slutty. Try to stick around and watch her. She will be flashing that shaved cock before you know it.
Click on the image below to check out the rest of this photo set. Her cock is hot and ready for some fun and she wants to use it on you! Click right now!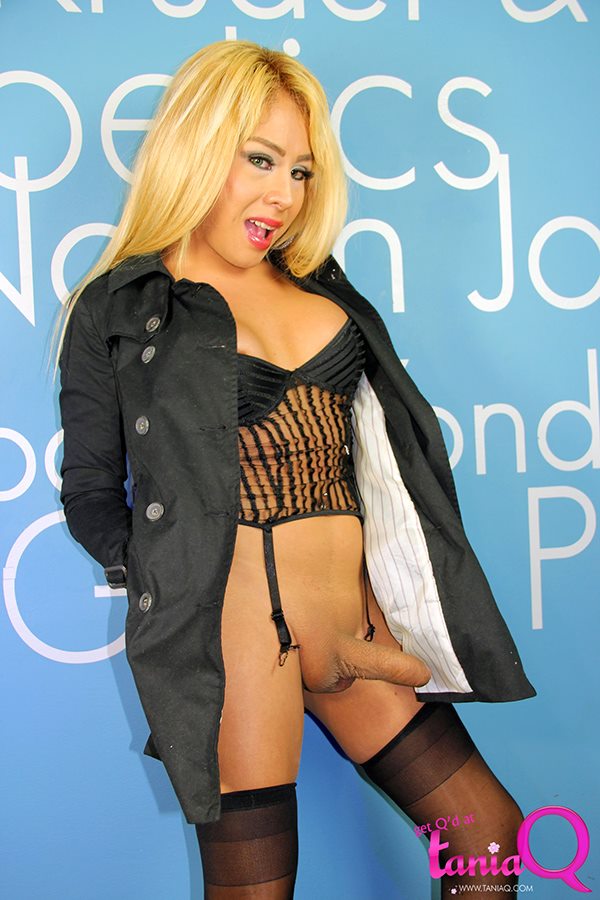 Want to check out some white thong panties. The kind that can barely hold the cock and balls they have been assigned to hold? Of course you want to see this and you also want to know that you get to take them off of her. Furthermore, and trust me when I say that TaniaQ will let you take them off. She loves to have a mans hands all over her. And she adores the way that your own cock will get hard while getting hers hard.
So if you are into white thong panties, you need to see this set. Because these panties are coupled with a very short skirt and also knee high socks and high heels. And that makes for a very sexy very hot outfit! The other nice thing about this short skirt and white thong panties is getting to see the area that the string passes over on her ass. And that is directly over Tania's tight tranny ass hole. Her spot that you want to put your fingers and your tongue and your cock. So take a nice close look at the image below to see what I am talking about.
Click on the image below to check out more of these panties, those balls and that thick and juicy trans girl cock!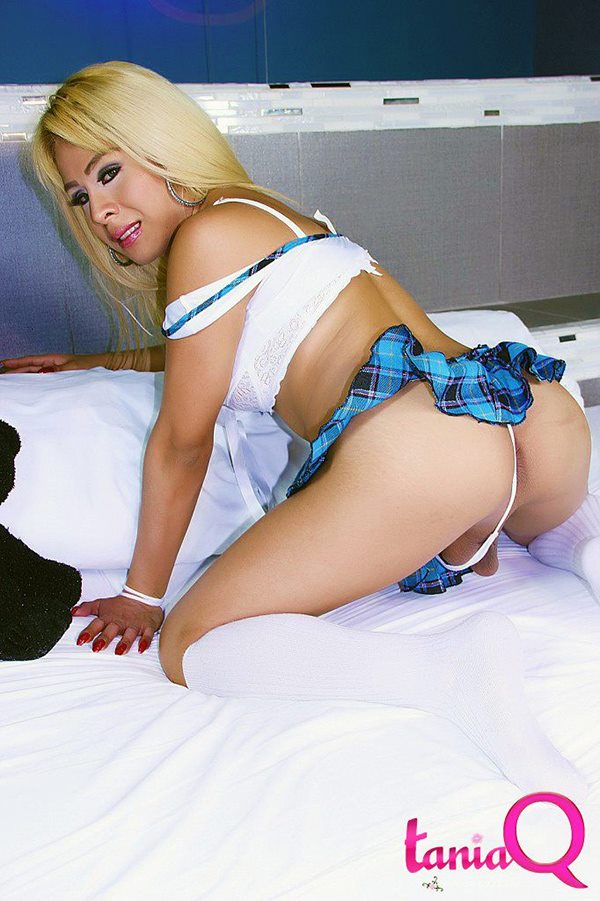 Can't see the cam feed? Then Click right here. Your Browser is blocking it!
Thick Tranny Cock! Just showing off what you want to see! So guys. Tell me what sort of Thick tranny cock do you like. Also please don't leave out any details as I love to read them and hear them.
Watching a hot tranny with a thick tranny cock pumping an ass or maybe a mouth its a hot and huge turn on. I also like to watch them swing when the girl is getting her ass hold pounded!
Because I happen to love both I want you to line up and do both with me. I need a line to my right of men that like to get pounded! And I want a line to my left of men that want to pound me.
For those of you who have not taken the time to join my members area, You need to do it right now!
So, what are you waiting for? If you have not taken the time to reach out and find your self some tranny cock and a thick one at that! Then its time do it. Right now!
Once you join make sure you also make comments in the members area. I need to know more of what you like and want to see. Make comments on this blog as well and share your thoughts and feelings.
IF you leave me your contact I will also try and say hi. So make sure to visit and and enjoy with her cock in your hand.
Right now is your last chance to see more. So join me and don't miss out.
See other posts on this website of me and enjoy even more.
Click here to check out some amazing trannys on webcam!
Can't see the cam feed? Then Click right here. Your Browser is blocking it!
High heels! Or is it the shemale erection? So in the photo below, which one attracts your attention the most?
The High Heels or the tranny erection? Lots of men could care less about the heels. However heels make the leg shape a lot sexier and that in turn makes the cock look better. So you need to ask yourself which you prefer. Is it the heels? Or is it the shemale erection. Also could it be the combination of the two? When combined a lot of the times the girls keep their cocks harder longer no matter what you are doing. Girls like TaniaQ just feel sexier in the high heels so they love to strut around and show off their cocks. That of course opens up more fun for you because of the things you can do. Just get your favorite trans girl to walk around naked and hard in heels. Watch the ideas pop into your head and watch your cock stand up rock hard as well.
Click here to check out the rest of this set in TaniaQ's members area.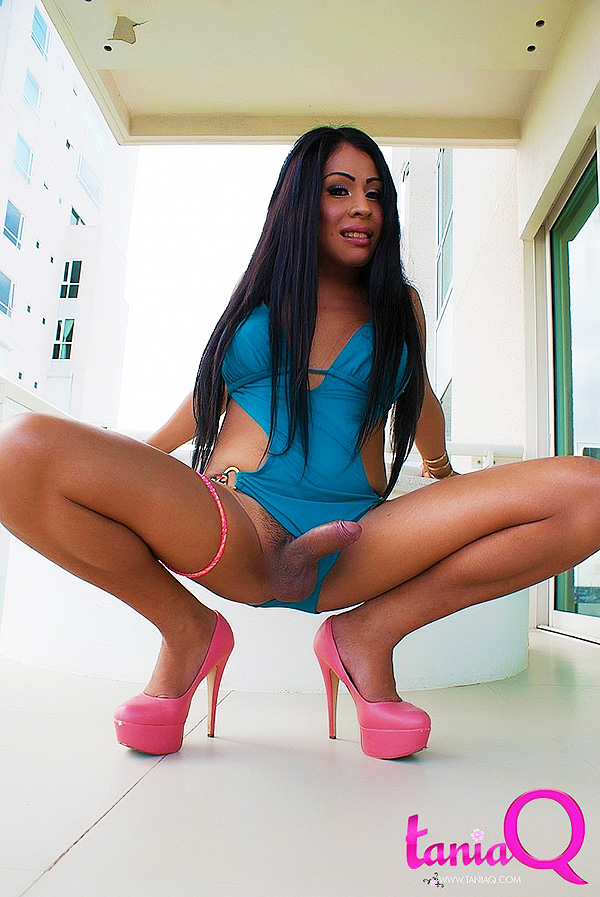 Other wise you can simply surf around this site for more amazing and hot photos of Tania!
Please rate and also comment on the sets that you like the most.
Some people wonder why there are trans girl lesbian action. Trans girls that like other trans girls. And for the most part its a simple answer. Trans girl lesbian is a thing because these girls want cock. And they want it from someone who takes care of themselves and who looks good. And other trans girls tend to do that. So once they get hot they look to a girlfriend for a good hard fuck. And once they try they never go back.
This of course does not mean that they wont fuck a guy. On the contrary. These trans girls will fuck as many new men as they can. But when they are horny and at home they will call another trans girl versus a guy. They can then get off with the beauty of their choice and not have to wait for the man.
TaniaQ and Natalia did a hot trans girl lesbian movie. In fact they did a number of movies together and they loved even ass penetrating minute. So Make sure and check it out. For those of you who do not know, TaniaQ is the blonde on top and Natalia is the brunette on the bottom. So we can clearly see who is in charge.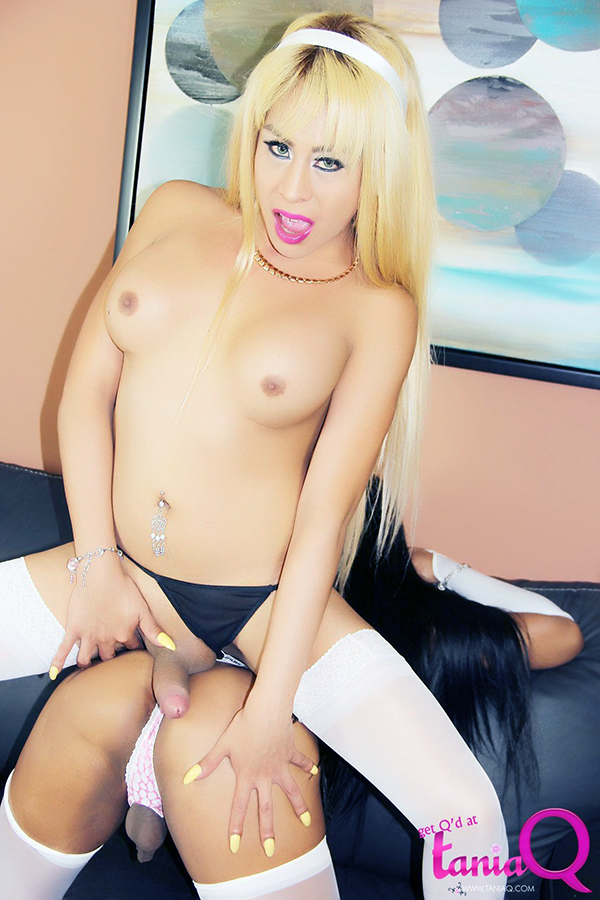 When it comes down to Sucking TaniaQ she will often catch it on video herself. TaniaQ loves to have her cock sucked and she wants to be able to remember it. So she will grab her camera and record it as your lips go up and down the shaft of her cock. When she is recording an average guy she keeps the camera really close so you can see only his lips. When she records a fan fuck like in the video still below. Then she will show his whole face and or mask. Of course because she records this its POV.
Sucking TaniaQ is usually rewarded by her cock going from semi fat to rock hard. And she also gets very wet from the action and the view. So you get to enjoy that hard pole ramming into your throat and also the slick and sweet lube it spits out. Sucking TaniaQ is a real pleasure and she will make sure that you enjoy yourself. And then the best part is. Tania plans to suck your cock as well. And let me just say. This girl knows what she is doing with a cock in her mouth.
Click on the video screen cap below to join Tania in her members area so that you can watch this whole movie.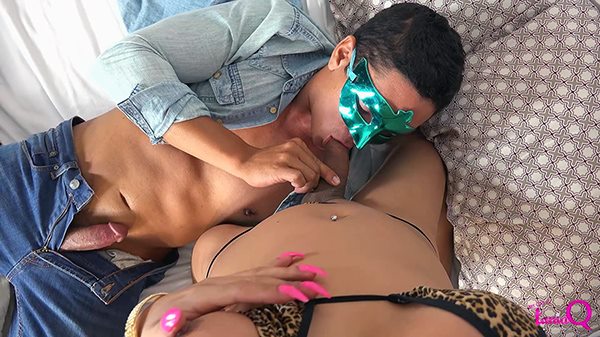 Can't see the cam feed? Then Click right here. Your Browser is blocking it!
When it comes to small black panties. Or any color for that matter. It seems that the trans girls wear the smallest ones. And there is a lot of irony behind that because their cock is so much bigger than a girls clit. But the trans girls have the small black panties that are so sexy you cant wait to rip them off.
You know by seeing them that the panties can not contain her cock. So when you reach down and caress the front of them. You instantly feel her cock start to stiffen and get hard and ready for action. Depending on how the girl is sitting or standing it can get uncomfortable and you will want to get that cock free of those small black panties really fast. That way it can stand our strong, hard and proud and wait for you to give it the love she wants.
Click on this image below to see how hot TaniaQ is with her black panties. And also how good her cock looks inside of them!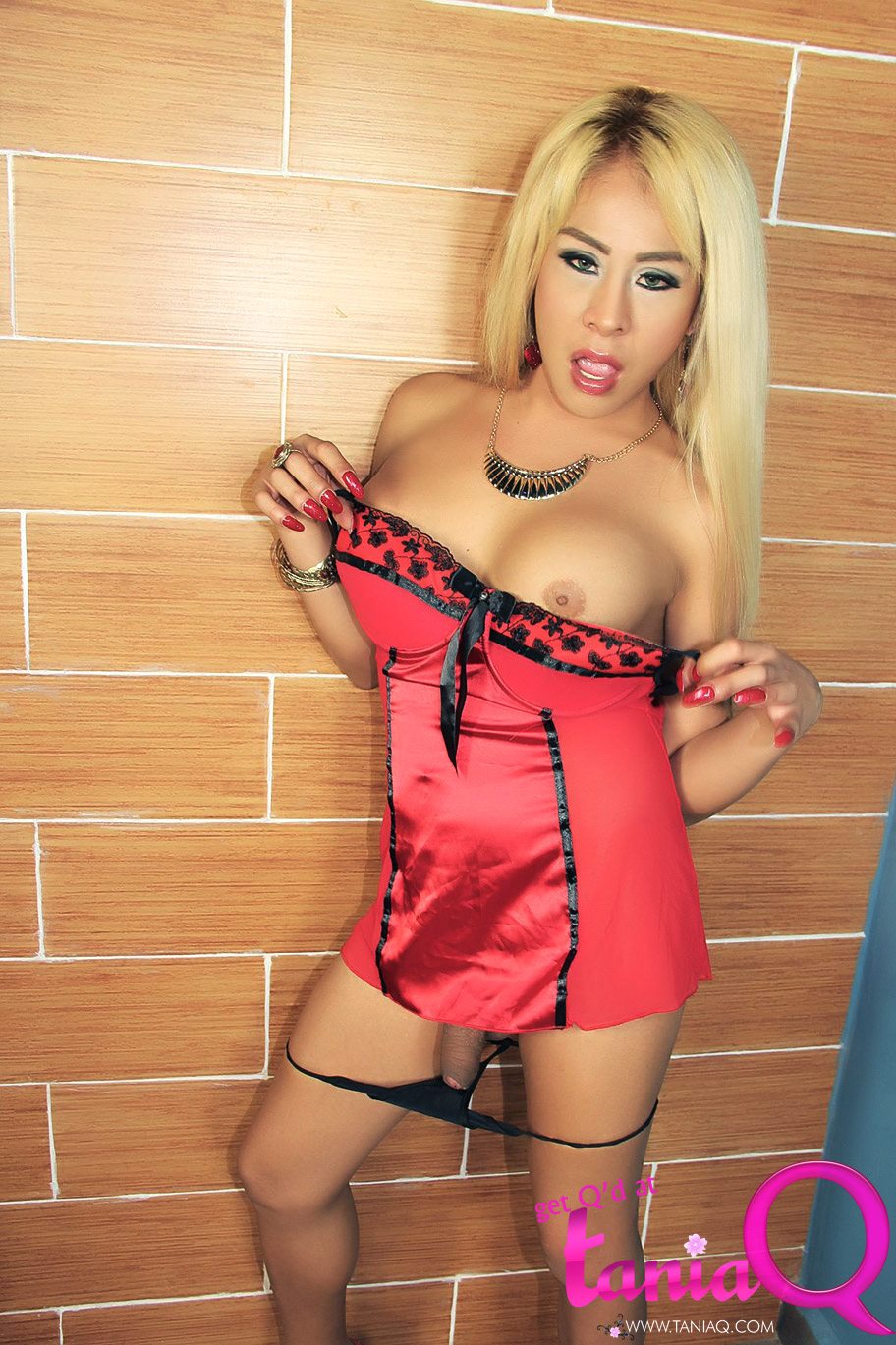 Make sure that here on this site as well as in the members area. That you rate and comment on the sets and updates that you wank to the most. Tania Loves to know what gets you hard but what more importantly gets you off!
Can't see the cam feed? Then Click right here. Your Browser is blocking it!
There is just something about big cock firm tits and blonde hair that seems to turn most men on. That is the reason that TaniaQ loves to share her assets as much as she can. And thank the gods that she has all of them and wants us to see them. Just take a look at the photo below and see for yourself what I am talking about. Do it right now. Scroll down and see!
The hot little outfit that Tania has on was meant to get your cock hard. And this top is so tight that it almost does not fit. And being white its almost transparent. Big cock firm tits and clothing like that? Whats not to love?!
Oh and lets not forget to mention the length of her skirt. So short not only her ass shows. But her balls do as well when they slip out of her panties. Believe it or not. Tania loves to wear this to the clubs. And yes of course they let her and. And they also know that she is going to fuck someone or many people if she can. And her cock will be showing in public. That is how hot Tania gets. Her big cock firm tits and blonde hair get her a lot of attention!
Click on the image below or a text link above to see more of this photo set.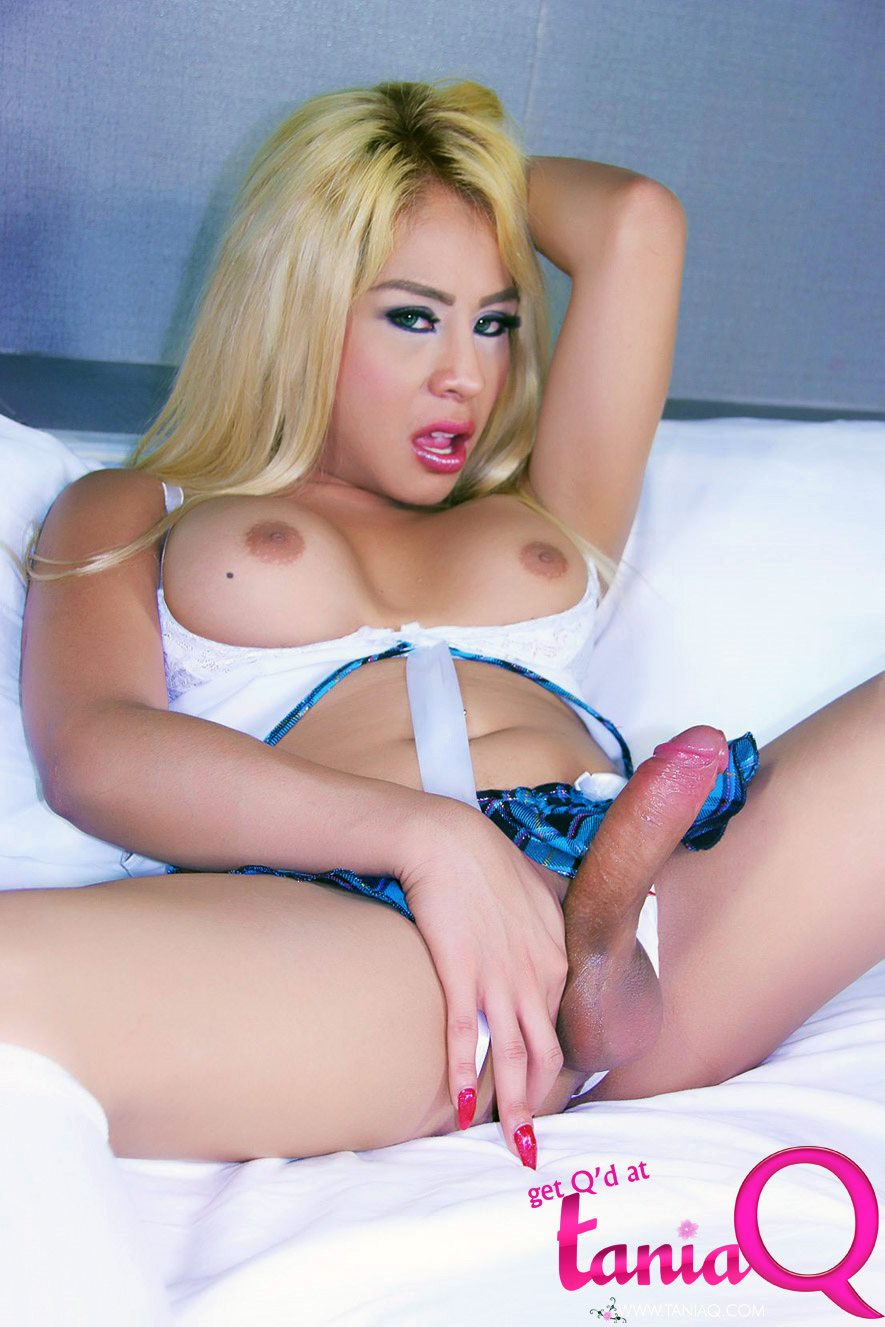 Can't see the cam feed? Then Click right here. Your Browser is blocking it!
Hot Sites to check out!
Categories