Browsing articles in "Masturbation"
When watching porn we get to see a lot of action. What we dont often get to see is a hot trans girl cum shot unless we are watching a webcam. One of the reasons for that is that the girls making movies are often not quite hot enough to shoot out a hot load of cum. It often comes out just dripping and clear. But when it comes to a girl like TaniaQ, well her trans girl cum shot is always impressive. As you can see in the image below she shoots enough milk to fill a cup. Or to nicely fill you mouth or ass!
Yes the photo that you are looking at of TaniaQ and her trans girl cum shot is a still image from the video. And if you have not yet taken the time to watch the movie, then you really are missing out on one of the hottest trans girls. TaniaQ is always in a state of erection and she loves to stroke her cock. If she can get you to do it for her, then all the better.
Click on the image or a text link and check out the members area of her website. Watch this hung blonde beauty playing with her big cock, firm tits and tight ass hole.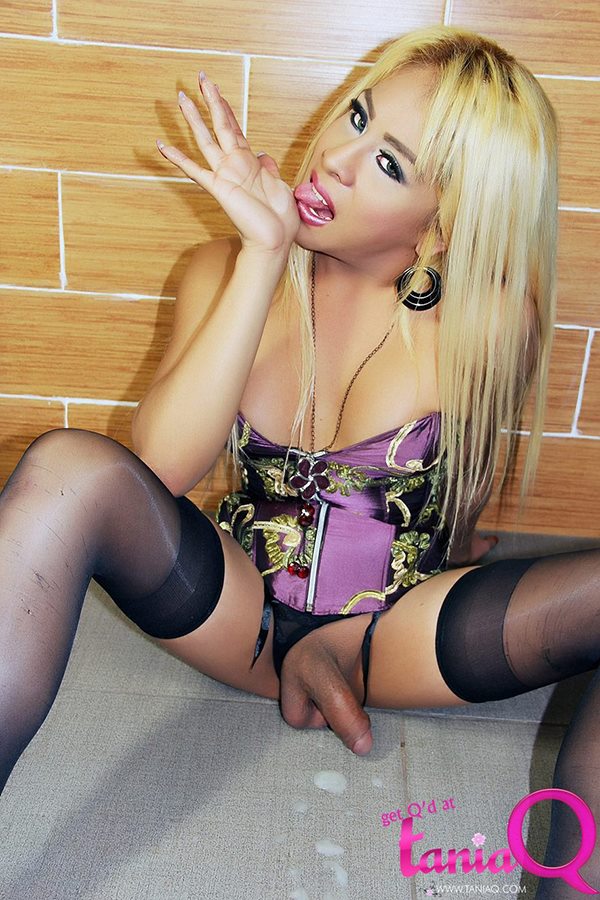 Masturbating Outdoors with TaniaQ! Check this photo out. And yes this is a part of a photo set that can be found only in the members area of TaniaQ's site. She is once again Masturbating outdoors and wanted you to watch. So take a look at this photo and then find one of the text links below and click. Also remember that TaniaQ is available to film with and also hook up with. Do not miss this chance to see more of her and that thick and hard cock. Watch her stroke it everywhere she goes!
Click here to join the website right now and prove to TaniaQ what a fan you are!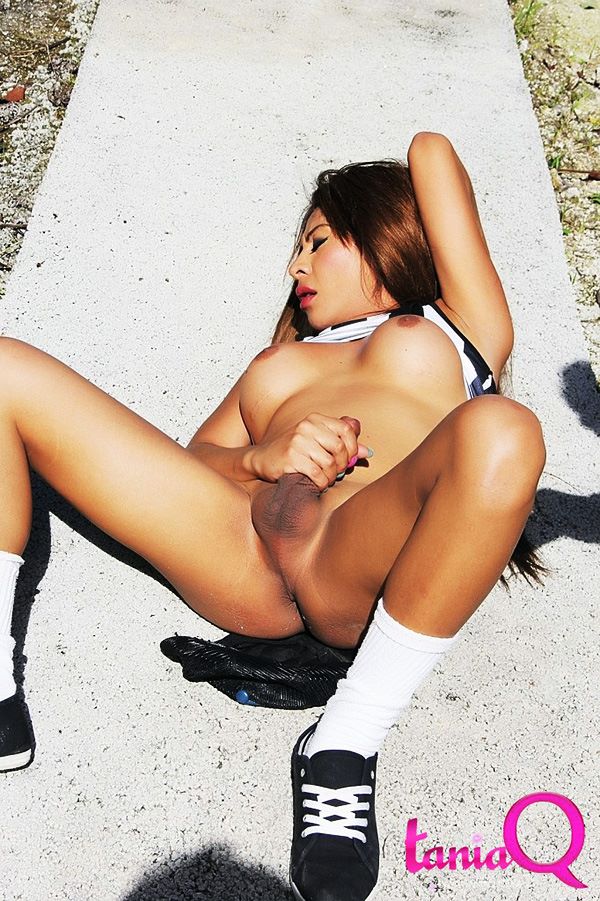 Another thing that you might want to consider about Tania. She is both active and also passive and that makes her a lot more fun than some of the other girls.
Click here to check out other samples on this site.
Lingerie heels and TaniaQ cumming! OK check out the photo below. Thats the amazing and stunning TaniaQ in lingerie heels and a load of cum on the floor! First of all do you know TaniaQ? She is one hot and sassy tranny that loves lingerie But she also loves heels and often makes a combo out of them. But more than that she loves to get off with men!
Take a look at the image below and also dont miss out on the video in the members area. Another thing is you might be able to shoot a movie or photos with her so contact her now! Join Here!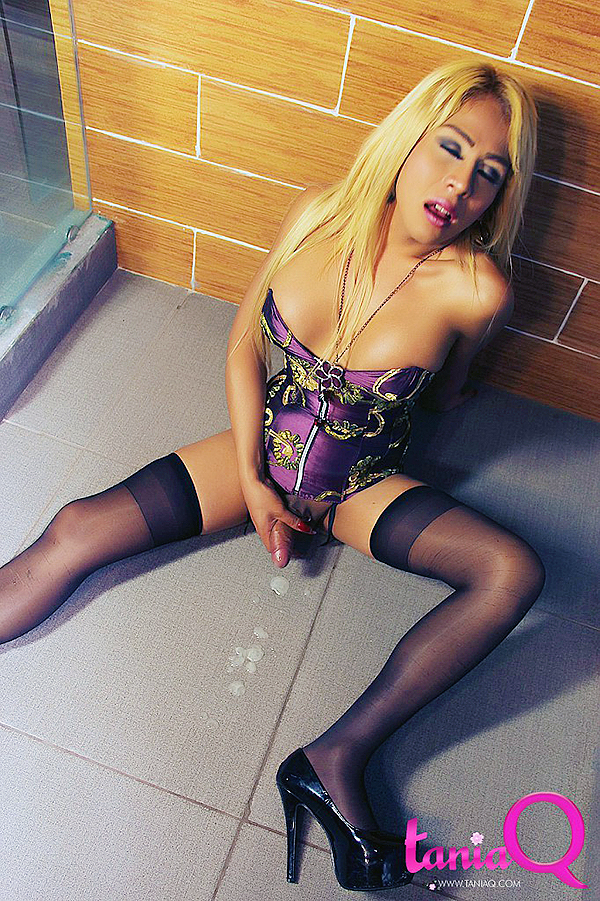 Click on this link to get into the members area and also the time of your life.
Also like webcams? Check this out for free!
Furthermore guys. Do not miss out on some of the other sample photos Tania has if this is not doing it for you. She has so many you might get lost on this site. So if you do, click a banner and find it all more organized and her Trans Cock rock hard!
TaniaQ hard Cock trans. So guys you have been looking for the right trans girl? Well here I am. I am TaniaQ hard Cock. Or at least that's how a lot of my fans refer to me.  If you really want to find out for yourself lets get together!
Take a look at the photo below. I was making movies when a fan decided to chat on the phone and have phone sex. Of course that got my cock hard to so we grabbed it on video and now you get to enjoy it!
Click here to watch my hard cock throb for you.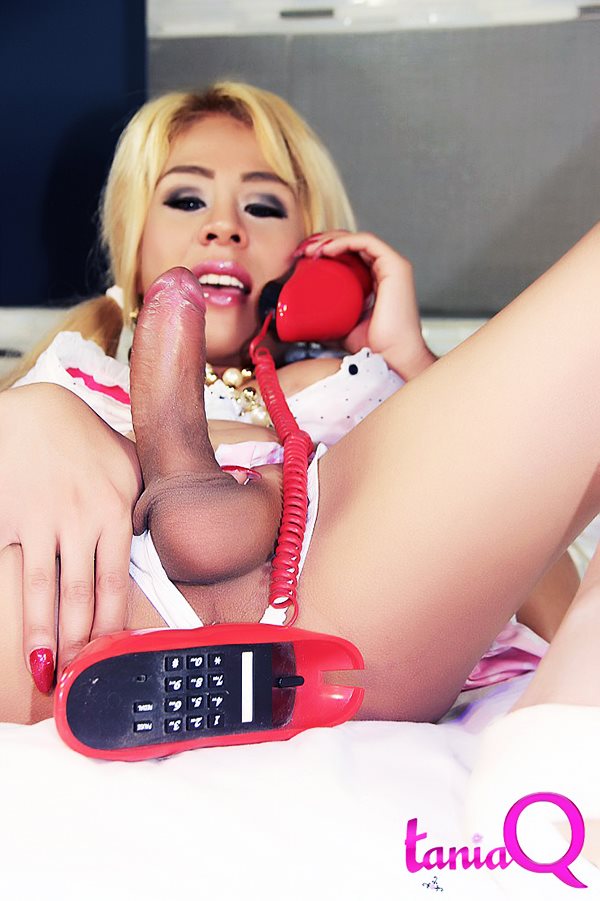 Otherwise you can surf around on this site for more samples. I know your going to get your cock out and hard and start stroking. But if you want to cum with me, you need to join me now!
I have told you before that TaniaQ is a wild child. So we are a bit surprised that she wanted to do photos and a video of phone sex. Do not get me wrong, Phone sex with TaniaQ is pretty damn hot. But when its for a video and photos for her site we were just a bit skeptical. And as always Tania brought a sexy outfit to wear. She got dressed up and climbed on the bed and pulled out a big red phone. Yeah Surprise!!! Then she popped in an ear piece and took a call on her cell. But she hid the cell. Apparently she had a guy on the line telling her what he wanted to do to her amazing and hard trans girl body.
Anyway the cameras started to go and she was using the phone to chat and also to play with. That or course was when we got Q'd. Tania literally started to have phone sex. Or should I say sex with the phone? Rubbing it on her firm trans girl tits. Sticking it between her ass cheeks and rubbing her love hole with it. And all while listening to the guy on her cell. Tania got hard and rubbed the phone and her cock together as well. I guess you just need to see this movie to believe it.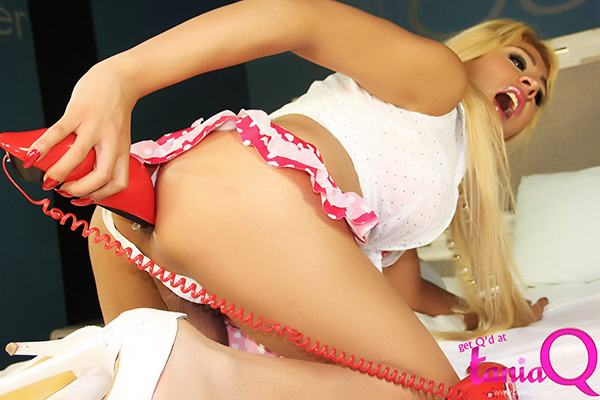 So if you want to enjoy a bit of Phone sex with TaniaQ. Log into her members area right now!
Everyone loves to play with a sex toy. Especially when you are with a trans girl that you enjoy. Take for instance TaniaQ. She loves a good sex toy because when she is alone it takes the place of a man. And when she has a man naked and hard in bed its an addition to the wild time that she wants to have. Just think of all the things that she and you can do with that toy. Yeah now you are getting some hot ideas in the back of your mind. So why dont you tell us about them? We would love to know so that we can share them with TaniaQ.
Just take a look at the photo below of Tania as she poses with one of her toys. What ideas come to mind with this? What would you use that toy to do once you got her naked. Would you have her laying on her back like in this photo? This of course would not only thrust her tits into the air but her cock would be standing up hard and waiting for attention.
Or would you lay her face down with her hips propped up a little on a pillow? That way her love hole is open and ready for anything that you do. Using the dildo to work her ass, or you can lube your cock and slip it right in. What do you prefer?
Click on the image below to check out more of this set and to see what she does with that sex toy!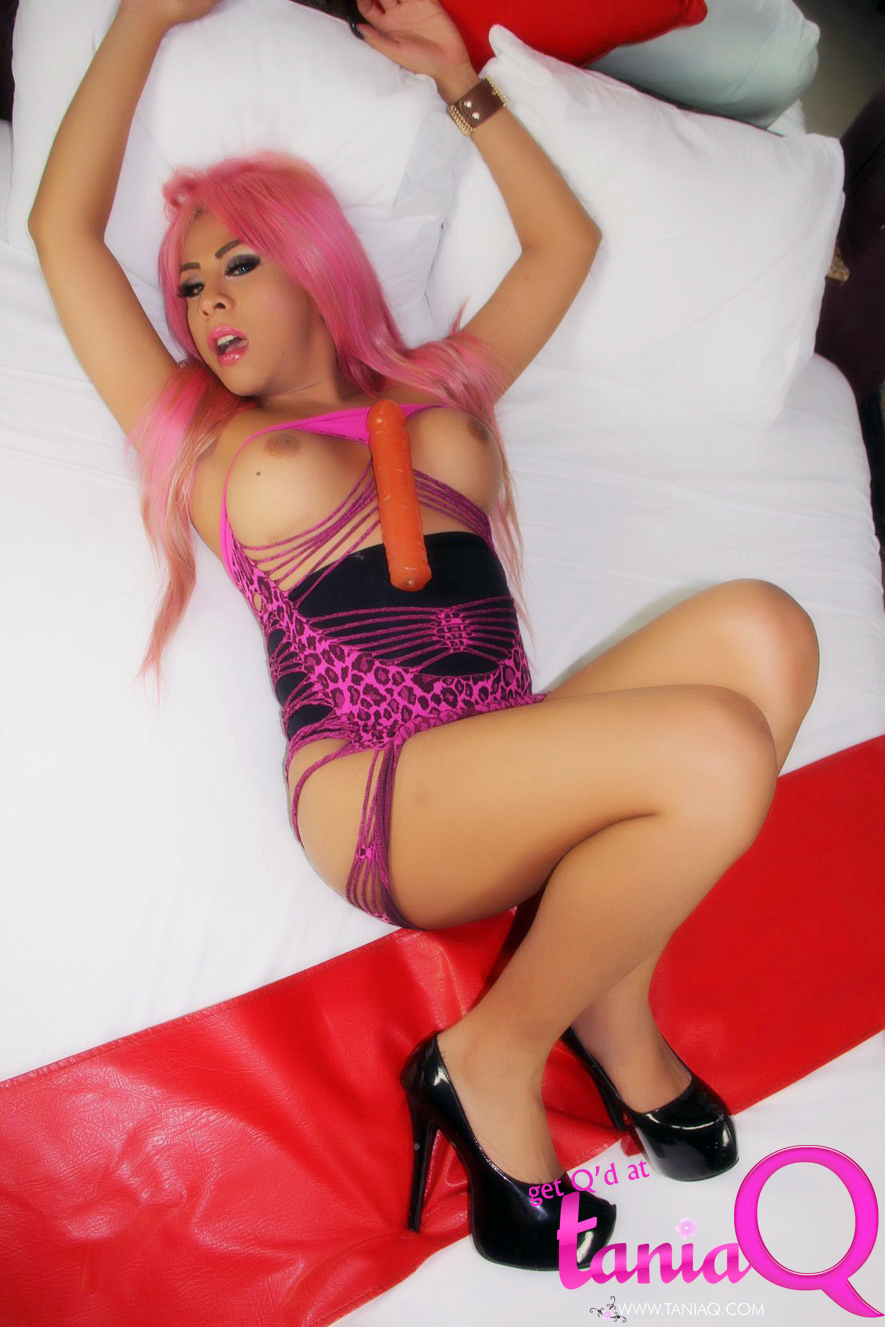 Mexican trans Foursome! And this is super star packed. First of all, from left to right we have the busty Naomi Chi! Then Nikki Montero the first Latina tranny.Then of course we have me, TaniaQ! tight and tiny blonde with a big cock. Finally, we have our little bottom girl and she is none other than Nina StrongHold. Beautiful and also busty and loves to have all the attention for herself.  And wow how much she loved the cock and attention she got from us.
Click now and check out more of this Foursome set. You can click on this photo to see more or you can also click on one of the text links. They both take you to the same place. Further more they are going to shot you how hot things actually got that day. Come and watch this hot Mexican trans Foursome!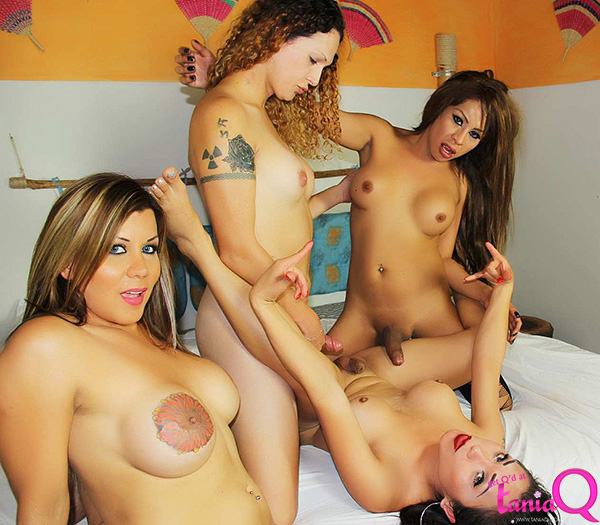 Come and join us and watch the movie as well. It was a lot of fun being naked with these amazing trans girls and I am sure you would love to get involved.
Click now on one of the text links above and see the rest of this set.
Otherwise you can also surf around on this site for more free samples of me Naked and hard.
TS Stroking outdoors! Have you ever seen this? Have you ever been to a park or a party or anything and found a hot TS Stroking outdoors? If you come to where I live you most certainly might catch me. I love to masturbate in public and often get the helping hand of a hot man and sometimes a woman.
It starts out the same each time. I'm out some place and almost always in public where there are a lot of people, and I get horny and just need to get off. I find a semi private place and get my cock out and start to rock out! Then Boom! Someone interrupts me. They often then help me out and of course that makes my cum load even hotter and heavier. But sometimes I have to wait until they leave and then finish the job myself. I never leave evidence even when I dont have a cloth or napkin handy!
Click right now to get outdoors with me and get off!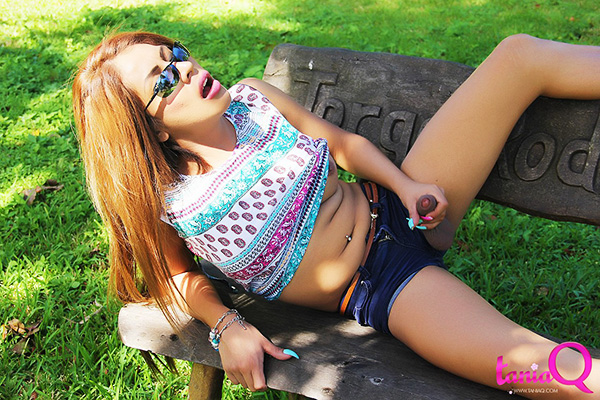 Do not miss this photo set. Your going to love seeing me in the park with my fat tranny cock out
Otherwise you can click here and check out more samples of me getting naked for you!
Check out this hot and I do mean hot shot of TaniaQ Naked and spread outdoors.
That day Tania wanted to shoot something different and she had this idea of heading off to a park. So the camera guy took her to a park that was new and hardly used. Tania being the little slut that she is was hard and half naked before she even got out of the car. She slipped out with her cock sticking out and she was pulling off her t-shirt. Once she finally laid down on the side walk she was naked and spread outdoors and that is good enough for you and I to enjoy.
Tania is also one of those sluts that is never done when getting naked. She then wants to play with her cock and pinch her nipples and get wild. So she did. You can see that this was also a hot video being made. So make sure to click the image below and check out a few more samples. Then click a banner to join her and watch the movie as well. Naked and spread outdoors will make you shoot a very nice load.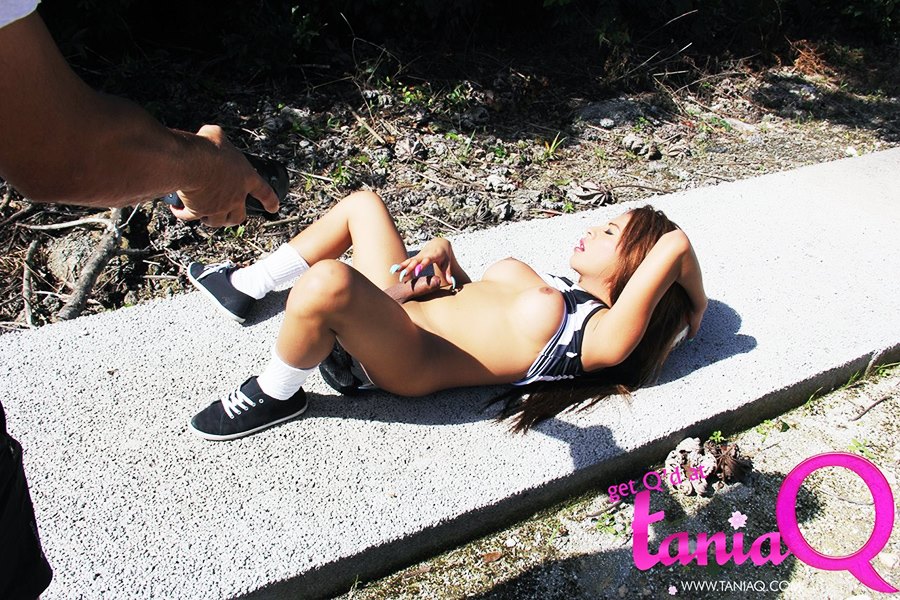 Do not miss out on seeing more of Tania. She wants to play and you are the man she wants to play with. Click the image to see more samples or a text link to check out the tour and the get into the members area.
Naked Outdoors and stroking my cock! First of all its fucking hot to see an amazing body naked outdoors and when its a tranny with a thick and juicy swinging cock! Its even better. And honestly you have a huge chance of running into TaniaQ and her also being naked when you do. Just make sure you peek around your favorite park as you might see her there.
As a matter of fact it is often hard to keep Tania dressed. And for you and I that is a great thing. This little tranny slut is always so hot she just strips where ever she is and we get to enjoy watching and touching this amazing body.
Another thing is its fun to fuck outdoors and that's what TaniaQ was hoping for when she shot this set. Sadly there were no guys around with their cocks swinging!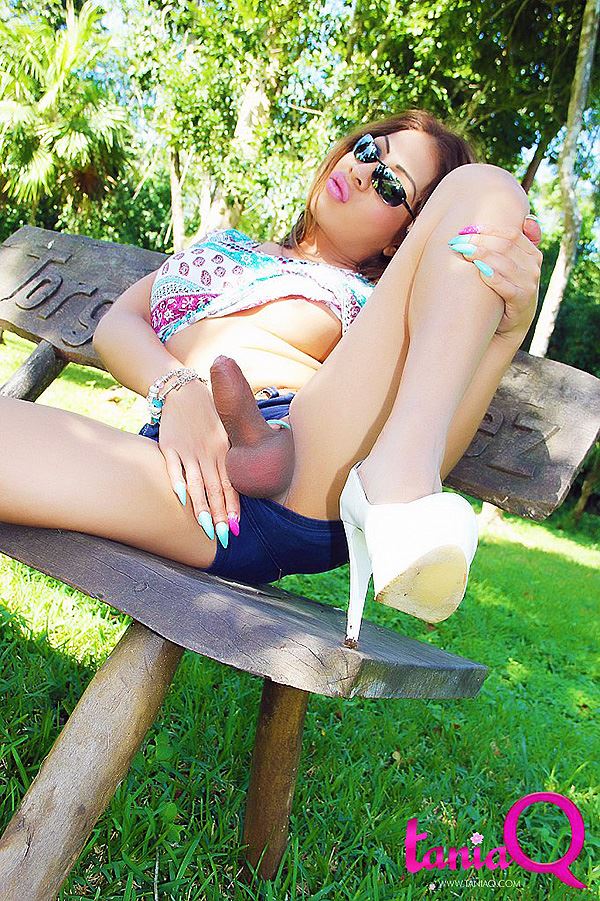 If you have a cock thats ready for some action and also ready to cum. Join TaniaQ right now!
You can check out other posts of her here on this blog.
But always remember to rate and also comment. Make sure that Tania knows who you are and how you found her. Also make sure you tell her what else you want to see and do.
Can't see the cam feed? Then Click right here. Your Browser is blocking it!
Tranny Caught Masturbating. TaniaQ is one horny woman! And you can regularly find her some place masturbating. And believe it or not she is often a Tranny Caught Masturbating! She does this at home and also in public places. She was once even caught in the bathroom of a shopping mall.But nothing shows TaniaQ down when it comes to getting off so you might want to join her and watch the antics. Your going to love the places she gets her cock out.
Also, she got lucky and the guy that saw her sucked her cock rather than turn her in! For those of you who have never been with a tranny this hot, its about time you were.
Click here to join TaniaQ instantly!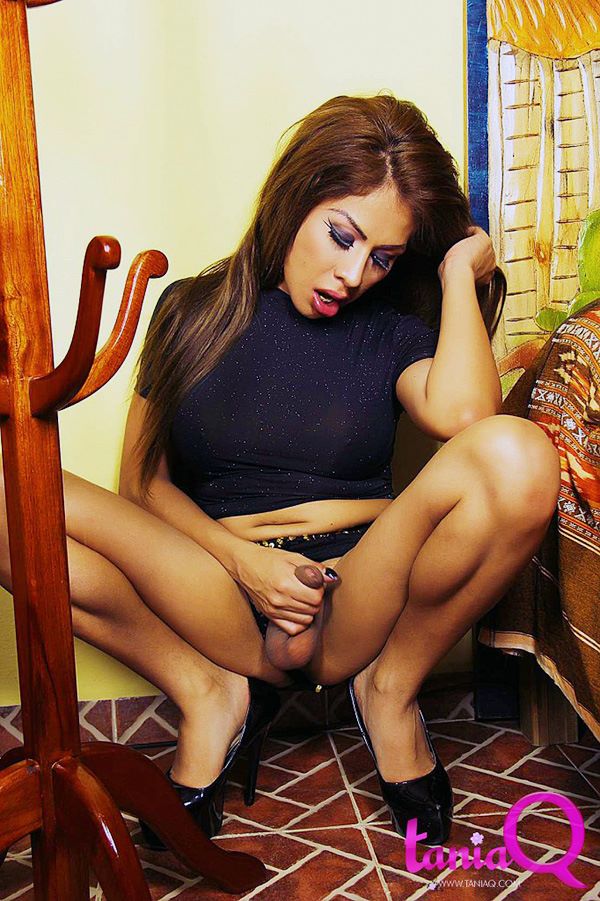 For the rest of this photo set, click here right now.
Other wise you can surf more samples on this blog. But either way rate and also comment on the sets that get you hard.
Well guys you am back again and that makes me very happy. The good thing is I was planning for this and found you a great photo to enjoy today! Take a look below. I call it Hard Cock Blonde trans and its easy to see why. Yes its me and my cock is once again hard but its only because of thinking about you.
For those that do not know me, my name is TaniaQ. In a lot of my photo and also movie sets I am a hot blonde with a hard cock. But I often appear as a brunette as well. You just need to decide which look you prefer! Me personally being a hard cock blonde trans is the best.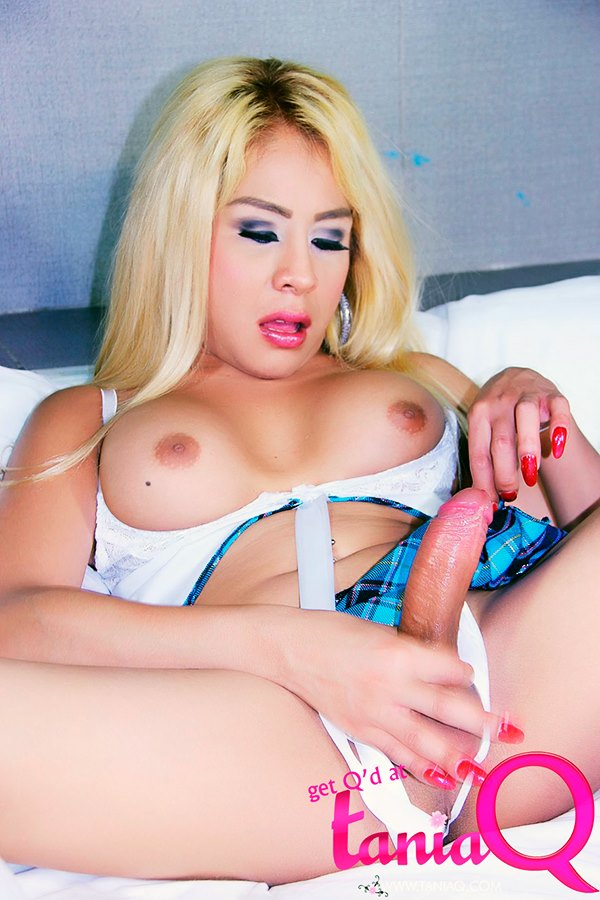 I have a lot of photos in this set and yes my cock stays pretty much hard the entire time. Your going to love watching the movie the most tough. Its hot and my cock is throbbing hard and waiting for you!
Come and visit me right now and enjoy the rest of this set as well as the movie. Make sure and comment below and let me know what you think about it.
XOXO TaniaQ
Hot Sites to check out!
Categories