Browsing articles in "Tits"
When it comes down to trans girls having fun. You wont find a girl quite as wild as TaniaQ. And when we wanted to do a set for Sucking TaniaQ's cock, She jumped up and said. Natty. After just a moment of confusion on the set. Tania was on the phone with Natty and telling her all about the idea. And you can bet your ass that Natty rushed over to have some fun Sucking TaniaQ's cock!
We found out later in the day that Natty had been after Tania for a while. But Tania was trying to stay friends. So what better way for them to enjoy each other than posing for movies and photos. That way, Natty could enjoy Sucking TaniaQ's cock! And Tania did not have to worry about it messing up their friendship. Which it did not. In fact it got better and Tania tells us they have since fucked many times and even invited some fans to join them.
Check out the photo below from the photo set and also from the movie. Its hot and you will love this one. As well as the other movies of these two lovely young ladies having fun with each other.
Click on the image below right now to see more. Or you can also click on a text link above. Join her right now to watch the whole movie.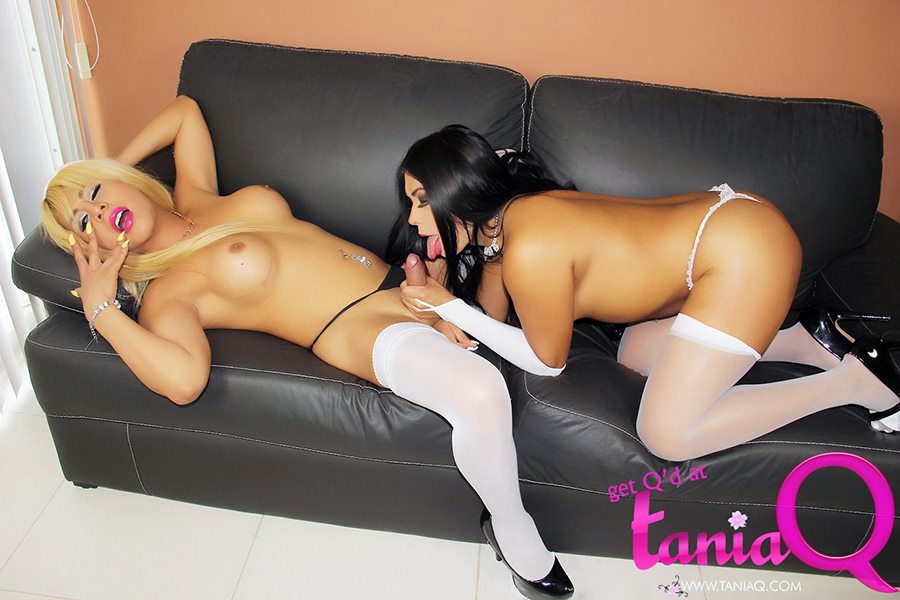 When watching porn we get to see a lot of action. What we dont often get to see is a hot trans girl cum shot unless we are watching a webcam. One of the reasons for that is that the girls making movies are often not quite hot enough to shoot out a hot load of cum. It often comes out just dripping and clear. But when it comes to a girl like TaniaQ, well her trans girl cum shot is always impressive. As you can see in the image below she shoots enough milk to fill a cup. Or to nicely fill you mouth or ass!
Yes the photo that you are looking at of TaniaQ and her trans girl cum shot is a still image from the video. And if you have not yet taken the time to watch the movie, then you really are missing out on one of the hottest trans girls. TaniaQ is always in a state of erection and she loves to stroke her cock. If she can get you to do it for her, then all the better.
Click on the image or a text link and check out the members area of her website. Watch this hung blonde beauty playing with her big cock, firm tits and tight ass hole.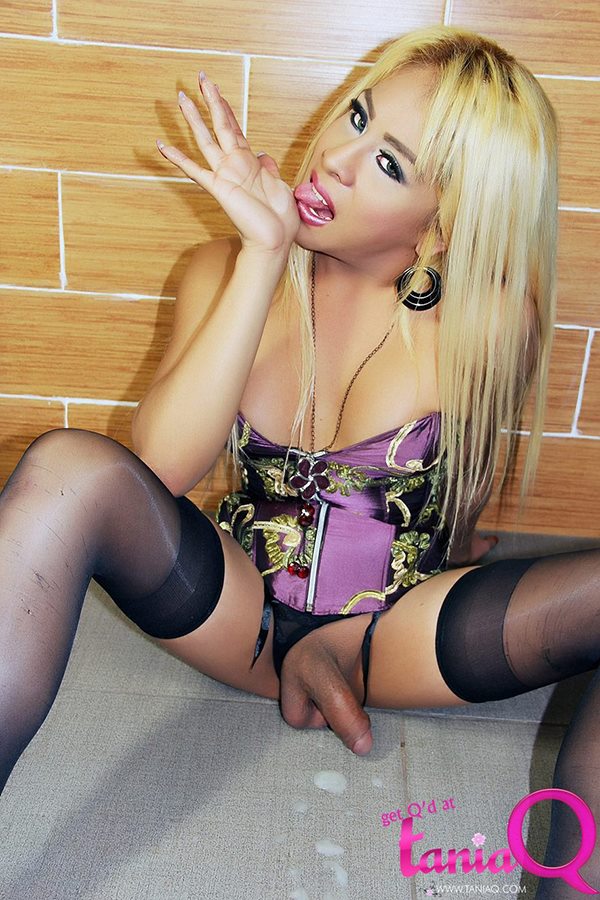 What is your favorite color when it comes to a hot trans girl wearing lingerie? For me its all about the Black Lingerie! But honestly I don't like the color black when its just regular clothing. I prefer more brilliant colors. But Black Lingerie seems to add an allure to me that I can not describe. So seeing TaniaQ pose in this color gets me hard!
When looking at this photo of TaniaQ in Black Lingerie what do you notice first? Do you see her heels or her hair? Or Maybe you see some side boob there? Nahhh I am guessing that you just like me zeroed in on those panties she has on. The ones that you can tell can barely contain her big fat tranny cock. Now all we need for her to do is roll to one side so we can see the prize she has packed in there. And don't worry. By the end of the photo set, you will get to see that cock and it will be nice and hard for you.
Click on the image below to check out more of this set and to see those panties in her members area.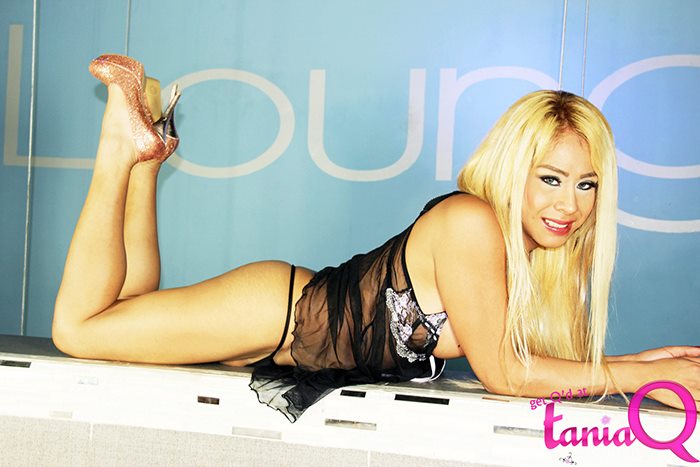 Both your cock and your hands are telling you to click. So just do it.
If there is any trans girl out there that loves to wear a short skirt. It has to be TaniaQ. This girl will go anywhere and always half naked. We found her leaving the office dressed like this and just had to get some photos of her. TaniaQ is the one girl that will do anything to get attention and if that means that her skirt is so short you can see her panties! Then so be it!!!
Now lets get back to this short skirt set. Once we got to a location where we could take the photos and the videos of TaniaQ, those panties flew off and hit the wall. She said her cock needed to come out and breathe some fresh air after being tucked between her legs all day.
But I have to say as thick as her cock was hanging when she took off those panties. I think someone had been playing with it recently! Take a look for yourself and see what you think!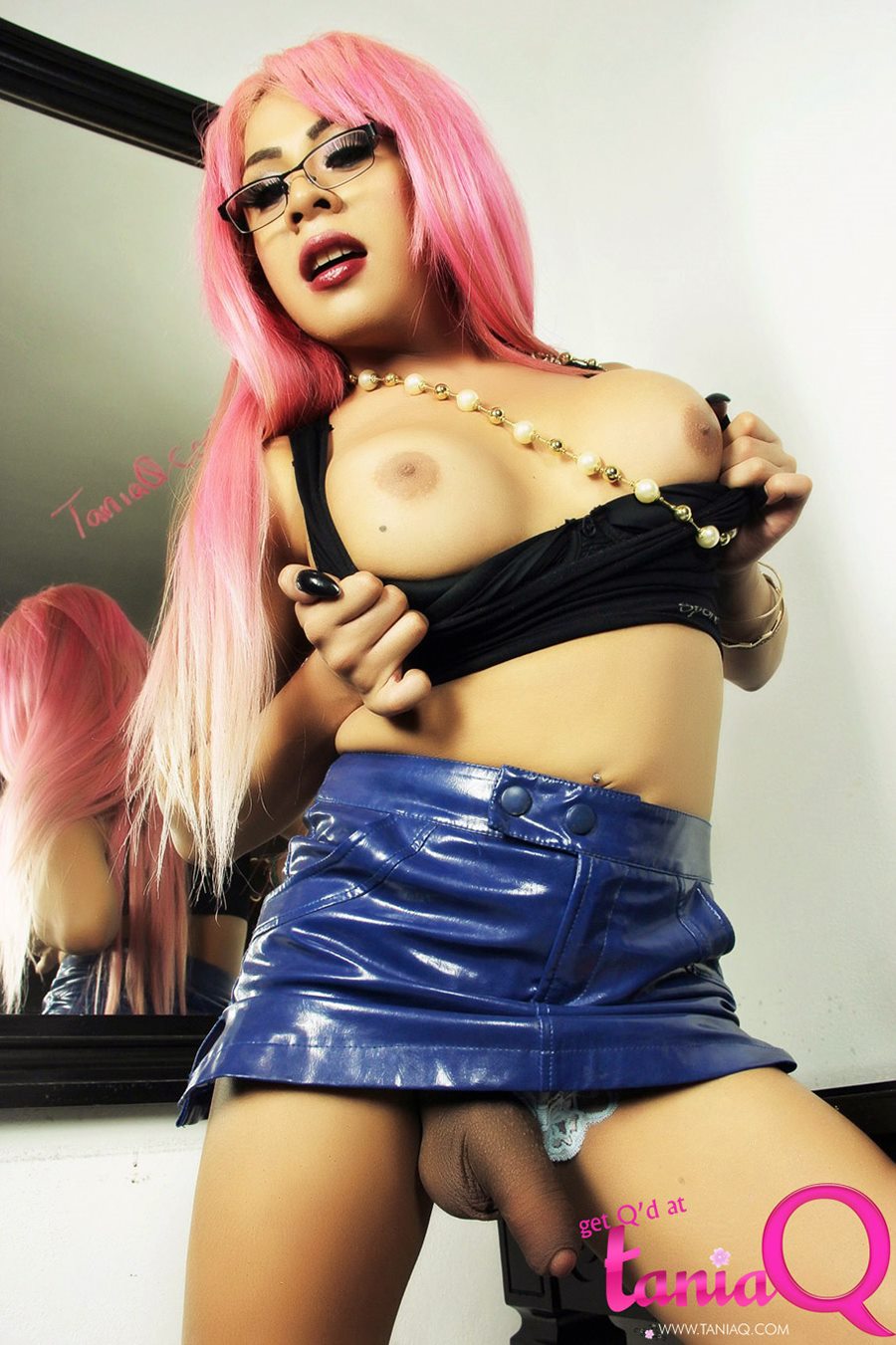 So, what do you think? Was someone playing with that big fat cock? And if so what do you think they were doing. Me personally I think that someone was sucking off TaniaQ
Hot Sites to check out!
Categories