Browsing articles in "Tits"
TaniaQ's tits.
When searching out a hot babe with nice tits it can be a daunting process. But we wanted to make sure that you were finding your way by pointing out the fact that TaniaQ's tits are some of the best you will find. They are very firm and perky sticking straight up. Her nipples are medium size and not very dark but also not bright pink. And one of the best parts is, Tania tells us that her tits are very sensitive and connected to her cock.
Yeah that kind of made is go Uh?? She told the camera guy to touch one of her tits. To caress the nipple and watch her cock. Honestly with one finger stroke her cock grew at least 30% hard from being completely soft. When he released her tit, her cock remained that way for about 1 min and then started to soften again. This means that TaniaQ's tits are directly connected to how hard her cock is and stays. The more you play with them, the more you kiss and suck her tits. Pinching her nipples and biting them the harder TaniaQ is.
Click on the image below to check out more from this set.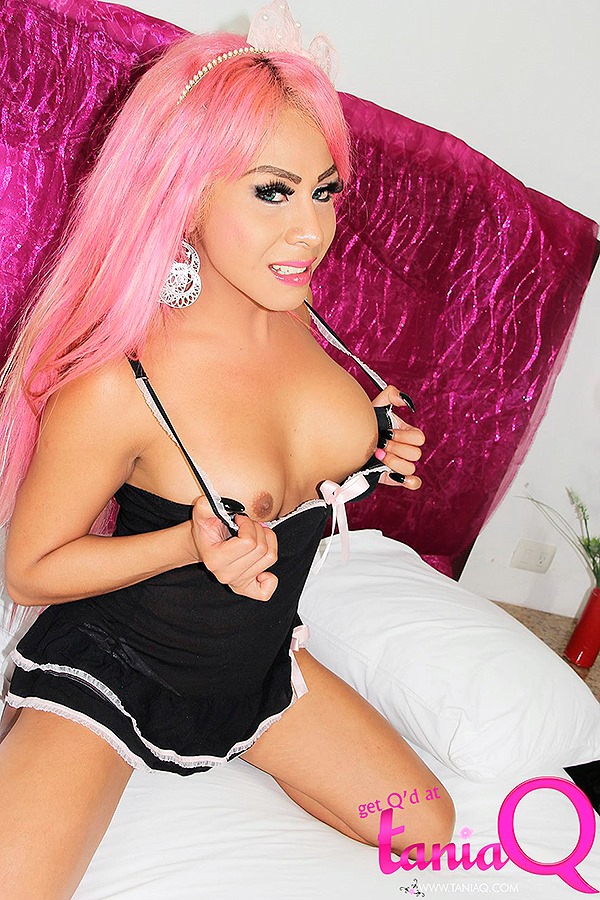 To help Tania a little with knowing what to record next please leave a comment below. Remember that she is very into Cosplay or dress up if you prefer and that she loves to have sex. Top or bottom she will take anything she can get as long as your cock is hard.
If you want to see another sample or two, you can click here. TaniaQ's Ass
Tranny tits!
And notice a whole lot more in this photo! This of course is the amazing TaniaQ and she has her perfect tranny tits exposed once again. Did you also note that she is outdoors? Yep and that's her juicy cock hanging down! Can you imagine walking or driving by the location and seeing Tania pose like this for the camera? How hot would that be? What would you do?
For those of you who do not know! This is TaniaQ! She is the amazing Mexican tranny babe that keeps popping up all over the internet. If you have to ask yourself why then you have not looked. With Round tits and also a thick cock she is perfect and horny as hell. Tania is also always on the lookout for some fun. So if you are in her area make sure to say hello and maybe you can star in a video with her.
Click here to join TaniaQ right now and have some fun with her!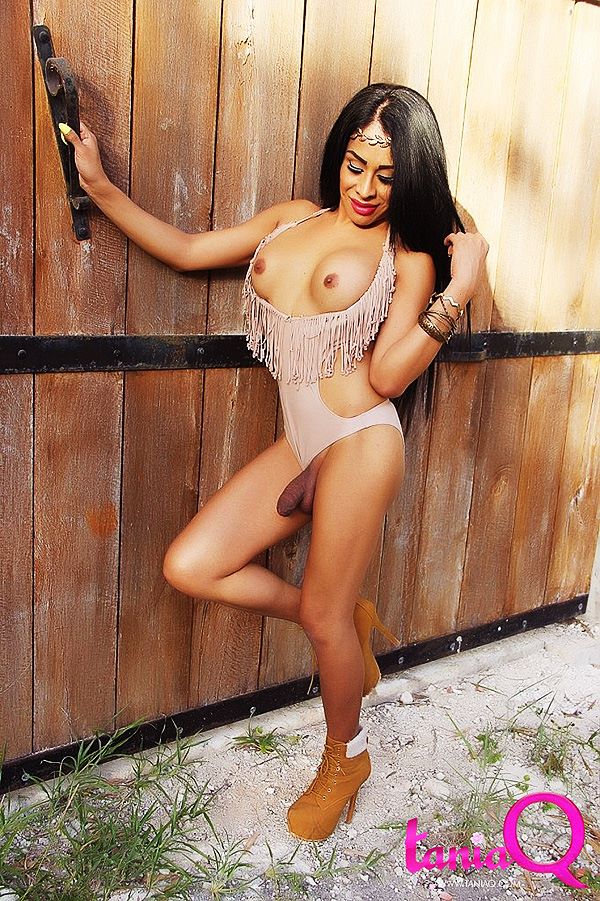 Do not forget to play with those amazing tits as soon as you can get them into your hands.
Further more if you want to see other samples of TaniaQ, just click around here on this site.
Stroke Shemale Cock. TaniaQ is inviting you for some fun! Thats right guys You can come and stroke shemale cock and let TanyaQ get off in your hand. All she asks is that you let her make a movie or photos of the event. Then when you are done if she is still hot she also wants to fuck your ass. But the best thing about TaniaQ being hot is that she is versatile. That means that as your cock gets hard again you get to drive it deep into her tight little hole as well. She says to just bend her over and shove it deep and hard.
Further more now is a great chance to get on her good side so that you can visit more often. Just join her site today and let her know your interested. Also make sure and send her a photo of your face. Not of your cock.
Click here to join TaniaQ instantly.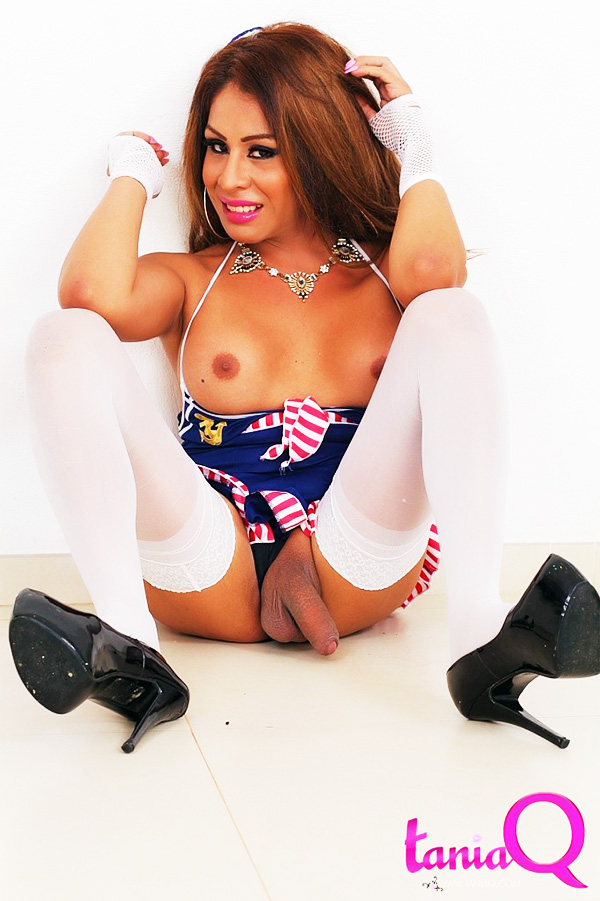 Just look at that photo and think about having that thick and heavy cock in your hand. You can do it today.
Also remember to rate and comment here on this blog.
Further more dont miss the more sample photos here.
Fat Hard Tranny cock! With TaniaQ of course!
Yes guys you know me and you know that my name is TaniaQ. You also know that I have a fat hard tranny cock. And I am also certain that you know what I love to do with it. Not sure? Let me explain where I want to stick this cock. Lets start with in your mouth! Pumping the head of it into your lips and past your teeth! Feeling it go to the back of your throat and then bend to go down your throat deep. Feeling your teeth as they rake across the head and then down the shaft! Uhhhh I need it. By the way, this is not just any tranny cock your getting.
This fat hard tranny cock belongs to me. PornStar TaniaQ! And I personally want to suck your cock! Lick your balls and shaft! And then my handsome young man. I want to fuck your tight hole really hard. However because I am quite versatile you can do all of that to me as well. I can suck your cock until your cum boils. Then you can either shoot your hot sticky man load in my mouth and over my tits. Or you can flip me over and shove your pole into my hole and unload in my tight little tranny ass.
Click here to join and also contact me!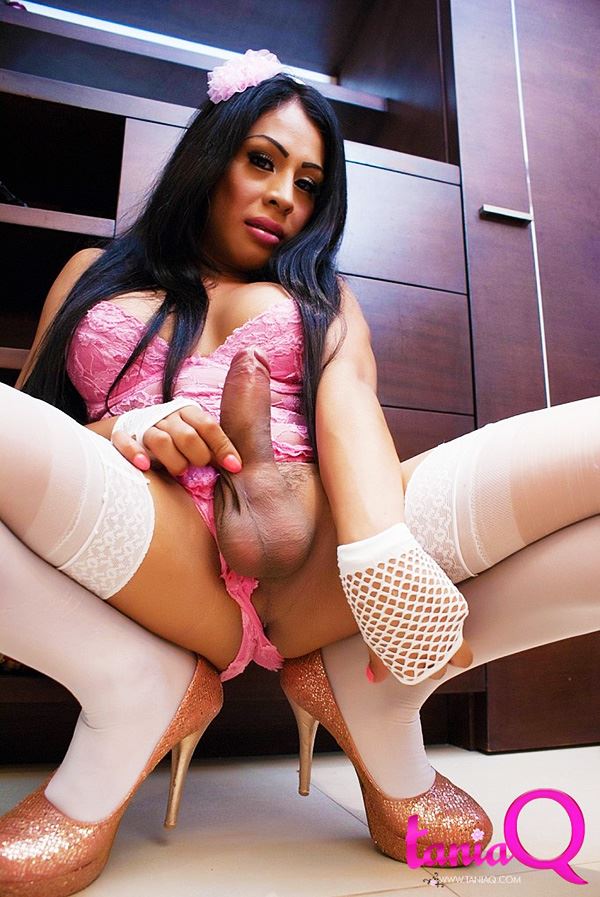 Another thing. Please rate and also comment on your favorite sets in my site!
Click now to see other hot samples of me, TaniaQ
Categories
Hot Sites to check out!