Browsing articles in "Tits"
Wet Tranny! Just playing in the bath and bubbles! Almost every time I get in a bubble bath, I end up playing with myself until I cum. Because of the bubbles and water mixed I feel so sensual that I get hard and I just need to touch my ass.
This of course makes me want to finger myself! And when I finger my ass, my cock gets harder and needs to be stroked! Can you already see where this is going? Would you like to take a bath with me, a wet tranny? And help me release that pressure that builds in my cock and my balls?
Since you know what I'm talking about, I want you to take a few minutes to enjoy the photo below. I would prefer you did this with your cock in your hand! And now that you are cocked and loaded! You should tell me what your doing. You need to tell me stroke for stroke!
I was sitting in the hot tub after getting naked of course and my cock was hard so I slid a finger into my ass! And before I knew it I had 3 in my ass and my cock was throbbing. Hard as a rock and needing to be stroked! I was thinking about watching a hot guy do the same.
If you dont yet have a membership to my website now is the perfect time to get one. Click right here! Do not wait and do not hesitate. The bubbles will pop and I do not want to be all alone.
Tell me all about your masturbation times. It will get us both hot and horny. And we will both get off talking about it.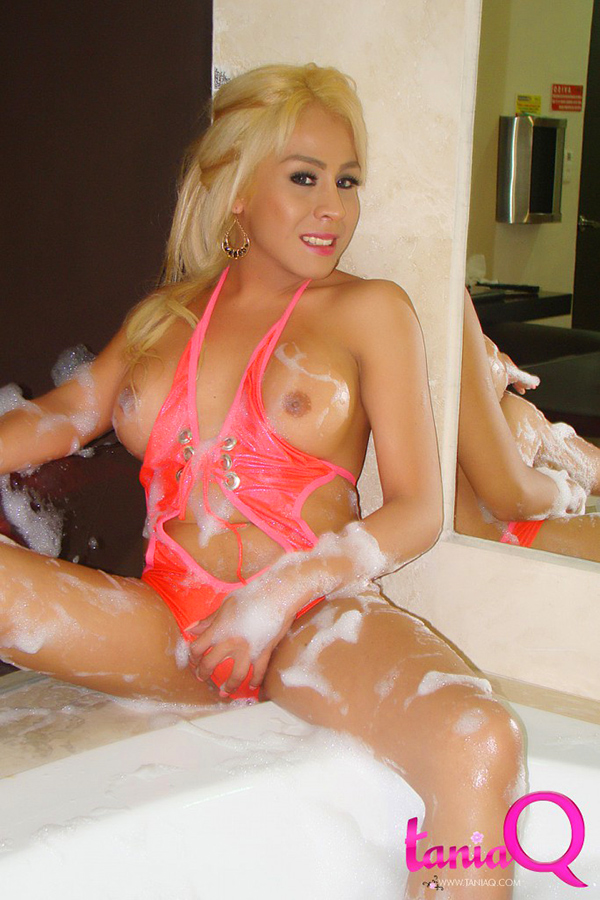 So the next time you start to think about a wet tranny and how sexy they look. Remember me and what I offer. Wet hot and hard and a great great fuck. Just sign up and let me know what you need to get off.
Do not miss your chance to get off with me.
HighHeels and Shorts! Outdoors in the sun for fun! Almost every time I leave the house, I am wearing highheels! I love them and think they make my legs look long and slim. So tell me, what do you think? Also let me know if you just like heels in general! I want to have as many pairs as I can so if you have a favorite company let me know and I will see if I can get them!
Another question about highheels is what colors do you like and how big of a heel. The pair I have on below are a great fit and I can walk with no problems. But I feel they are a bit to small in the heel. While I wear them I do see a lot of looks from ladies and men also. I think the ladies like the shoes and the men like whats in them! 🙂
Another thing is I think Highheels make almost any clothing sexy! They can turn regular shorts into slutty shorts. Or a average dress into a club dress! Part of that of course depends on the woman in the dress.
Don't miss this outdoor set. It is as hot as I got. Come and enjoy me.
And no, I want you to check out my photo in my heels. I do so hope that you like it. It was a warm day but the heels were amazing and the shorts were short and sassy!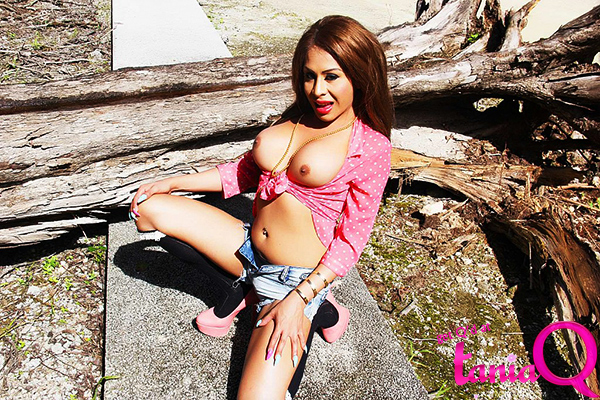 If you want to see the rest of this set of photos and any videos I made that day, then check out the members area of my website right now.
Pink Bikini! That's my favorite color. I guess the color of the bikini does not really matter as long as the cut is sexy. But since I like a nice pink bikini, I thought I would show one of mine off. Well? What do you think? About the color and also the cut. I adore them both.
Another thing I like about a sexy bikini other than the color is how it makes a girls body look. My little pink bikini here makes my boobies look bigger and my ass a lot more round. It also fits nice and tight and I like the feel as well. If you like the look I would love to know about it. Make sure to rate my photos or at least comment on them!
Because of the snug fit on my tits and even my ass I will often wear a bikini as panties and bra. Since I am small in general except my cock and that's easy enough to hide. I also like to wear my pink bikini with just shorts and heels. When I do, I can then strip off the shorts and run for the water if I want. It's sexy and often a turn on and that means a quick fuck some times. Bikini's make easy access for that and its exciting.
If you know of another type or color of bikini that might look good or even great on me, Please let me know! Post comments here or in my website about it. Also if you like you can just buy one and send it to me and the next time I film I will wear it for on you.
That's actually how I got this pink bikini. It was from a fan. He loved it on me in the photos so much he came to see me. But I cant show you those photos or that video. Those were private!
Join me now and lets talk about things. Clothing and what ever turns you on.
SheLesbian with TaniaQ! Hey guys its me again TaniaQ and I wanted to share another sample of a photo set and movie that I did. This one is SheLesbian, and as you can see there were 4 of us that night. Naomi chi, Nina StrongHold, and Nikki Montero! And of course myself. It was a cock sucking good time and you will love the movie as much as you love the photo sets.
Click now to watch this amazing Trans Lesbian action!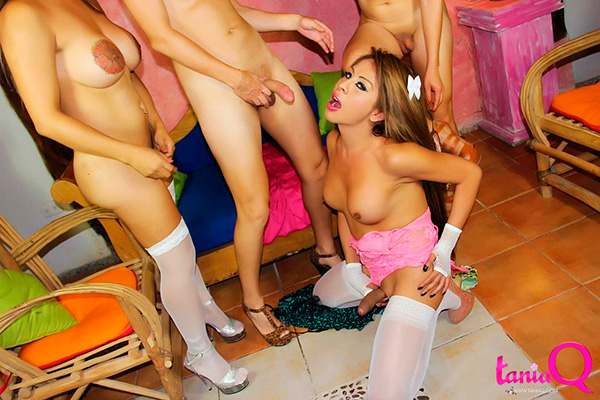 These girls are all hot and they all have their own Websites. So sit back and enjoy this action then check out my members area.
From there you can also check out the other girls sites as well
For those of you that cant afford a membership right now. Check out free lower quality samples of me naked.
Categories
Hot Sites to check out!