Browsing articles in "Tits"
Firm Tranny Boobies! TaniaQ outdoors flashing! Yes Again! I love showing off my bobbies and for that my cock as well. And yes I do have firm tranny boobies and I also have a big cock. So if you like both and to be around a tranny girl! Then come and hang out with me. Lets go flashing. And you can take the photos. Then when we are both hot and horny we can get naked some place and caress each other. Licking and sucking and also a lot of fucking really hard. I am versatile so you should be as well so we can max our fun together!
Click here to join me now and see more!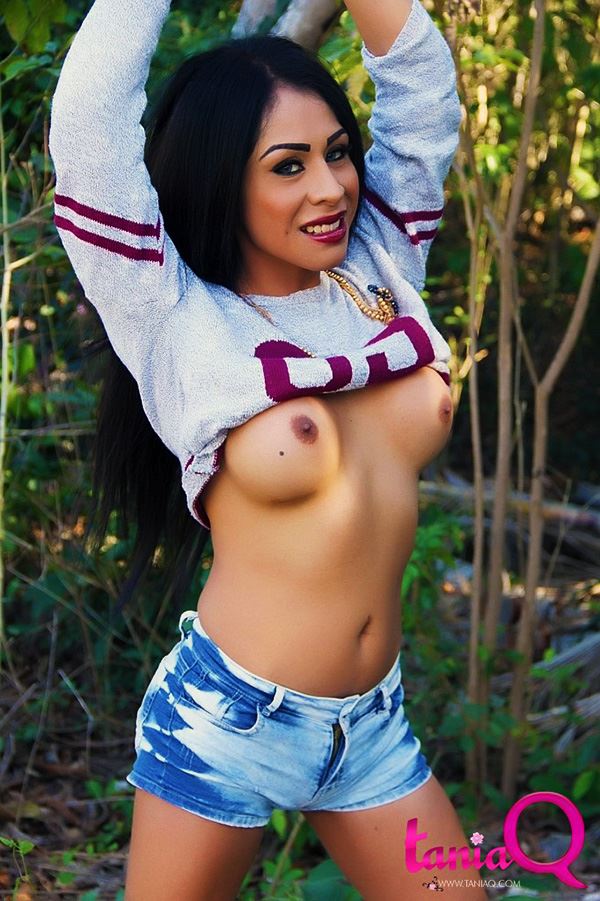 If you like you can also surf around this blog for more samples of me and my boobies!
Naked Outdoors and stroking my cock! First of all its fucking hot to see an amazing body naked outdoors and when its a tranny with a thick and juicy swinging cock! Its even better. And honestly you have a huge chance of running into TaniaQ and her also being naked when you do. Just make sure you peek around your favorite park as you might see her there.
As a matter of fact it is often hard to keep Tania dressed. And for you and I that is a great thing. This little tranny slut is always so hot she just strips where ever she is and we get to enjoy watching and touching this amazing body.
Another thing is its fun to fuck outdoors and that's what TaniaQ was hoping for when she shot this set. Sadly there were no guys around with their cocks swinging!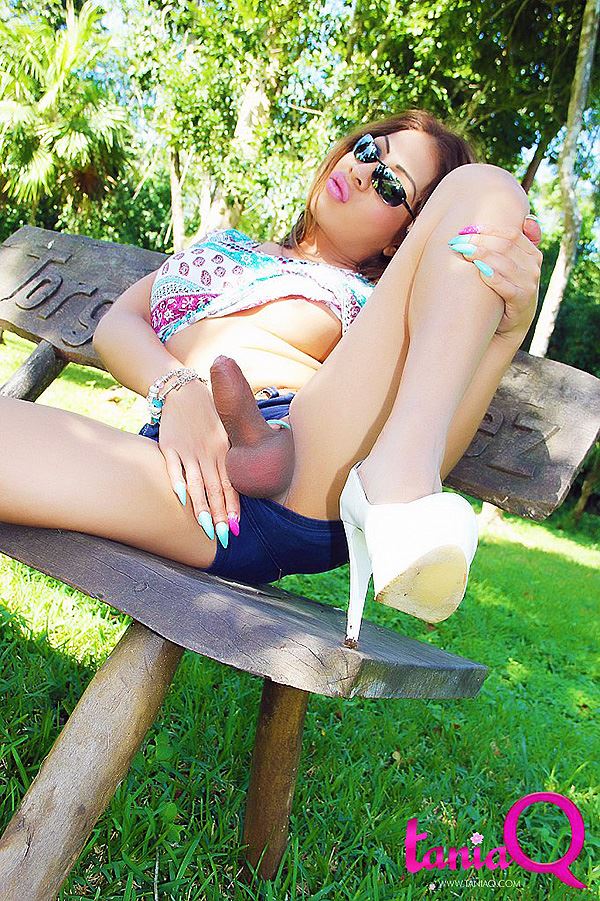 If you have a cock thats ready for some action and also ready to cum. Join TaniaQ right now!
You can check out other posts of her here on this blog.
But always remember to rate and also comment. Make sure that Tania knows who you are and how you found her. Also make sure you tell her what else you want to see and do.
Tranny OutDoors. On top of a hot car! Ok, so which tranny here do you prefer? The tranny under the hood or the tranny outdoors? I think I would take the car for a ride and ride the hell out of the tranny. Tight firm tits and a tight little ass with a big cock. So perfect.
TaniaQ is the hot tranny outdoors and she shows off this amazing and also hard body all the time. So right now its time for you to check out the rest of this set and get off with her.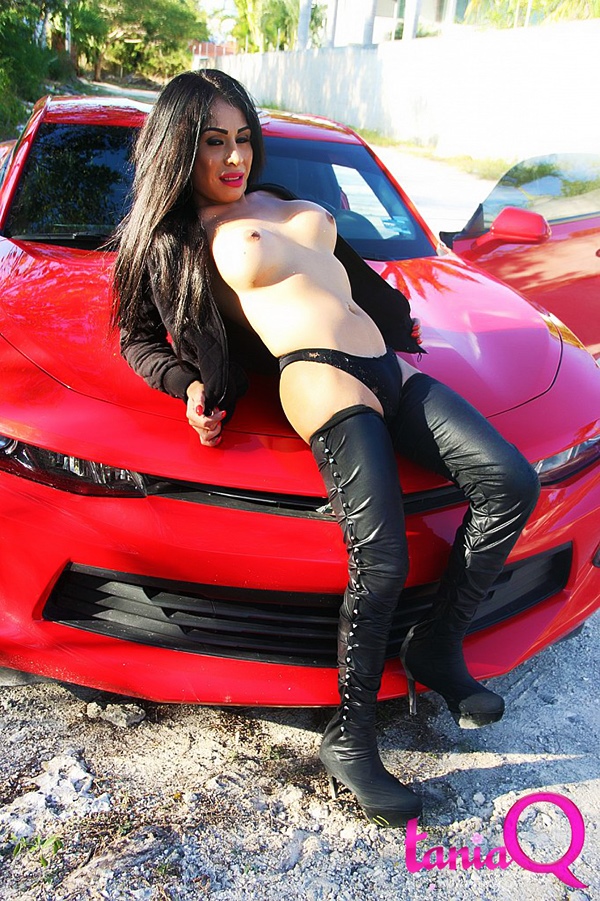 Can you imagine going out with TaniaQ In this car. Yes everyone would stare for multiple reasons. And once you get a nice crowd of guys looking, have Tania lean over and suck your cock as you drive away. Talk about a road of envy! The guys would be freaking out. They would all want to take your place.
Come into the members area right now and see this and all the other cosplay scenes as well as outdoors and in. Also plenty of hardcore for you.
Click right now on the image above or one of the text links to see the rest of this set.
Otherwise you can surf around on this site some more for the free samples. TaniaQ masturbating.
SideBoob! Shot outdoors and it was HOT! Yes it got so hot I was melting like I said. But I love this photo. Its the perfect sideboob shot and I makes my tits look amazing and very tasty! We were at this amazing little park. No one was there but us. I was changing clothes in the open and walked out onto a small bridge. I stopped in the sun and the PhotoG said to turn half way. So I did. Then she said to lift my top and show my tits to the sun. Of course I did that as well. The result is this hot shot of my tits. And its a photo I live.
When I see a shot like this it makes me want to reach out and touch the person. Do you want to reach out and touch my boobs? You can! Just join my site today and enjoy all my photos and movies.  Once you have done that make sure to comment and leave me your contact. The next time I shoot I will let you know where. Maybe you can join me and we can have some fun.
Check out this photo below and let me know what you think. Then also check out my members area by clicking here. Or click the image.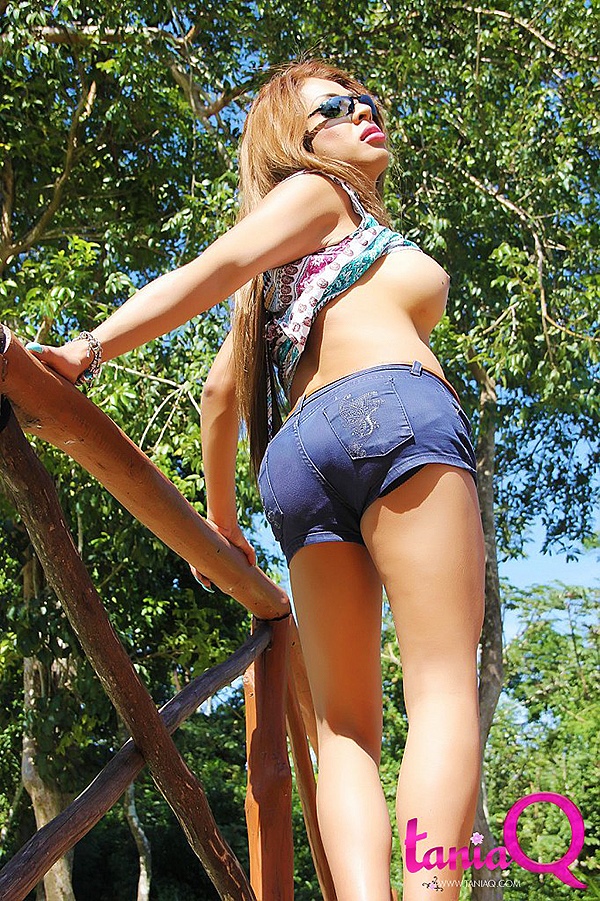 If you want to check out some other posts on this blog. Click below. Also remember to make comments.
Categories
Hot Sites to check out!