Browsing articles in "Cosplay"
Tranny FLasher! Well it would have been fun! However where I live I would get in deep trouble. I also would have about a thousand guys chasing me, so I may do it anyway.
So I was considering this outfit for halloween last year but someone said I would end up in jail. So we turned it into a hot photo set for you instead.
Can you imagine. You walk out of your office. You are heading to your car, maybe chatting on the phone or surfing the internet or something. But your attention is only partially on the way you are going.  At one point you glance up. Walking towards you is a blonde girl. Average height. She has on high heels and a long over coat. Her hair and make up are done.  Sensual you think as she slowly approaches. You notice that she is making eye contact so you slow your step. Just as you do she takes her hands and places them on the sides of the jacket and whips them open.
Your first thought is what is this woman doing. Then you notice this is a Trans girl and she has a big hard cock pointing straight to you. What would you do?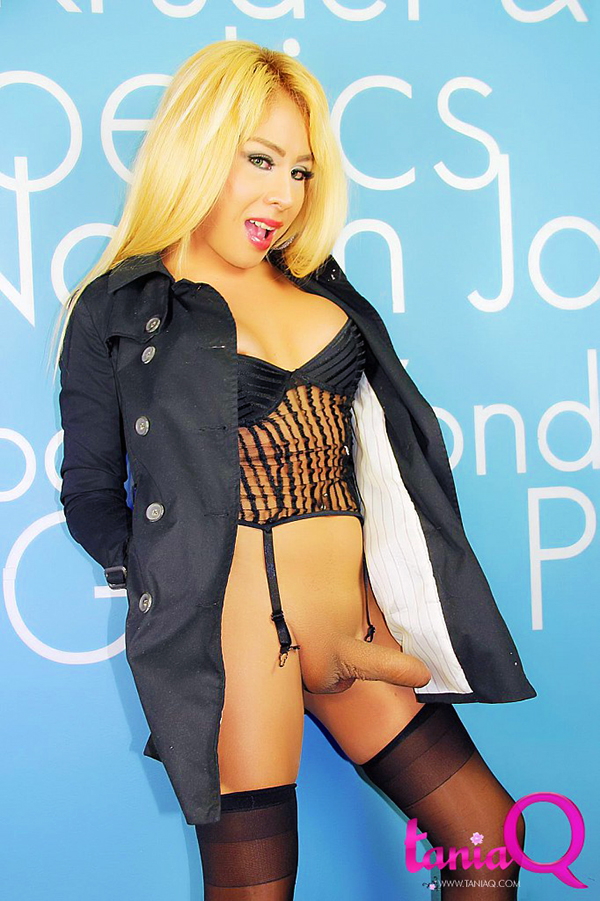 That's correct, I was going to go as a tranny flasher. Especially to the clubs and in very adult public places.
No matter. Join me right now to see the rest of this photo set and also check out all of the videos in my members area.
Make sure to say hello and rate my photo and also video sets.
Make sure and reply to this thread with some comments. Let us know what you would do. How you would react.
Also please make sure to look around at more sample photos of TaniaQ and her big tranny cock.
High heels! Or is it the shemale erection? So in the photo below, which one attracts your attention the most?
The High Heels or the tranny erection? Lots of men could care less about the heels. However heels make the leg shape a lot sexier and that in turn makes the cock look better. So you need to ask yourself which you prefer. Is it the heels? Or is it the shemale erection. Also could it be the combination of the two? When combined a lot of the times the girls keep their cocks harder longer no matter what you are doing. Girls like TaniaQ just feel sexier in the high heels so they love to strut around and show off their cocks. That of course opens up more fun for you because of the things you can do. Just get your favorite trans girl to walk around naked and hard in heels. Watch the ideas pop into your head and watch your cock stand up rock hard as well.
Click here to check out the rest of this set in TaniaQ's members area.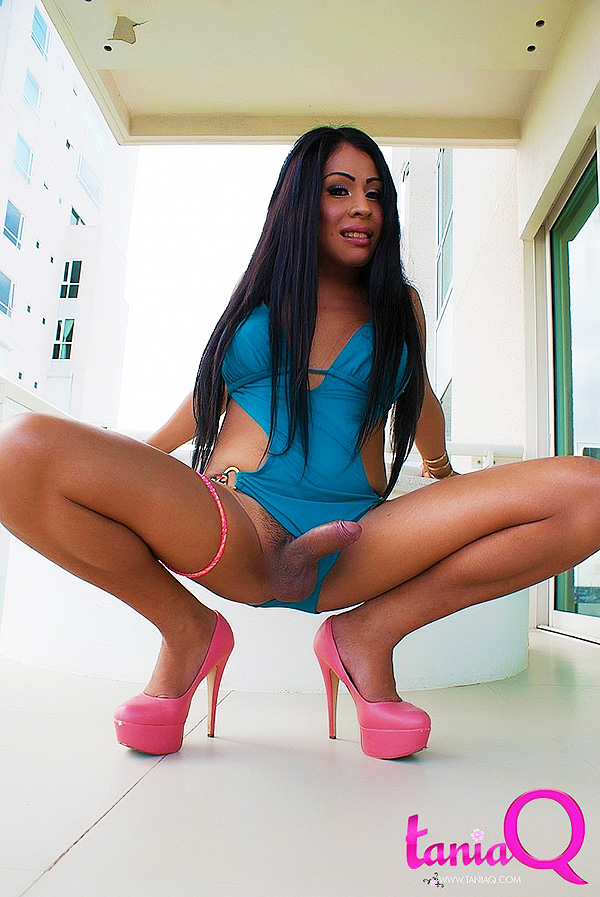 Other wise you can simply surf around this site for more amazing and hot photos of Tania!
Please rate and also comment on the sets that you like the most.
When it comes down to trans girls having fun. You wont find a girl quite as wild as TaniaQ. And when we wanted to do a set for Sucking TaniaQ's cock, She jumped up and said. Natty. After just a moment of confusion on the set. Tania was on the phone with Natty and telling her all about the idea. And you can bet your ass that Natty rushed over to have some fun Sucking TaniaQ's cock!
We found out later in the day that Natty had been after Tania for a while. But Tania was trying to stay friends. So what better way for them to enjoy each other than posing for movies and photos. That way, Natty could enjoy Sucking TaniaQ's cock! And Tania did not have to worry about it messing up their friendship. Which it did not. In fact it got better and Tania tells us they have since fucked many times and even invited some fans to join them.
Check out the photo below from the photo set and also from the movie. Its hot and you will love this one. As well as the other movies of these two lovely young ladies having fun with each other.
Click on the image below right now to see more. Or you can also click on a text link above. Join her right now to watch the whole movie.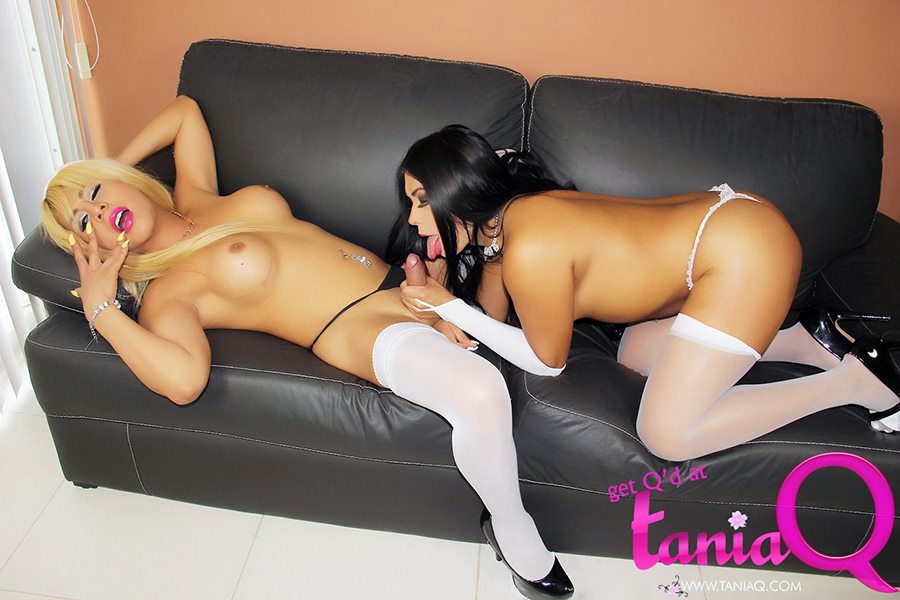 Thick Juicy Tranny Cock! TaniaQ has a hot one! Yes guys I do! Or at least I have been told I have a thick juicy tranny cock! And the good thing about that for you? I get nice and hard in your mouth or hand and then I can stick it into your ass hole and spread you wide. Pumping in and out. Making it hurt! Or I can go soft and slow and the only pain is from the girth of my cock spreading you love hole wide open! Just imagine the head of my cock piercing your anus! Also think about you getting behind me and doing the same thing. Stroking in and out and everything you can imagine!
Click here right now to enjoy this photo set!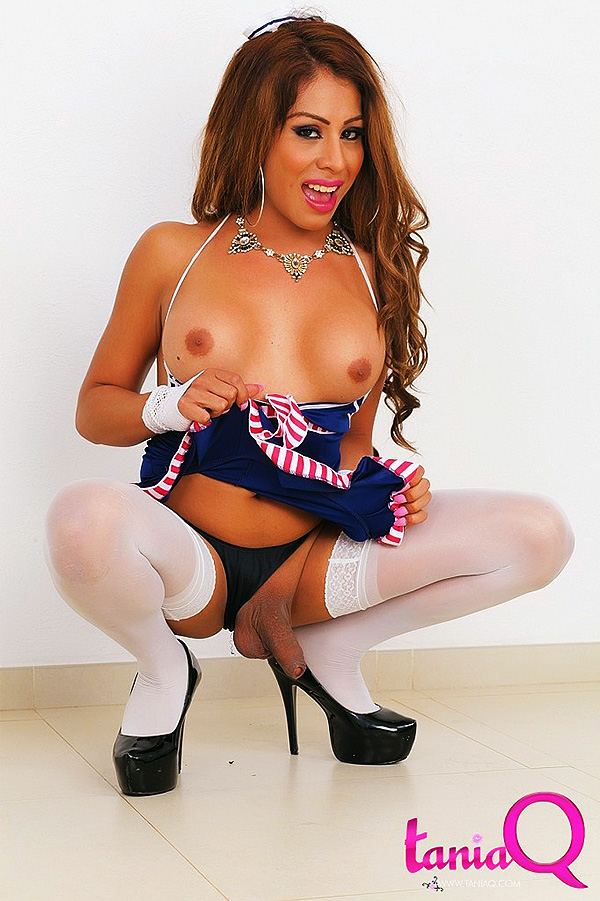 You can also surf around this blog for some more samples.
Further more once you are in the members area. Contact me right away! I can not wait to meet you and fuck.
Heels! What kind do you like to see? High heels or the lower ones? First of all, I personally feel the high heels tend to make a girls legs look better. Another thing is they tend like to make a girl stand more straight. This of course also pushes her boobs out! Giving you a better look at her body and how nice it a is. Most of all I think they just look very sexy!
The next thing is what kind of heels do you like shoe wise. For instance here I have on a small boot with a heel. I was working after all and have to look the part! Wink wink! This heel also is a little higher than normal for a boot. Its not the highest I have seen but I found it sexy!
Dont you just think I look adorable as a secretary? Come and sex me up and make me take your DICK tation!
Are they hard to walk in? Not really! Once you get the hang of them you can also run in them! But dont worry guys, I wont run away. tranny? I will run right to you!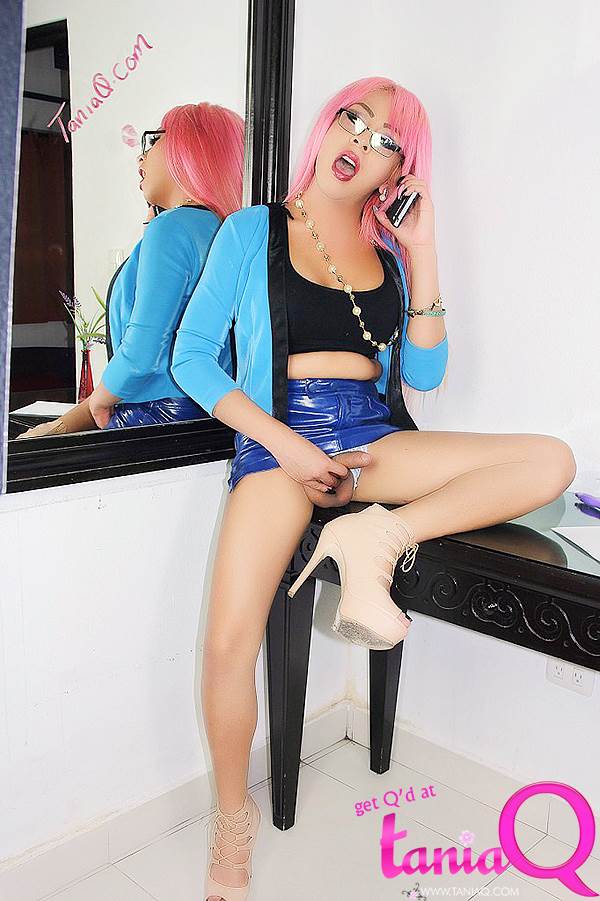 The next time I go to work and grab a few photos to share with you what should I wear? Should I also wear a skirt or a longer dress or maybe shorts? I do love to dress up and get men hot and I want you to know what you like to see. What kind of sexy clothing or heels turn you on?
Lets chat in my members area or you can just post some comments here on the blog.
Either way I do hope to hear from you. I want ideas for photos and videos and I also want them for sex! I love to fuck and can never find enough ideas to keep things hot. So if you have them let me know.
Kisses to you Babe.
I am sure none of you are asking why a tight tranny ass is important. But I am guessing that some of you also enjoy doing more than just sticking your cock into a tight tranny ass. In fact I am also guessing that some of you like to play games with your favorite trans girl. From lick and stick to what all can I get in there. And the best part is a good number of these trans girls will let you put almost anything inside that you want.
Take TaniaQ here. She was playing nurse and wanted someone to take her rectal temp. She really wanted you to play and stick something into her tight tranny ass. Playing these games excites both you and her and she can never get enough of that excitement. So make sure and play with her when you meet up! Oh, yeah, simply message her from her members area and that way you can work out a way to have some personal fun with her.
Click on the image below to check out more of this sexy and hot shot of her tight tranny ass. And yes its waiting for your input.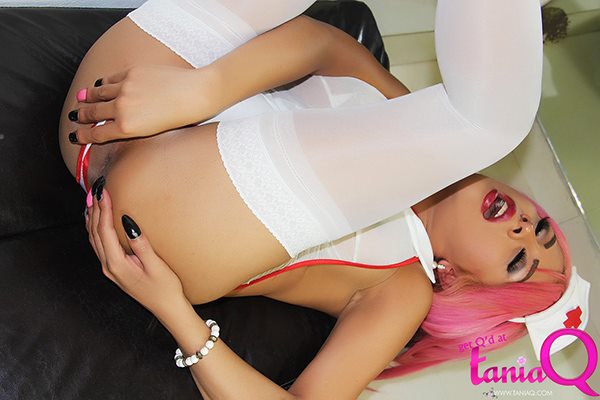 Also please if you would, rate and comment below on this photo.
Some times TaniaQ can take things a touch too far. Other times she takes them to the right point and lets them pop. Personally her phone sex photo set is about what I would expect out of this wild woman. Take for instance this photo set for Phone Sex. Tania got carried away and decided that fucking the phone as well as chatting with the guy would be totally hot. So she started trying to shove the phone into her ass hole so that she could get off with him.
Now I have explained to Tania that Phone sex is about her talking hot and telling the guy about touching her self as well as touching him. How she wants to fuck him or have the guy fuck her ass. But she always wants to shove that phone in her ass. So I would recommend that you skip the phone sex with TaniaQ and go straight to the hardcore ass fucking. You might as well.
If you want to check out the rest of this photo set. And you already know that you want to. Then click on the image below and stop wasting your time. Get off with TaniaQ and her hot idea of phone sex.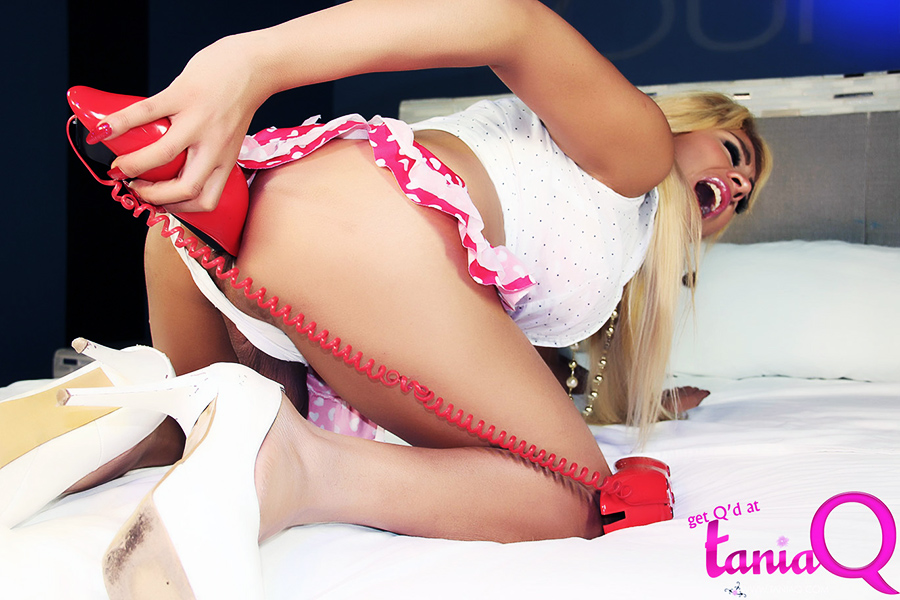 TaniaQ Open ass for sex! Come and get some! Hi guys. Its me TaniaQ and I am back with a new photo set to share. I also wanted to make it an invitation! So sit back and enjoy this sample photo of me in Open ass for sex! I want some cock and it goes right there guys! Right into my title little open ass! So if your hard and you already have your cock out. Its time to get it wet and dip it into my love hole! No NOT hesitate to come and sink your hard cock into my ass hole. I am waiting for you!
Click here to check out more of this photo set. Closeups and all!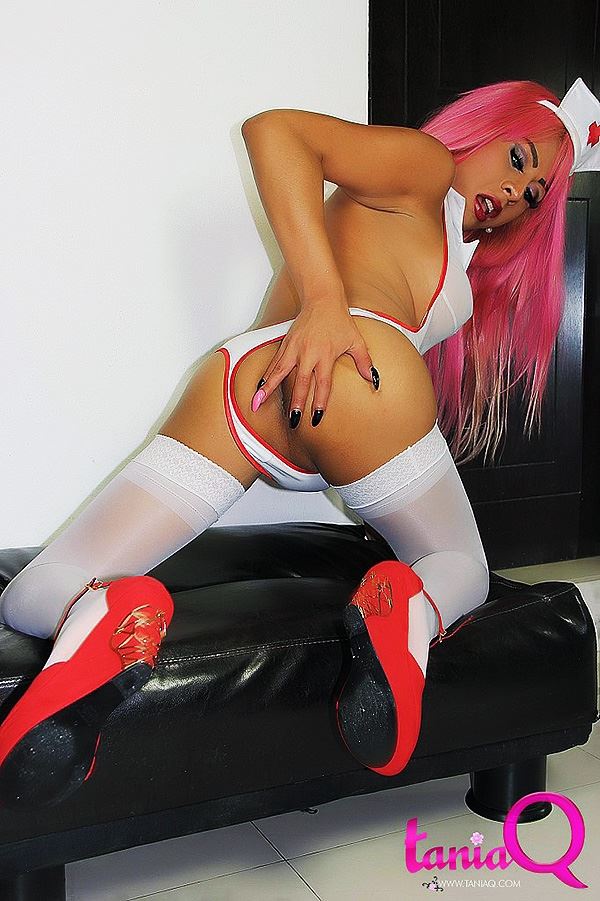 I love getting my ass hammered. And I love to do the same to a tight ass. So come and visit me and let me know how hot you got with this set. Then we can talk about who will top who!
I hope to see you in my members area today. You really do not want to miss my updates!
Click here to join me and also to rate and comment on my sets.
Otherwise you can surf more samples of me on this website right here!
Big Mexican Tranny Cock! Hi guys. For those of you who know me. Hello Loves! For those of you who do not. I am the interactive trans of your dreams. I am TaniaQ and I want to share my Big Mexican Tranny cock! For those of you who love an interactive trans, I am your girl. I have a nice tight love hole that is always ready for some cock. And I also have a big fat tranny cock of my own that loves to destroy and ass!  If you are up for some bottom action and hell even some top action lets hook up and get fucked together. We can flip a coin for who goes first. That way its random! So let me know what you are into and lets have some fun!
Click here to see the rest of this photo set and also the video!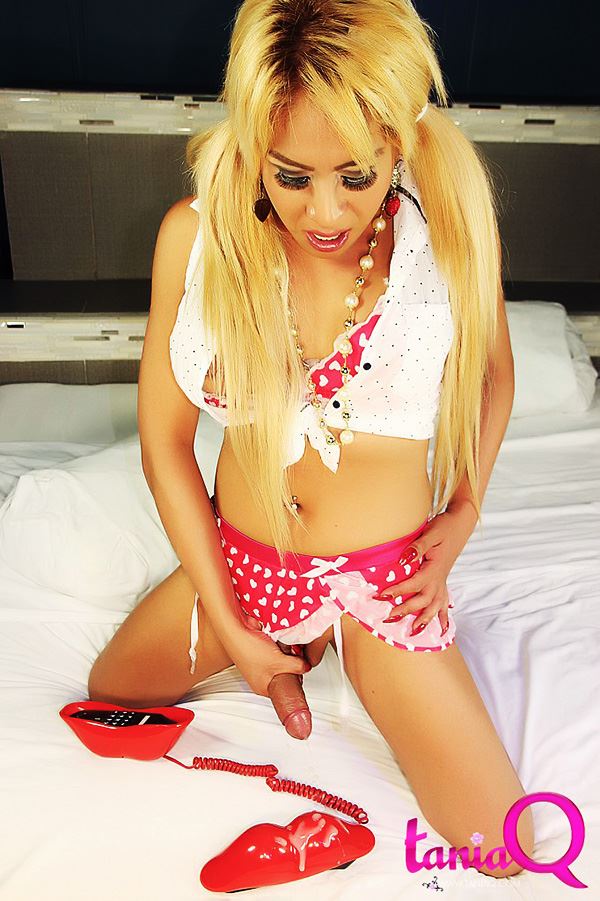 Do not miss your chance to get off with me. We can stroke together or me inside your love hole. And also you inside mine. Just let me know what you prefer!
Click here for more samples of my hard tranny cock on this site.
Otherwise get your membership right now for my site!
Can't see the cam feed? Then Click right here. Your Browser is blocking it!
Sexy High Heels, Stockings and cock! Hey guys it's me again. The wonder woman of Cosplay. Today I have on a black pair of sexy high heels, white stockings and a little sailors outfit. Complete with a little hat, and white finger less gloves. Come and see how hot things get. Your going to explode.
But as you can see there was a little accident. I had a cock slip! Well ok it did not slip! I put it that way in en effort to get your attention a little more. Now that I have it its time to get naked and have some fun. So if you ready to play with me, log into my members area and let me know all about what you want to do! Click now and come and see more of my Sexy High Heels and all the things that I take off just for you!
Click here to log into the members area of my website!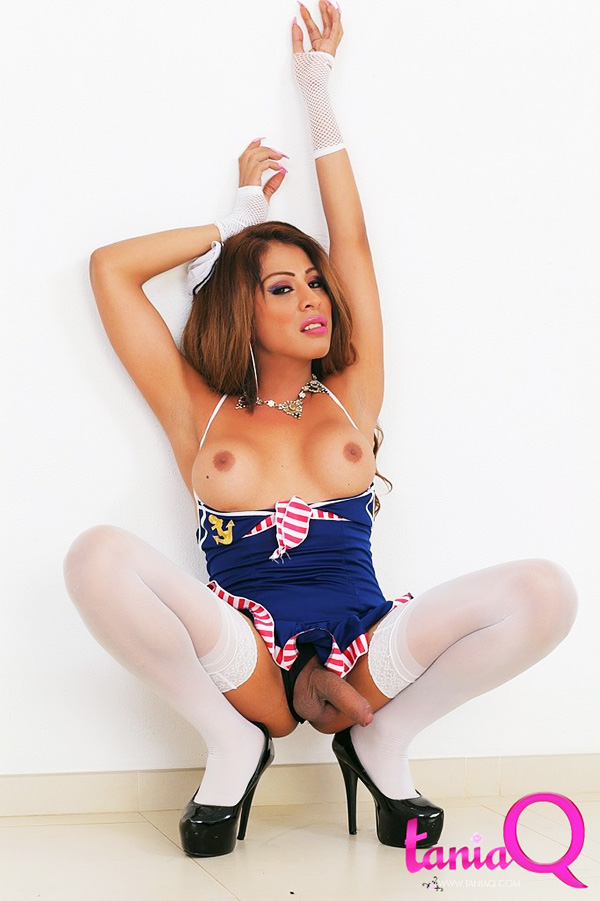 I also have a number of other sample photos here on this site. As well as a few video clips you can check out.
Do not miss this chance to see more of me in the members area. Click right now!
Tranny Costumes! Happy Halloween from TaniaQ! Sitting thinking of the topic for this post we needed to ask! What sort of Costume do you think is a good Tranny Costume? First of all do you like trans that play dress up with sexy outfits? Or would you rather a hot trans girl just naked and in heels waiting for you when you arrive at home?
If you answered yes then your going to love TanaiQ and never get enough of her! She not only has costumes but also the most lingerie of any one tranny!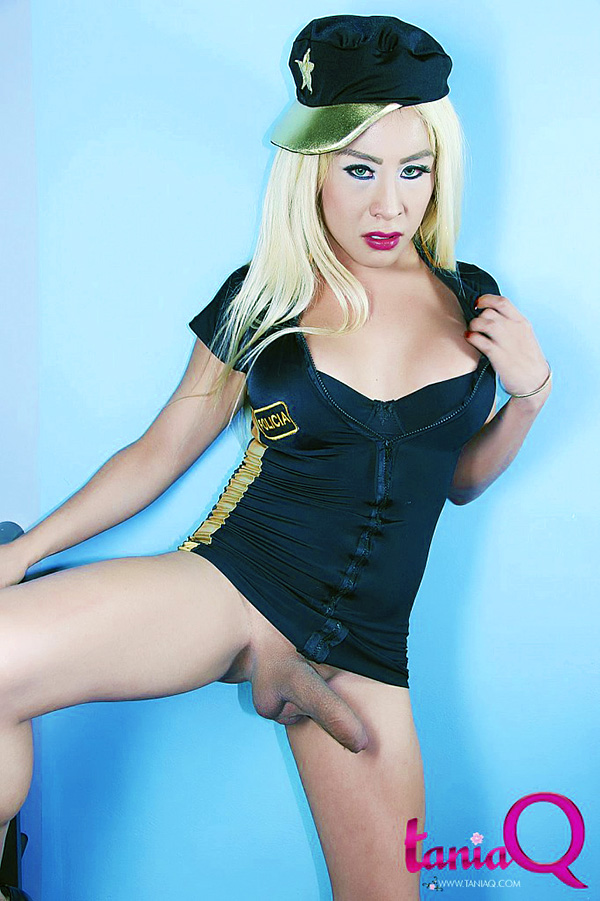 Click here to check out her members area of photos and also videos. From stripping to hardcore with other trannys and also with toys!
Or you can also check out other posts on this site by clicking here and surfing around.
Make sure to rate and also comment for Tania so she knows what you like!
SheLesbian TaniaQ poses with a girlfriend. Yes guys thats the amazing and sensual SheLesbian TaniaQ. Check her out and that amazing tight body. See the hot trans on the right? Well those two are going to fuck and you will love watching that hardcore action. Its SheLesbian all the way. Honestly there is nothing like watching two hot SheLesbian trans girls fuck each other. Just sit back, get hard and stoke while you enjoy this anal action.
Click here to join Tania today!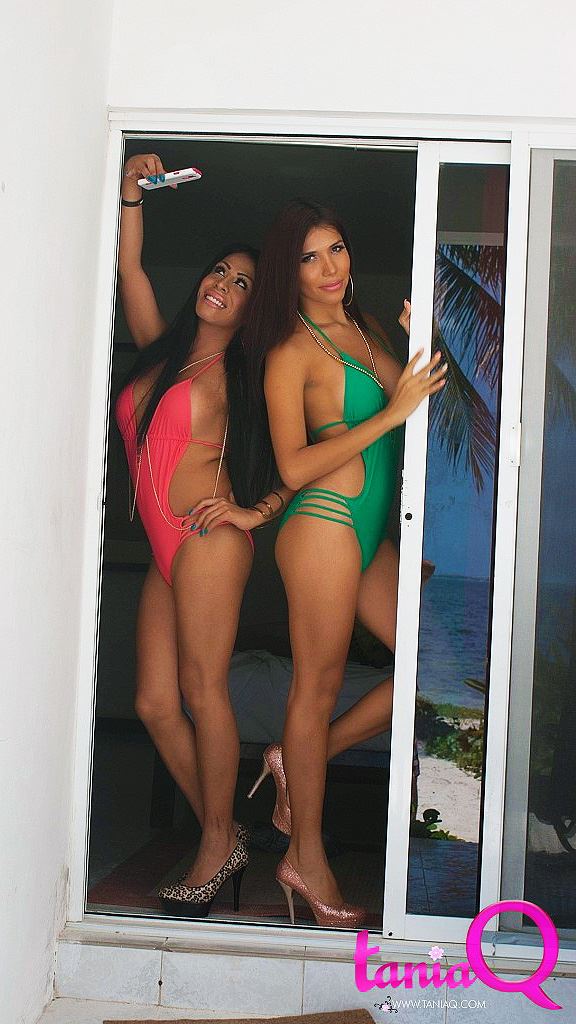 Or you can also surf around this blog a little more and check out some other samples of amazing trans girls.
Further more don't miss out on the live can stream at the top of the main page.
Another thing. Rate and also comment on this site and in the members area of her website.
Hot Sites to check out!
Categories