Browsing articles in "Ass"
I have told you before that TaniaQ is a wild child. So we are a bit surprised that she wanted to do photos and a video of phone sex. Do not get me wrong, Phone sex with TaniaQ is pretty damn hot. But when its for a video and photos for her site we were just a bit skeptical. And as always Tania brought a sexy outfit to wear. She got dressed up and climbed on the bed and pulled out a big red phone. Yeah Surprise!!! Then she popped in an ear piece and took a call on her cell. But she hid the cell. Apparently she had a guy on the line telling her what he wanted to do to her amazing and hard trans girl body.
Anyway the cameras started to go and she was using the phone to chat and also to play with. That or course was when we got Q'd. Tania literally started to have phone sex. Or should I say sex with the phone? Rubbing it on her firm trans girl tits. Sticking it between her ass cheeks and rubbing her love hole with it. And all while listening to the guy on her cell. Tania got hard and rubbed the phone and her cock together as well. I guess you just need to see this movie to believe it.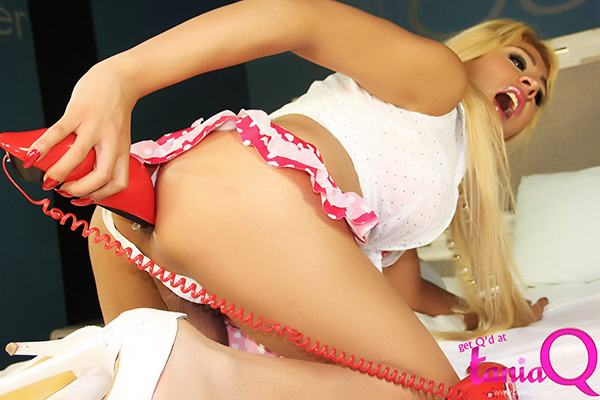 So if you want to enjoy a bit of Phone sex with TaniaQ. Log into her members area right now!
I am sure none of you are asking why a tight tranny ass is important. But I am guessing that some of you also enjoy doing more than just sticking your cock into a tight tranny ass. In fact I am also guessing that some of you like to play games with your favorite trans girl. From lick and stick to what all can I get in there. And the best part is a good number of these trans girls will let you put almost anything inside that you want.
Take TaniaQ here. She was playing nurse and wanted someone to take her rectal temp. She really wanted you to play and stick something into her tight tranny ass. Playing these games excites both you and her and she can never get enough of that excitement. So make sure and play with her when you meet up! Oh, yeah, simply message her from her members area and that way you can work out a way to have some personal fun with her.
Click on the image below to check out more of this sexy and hot shot of her tight tranny ass. And yes its waiting for your input.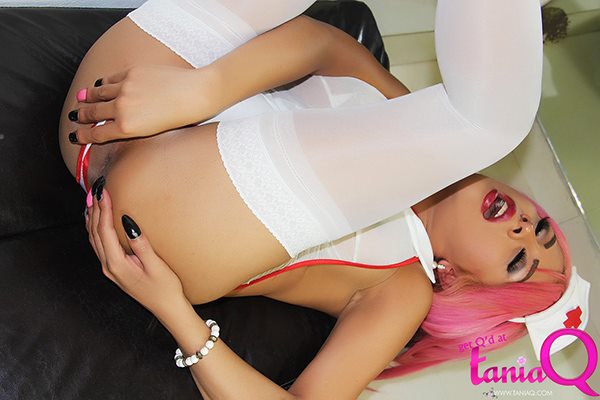 Also please if you would, rate and comment below on this photo.
Tight Tranny ass of TaniaQ! Hey guys. Once again I am going to make you an offer you should not refuse. Im going to offer up my Tight Tranny ass! Just slip up behind me and stick your lubed hard love rod into my hole.
Or you can kneel down behind me like this. Then gently suck the head of my cock deep into your mouth while you use your fingers in my ass! Make sure to give my tranny balls a lick also! That sends Shivers through me!
Click here to join me instantly and play with my tight ass hole.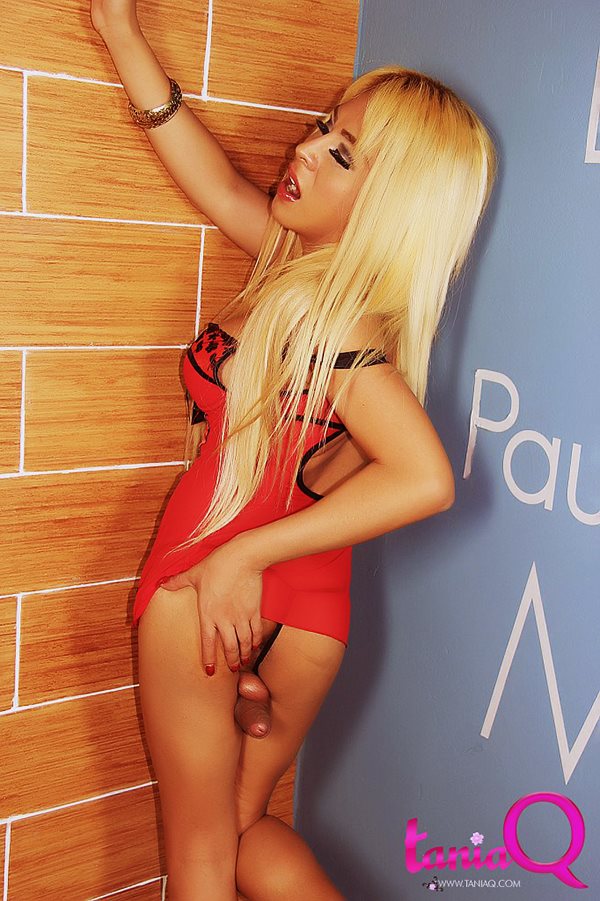 I really need some hard man cock so join me right now and lets play. Your going to adore my photo sets and also my movies. Most are in ultra HD and the rest in HD. Click and join me then click and fuck me!
Otherwise for those of you with no money. You can also see more by surfing this site until you get paid again. But then you simply MUST join me!
Some times TaniaQ can take things a touch too far. Other times she takes them to the right point and lets them pop. Personally her phone sex photo set is about what I would expect out of this wild woman. Take for instance this photo set for Phone Sex. Tania got carried away and decided that fucking the phone as well as chatting with the guy would be totally hot. So she started trying to shove the phone into her ass hole so that she could get off with him.
Now I have explained to Tania that Phone sex is about her talking hot and telling the guy about touching her self as well as touching him. How she wants to fuck him or have the guy fuck her ass. But she always wants to shove that phone in her ass. So I would recommend that you skip the phone sex with TaniaQ and go straight to the hardcore ass fucking. You might as well.
If you want to check out the rest of this photo set. And you already know that you want to. Then click on the image below and stop wasting your time. Get off with TaniaQ and her hot idea of phone sex.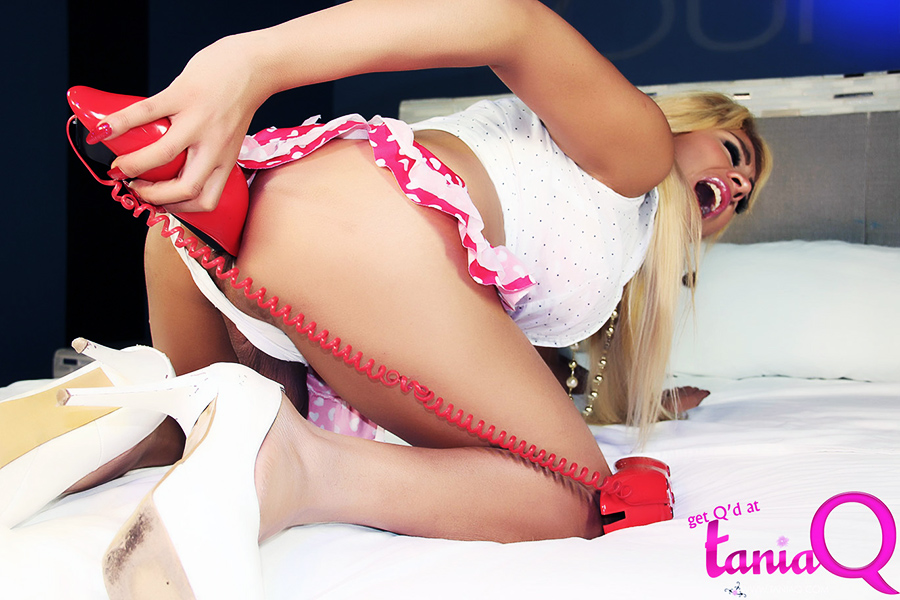 Hot Sites to check out!
Categories