Browsing articles in "Ass"
Getting the chance to find a girl with a perfect body is the best thing that can happen. However we dont always find that perfect girl. So one of the best things you can do is focus on finding a girl with the one part that you need her to have the most. For me its that tight trans ass that is the most important. Yes of course I want her to have a pretty face. And I definitely want her to have big tits. If she has a big cock that is a plus as well. But its that tight trans ass I need the most.
Take a look at the tight trans ass in the photo below and let me know what you think. And yes of course that is TaniaQ and she is ready for some anal action. She wants your cock rock hard, so get it out and start stroking while you enjoy this sample photo of her amazing ass. Once your cock is hard, simply click the image and get your account to her website. Its simple and you will be really glad that you did. The members area of TaniaQ's website is the best place to get off while watching her movies and looking at her photo sets.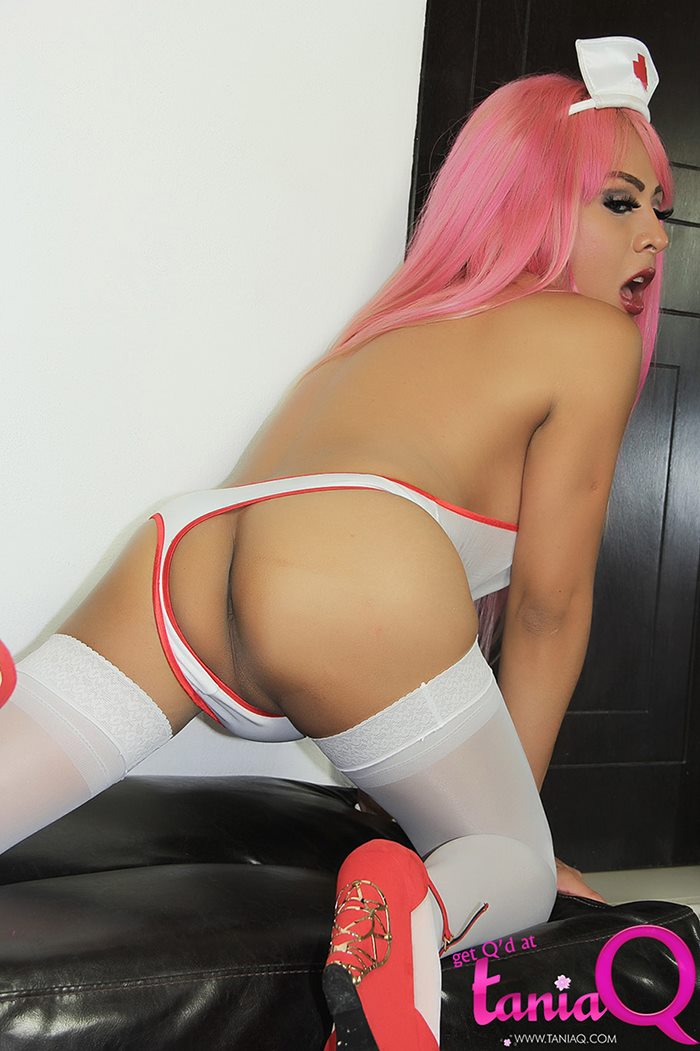 Do not miss out on seeing more of this tight trans ass.
What is your favorite color when it comes to a hot trans girl wearing lingerie? For me its all about the Black Lingerie! But honestly I don't like the color black when its just regular clothing. I prefer more brilliant colors. But Black Lingerie seems to add an allure to me that I can not describe. So seeing TaniaQ pose in this color gets me hard!
When looking at this photo of TaniaQ in Black Lingerie what do you notice first? Do you see her heels or her hair? Or Maybe you see some side boob there? Nahhh I am guessing that you just like me zeroed in on those panties she has on. The ones that you can tell can barely contain her big fat tranny cock. Now all we need for her to do is roll to one side so we can see the prize she has packed in there. And don't worry. By the end of the photo set, you will get to see that cock and it will be nice and hard for you.
Click on the image below to check out more of this set and to see those panties in her members area.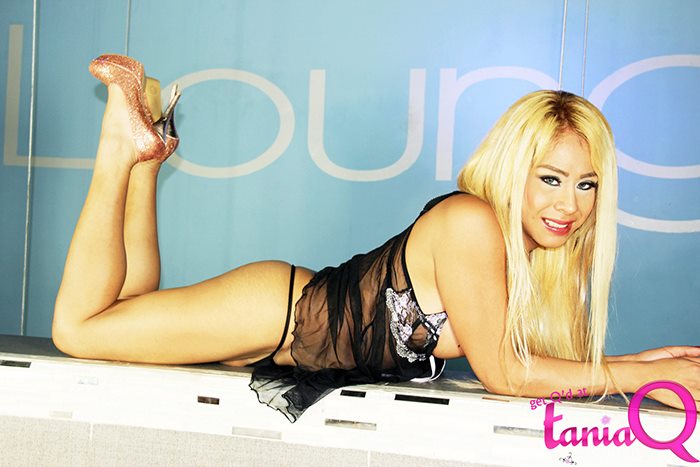 Both your cock and your hands are telling you to click. So just do it.
Who else likes a hot trans girl in panties and heels? As figured a number of cocks jumped up for that one. So lets take a look at TaniaQ as she models for us some hot panties and heels.
Now for those of you who do not know TaniaQ she has actually been around for a long time. And she is one of those Hot trans girl that is always wearing something sexy and rather slutty. Can you actually believe that when I met with her for this photo and video shoot she was wearing these heels, stockings and panties already! She did have on shorts of course and a different shirt. But the heels and stockings looked so hot in her shorts. Honestly there were men standing at the place watching her.. Jijijij. Its one of the reasons I like to pick her up in public places!!
As you can see the panties and heels are a perfect match for each other. The heels being very high and her stockings only going to her thighs. That way they do not get in the way of her sexy panties and her package tucked back. Talk about HOT!
Click on the image below to see more of this photo set and also the video.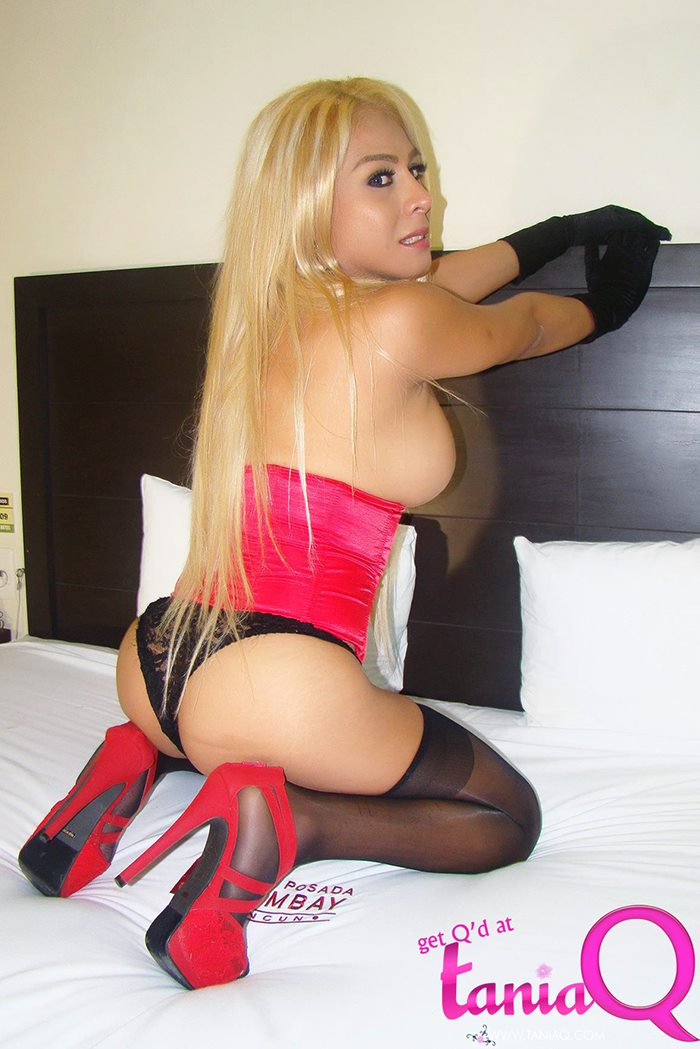 This is one hot trans girl you will want to see more of!
Tight tranny ass!
I have to ask guys because of some of the things I have heard. What kind of ass do you like on your favorite tranny? I have a Tight tranny ass but I heard that some guys like them bigger and more well open I guess. My ass and hole are both small and super tight. However I can still take any size cock. I have to go slow if the cock is huge but I will sit right down on it. Or let you bend me over. Use a lot of lube of course so that we both gain pleasure.
Take a look at the photo below and then click it to see more samples from this gallery. This is a set of free samples to enjoy!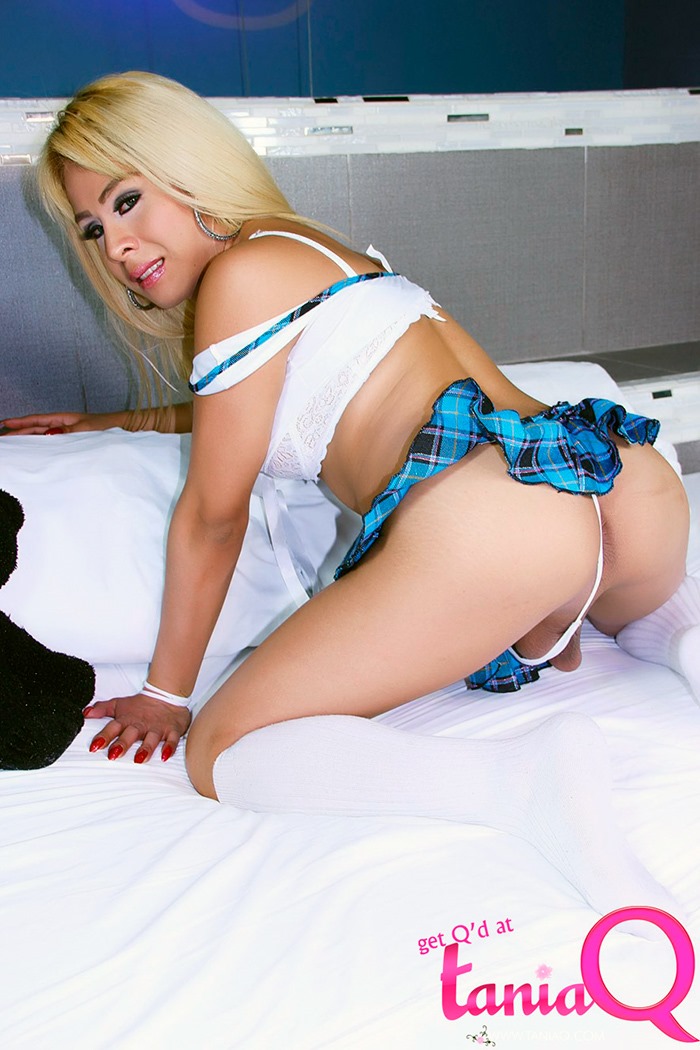 So i am waiting to hear from you guys about ass. What do you like and how do you like it. Please be specific and detailed. I love to read porn. It makes my cock rock hard knowing that you are getting off looking at me and wanting more.
If you want to see some of the other samples of me getting naked or wearing some of my cute little costumes then click here. TaniaQ Hot and Horny!
Hot Sites to check out!
Categories