Browsing articles in "Hard cock"
Trans Lesbians.
Yes guys I do actually swing that way. I can go full lesbian any time. Trans Lesbians that is. I do so love a girl with a nice set of tits and a big hard cock. Not always but some times. The raven haired beauty in the photo below with me is Natalia. She has been my friend for a few years and I always wanted to fuck her. When I started my website I messaged her and asked her to pose for it and of course with me. This turned into some hot Trans Lesbians sex and I was in heaven.
Click on the image below to see more right now and get off with me.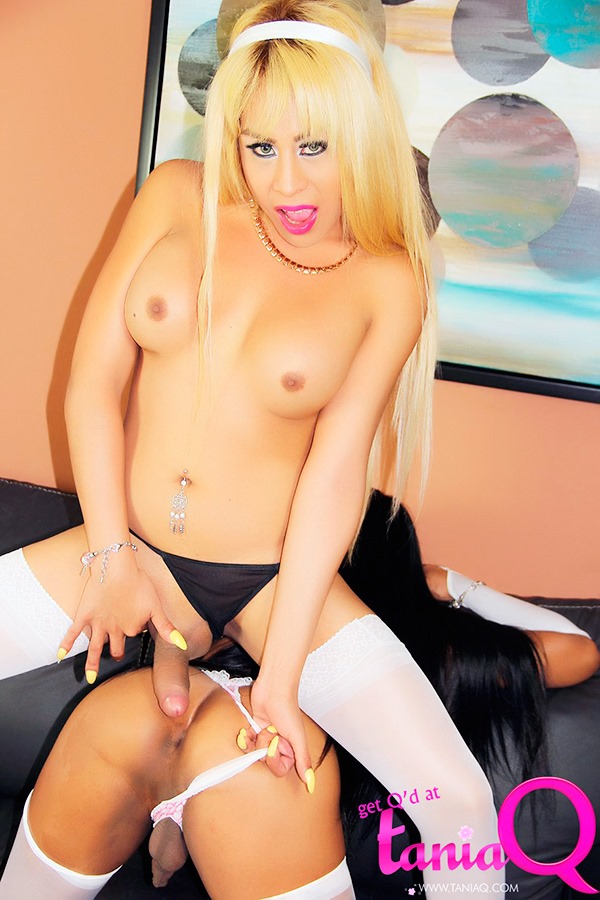 The video that we made after these photos was pretty hot. Natalia has a nice thick cock and it was very hard. The odd thing is I dont know if she was hard for me or the camera guy! But she had a lot of fun and on the way home wanted to know when we would shoot again as well as if I wanted to go out on a date with her.
Click here to see and read more about me and Natalia.
Otherwise I also have some sample photos and video clips right here on the site. So take a look at my hard cock!
Tranny Boots on long tranny legs! Check out TaniaQ's Tranny boots! They make her legs look longer and tighter and they bring attention to that swinging cock. And TaniaQ has a nice cock on her that is well worth paying attention to. When you hook up with a tranny girl like Tania. Make sure to pay attention to the things that turn her on!
Also, do you like the look of boots on a woman? Most men do and they always want more. So take a look at this set and come and see more of it. These photos are only in her members area.
Click here now and see the rest of this set!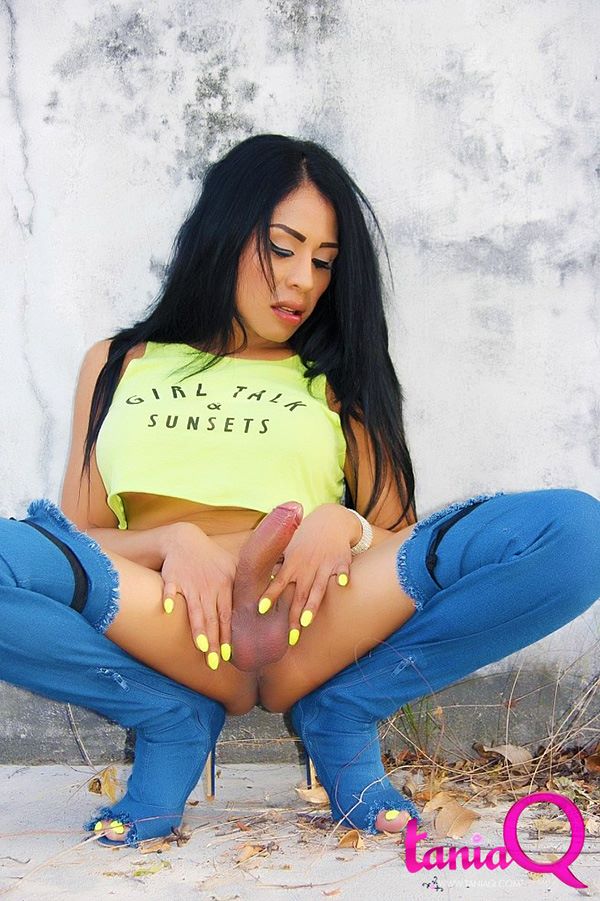 For more of this set, you need to click now.
Also you can rate and comment on the sets in her members area and also on this site.
Sucking Tranny Cock! TaniaQ is ready! For that matter I am always ready to have my cock sucked. For those of you that love sucking tranny cock! Come and get me. I would gladly pull over and let you suck me off.
Just look how hard my cock was when I got out of the car for this photo session. I had been thinking about a guy or a couple of men sucking my cock while driving! So I stopped and got out. Took off my coat so my titties were out and then pulled my cock out of my panties. I was so ready to start stroking. But I wanted to wait for you. I needed to wait for your mouth to encircle my cock and start pumping it with your lips! Oh and then I get to do the same to you.
Check out my members area right now and send me a message. Also enjoy some of my movies!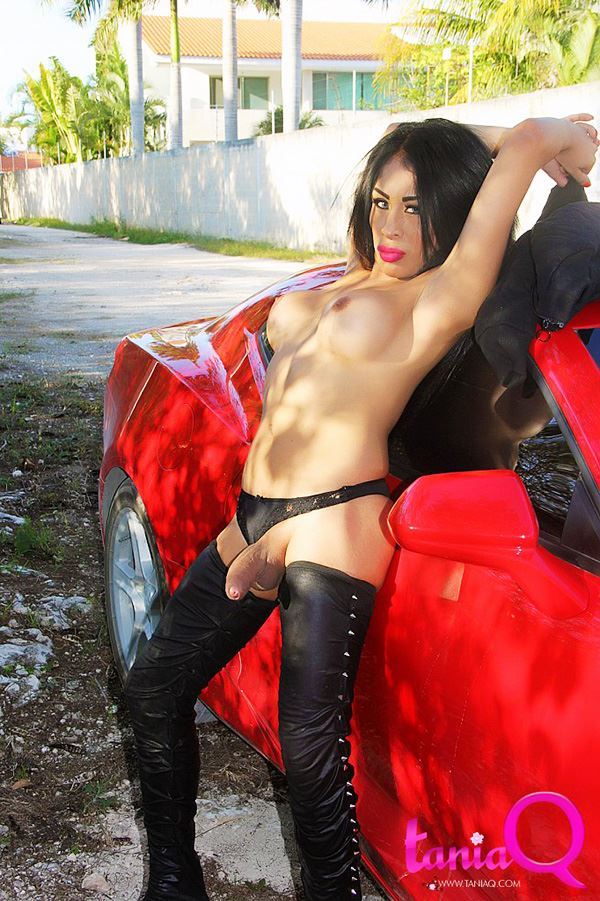 So the next time you get to suck some cock. Make sure the tranny girl is nice and hard. Do what ever it takes to make that happen!
Stick your finger into her ass! Or you could also let her stick one in yours while to nibble on the head of her erection!
Click here to see some other hot samples of my cock!
High heels! Or is it the shemale erection? So in the photo below, which one attracts your attention the most?
The High Heels or the tranny erection? Lots of men could care less about the heels. However heels make the leg shape a lot sexier and that in turn makes the cock look better. So you need to ask yourself which you prefer. Is it the heels? Or is it the shemale erection. Also could it be the combination of the two? When combined a lot of the times the girls keep thier cocks harder longer no matter what you are doing. Girls like TaniaQ just feel sexier in the high heels so they love to strut around and show off their cocks. That of course opens up more fun for you because of the things you can do. Just get your favorite trans girl to walk around naked and hard in heels. Watch the ideas pop into your head and watch your cock stand up rock hard as well.
Click here to check out the rest of this set in TaniaQ's members area.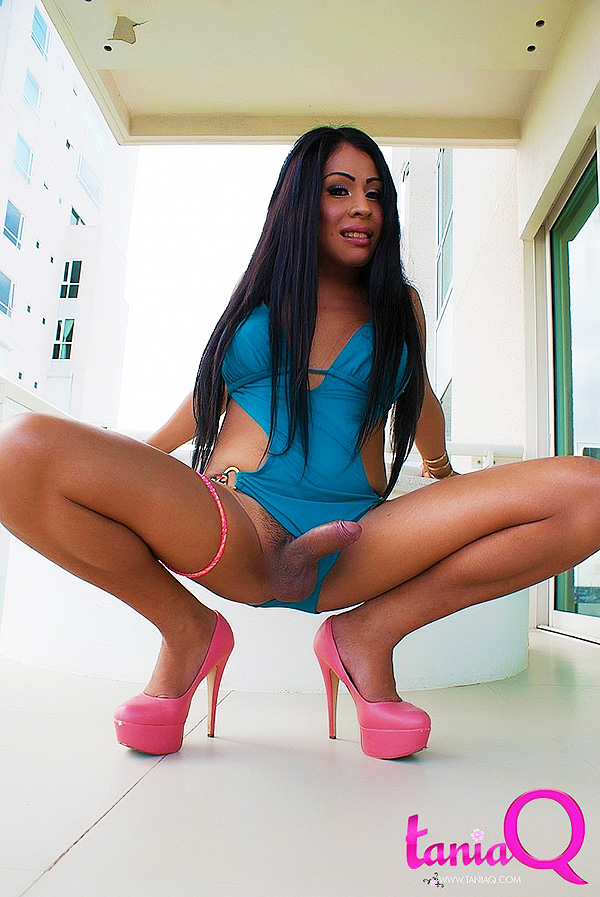 Other wise you can simply surf around this site for more amazing and hot photos of Tania!
Please rate and also comment on the sets that you like the most.
Categories
Hot Sites to check out!