Browsing articles in "Hard cock"
TaniaQ loves flashing that shaved cock. She loves it so much that she does it all the time and in as many public places as she can. She is always careful that only adults are around. And TaniaQ wants men to watch her. If a woman is watching and interested in her cock. Well that's ok as well. But TaniaQ loves when a man sees her and reacts.
When Flashing that shaved cock, Tania will often have on heels and stockings with no panties. And either a long coat or a very short skirt. She loves to have her cock swinging and she will flash as often as she can. This of course gets her cock harder and harder and then before you know it. She has a full on erection that she is showing off.
Now that you know that she loves to do this. You can be on the look out for her when you go places. If you see her and she is dressed in something super slutty. Try to stick around and watch her. She will be flashing that shaved cock before you know it.
Click on the image below to check out the rest of this photo set. Her cock is hot and ready for some fun and she wants to use it on you! Click right now!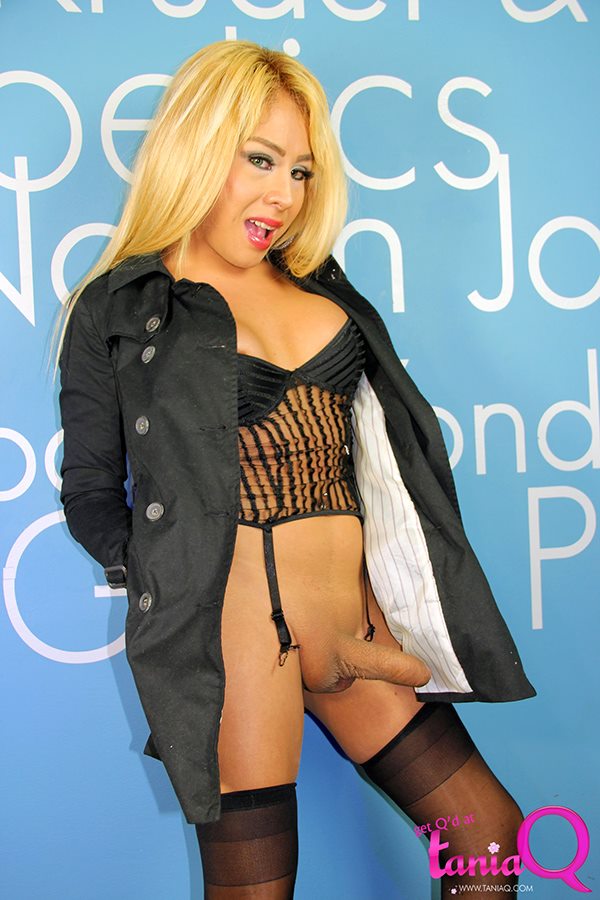 Thick Tranny Cock! Just showing off what you want to see! So guys. Tell me what sort of Thick tranny cock do you like. Also please don't leave out any details as I love to read them and hear them.
Watching a hot tranny with a thick tranny cock pumping an ass or maybe a mouth its a hot and huge turn on. I also like to watch them swing when the girl is getting her ass hold pounded!
Because I happen to love both I want you to line up and do both with me. I need a line to my right of men that like to get pounded! And I want a line to my left of men that want to pound me.
For those of you who have not taken the time to join my members area, You need to do it right now!
So, what are you waiting for? If you have not taken the time to reach out and find your self some tranny cock and a thick one at that! Then its time do it. Right now!
Once you join make sure you also make comments in the members area. I need to know more of what you like and want to see. Make comments on this blog as well and share your thoughts and feelings.
IF you leave me your contact I will also try and say hi. So make sure to visit and and enjoy with her cock in your hand.
Right now is your last chance to see more. So join me and don't miss out.
See other posts on this website of me and enjoy even more.
Click here to check out some amazing trannys on webcam!
Can't see the cam feed? Then Click right here. Your Browser is blocking it!
High heels! Or is it the shemale erection? So in the photo below, which one attracts your attention the most?
The High Heels or the tranny erection? Lots of men could care less about the heels. However heels make the leg shape a lot sexier and that in turn makes the cock look better. So you need to ask yourself which you prefer. Is it the heels? Or is it the shemale erection. Also could it be the combination of the two? When combined a lot of the times the girls keep their cocks harder longer no matter what you are doing. Girls like TaniaQ just feel sexier in the high heels so they love to strut around and show off their cocks. That of course opens up more fun for you because of the things you can do. Just get your favorite trans girl to walk around naked and hard in heels. Watch the ideas pop into your head and watch your cock stand up rock hard as well.
Click here to check out the rest of this set in TaniaQ's members area.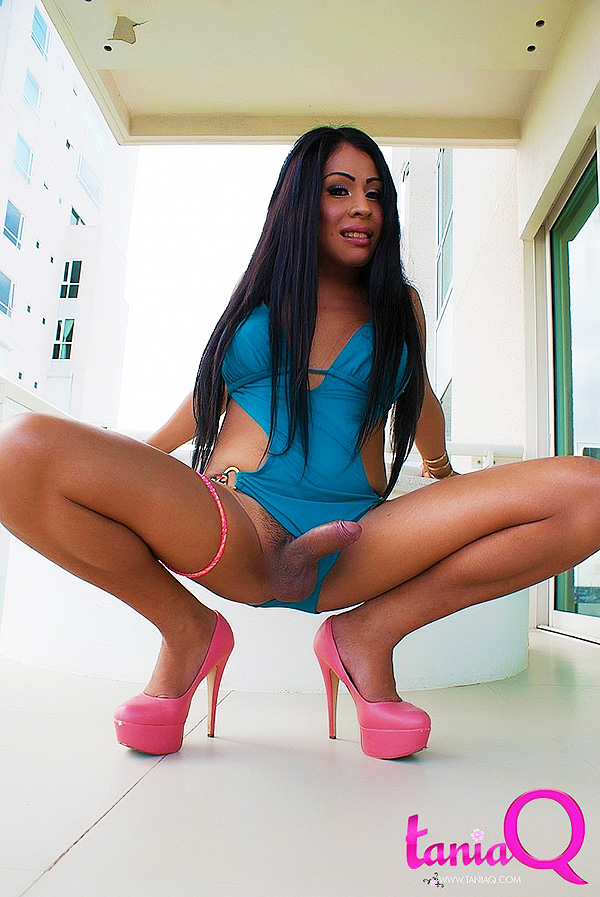 Other wise you can simply surf around this site for more amazing and hot photos of Tania!
Please rate and also comment on the sets that you like the most.
When it comes down to trans girls having fun. You wont find a girl quite as wild as TaniaQ. And when we wanted to do a set for Sucking TaniaQ's cock, She jumped up and said. Natty. After just a moment of confusion on the set. Tania was on the phone with Natty and telling her all about the idea. And you can bet your ass that Natty rushed over to have some fun Sucking TaniaQ's cock!
We found out later in the day that Natty had been after Tania for a while. But Tania was trying to stay friends. So what better way for them to enjoy each other than posing for movies and photos. That way, Natty could enjoy Sucking TaniaQ's cock! And Tania did not have to worry about it messing up their friendship. Which it did not. In fact it got better and Tania tells us they have since fucked many times and even invited some fans to join them.
Check out the photo below from the photo set and also from the movie. Its hot and you will love this one. As well as the other movies of these two lovely young ladies having fun with each other.
Click on the image below right now to see more. Or you can also click on a text link above. Join her right now to watch the whole movie.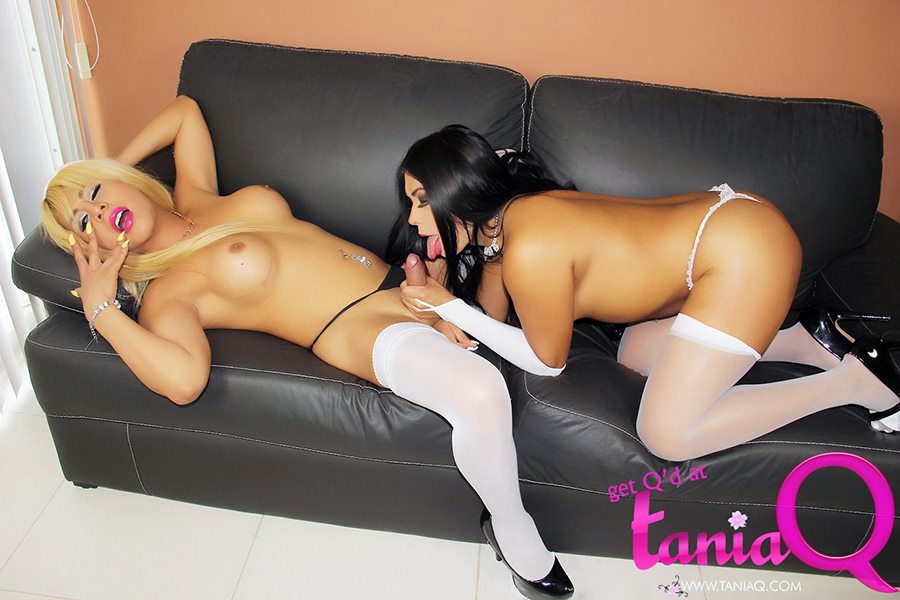 There is just something about big cock firm tits and blonde hair that seems to turn most men on. That is the reason that TaniaQ loves to share her assets as much as she can. And thank the gods that she has all of them and wants us to see them. Just take a look at the photo below and see for yourself what I am talking about. Do it right now. Scroll down and see!
The hot little outfit that Tania has on was meant to get your cock hard. And this top is so tight that it almost does not fit. And being white its almost transparent. Big cock firm tits and clothing like that? Whats not to love?!
Oh and lets not forget to mention the length of her skirt. So short not only her ass shows. But her balls do as well when they slip out of her panties. Believe it or not. Tania loves to wear this to the clubs. And yes of course they let her and. And they also know that she is going to fuck someone or many people if she can. And her cock will be showing in public. That is how hot Tania gets. Her big cock firm tits and blonde hair get her a lot of attention!
Click on the image below or a text link above to see more of this photo set.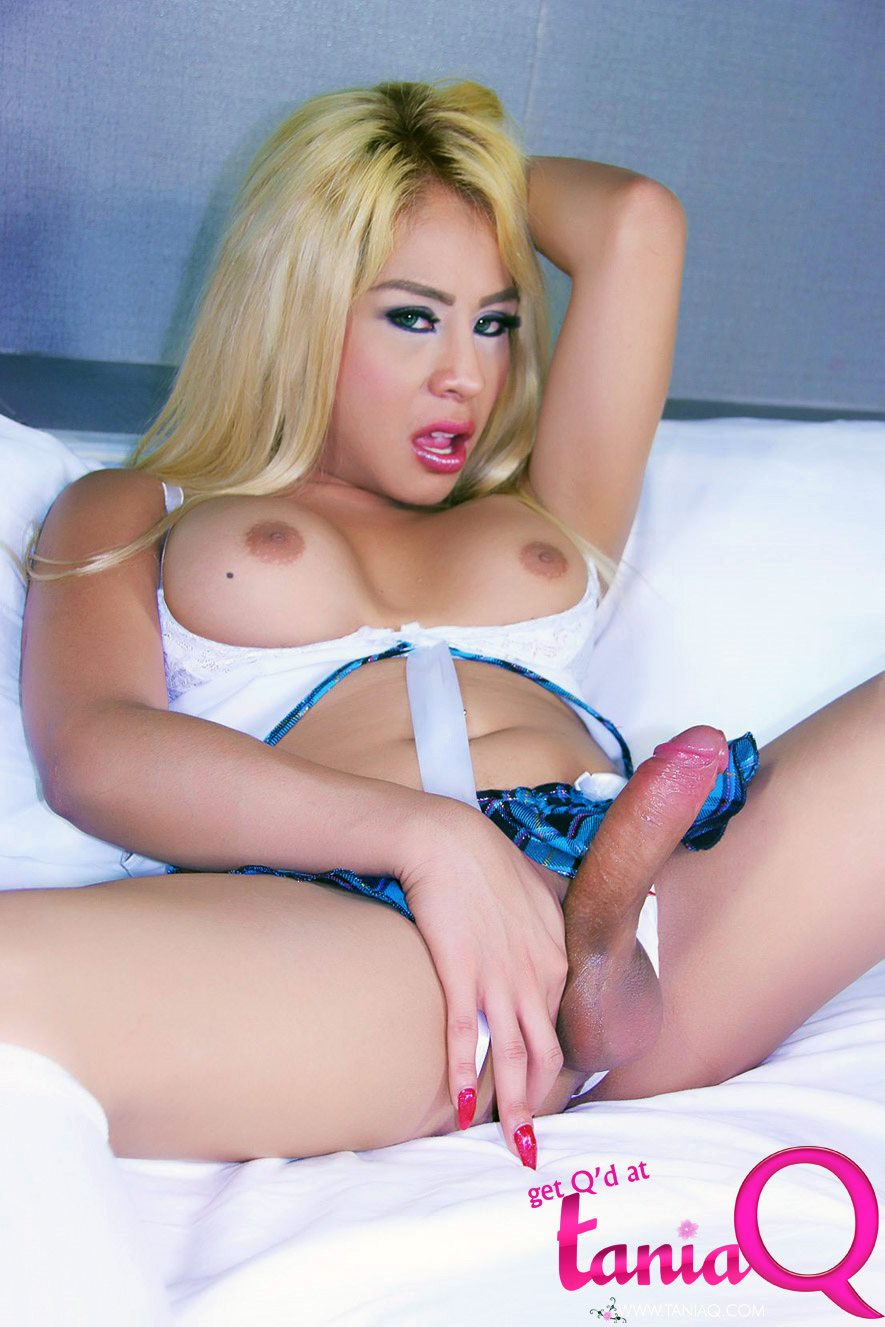 Can't see the cam feed? Then Click right here. Your Browser is blocking it!
When watching porn we get to see a lot of action. What we dont often get to see is a hot trans girl cum shot unless we are watching a webcam. One of the reasons for that is that the girls making movies are often not quite hot enough to shoot out a hot load of cum. It often comes out just dripping and clear. But when it comes to a girl like TaniaQ, well her trans girl cum shot is always impressive. As you can see in the image below she shoots enough milk to fill a cup. Or to nicely fill you mouth or ass!
Yes the photo that you are looking at of TaniaQ and her trans girl cum shot is a still image from the video. And if you have not yet taken the time to watch the movie, then you really are missing out on one of the hottest trans girls. TaniaQ is always in a state of erection and she loves to stroke her cock. If she can get you to do it for her, then all the better.
Click on the image or a text link and check out the members area of her website. Watch this hung blonde beauty playing with her big cock, firm tits and tight ass hole.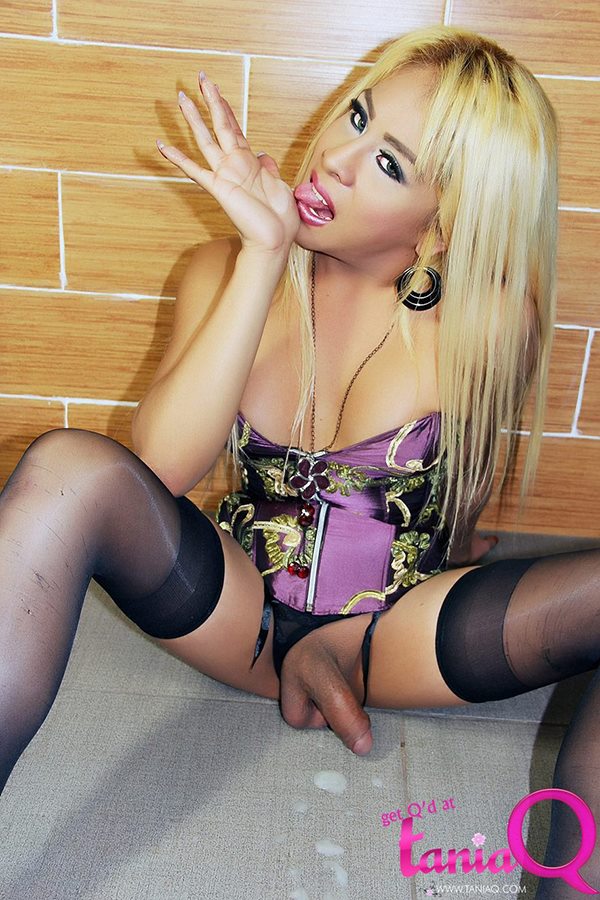 Tranny Boots on long tranny legs! Check out TaniaQ's Tranny boots! They make her legs look longer and tighter and they bring attention to that swinging cock. And TaniaQ has a nice cock on her that is well worth paying attention to. When you hook up with a tranny girl like Tania. Make sure to pay attention to the things that turn her on!
Also, do you like the look of boots on a woman? Most men do and they always want more. So take a look at this set and come and see more of it. These photos are only in her members area.
Click here now and see the rest of this set!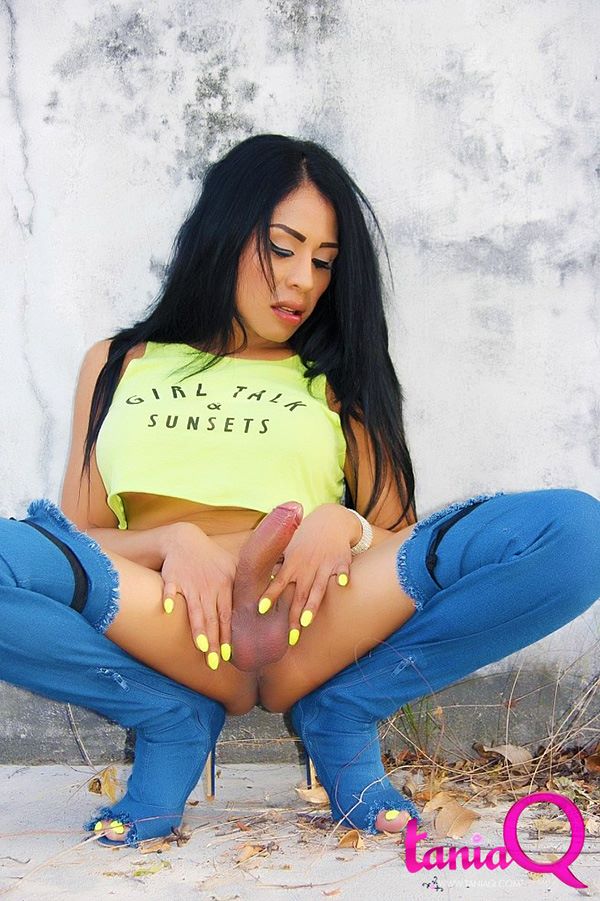 For more of this set, you need to click now.
Also you can rate and comment on the sets in her members area and also on this site.
Panties Spread! Cock hard and ass ready! So now that her panties are partially down and you have teased her cock. Her ass hole is out and also her tits. What are you going to do with her? I will tell you what! Your going to lube your cock and slide it into that tight hole and work it. As you can see a shot of Panties Spread is rather hot. Especially when  the girls cock is hard like mine is in the photo below. You know you want to see more, so just click and get into the members area. Right now. Do NOT hesitate and miss this.
With your cock in her ass hole and also a hand around her cock make sure to lean down and give her a nice wet kiss.
Check out more of this image set in the members area right now!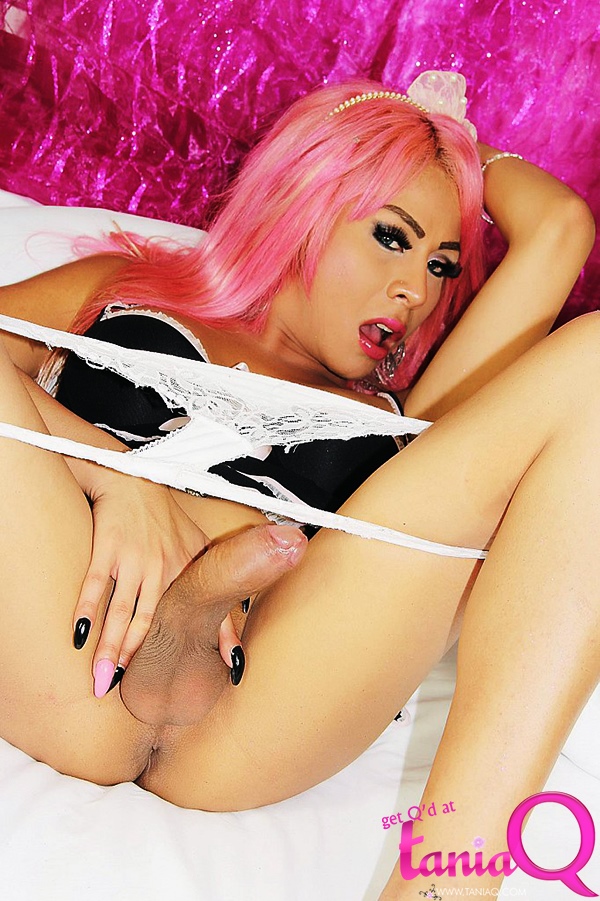 Take a look at this blog and also the members area. Tania Delivers!
Lingerie heels and TaniaQ cumming! OK check out the photo below. Thats the amazing and stunning TaniaQ in lingerie heels and a load of cum on the floor! First of all do you know TaniaQ? She is one hot and sassy tranny that loves lingerie But she also loves heels and often makes a combo out of them. But more than that she loves to get off with men!
Take a look at the image below and also dont miss out on the video in the members area. Another thing is you might be able to shoot a movie or photos with her so contact her now! Join Here!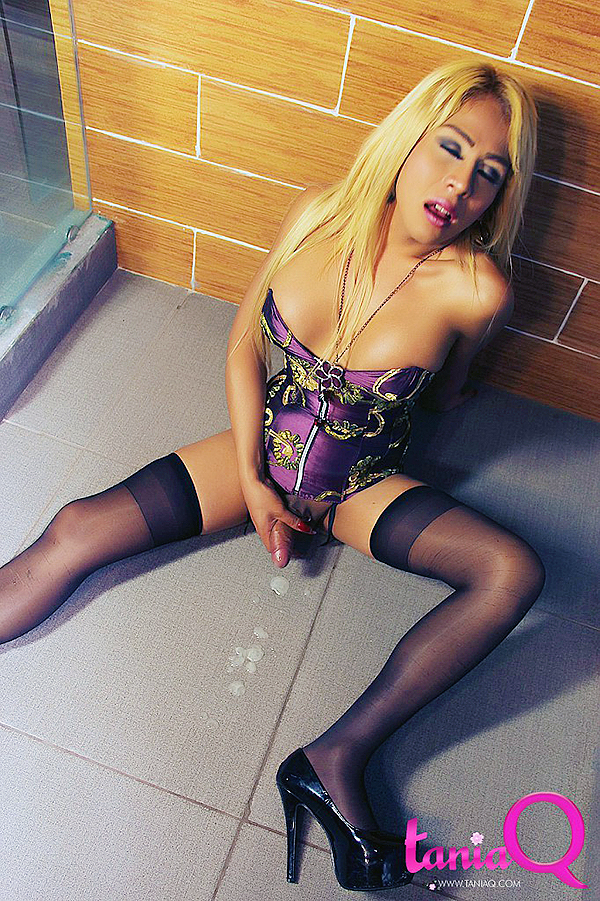 Click on this link to get into the members area and also the time of your life.
Also like webcams? Check this out for free!
Furthermore guys. Do not miss out on some of the other sample photos Tania has if this is not doing it for you. She has so many you might get lost on this site. So if you do, click a banner and find it all more organized and her Trans Cock rock hard!
Everyone and I do mean everyone loves a hard cock trans. There is nothing more disappointing than a trans girl that can not get an erection. So today I present you with a hot photo of our favorite Hardcock trans. Yes that means we are going to share a photo of TaniaQ showing off her hard cock. I know its rare that we do this. The turth is, this site helps Tania reach out to new potential members and that means that she needs to tease most of them. Then if they get hot enough they buy a membership and that is how she earns a living. So even if you know of her and about her its time to become her fan. Get your membership and support Tania so she keeps recording for her website.
As you can see she is a hot hard cock trans and looks amazing showing off her body. From her firm tits to her big cock and her tight little tranny ass. This hard cock trans girl has it all and wants you to take her and do with her what you want. You and flip her around like the fuck puppet she is and work every wet hole she has. And if its not wet, use lube! She loves to fuck and get fucked nice and hard.
Click on the image below to get your membership to her website right now!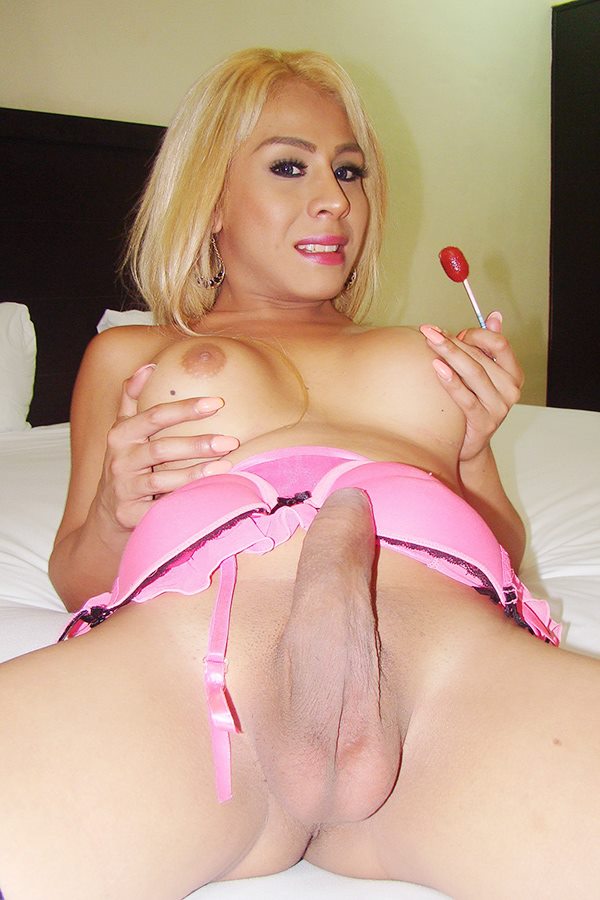 Shemale Masturbation out doors is actually something that is very hot. If you live in a big city its going to be very hard to experience this. Or to even participate in it. However if you live in a more rural area its a lot easier to enjoy. The good thing is, that TaniaQ loves some hot shemale masturbation outdoors and she is always capturing it on camera for her fans. That means that you get to see this hotness on her website and you never have to leave your city apartment or house. Read on to learn more or click a text link to join her and watch the movie.
When ever Shoot day for her members area comes up TaniaQ looks for the area that she can do the most. A bedroom is nice and living room is good. But the great ourdoors is the best. And once she arrives its like Nature gives her an erection. That means that she wants that cock out of her clothes as fast as she can get it. It also means that you will be first hand witness to her shemale masturbation outdoors fun. So take a min to enjoy this photo below and then click it. It will take you to join her exclusive members area so you can also watch the movie.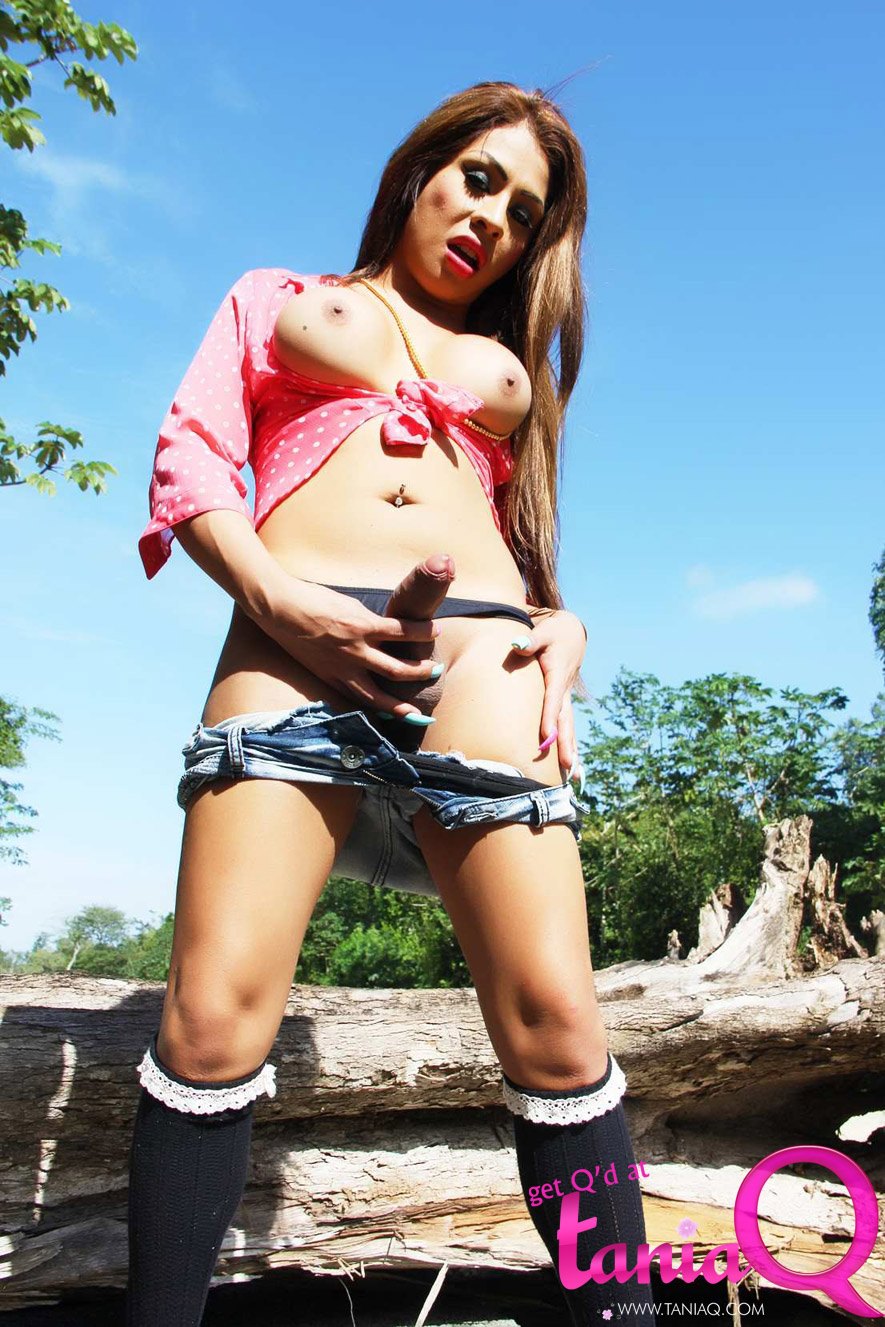 When it comes to a wild trans girl doing things that turn men on. TaniaQ is probably the most likely girl to do something. She really enjoys flashing trans cock and bought this jacket just for that. She wanted something a touch longer but she actually wears this in public when she wants to go out. Tania says that flashing trans cock in public is a turn on for her as well as for the men that she flashes. She never does it where kids are and or women. Unless that is a couple more or less asks her to do it. Then she will.
As we have told you, TaniaQ is a wild child and really enjoys and gets off on doing naughty things in public as well as cosplay. That means she will dress up as a character for you at home to add excitement to a bed room romp! So now that you have had a taste of TaniaQ flashing trans cock its time to see a little more. To watch her get naked and jerk her fat cock for you. She loves to shoot her hot sticky load as often as she can and she wants you to watch her. If you are in, click the image below or a text link right now!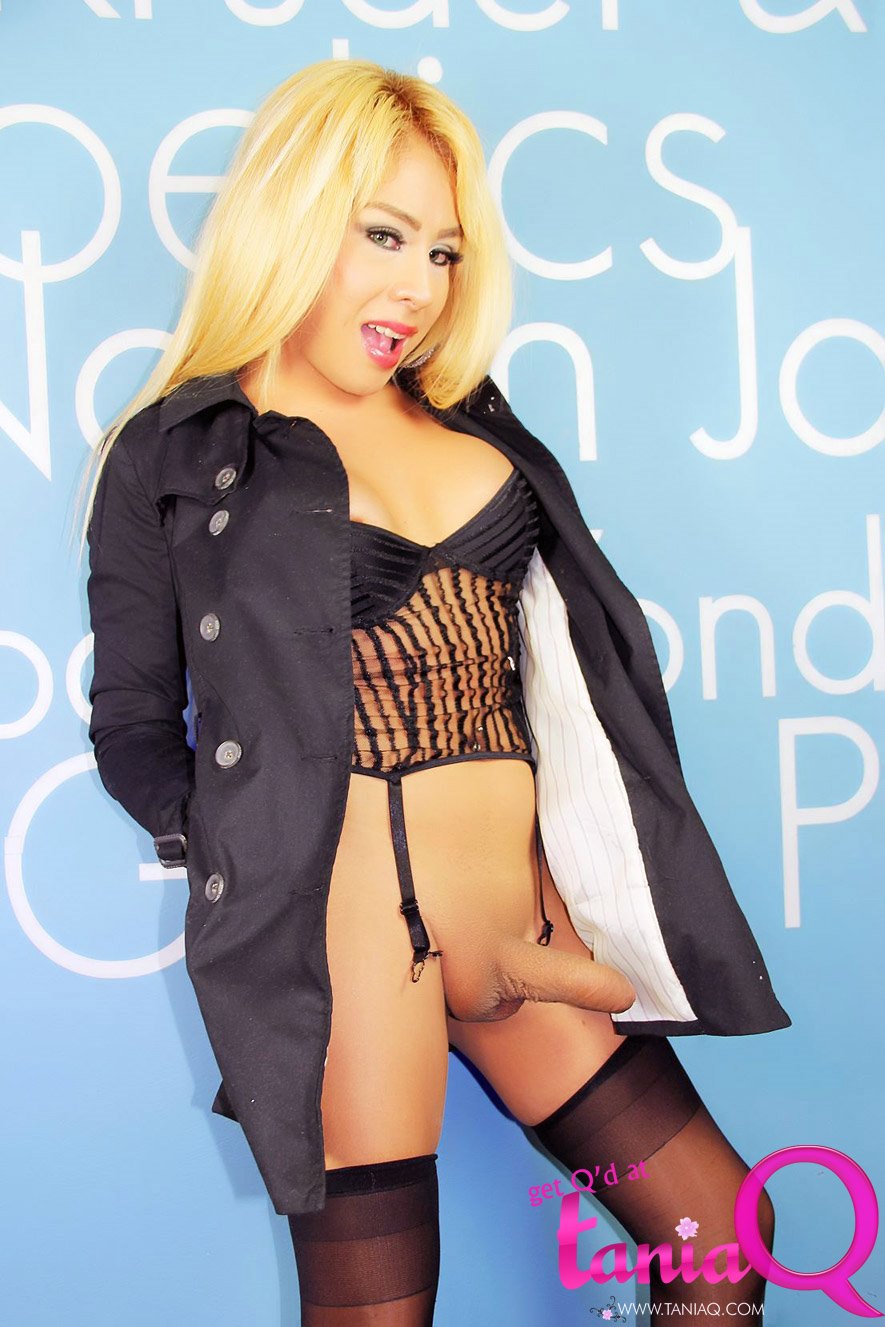 Hell yes I am IN for more of TaniaQ. Clicking right now!
Hot Sites to check out!
Categories