Browsing articles in "Hard cock"
Mexican trans Foursome! And this is super star packed. First of all, from left to right we have the busty Naomi Chi! Then Nikki Montero the first Latina tranny.Then of course we have me, TaniaQ! tight and tiny blonde with a big cock. Finally, we have our little bottom girl and she is none other than Nina StrongHold. Beautiful and also busty and loves to have all the attention for herself.  And wow how much she loved the cock and attention she got from us.
Click now and check out more of this Foursome set. You can click on this photo to see more or you can also click on one of the text links. They both take you to the same place. Further more they are going to shot you how hot things actually got that day. Come and watch this hot Mexican trans Foursome!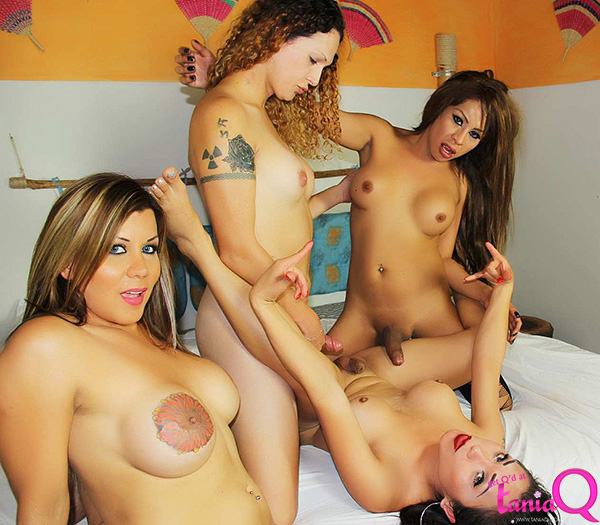 Come and join us and watch the movie as well. It was a lot of fun being naked with these amazing trans girls and I am sure you would love to get involved.
Click now on one of the text links above and see the rest of this set.
Otherwise you can also surf around on this site for more free samples of me Naked and hard.
Big Mexican Tranny Cock! Hi guys. For those of you who know me. Hello Loves! For those of you who do not. I am the interactive trans of your dreams. I am TaniaQ and I want to share my Big Mexican Tranny cock! For those of you who love an interactive trans, I am your girl. I have a nice tight love hole that is always ready for some cock. And I also have a big fat tranny cock of my own that loves to destroy and ass!  If you are up for some bottom action and hell even some top action lets hook up and get fucked together. We can flip a coin for who goes first. That way its random! So let me know what you are into and lets have some fun!
Click here to see the rest of this photo set and also the video!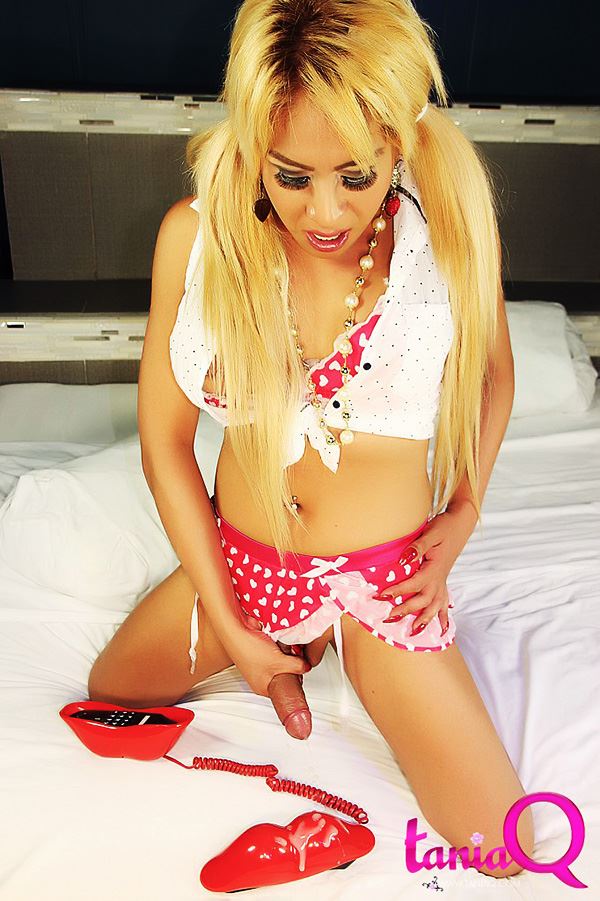 Do not miss your chance to get off with me. We can stroke together or me inside your love hole. And also you inside mine. Just let me know what you prefer!
Click here for more samples of my hard tranny cock on this site.
Otherwise get your membership right now for my site!
Spread Legs hard tranny cock and now Im ready for action! Well I am back to show you another photo of me. I found it hot and gave it an appropriate name dont you think? Spread Legs hard tranny cock is the name if the set and as you can see it matches 100%. I opened my legs and while the camera was rolling my cock got hard. Sticking straight out in the sun and wind. It was like having your hot mouth on my cock. What a treat.
Another treat for me would be to have you stroke me. Can you just imagine my hard throbbing meat stick in your hands? I can. I can feel your fingers wrapped around my rod and giving it a squeeze and stroke. Then spitting on it to lube the head so that slides in and out of your fingers with ease!!
The only other thing I needed was something to squat down on and I would have cum!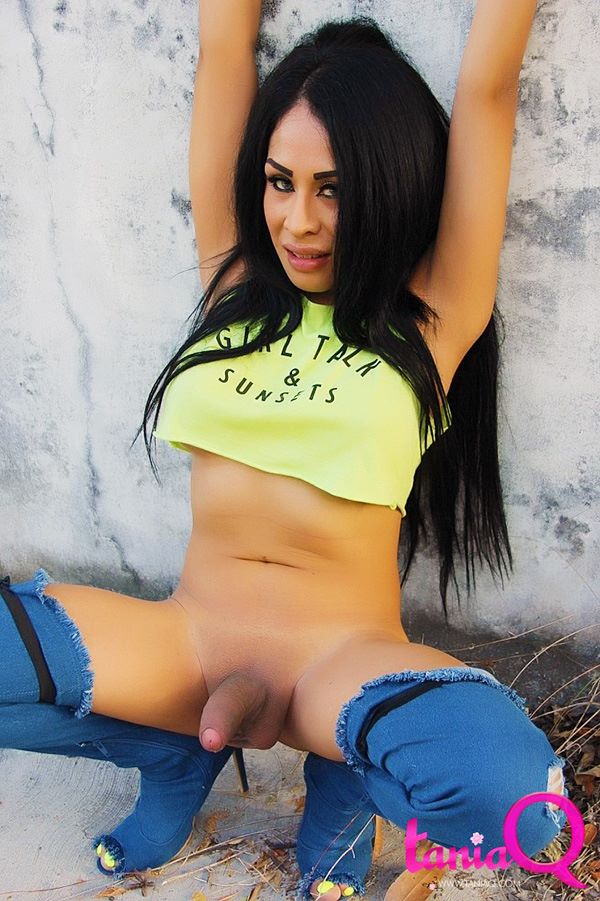 My site is filled with UltraHD photos and also videos that you will love. So join me right now. Make sure and message me and let me know if you will be visiting Mexico any time soon so we can film Together!
Furthermore if you want other samples of me, just click here!
High Heels and Tranny Cock.
What does one have to do with the other? High Heels and Tranny Cock? Nothing but they look nice when they are both in the same photo. Take a look at my photo below. I was working for a photo guy and he had me on the balcony of his condo. Strangely the way the building is built its easy to see onto each others balcony and there was a guy watching us do the photos. This of course made my cock even harder than it would have been. Especially because the guy could see me very clearly and started wanking while watching.  His cock kept getting stiffer and so did mine until I just needed to cum. My balls hurt so bad watching him.  It was So hot.
Click the image below to see more of this photo set. Also do not forget to rate and comment in the members area.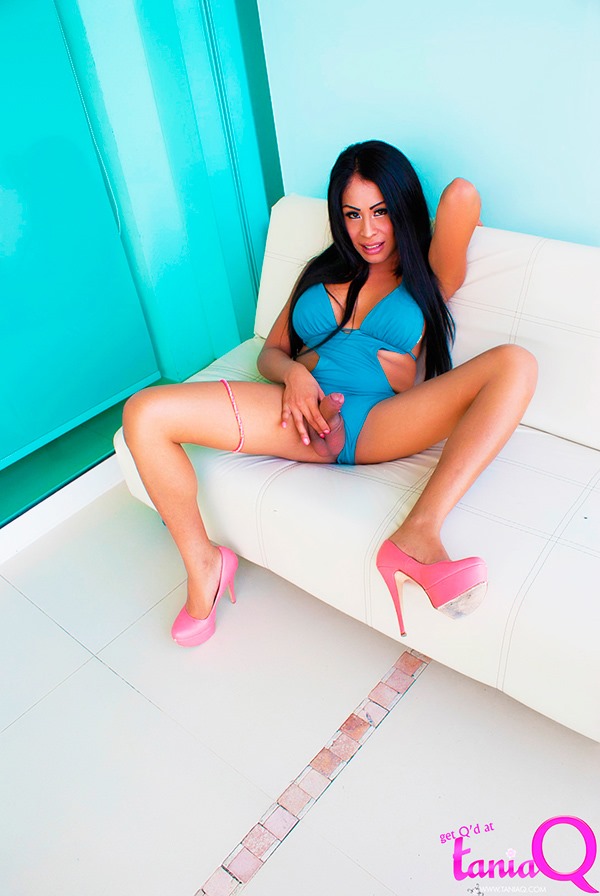 Also please do me a favor and make comments below. I want to know what you guys think about the color of the swim suit I am wearing in the photos. Personally I think it looks amazing on my skin. Let me know what you think.
XOXO
TaniaQ
Categories
Hot Sites to check out!