Browsing articles in "Skirt"
Ass Fuck! I'm ready for your cock and some hard core action! Im also ready for a great ass fuck. We just now need to decide who receives and also who is going to take it. Since you seem to be looking for a hot tranny and a good Ass Fuck, I want to offer mine. I have a nice tight little ass that can take a big or small cock. Im very tight that way.
Another thing is I also like a good mouth fuck. So if you have a hard cock and need action, Im your girl! I also happen to have a big cock so If you would like I can put mine in you. Mouth or ass hole I dont care either. As long as we both get off.
This photo of me below is one showing off my tight little hole. I know for a fact you like it. You also get a nice shot of my hard cock and balls in this photo. And let me say, pushing my cock down that far was a bit hard to do. I have a thick 9 inches and I know how to use it. So right now, grab some lube and lets get it on!
For those of you that like it, I also wear a lot of costumes! If getting off with a hot maid is good for you, Let me know!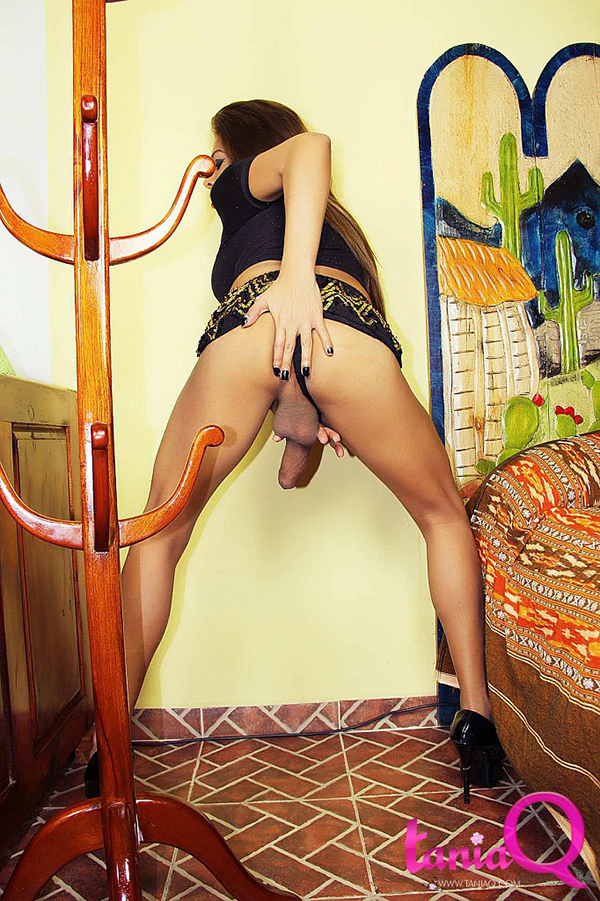 This photo set was a lot of fun to shoot and I ended up making a hell of a cum shot in the next video. Because Most men like to cum I want you to join my site right now and watch the videos. All of them and make sure you get off.
The members area is set up for you to enjoy yourself and see what others liked as well. Take a minute right now to join the site. Click here.
If you miss this, well, its your fault!
Can't see the cam feed? Then Click right here. Your Browser is blocking it!
Does everyone love to see a hot piece of ass in a very short skirt? Yes we do and we need to toss out a huge thank your to TaniaQ for providing us with a shit ton of photo sets and movies in the very short skirt niche! Now for those of us into the very short skirt thing. TaniaQ has a ton of them and she loves to wear them to places that will shock you! Can you just imagine seeing her wearing this skirt and in a night club? Well she does. And the guys love it. She really has to tuck her cock back tight to keep it from popping out at all the ass grabbing!
So now that you have seen her in this amazing and short skirt. You cock should already be telling you that you need to see more. That twitch or ache that you feel down there. Its your cock and balls telling your hand to click. So do it. Follow the erection and the love. And let the milk flow from your cock.
And now that you have seen TaniaQ in this very short skirt. You can not unsee her and you simply must see more. Because she is going to take the panties off and let her thick and juicy cock dangle down below the line of her skirt. Talk about exciting. You are going to NEED to see this right now!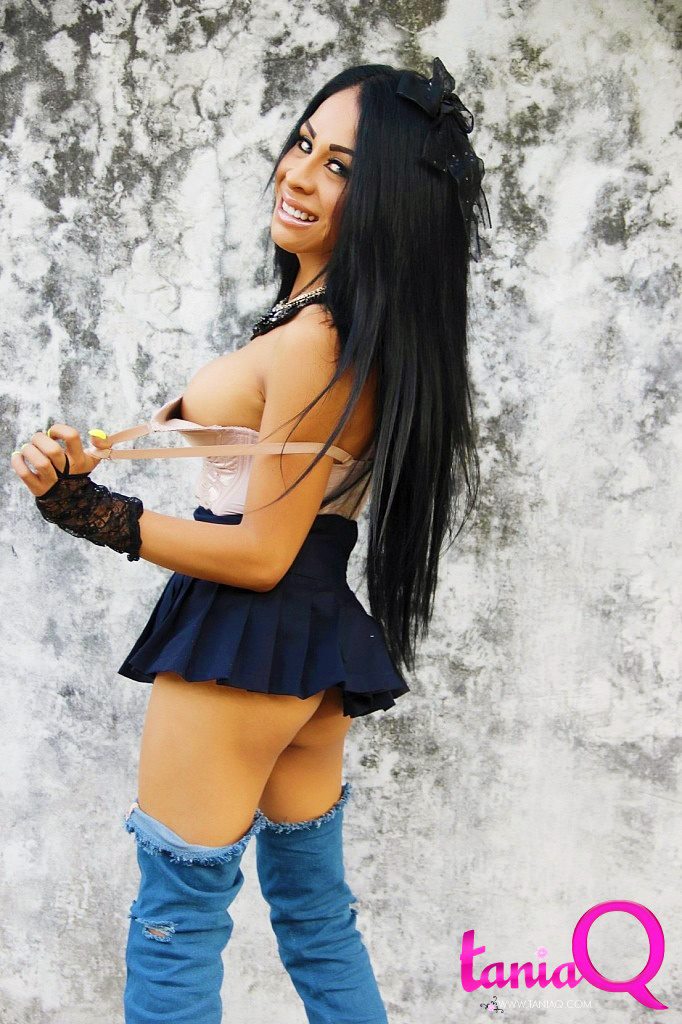 Can't see the cam feed? Then Click right here. Your Browser is blocking it!
There is just something about big cock firm tits and blonde hair that seems to turn most men on. That is the reason that TaniaQ loves to share her assets as much as she can. And thank the gods that she has all of them and wants us to see them. Just take a look at the photo below and see for yourself what I am talking about. Do it right now. Scroll down and see!
The hot little outfit that Tania has on was meant to get your cock hard. And this top is so tight that it almost does not fit. And being white its almost transparent. Big cock firm tits and clothing like that? Whats not to love?!
Oh and lets not forget to mention the length of her skirt. So short not only her ass shows. But her balls do as well when they slip out of her panties. Believe it or not. Tania loves to wear this to the clubs. And yes of course they let her and. And they also know that she is going to fuck someone or many people if she can. And her cock will be showing in public. That is how hot Tania gets. Her big cock firm tits and blonde hair get her a lot of attention!
Click on the image below or a text link above to see more of this photo set.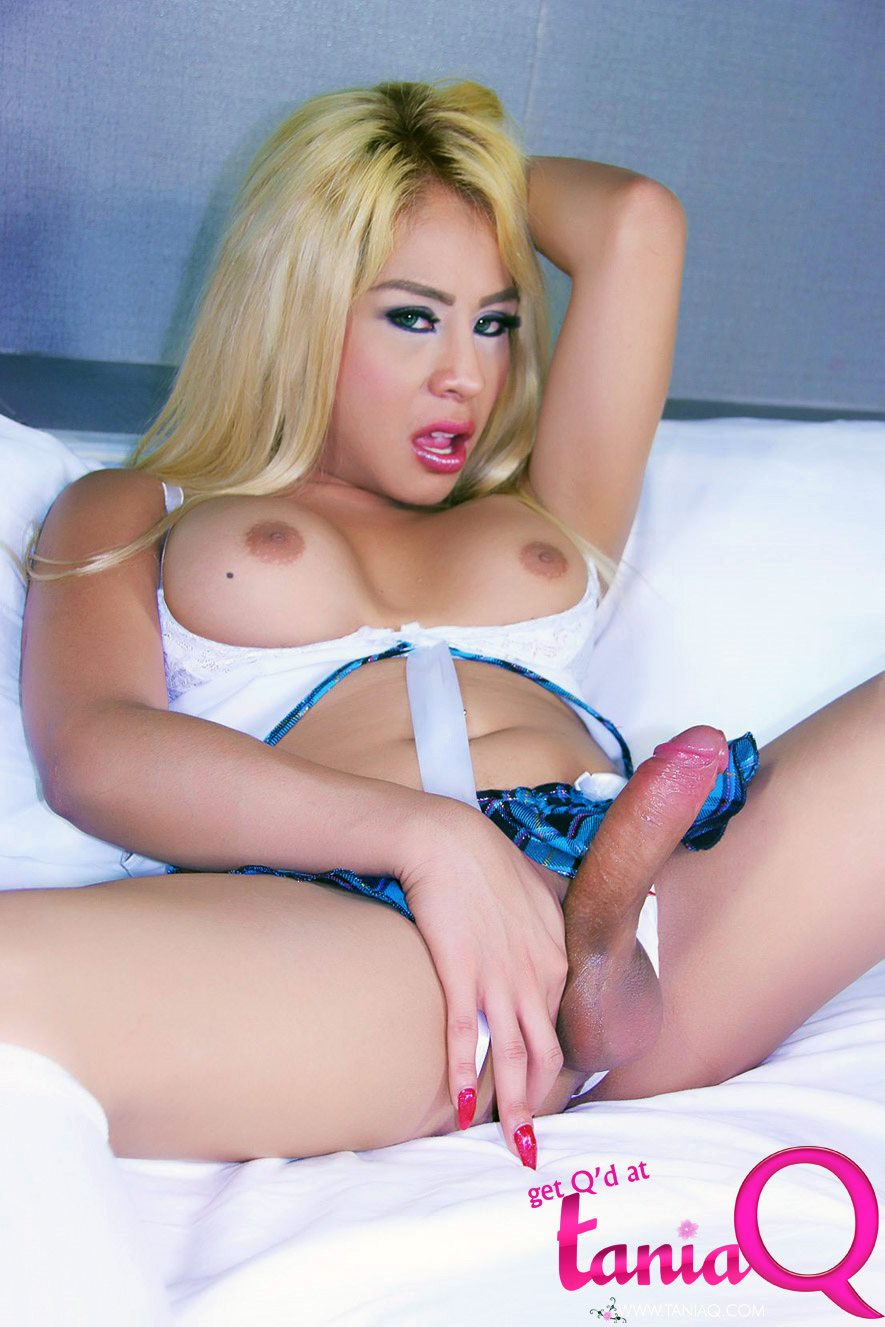 Can't see the cam feed? Then Click right here. Your Browser is blocking it!
If there is any trans girl out there that loves to wear a short skirt. It has to be TaniaQ. This girl will go anywhere and always half naked. We found her leaving the office dressed like this and just had to get some photos of her. TaniaQ is the one girl that will do anything to get attention and if that means that her skirt is so short you can see her panties! Then so be it!!!
Now lets get back to this short skirt set. Once we got to a location where we could take the photos and the videos of TaniaQ, those panties flew off and hit the wall. She said her cock needed to come out and breathe some fresh air after being tucked between her legs all day.
But I have to say as thick as her cock was hanging when she took off those panties. I think someone had been playing with it recently! Take a look for yourself and see what you think!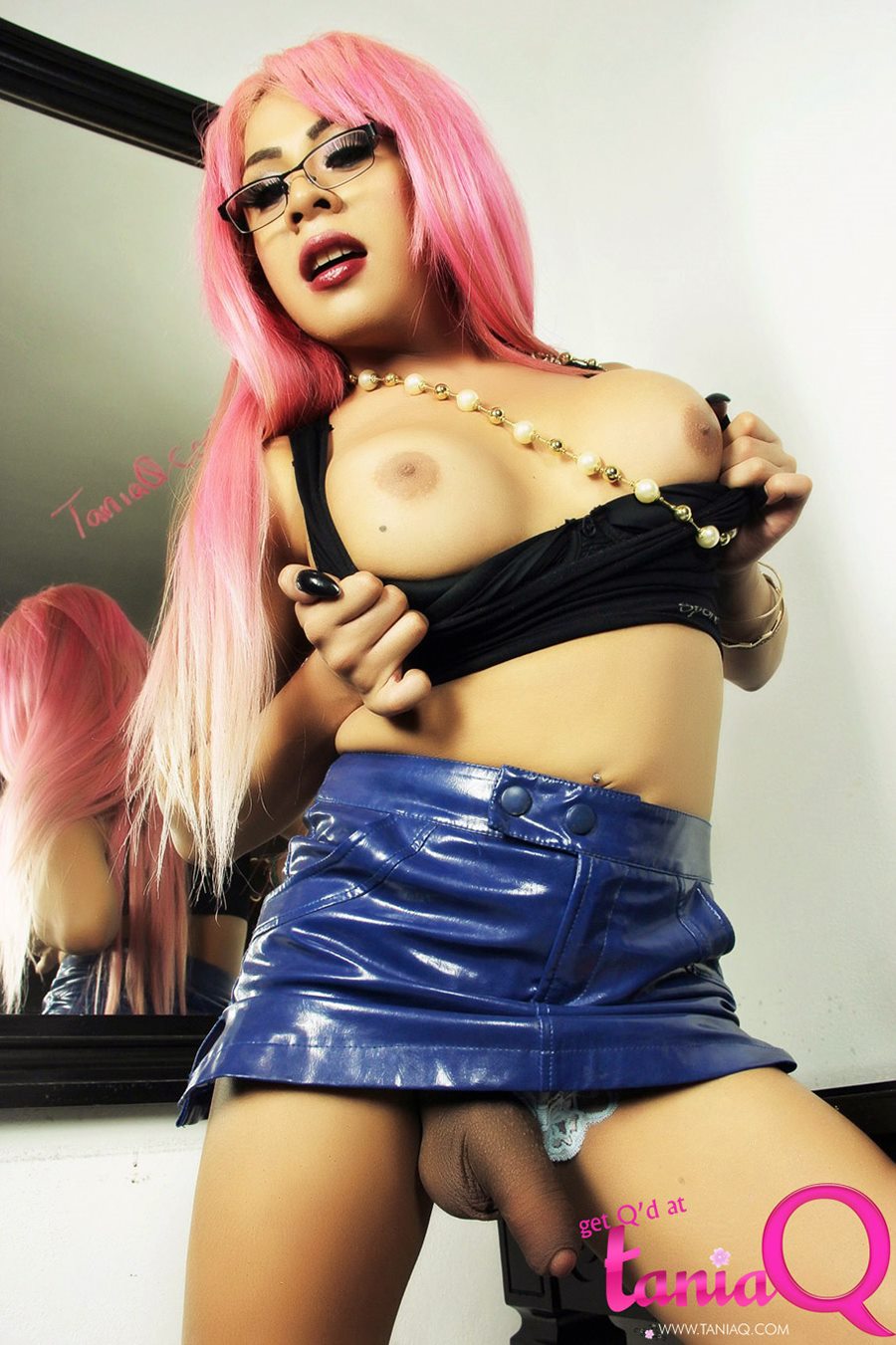 So, what do you think? Was someone playing with that big fat cock? And if so what do you think they were doing. Me personally I think that someone was sucking off TaniaQ
Panties Spread! Cock hard and ass ready! So now that her panties are partially down and you have teased her cock. Her ass hole is out and also her tits. What are you going to do with her? I will tell you what! Your going to lube your cock and slide it into that tight hole and work it. As you can see a shot of Panties Spread is rather hot. Especially when  the girls cock is hard like mine is in the photo below. You know you want to see more, so just click and get into the members area. Right now. Do NOT hesitate and miss this.
With your cock in her ass hole and also a hand around her cock make sure to lean down and give her a nice wet kiss.
Check out more of this image set in the members area right now!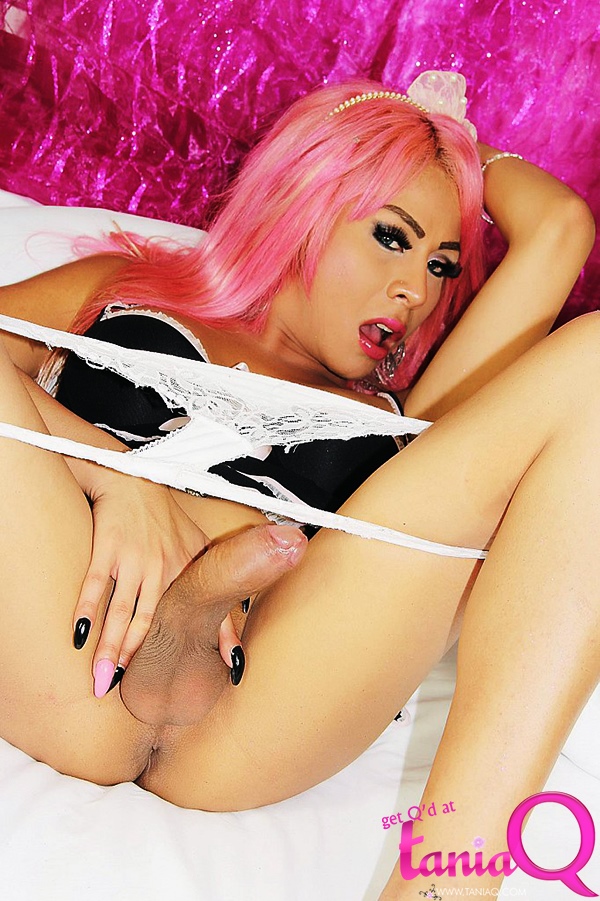 Take a look at this blog and also the members area. Tania Delivers!
TaniaQ hard Cock trans. So guys you have been looking for the right trans girl? Well here I am. I am TaniaQ hard Cock. Or at least that's how a lot of my fans refer to me.  If you really want to find out for yourself lets get together!
Take a look at the photo below. I was making movies when a fan decided to chat on the phone and have phone sex. Of course that got my cock hard to so we grabbed it on video and now you get to enjoy it!
Click here to watch my hard cock throb for you.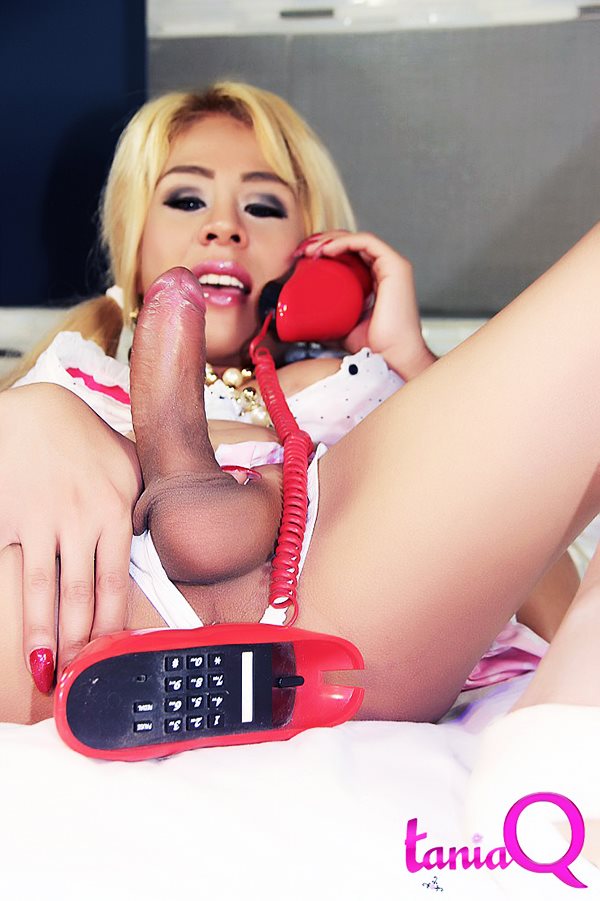 Otherwise you can surf around on this site for more samples. I know your going to get your cock out and hard and start stroking. But if you want to cum with me, you need to join me now!
Now I am sure we have talked about this topic before. However, when I saw this photo and the set it is in, I just had to share with you once again. Spread tranny legs are such an invitation to a lot of people and most of you do not really know about it. Trans girls usually have to be more careful about how they sit. As well as what they wear in public. After all they need to rely on their panties keeping their cock tucked back an in place. Most of the trans girls that is. Some are different.
Take a look at this photo of these Spread tranny legs. Yes that is TaniaQ and she is showing off another one of her sexy outfits. But the super hot thing about this is, that she actually will wear this to a club in public. Not just the high heels, stockings and short skirt and short top. But also those lace panties. And whats so hot about those panties? Well they are not the kind that can control her cock. That means if she gets hard her cock will either pop out or rip them open.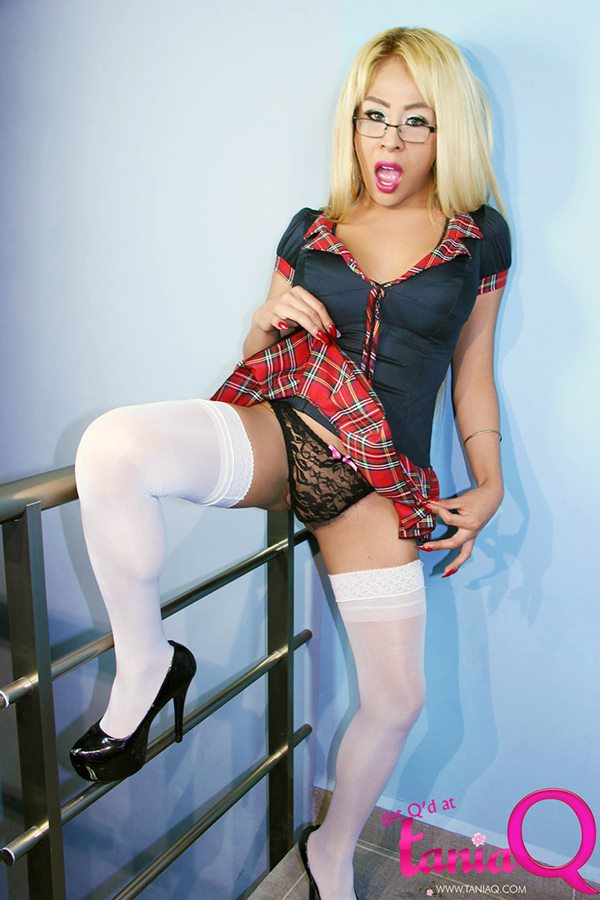 Now one of the hottest things about these spread tranny legs. Is simply that TaniaQ will do this in a public place if enough people want to get hot and have some fun.
Slutty High Heels and stockings. Well guys. As you most likely already know, my name is TaniaQ. And yes that is me in the photo below. I was posing in my Sluty High Heels and thought that I would share a photo from the set. I hope that you like it as much as I do. Its very sexy and I was really turned on shooting this set. My cock was really hard and ready to fuck some ass that day.
I guess I always get really horny when I shoot photos and videos. So come and shoot with me some day. Then we can fuck really hard.
Click the image below to check out my website tour.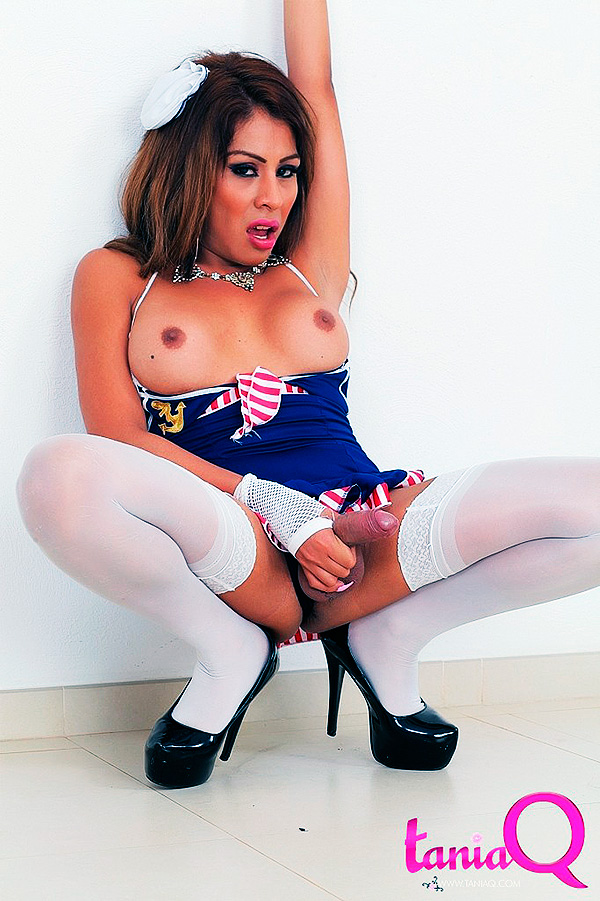 Click here now to join me and see the rest of this photo set.
Other wise you can see more sexy sample photos and videos of me here on this site. Just be sure to understand that these are lower quality than the ones in the members area.
Big Mexican Tranny Cock! Hi guys. For those of you who know me. Hello Loves! For those of you who do not. I am the interactive trans of your dreams. I am TaniaQ and I want to share my Big Mexican Tranny cock! For those of you who love an interactive trans, I am your girl. I have a nice tight love hole that is always ready for some cock. And I also have a big fat tranny cock of my own that loves to destroy and ass!  If you are up for some bottom action and hell even some top action lets hook up and get fucked together. We can flip a coin for who goes first. That way its random! So let me know what you are into and lets have some fun!
Click here to see the rest of this photo set and also the video!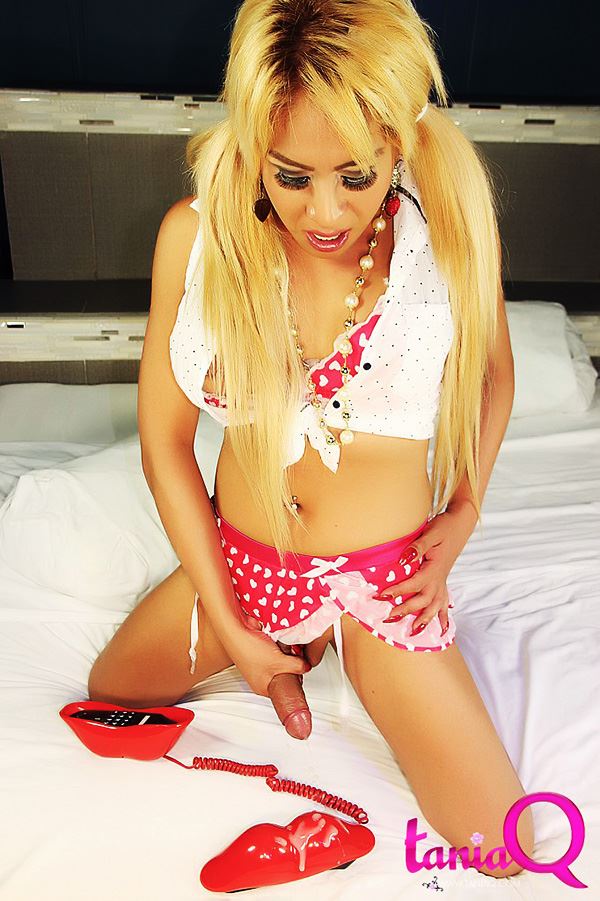 Do not miss your chance to get off with me. We can stroke together or me inside your love hole. And also you inside mine. Just let me know what you prefer!
Click here for more samples of my hard tranny cock on this site.
Otherwise get your membership right now for my site!
Can't see the cam feed? Then Click right here. Your Browser is blocking it!
Sexy High Heels, Stockings and cock! Hey guys it's me again. The wonder woman of Cosplay. Today I have on a black pair of sexy high heels, white stockings and a little sailors outfit. Complete with a little hat, and white finger less gloves. Come and see how hot things get. Your going to explode.
But as you can see there was a little accident. I had a cock slip! Well ok it did not slip! I put it that way in en effort to get your attention a little more. Now that I have it its time to get naked and have some fun. So if you ready to play with me, log into my members area and let me know all about what you want to do! Click now and come and see more of my Sexy High Heels and all the things that I take off just for you!
Click here to log into the members area of my website!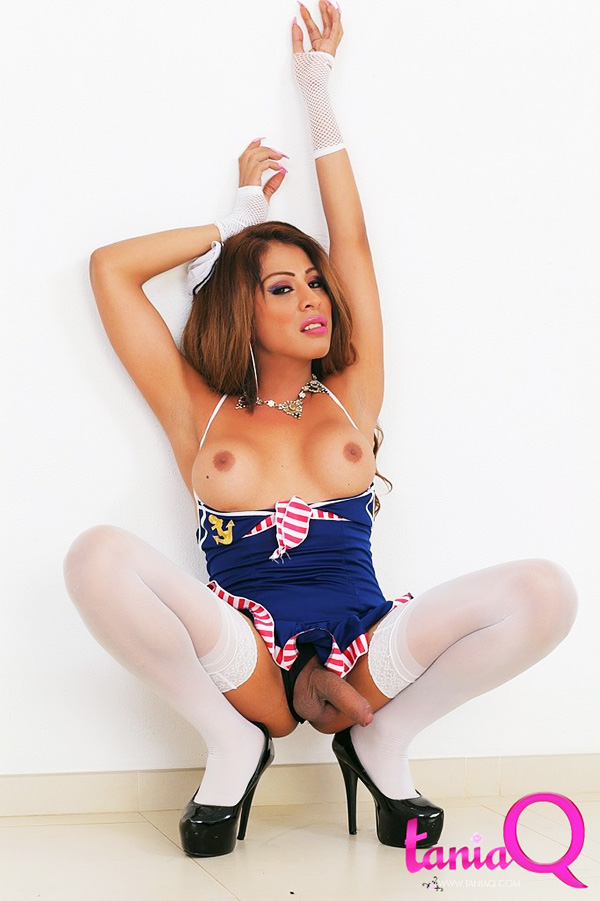 I also have a number of other sample photos here on this site. As well as a few video clips you can check out.
Do not miss this chance to see more of me in the members area. Click right now!
I think that everyone here has come looking for the same basic thing. We all love and want a big cock trans girl and that is exactly what we have in this beauty TaniaQ. She is a big cock trans girl with a killer set of tits. A hot wet and hungry mouth and also a nice tight little trans girl ass hole. She is the perfect girl in many ways and all you need to do is message her. Watch her movies and enjoy her photo sets to get off with her.
Now about this photo set. Tania was wearing this shirt when the photoG picked her up. Its completely transparent when viewed from the front. And that may not be very important until you know that she was standing in front of the busiest shopping mall in the sun and you could see right through it. Tania also had on that short skirt and very high hooker heels. The panties she had on were super tight to hold her cock up and back but they were about to fail.
Click on the image to see more of this sample set.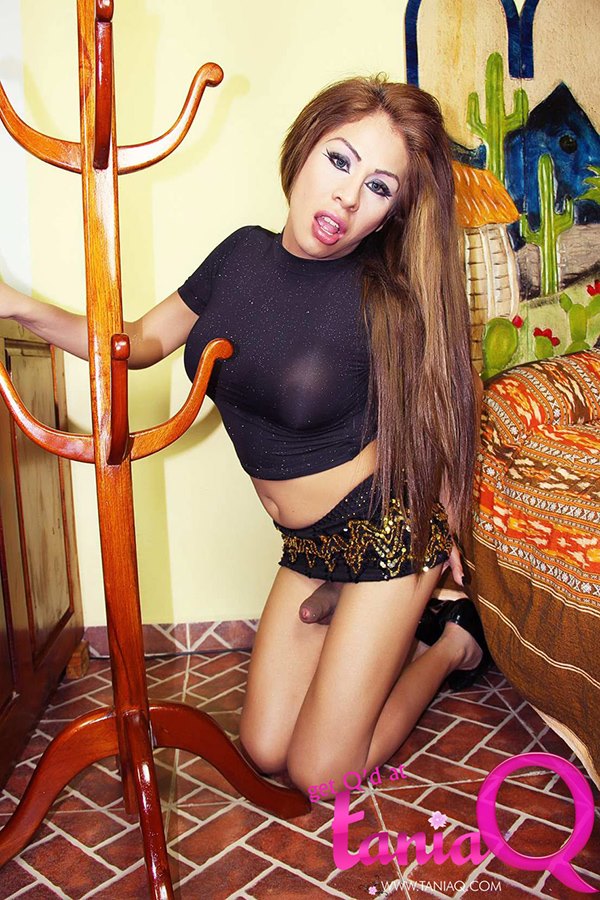 Dont miss out on see this set of photos. Also do not miss out on all of Tania's movies. Click right now to have some fun with her.
You can always count on TanaiaQ to do the hot shoots. This Trans girl upskirt shot is hot for so many reasons. So lets count them off. Starting at the bottom we see that Tania has on a nice set of high heels. In fact those high heels are the kind that most guys referr to as hooker heels. So fucking hot and we can never get our GG to wear them. But Tania looks smoking hot hin these high heels.
Then lest move up to those sexy stockings. Note that the sexy stockings only go to just above the knee. As though they were made for her legs or something. Super hot to see the combo of High heels and sexy stockings. Got to love that slut look on a hot trans girl. Another nice thing and hot thing about nice sexy stockings is that like the heels she can keep them on while you fuck.
Next on out trip up this nice body is a double hit. She has that beautiful short skirt and amazing black lace panties. So the Trans girl Upskirt shot turns into something super hot. The idea of a hot skirt is that it is as short as can be. You can clearly see that this one fits the bill. Add in the black lace panties trying to contain Tania's cock and that is something that is super hot. She skirt is so short that her panties almost show anyway so enjoy this shot of her hot black lace panties.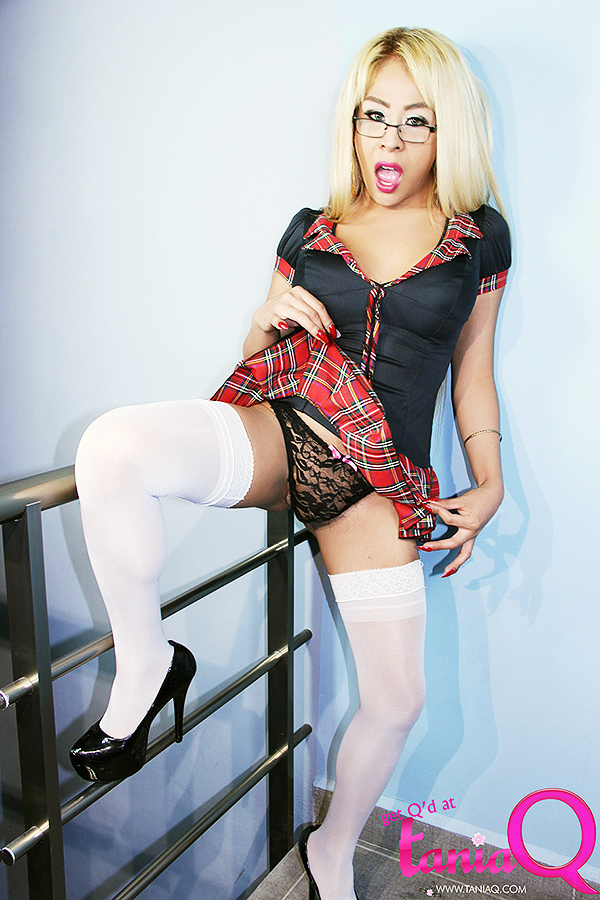 Now you do not get to see much of Tania's tits in this hot trans girl upskirt photo, but you do get a hot shot of her wet and warm mouth waiting to take in your cock. Click now to see more.
Hot Sites to check out!
Categories