Browsing articles in "Skirt"
Big Mexican Tranny Cock! Hi guys. For those of you who know me. Hello Loves! For those of you who do not. I am the interactive trans of your dreams. I am TaniaQ and I want to share my Big Mexican Tranny cock! For those of you who love an interactive trans, I am your girl. I have a nice tight love hole that is always ready for some cock. And I also have a big fat tranny cock of my own that loves to destroy and ass!  If you are up for some bottom action and hell even some top action lets hook up and get fucked together. We can flip a coin for who goes first. That way its random! So let me know what you are into and lets have some fun!
Click here to see the rest of this photo set and also the video!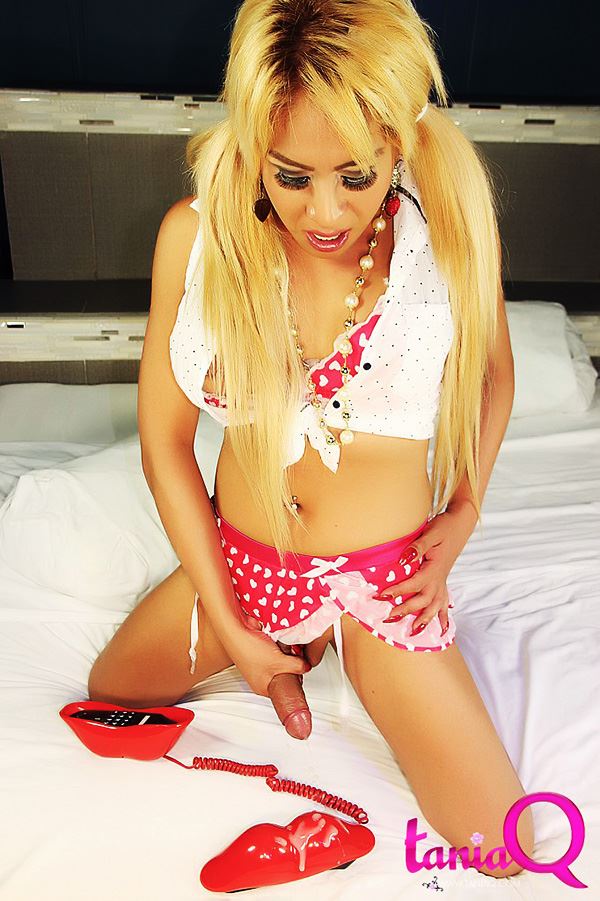 Do not miss your chance to get off with me. We can stroke together or me inside your love hole. And also you inside mine. Just let me know what you prefer!
Click here for more samples of my hard tranny cock on this site.
Otherwise get your membership right now for my site!
Sexy High Heels, Stockings and cock! Hey guys it's me again. The wonder woman of Cosplay. Today I have on a black pair of sexy high heels, white stockings and a little sailors outfit. Complete with a little hat, and white finger less gloves. Come and see how hot things get. Your going to explode.
But as you can see there was a little accident. I had a cock slip! Well ok it did not slip! I put it that way in en effort to get your attention a little more. Now that I have it its time to get naked and have some fun. So if you ready to play with me, log into my members area and let me know all about what you want to do! Click now and come and see more of my Sexy High Heels and all the things that I take off just for you!
Click here to log into the members area of my website!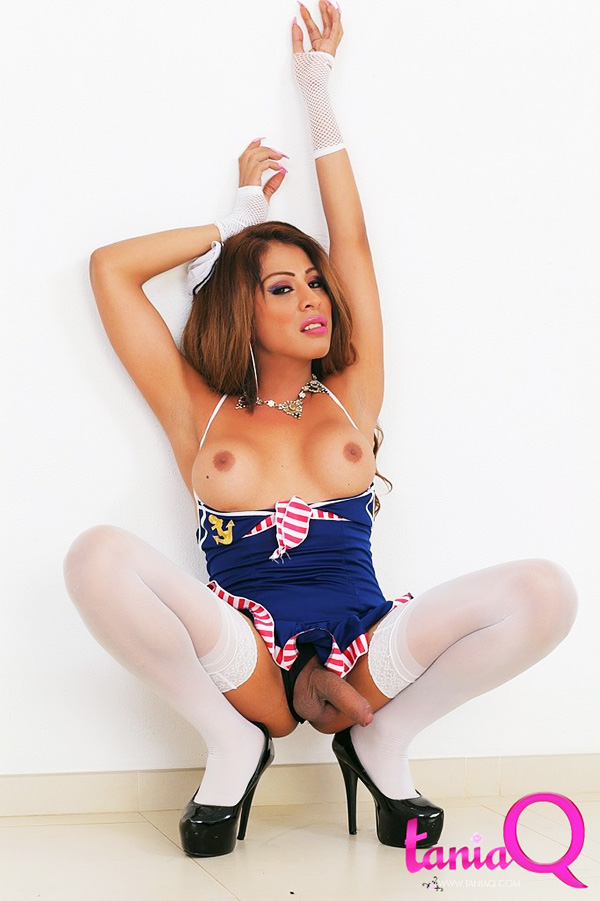 I also have a number of other sample photos here on this site. As well as a few video clips you can check out.
Do not miss this chance to see more of me in the members area. Click right now!
I think that everyone here has come looking for the same basic thing. We all love and want a big cock trans girl and that is exactly what we have in this beauty TaniaQ. She is a big cock trans girl with a killer set of tits. A hot wet and hungry mouth and also a nice tight little trans girl ass hole. She is the perfect girl in many ways and all you need to do is message her. Watch her movies and enjoy her photo sets to get off with her.
Now about this photo set. Tania was wearing this shirt when the photoG picked her up. Its completely transparent when viewed from the front. And that may not be very important until you know that she was standing in front of the busiest shopping mall in the sun and you could see right through it. Tania also had on that short skirt and very high hooker heels. The panties she had on were super tight to hold her cock up and back but they were about to fail.
Click on the image to see more of this sample set.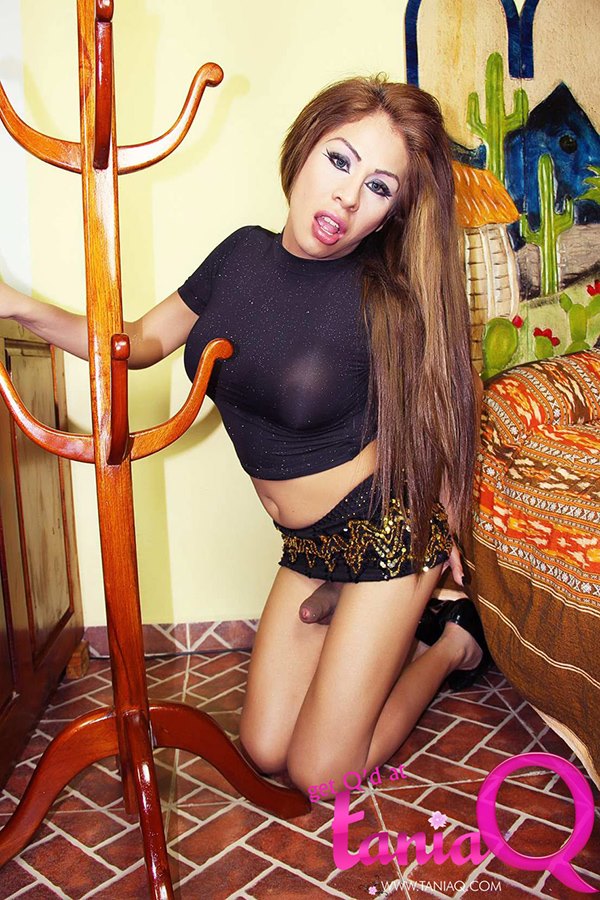 Dont miss out on see this set of photos. Also do not miss out on all of Tania's movies. Click right now to have some fun with her.
You can always count on TanaiaQ to do the hot shoots. This Trans girl upskirt shot is hot for so many reasons. So lets count them off. Starting at the bottom we see that Tania has on a nice set of high heels. In fact those high heels are the kind that most guys referr to as hooker heels. So fucking hot and we can never get our GG to wear them. But Tania looks smoking hot hin these high heels.
Then lest move up to those sexy stockings. Note that the sexy stockings only go to just above the knee. As though they were made for her legs or something. Super hot to see the combo of High heels and sexy stockings. Got to love that slut look on a hot trans girl. Another nice thing and hot thing about nice sexy stockings is that like the heels she can keep them on while you fuck.
Next on out trip up this nice body is a double hit. She has that beautiful short skirt and amazing black lace panties. So the Trans girl Upskirt shot turns into something super hot. The idea of a hot skirt is that it is as short as can be. You can clearly see that this one fits the bill. Add in the black lace panties trying to contain Tania's cock and that is something that is super hot. She skirt is so short that her panties almost show anyway so enjoy this shot of her hot black lace panties.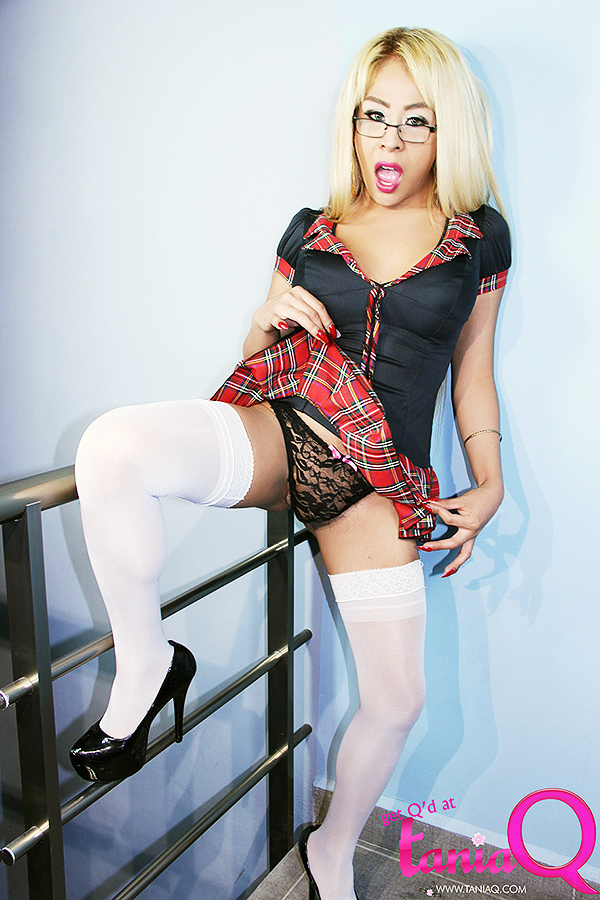 Now you do not get to see much of Tania's tits in this hot trans girl upskirt photo, but you do get a hot shot of her wet and warm mouth waiting to take in your cock. Click now to see more.
Hot Sites to check out!
Categories