Browsing articles in "Stockings"
Tranny FLasher! Well it would have been fun! However where I live I would get in deep trouble. I also would have about a thousand guys chasing me, so I may do it anyway.
So I was considering this outfit for halloween last year but someone said I would end up in jail. So we turned it into a hot photo set for you instead.
Can you imagine. You walk out of your office. You are heading to your car, maybe chatting on the phone or surfing the internet or something. But your attention is only partially on the way you are going.  At one point you glance up. Walking towards you is a blonde girl. Average height. She has on high heels and a long over coat. Her hair and make up are done.  Sensual you think as she slowly approaches. You notice that she is making eye contact so you slow your step. Just as you do she takes her hands and places them on the sides of the jacket and whips them open.
Your first thought is what is this woman doing. Then you notice this is a Trans girl and she has a big hard cock pointing straight to you. What would you do?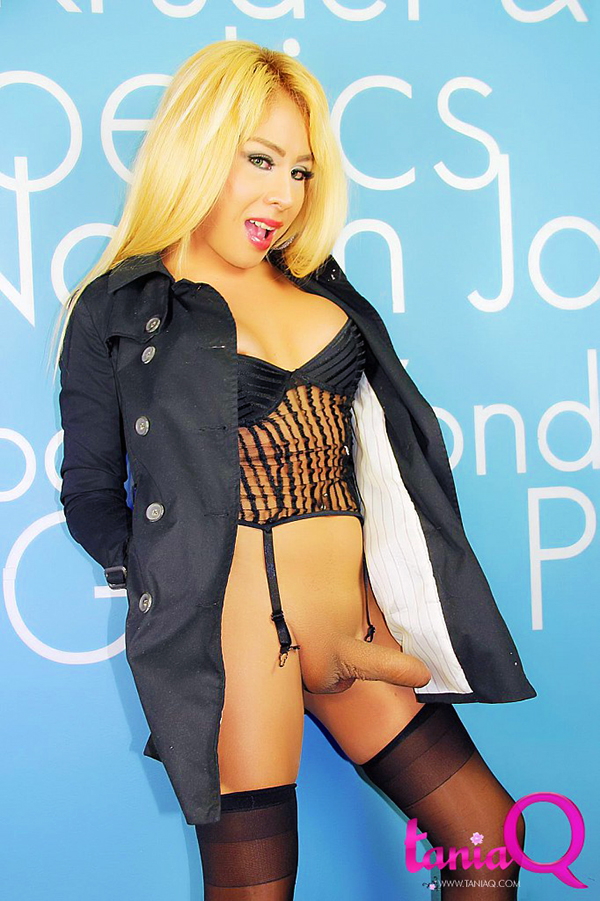 That's correct, I was going to go as a tranny flasher. Especially to the clubs and in very adult public places.
No matter. Join me right now to see the rest of this photo set and also check out all of the videos in my members area.
Make sure to say hello and rate my photo and also video sets.
Make sure and reply to this thread with some comments. Let us know what you would do. How you would react.
Also please make sure to look around at more sample photos of TaniaQ and her big tranny cock.
TaniaQ loves flashing that shaved cock. She loves it so much that she does it all the time and in as many public places as she can. She is always careful that only adults are around. And TaniaQ wants men to watch her. If a woman is watching and interested in her cock. Well that's ok as well. But TaniaQ loves when a man sees her and reacts.
When Flashing that shaved cock, Tania will often have on heels and stockings with no panties. And either a long coat or a very short skirt. She loves to have her cock swinging and she will flash as often as she can. This of course gets her cock harder and harder and then before you know it. She has a full on erection that she is showing off.
Now that you know that she loves to do this. You can be on the look out for her when you go places. If you see her and she is dressed in something super slutty. Try to stick around and watch her. She will be flashing that shaved cock before you know it.
Click on the image below to check out the rest of this photo set. Her cock is hot and ready for some fun and she wants to use it on you! Click right now!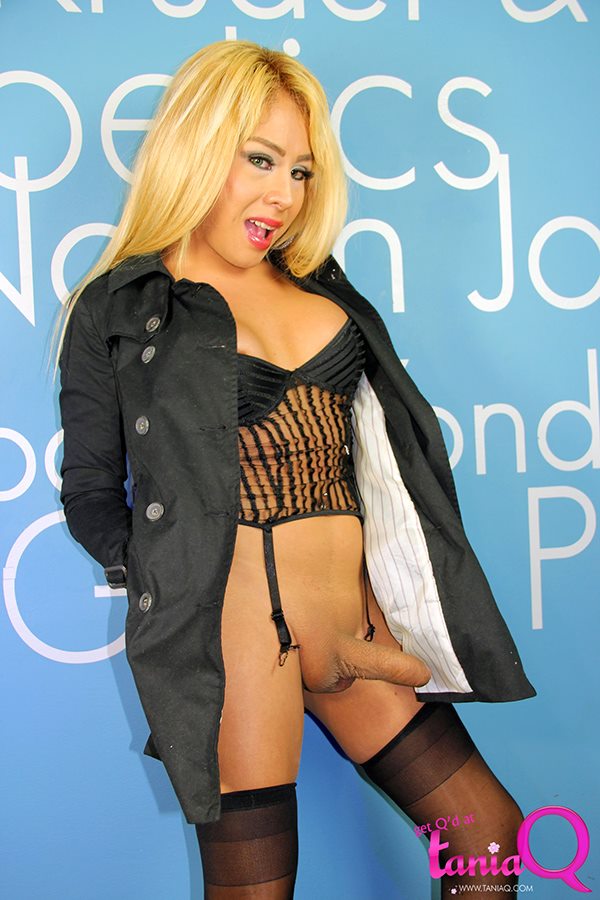 When it comes down to trans girls having fun. You wont find a girl quite as wild as TaniaQ. And when we wanted to do a set for Sucking TaniaQ's cock, She jumped up and said. Natty. After just a moment of confusion on the set. Tania was on the phone with Natty and telling her all about the idea. And you can bet your ass that Natty rushed over to have some fun Sucking TaniaQ's cock!
We found out later in the day that Natty had been after Tania for a while. But Tania was trying to stay friends. So what better way for them to enjoy each other than posing for movies and photos. That way, Natty could enjoy Sucking TaniaQ's cock! And Tania did not have to worry about it messing up their friendship. Which it did not. In fact it got better and Tania tells us they have since fucked many times and even invited some fans to join them.
Check out the photo below from the photo set and also from the movie. Its hot and you will love this one. As well as the other movies of these two lovely young ladies having fun with each other.
Click on the image below right now to see more. Or you can also click on a text link above. Join her right now to watch the whole movie.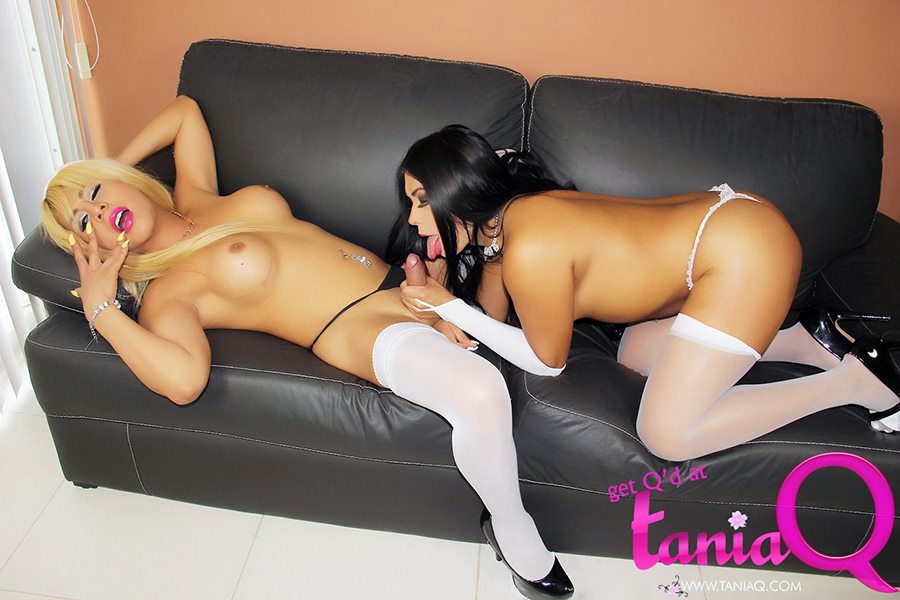 There is just something about big cock firm tits and blonde hair that seems to turn most men on. That is the reason that TaniaQ loves to share her assets as much as she can. And thank the gods that she has all of them and wants us to see them. Just take a look at the photo below and see for yourself what I am talking about. Do it right now. Scroll down and see!
The hot little outfit that Tania has on was meant to get your cock hard. And this top is so tight that it almost does not fit. And being white its almost transparent. Big cock firm tits and clothing like that? Whats not to love?!
Oh and lets not forget to mention the length of her skirt. So short not only her ass shows. But her balls do as well when they slip out of her panties. Believe it or not. Tania loves to wear this to the clubs. And yes of course they let her and. And they also know that she is going to fuck someone or many people if she can. And her cock will be showing in public. That is how hot Tania gets. Her big cock firm tits and blonde hair get her a lot of attention!
Click on the image below or a text link above to see more of this photo set.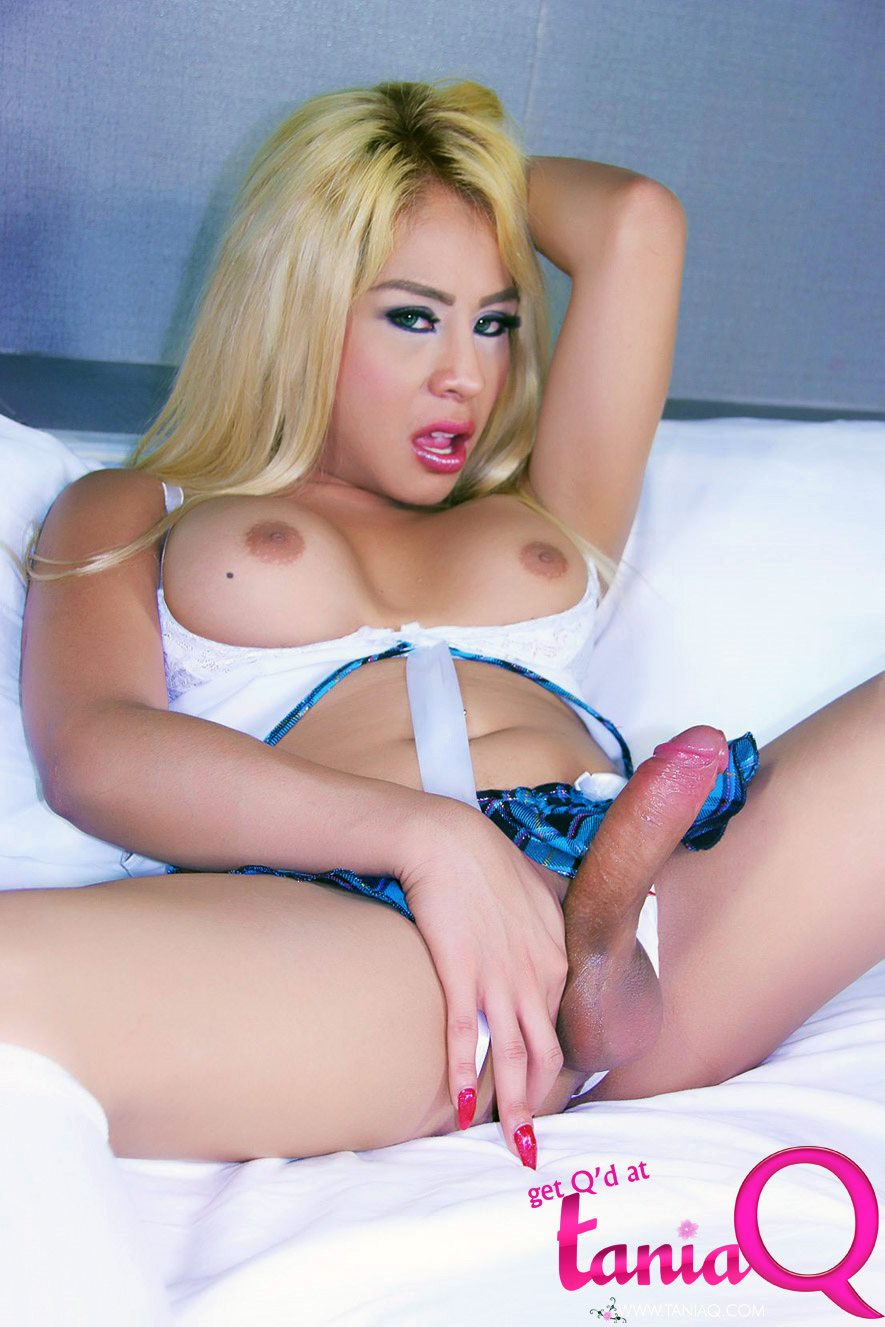 Can't see the cam feed? Then Click right here. Your Browser is blocking it!
Getting the chance to find a girl with a perfect body is the best thing that can happen. However we dont always find that perfect girl. So one of the best things you can do is focus on finding a girl with the one part that you need her to have the most. For me its that tight trans ass that is the most important. Yes of course I want her to have a pretty face. And I definitely want her to have big tits. If she has a big cock that is a plus as well. But its that tight trans ass I need the most.
Take a look at the tight trans ass in the photo below and let me know what you think. And yes of course that is TaniaQ and she is ready for some anal action. She wants your cock rock hard, so get it out and start stroking while you enjoy this sample photo of her amazing ass. Once your cock is hard, simply click the image and get your account to her website. Its simple and you will be really glad that you did. The members area of TaniaQ's website is the best place to get off while watching her movies and looking at her photo sets.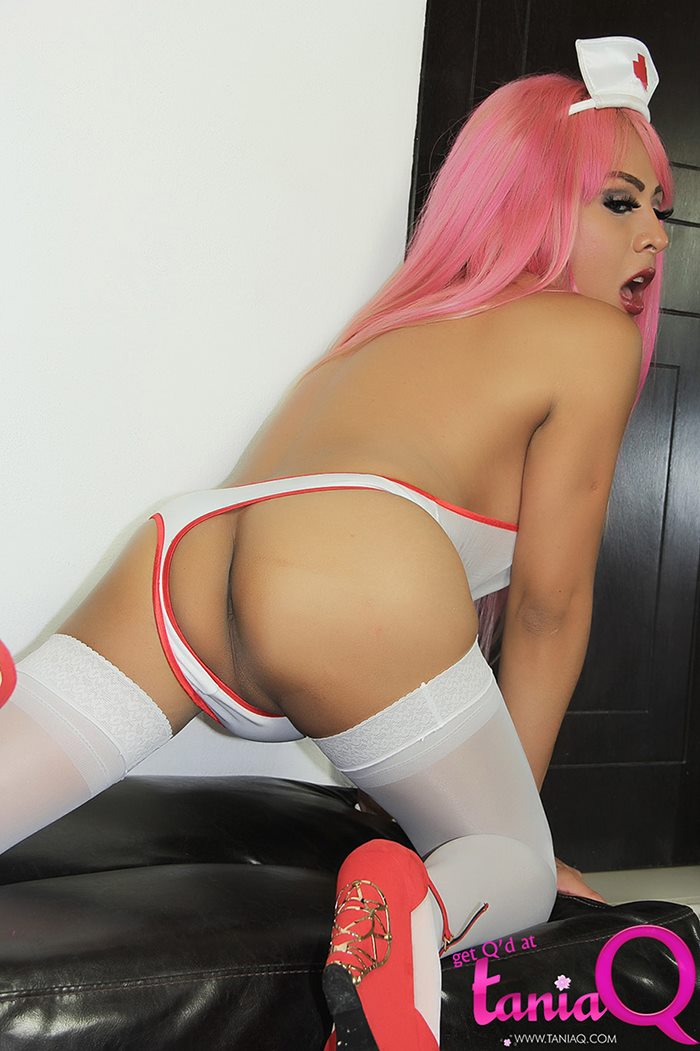 Do not miss out on seeing more of this tight trans ass.
Who else likes a hot trans girl in panties and heels? As figured a number of cocks jumped up for that one. So lets take a look at TaniaQ as she models for us some hot panties and heels.
Now for those of you who do not know TaniaQ she has actually been around for a long time. And she is one of those Hot trans girl that is always wearing something sexy and rather slutty. Can you actually believe that when I met with her for this photo and video shoot she was wearing these heels, stockings and panties already! She did have on shorts of course and a different shirt. But the heels and stockings looked so hot in her shorts. Honestly there were men standing at the place watching her.. Jijijij. Its one of the reasons I like to pick her up in public places!!
As you can see the panties and heels are a perfect match for each other. The heels being very high and her stockings only going to her thighs. That way they do not get in the way of her sexy panties and her package tucked back. Talk about HOT!
Click on the image below to see more of this photo set and also the video.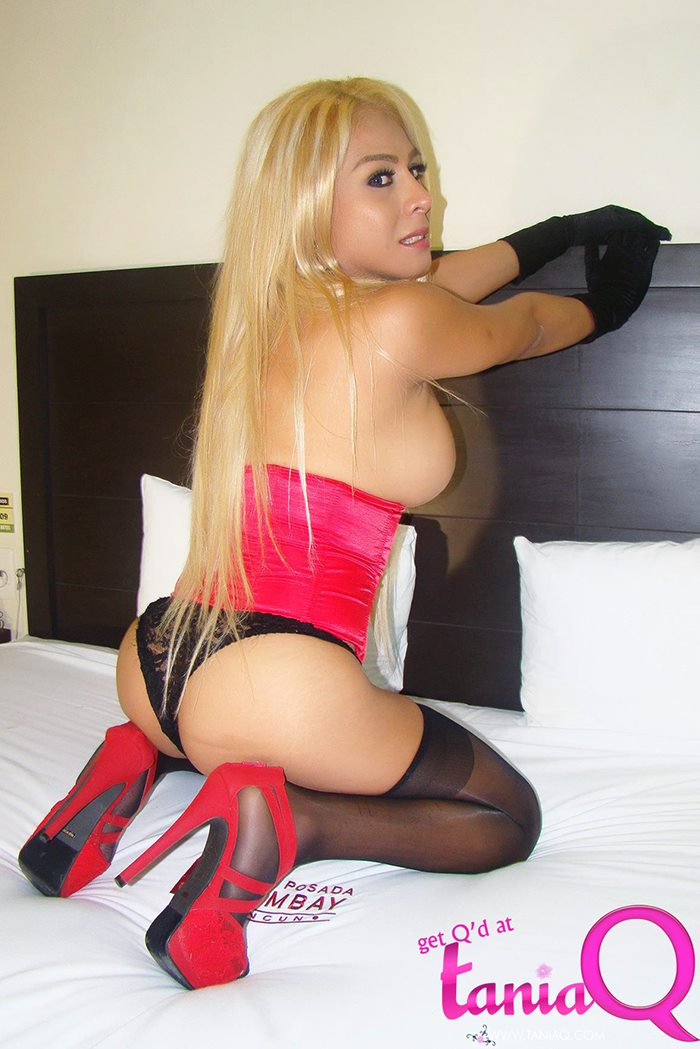 This is one hot trans girl you will want to see more of!
What color stockings do you prefer to see in photos. For me, I love to wear Black Stockings and also high heels. Usually a heel that contrasts very well with the stockings. I do so like to draw attention to my legs and especially my short skirt. I want to know that men are looking at me from the high heels up my long legs. Then imagining whats under the short skirt.
From what I have been told most men see me and think I have a nice tight little pussy under my skirt. And I guess in some ways you can say my ass is my tranny pussy. Oh, and its really really tight in case you were wondering. So yeah I do have a pussy in that aspect. But what a lot of men never think is that I might have a 9.7 inch cock under my skirt!
Take a look at this sample photo below and let me know what you think of my outfit and my black stockings! I think they look amazing on my legs. Comment below please!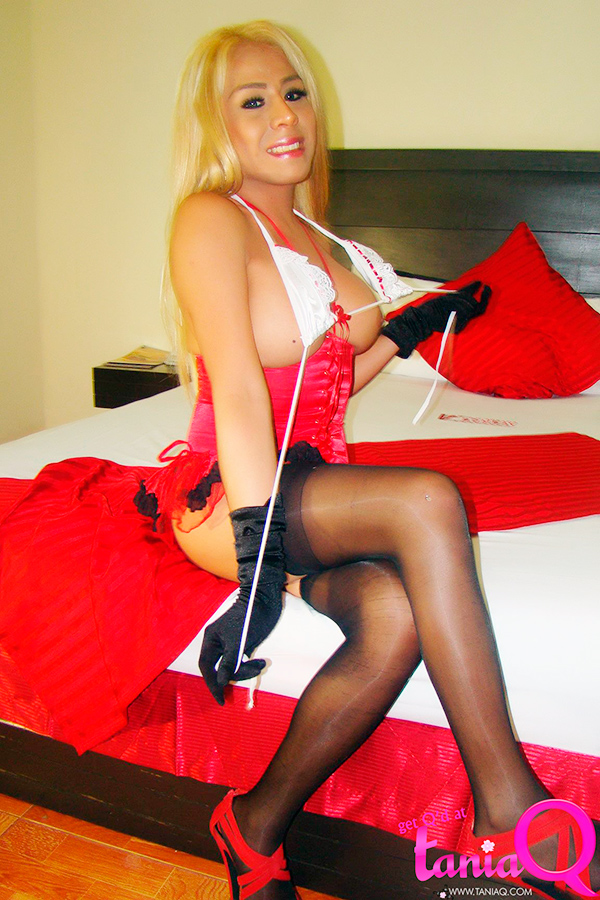 Do not miss out on some of my cosplay sets. I think you will love them. I dress up in all sorts of sexy things and they are usually pretty hot.
Click the image right now to see more of this outfit. Also please comment below and let me know what you think!
TaniaQ stockings and heels. And check out that spread! When it comes to sexy clothes, like stockings and heels TaniaQ stockings always look the best. No thats not the name of the actual clothing thats the name of the amazing tranny girl thats in them. Also the name of the girl you need to remember.
And if you dont know who TaniaQ is just take a look at the image below. The hot tranny sitting there is Also one of the hottest girls online and one of the best fucks.
Another thing, Tania sure loves her panties. TanaiQ stockings always are shown with sexy panties !
Join her members area right now to see more!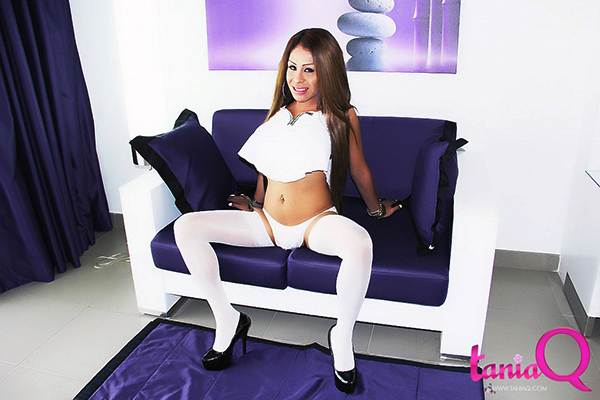 Right now and also this week is your best chance to get with TaniaQ. Message her in the members area.
Also guys did I mention that there are hundreds of photos and video sets for you to enjoy? Well now I have. So feel free to click around here for more free samples of me in Lingerie!
Well well. Once again we have something super hot from none other than TaniaQ. Its a lot more Side boob stockings and heels. And I for one and so horny, errrr Happy to see this photo set. So now back to the hotness of this photo.
Lets break it down and see what your favorite part is. I will tell you mine. But I have more than one. So for me we start by checking out those hot and sexy red high heels. I think that red high heels look amazing on any girl and that these make Tania's legs look great. Then as we move up we get to the stockings. Tight and black and all the way to her thigh. So nice to caress with your hands and tongue. From there we see the nice curve of her ass and the contrast of the color of her skin and the knee high stockings. All that is a combo made to make your cock hard.
From there up we get to a super hot side boob shot. And in this shot her side boob looks huge! Tasty and lickable! So now that you get this view of side boob stockings and heels. Its time to see more. Just click that image below.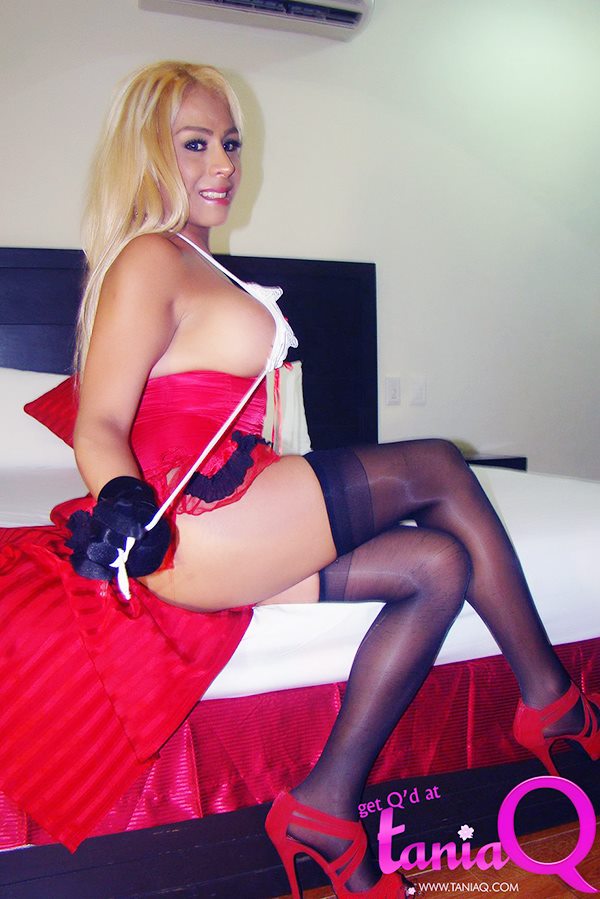 Find more about the Sensual Trans TaniaQ. Click her name <—-
White Panties! Sexy Tranny and spread legs! So, do you like white panties as much as most men do? I love to see them and wear them. If you are also into white panties I want to know about it. You need to post here and tell me so we can talk. Talk is hot and so am I and I want you now!
Hi guys, I'm TaniaQ and I wanted to show off some samples of my photos and videos here on my blog. Please forgive me if anything is misspelled as English is not my language and I have someone helping me.
Now, lets get back to talking about white panties! As you can see in the photo below I have on a sexy pair of panties as well as stockings and other lingerie. I was just outside on the blacony messing around and decided to fill the hot tub and jump in! Would you like to join me some time?
Have you ever been with a tranny when she has on a pair of sexy white panties? Stroking her cock with the panties covering it. Stroke until it gets hard and pops out the top and then you can suck the head of her cock? Its a lot of fun and a real turn on and something you might want to try next time your with your favorite tranny! She will love you for it.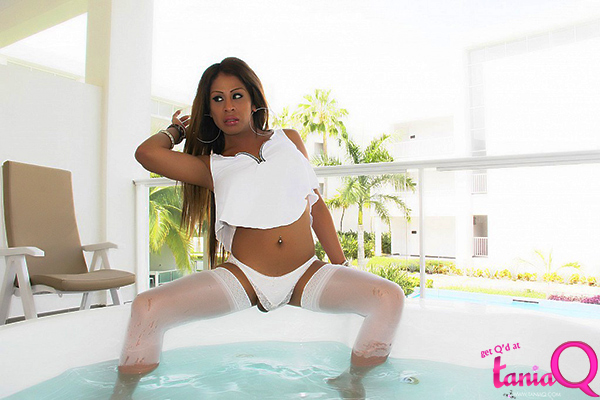 Well If you have not already been into my website now is the perfect time. You had this tease photo and enjoyed it so now its time for me, Naked spread and hard. If you want to meet up we might be able to work something out. So let me know right away.
I love my members and seeing comments from them so make sure to say hi there in the members area and also here on the blog.
Let me know what else I can show you samples of !
XOXO TaniaQ!
Stockings on TaniaQ! Hey guys it's me TaniaQ! I wanted to get your opinion on some stockings. I wanted to know what you think. Do you like them on your favorite tranny?
Stockings are often a great accessory for sexy lingerie and they make a girls legs look nice. So when I first stated using them I thought they looked great as well. Also they lend a sexyness that not all lingerie has! While I have them on also like to have on sexy heels. I think its another way to improve the look. But I really need some opinions on them.  Will you be nice enough to help me with that?
Another thing is that they tend to make a girls legs look longer. And for some reason you men love a girl with long legs. I guess its the idea of them being wrapped around your waist when you fuck her tight little ass hole.  Do you think I'm right? Gosh I sure hope I am. And if I am I want you to come and show me. Make me feel your body between my legs. Let me feel your cock as you thrust it deep into my love hole.
Because I love lingerie so much you will notice I have them on in a number of my videos and photos. Please let me know in my website which ones you like and dont like. Also make sure to mention the over all lingerie. You can post in the members area and also post here on this blog.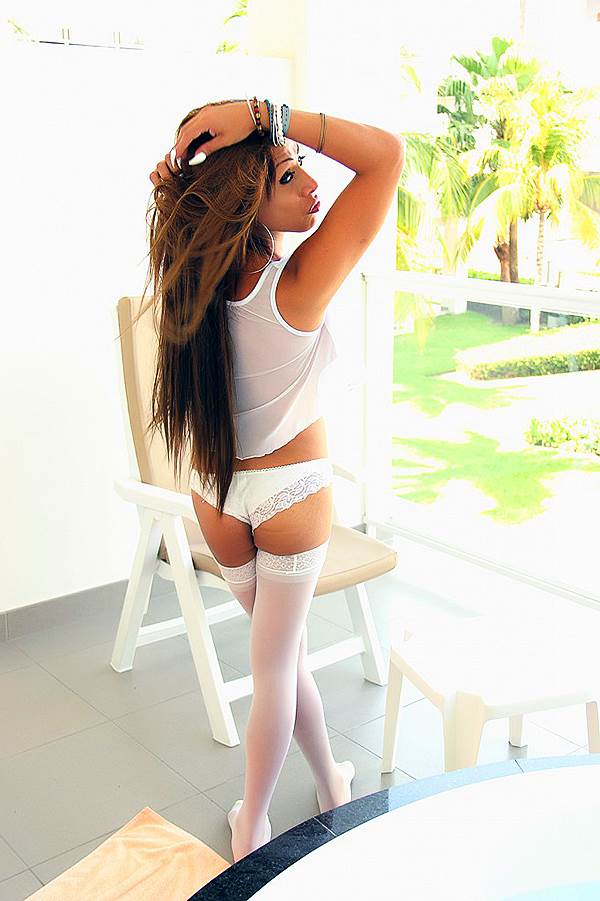 I also would like to know what color looks best on me, or what color you like best. I will add a poll below and I hope you will vote to help me out some. Also comment. I love to chat with guys about what turns them on and gets them hot!
I am always willing to talk so get with me as soon as you can. Let me know what you think about the stockings and what looks hot and not. Also tell your friends online about my blog and website.

 Loading …
When it comes to a wild trans girl doing things that turn men on. TaniaQ is probably the most likely girl to do something. She really enjoys flashing trans cock and bought this jacket just for that. She wanted something a touch longer but she actually wears this in public when she wants to go out. Tania says that flashing trans cock in public is a turn on for her as well as for the men that she flashes. She never does it where kids are and or women. Unless that is a couple more or less asks her to do it. Then she will.
As we have told you, TaniaQ is a wild child and really enjoys and gets off on doing naughty things in public as well as cosplay. That means she will dress up as a character for you at home to add excitement to a bed room romp! So now that you have had a taste of TaniaQ flashing trans cock its time to see a little more. To watch her get naked and jerk her fat cock for you. She loves to shoot her hot sticky load as often as she can and she wants you to watch her. If you are in, click the image below or a text link right now!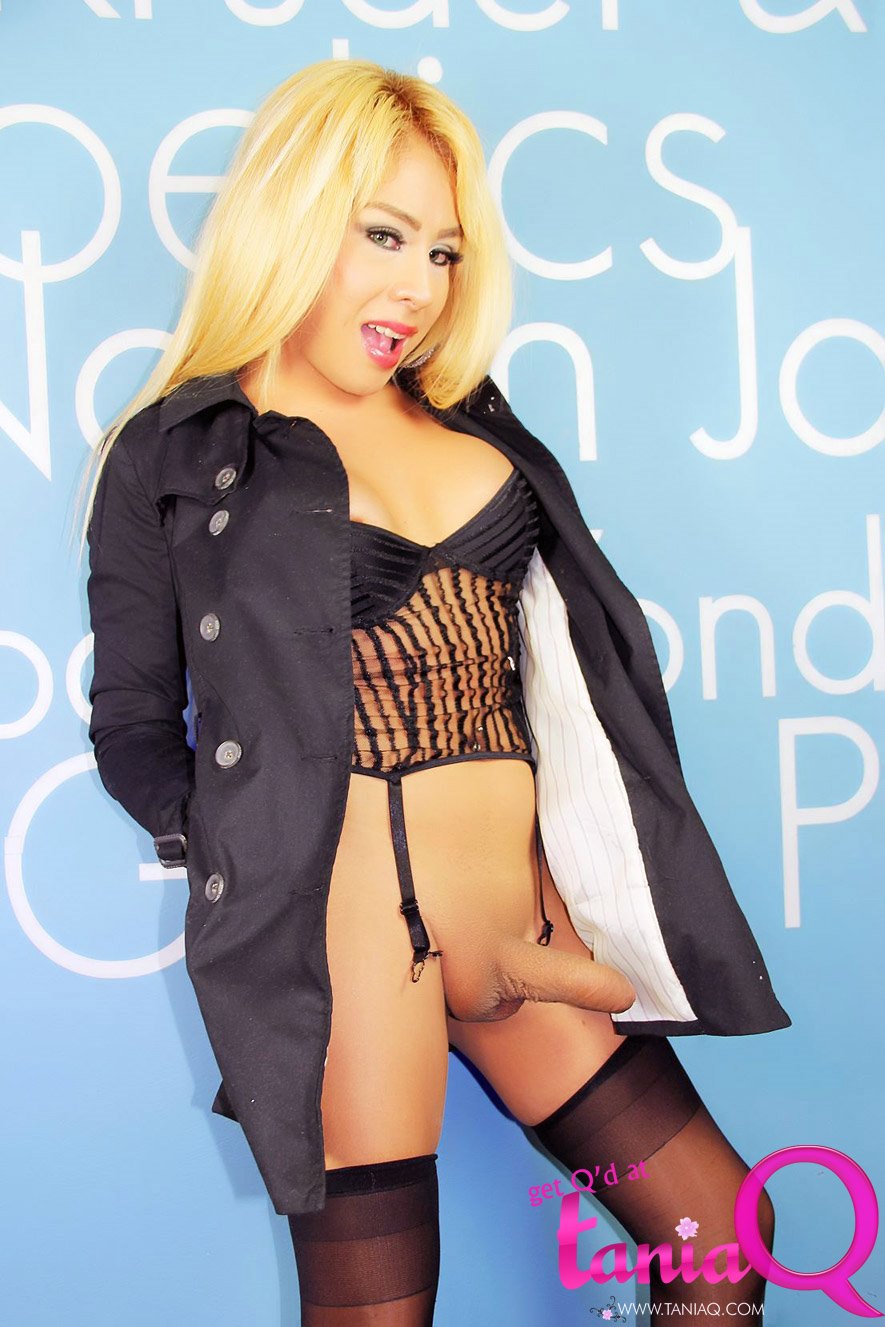 Hell yes I am IN for more of TaniaQ. Clicking right now!
Hot Sites to check out!
Categories