Browsing articles in "Stockings"
Tranny FLasher! Well it would have been fun! However where I live I would get in deep trouble. I also would have about a thousand guys chasing me, so I may do it anyway.
So I was considering this outfit for halloween last year but someone said I would end up in jail. So we turned it into a hot photo set for you instead.
Can you imagine. You walk out of your office. You are heading to your car, maybe chatting on the phone or surfing the internet or something. But your attention is only partially on the way you are going.  At one point you glance up. Walking towards you is a blonde girl. Average height. She has on high heels and a long over coat. Her hair and make up are done.  Sensual you think as she slowly approaches. You notice that she is making eye contact so you slow your step. Just as you do she takes her hands and places them on the sides of the jacket and whips them open.
Your first thought is what is this woman doing. Then you notice this is a Trans girl and she has a big hard cock pointing straight to you. What would you do?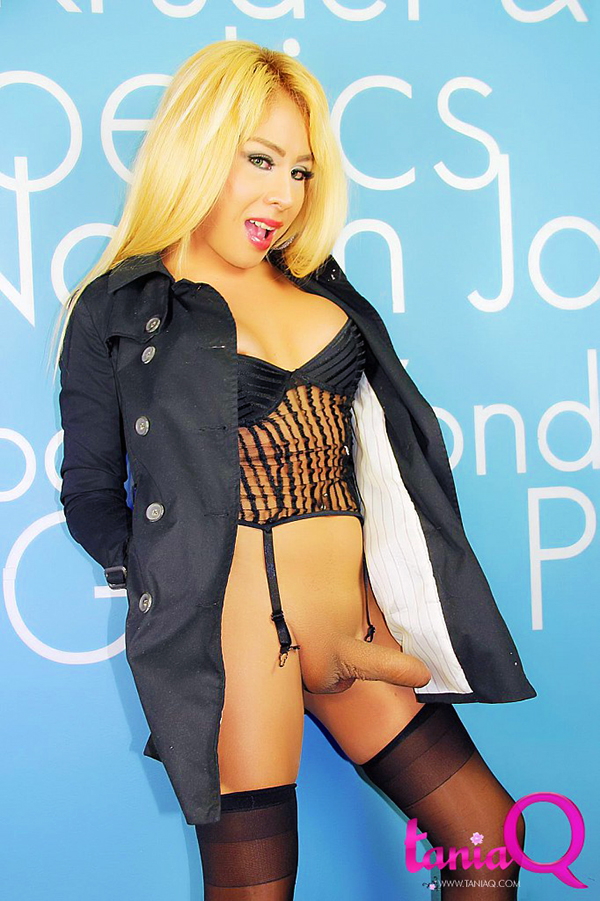 That's correct, I was going to go as a tranny flasher. Especially to the clubs and in very adult public places.
No matter. Join me right now to see the rest of this photo set and also check out all of the videos in my members area.
Make sure to say hello and rate my photo and also video sets.
Make sure and reply to this thread with some comments. Let us know what you would do. How you would react.
Also please make sure to look around at more sample photos of TaniaQ and her big tranny cock.
TaniaQ loves flashing that shaved cock. She loves it so much that she does it all the time and in as many public places as she can. She is always careful that only adults are around. And TaniaQ wants men to watch her. If a woman is watching and interested in her cock. Well that's ok as well. But TaniaQ loves when a man sees her and reacts.
When Flashing that shaved cock, Tania will often have on heels and stockings with no panties. And either a long coat or a very short skirt. She loves to have her cock swinging and she will flash as often as she can. This of course gets her cock harder and harder and then before you know it. She has a full on erection that she is showing off.
Now that you know that she loves to do this. You can be on the look out for her when you go places. If you see her and she is dressed in something super slutty. Try to stick around and watch her. She will be flashing that shaved cock before you know it.
Click on the image below to check out the rest of this photo set. Her cock is hot and ready for some fun and she wants to use it on you! Click right now!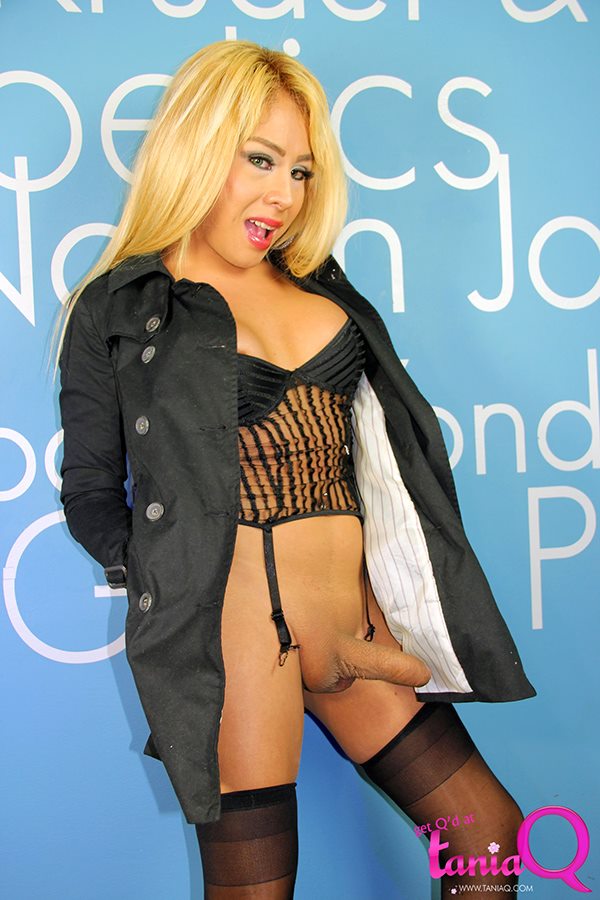 When it comes down to trans girls having fun. You wont find a girl quite as wild as TaniaQ. And when we wanted to do a set for Sucking TaniaQ's cock, She jumped up and said. Natty. After just a moment of confusion on the set. Tania was on the phone with Natty and telling her all about the idea. And you can bet your ass that Natty rushed over to have some fun Sucking TaniaQ's cock!
We found out later in the day that Natty had been after Tania for a while. But Tania was trying to stay friends. So what better way for them to enjoy each other than posing for movies and photos. That way, Natty could enjoy Sucking TaniaQ's cock! And Tania did not have to worry about it messing up their friendship. Which it did not. In fact it got better and Tania tells us they have since fucked many times and even invited some fans to join them.
Check out the photo below from the photo set and also from the movie. Its hot and you will love this one. As well as the other movies of these two lovely young ladies having fun with each other.
Click on the image below right now to see more. Or you can also click on a text link above. Join her right now to watch the whole movie.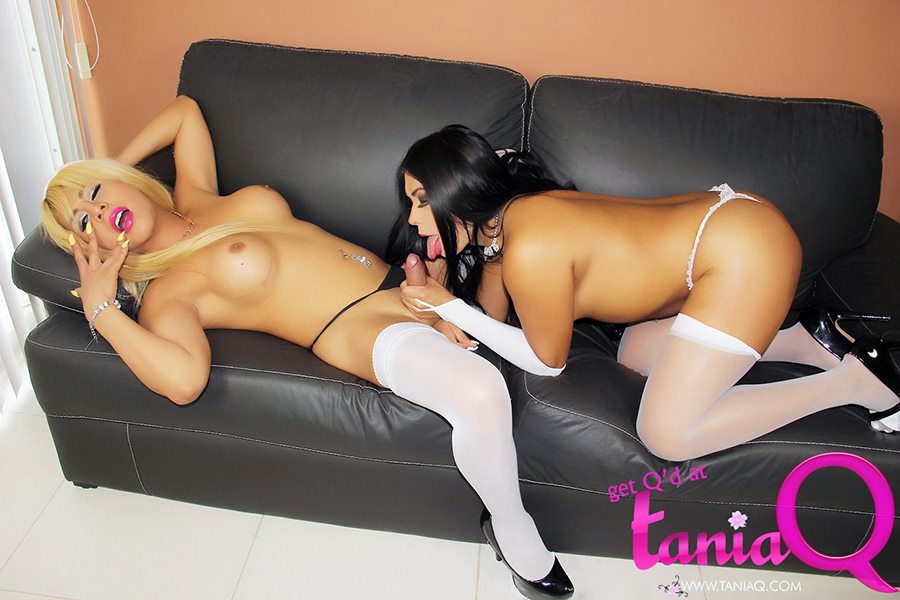 There is just something about big cock firm tits and blonde hair that seems to turn most men on. That is the reason that TaniaQ loves to share her assets as much as she can. And thank the gods that she has all of them and wants us to see them. Just take a look at the photo below and see for yourself what I am talking about. Do it right now. Scroll down and see!
The hot little outfit that Tania has on was meant to get your cock hard. And this top is so tight that it almost does not fit. And being white its almost transparent. Big cock firm tits and clothing like that? Whats not to love?!
Oh and lets not forget to mention the length of her skirt. So short not only her ass shows. But her balls do as well when they slip out of her panties. Believe it or not. Tania loves to wear this to the clubs. And yes of course they let her and. And they also know that she is going to fuck someone or many people if she can. And her cock will be showing in public. That is how hot Tania gets. Her big cock firm tits and blonde hair get her a lot of attention!
Click on the image below or a text link above to see more of this photo set.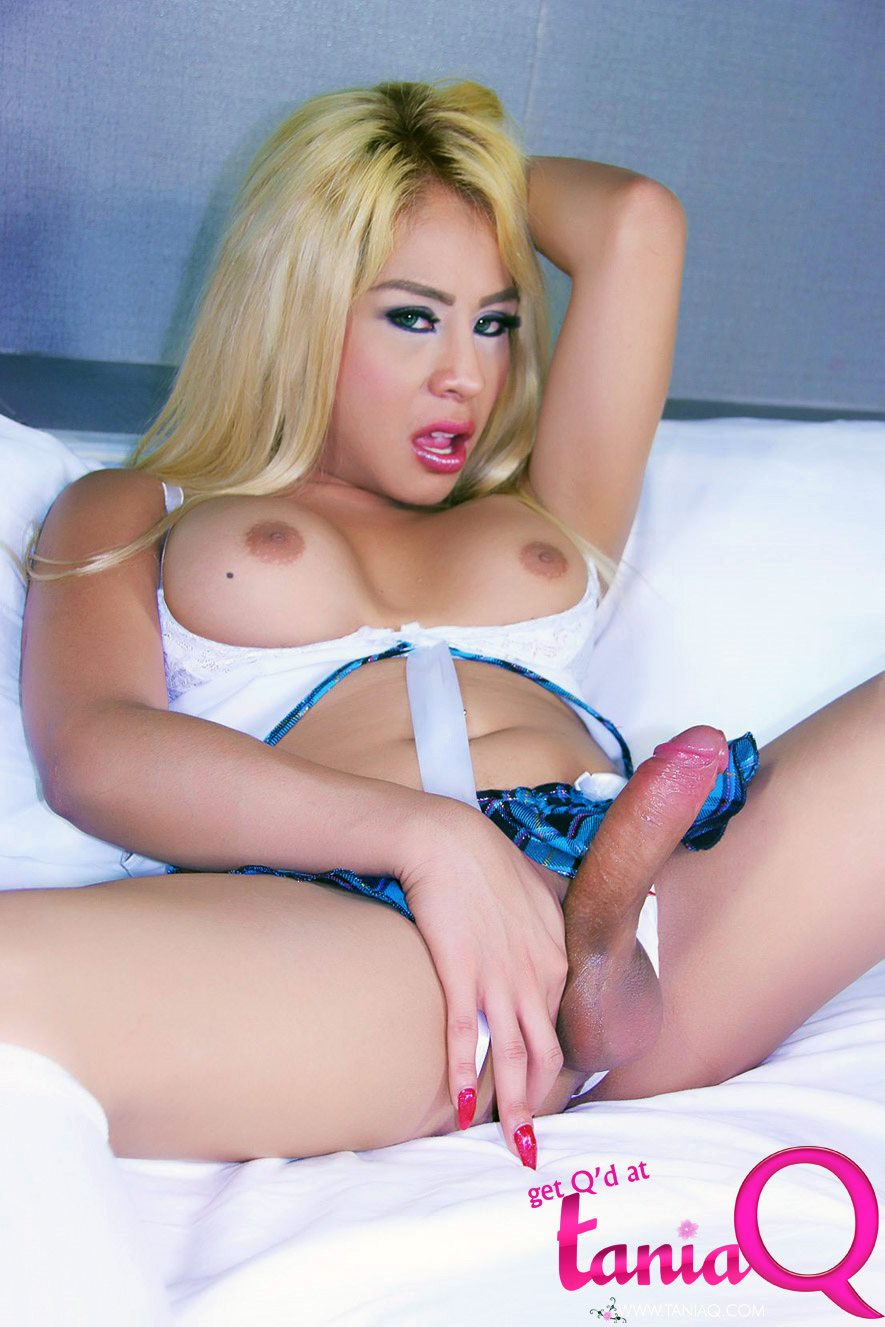 Hot Sites to check out!
Categories