I have told you before that TaniaQ is a wild child. So we are a bit surprised that she wanted to do photos and a video of phone sex. Do not get me wrong, Phone sex with TaniaQ is pretty damn hot. But when its for a video and photos for her site we were just a bit skeptical. And as always Tania brought a sexy outfit to wear. She got dressed up and climbed on the bed and pulled out a big red phone. Yeah Surprise!!! Then she popped in an ear piece and took a call on her cell. But she hid the cell. Apparently she had a guy on the line telling her what he wanted to do to her amazing and hard trans girl body.
Anyway the cameras started to go and she was using the phone to chat and also to play with. That or course was when we got Q'd. Tania literally started to have phone sex. Or should I say sex with the phone? Rubbing it on her firm trans girl tits. Sticking it between her ass cheeks and rubbing her love hole with it. And all while listening to the guy on her cell. Tania got hard and rubbed the phone and her cock together as well. I guess you just need to see this movie to believe it.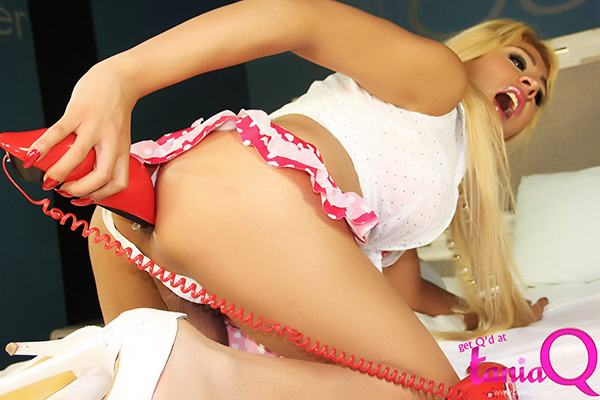 So if you want to enjoy a bit of Phone sex with TaniaQ. Log into her members area right now!
Hot Sites to check out!
Categories