Browsing articles in "Tits"
Thick Juicy Tranny Cock! TaniaQ has a hot one! Yes guys I do! Or at least I have been told I have a thick juicy tranny cock! And the good thing about that for you? I get nice and hard in your mouth or hand and then I can stick it into your ass hole and spread you wide. Pumping in and out. Making it hurt! Or I can go soft and slow and the only pain is from the girth of my cock spreading you love hole wide open! Just imagine the head of my cock piercing your anus! Also think about you getting behind me and doing the same thing. Stroking in and out and everything you can imagine!
Click here right now to enjoy this photo set!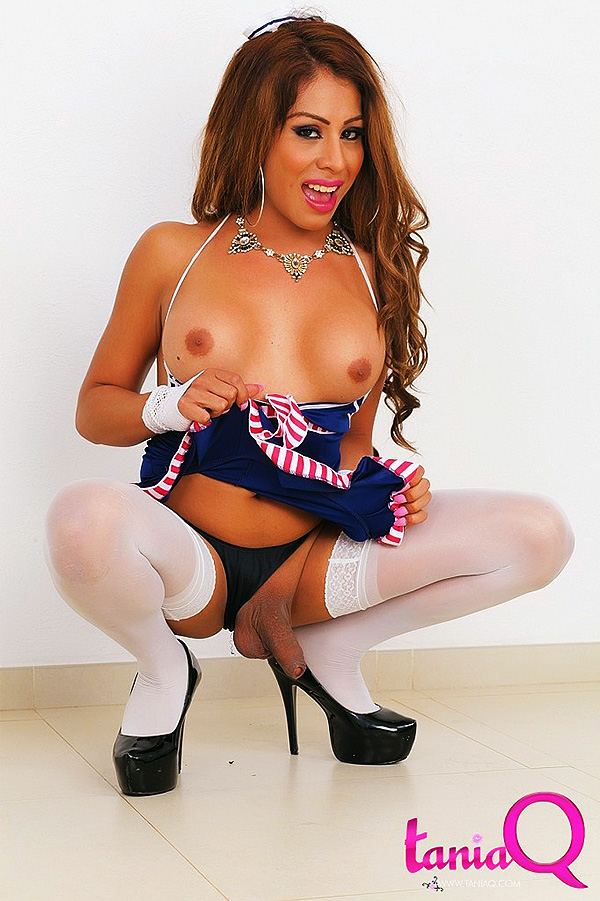 You can also surf around this blog for some more samples.
Further more once you are in the members area. Contact me right away! I can not wait to meet you and fuck.
Well well. Once again we have something super hot from none other than TaniaQ. Its a lot more Side boob stockings and heels. And I for one and so horny, errrr Happy to see this photo set. So now back to the hotness of this photo.
Lets break it down and see what your favorite part is. I will tell you mine. But I have more than one. So for me we start by checking out those hot and sexy red high heels. I think that red high heels look amazing on any girl and that these make Tania's legs look great. Then as we move up we get to the stockings. Tight and black and all the way to her thigh. So nice to caress with your hands and tongue. From there we see the nice curve of her ass and the contrast of the color of her skin and the knee high stockings. All that is a combo made to make your cock hard.
From there up we get to a super hot side boob shot. And in this shot her side boob looks huge! Tasty and lickable! So now that you get this view of side boob stockings and heels. Its time to see more. Just click that image below.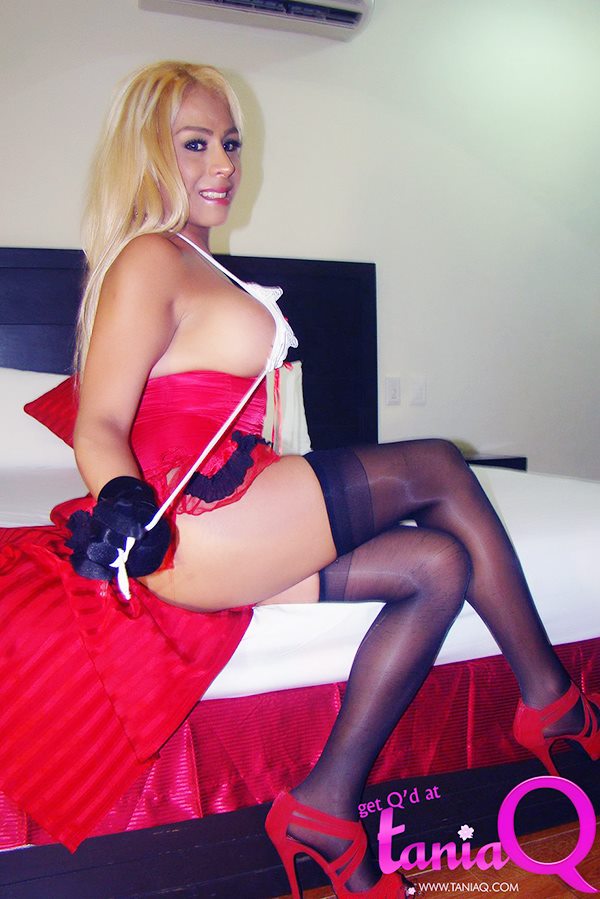 Find more about the Sensual Trans TaniaQ. Click her name <—-
OK so no this is not a traditional upskirt photo. In fact that is not even a skirt. But it serves our purpose on many levels so that is what we are going to talk about right now. And this is kind of hot once you engage your brain and your cock at the same time.
In this Upskirt photo we have TaniaQ actually wearing a piece of lingerie. But its hot and kind of looks like a very small dress. So lets go with that! The idea is not to see what is up under her skirt. But to imagine it. Of course I am going to give you a little help because I know what is in the next photos. Now, close your eyes. Think about her from her feet up. She has on high heels. Her legs are long and have a fair amount of muscle. They are firm and tan. Let your thoughts go up and as they do they brush the skirt.
As the skirt flips up just a little you get a peek of Tania's tight little ass. You can see a perfectly shaped ass cheek. Round, tan and very firm. Your mind reaches up a mental hand to caress her ass. As your mental hand goes up, the front of her skirt flips up. Hanging there is 9 inches of a fat cock. Its not hard yet but has started to thicken. The head beginning to swell. Can you see this in your mind?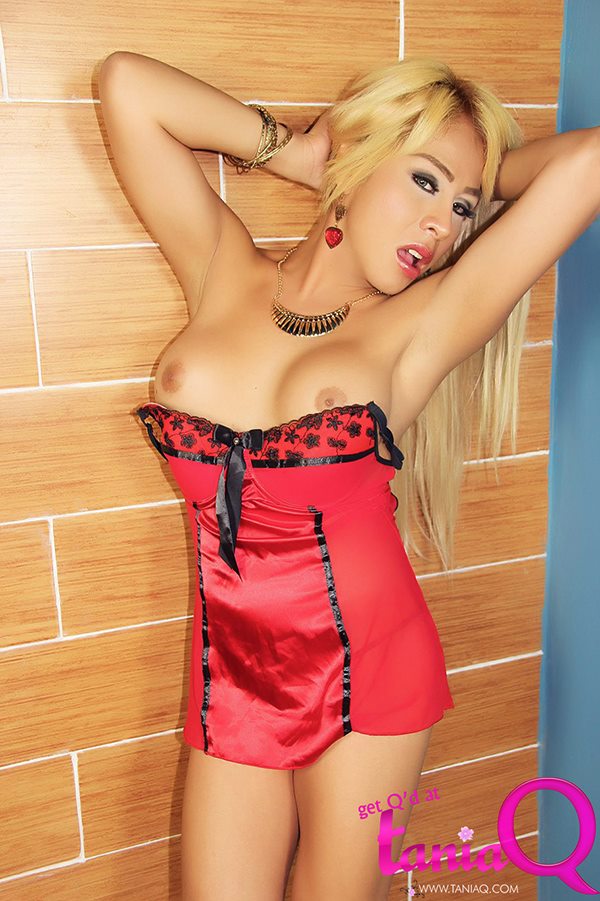 Then click on the image right now to see exactly that!
Everyone and I do mean everyone loves a hard cock trans. There is nothing more disappointing than a trans girl that can not get an erection. So today I present you with a hot photo of our favorite Hardcock trans. Yes that means we are going to share a photo of TaniaQ showing off her hard cock. I know its rare that we do this. The turth is, this site helps Tania reach out to new potential members and that means that she needs to tease most of them. Then if they get hot enough they buy a membership and that is how she earns a living. So even if you know of her and about her its time to become her fan. Get your membership and support Tania so she keeps recording for her website.
As you can see she is a hot hard cock trans and looks amazing showing off her body. From her firm tits to her big cock and her tight little tranny ass. This hard cock trans girl has it all and wants you to take her and do with her what you want. You and flip her around like the fuck puppet she is and work every wet hole she has. And if its not wet, use lube! She loves to fuck and get fucked nice and hard.
Click on the image below to get your membership to her website right now!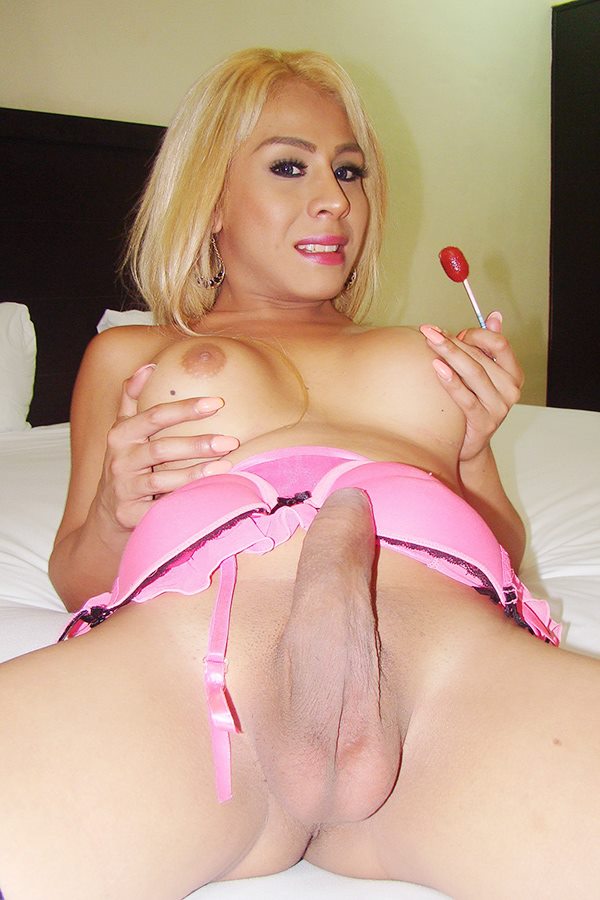 Hot Sites to check out!
Categories