Browsing articles in "TaniaQ"
Titty Flashing outdoors! With TaniaQ! I dont think I ever go to a park or a public place where I don't end up doing some Titty flashing outdoors.
For one reason or another a guy is always staring at me! So I flash them my tits. Sometimes I will even flash them my cock. I guess it just depends on the guy and how hot I am at the moment.
Dont you also think its always fun to flash and watch people ask for more? In fact when they ask for more that is when the real heat starts. I usually invite the guy or guys to sit with me so they can touch me. I of course do a lot of touching as well and we often sneek off so we can suck and fuck each other. Getting off is my biggest desire.
Click here to check out the members area of my site.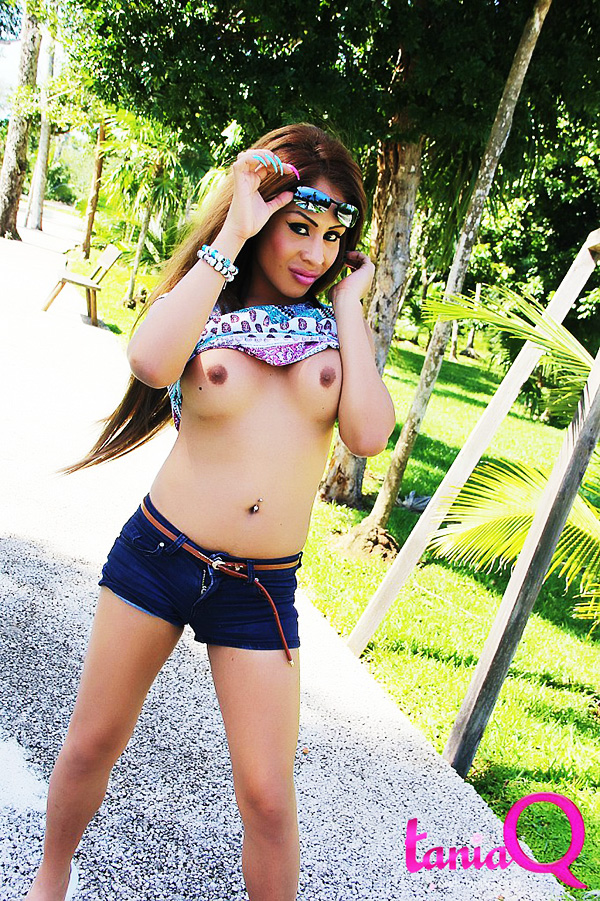 Further more its a turn on to me to know that people are watching and they always signal to see more.
Come into my members area right now to get the rest of this photo set. Click here.
You can also check out older posts on this blog by clicking here.
Sucking Tranny Cock! TaniaQ is ready! For that matter I am always ready to have my cock sucked. For those of you that love sucking tranny cock! Come and get me. I would gladly pull over and let you suck me off.
Just look how hard my cock was when I got out of the car for this photo session. I had been thinking about a guy or a couple of men sucking my cock while driving! So I stopped and got out. Took off my coat so my titties were out and then pulled my cock out of my panties. I was so ready to start stroking. But I wanted to wait for you. I needed to wait for your mouth to encircle my cock and start pumping it with your lips! Oh and then I get to do the same to you.
Check out my members area right now and send me a message. Also enjoy some of my movies!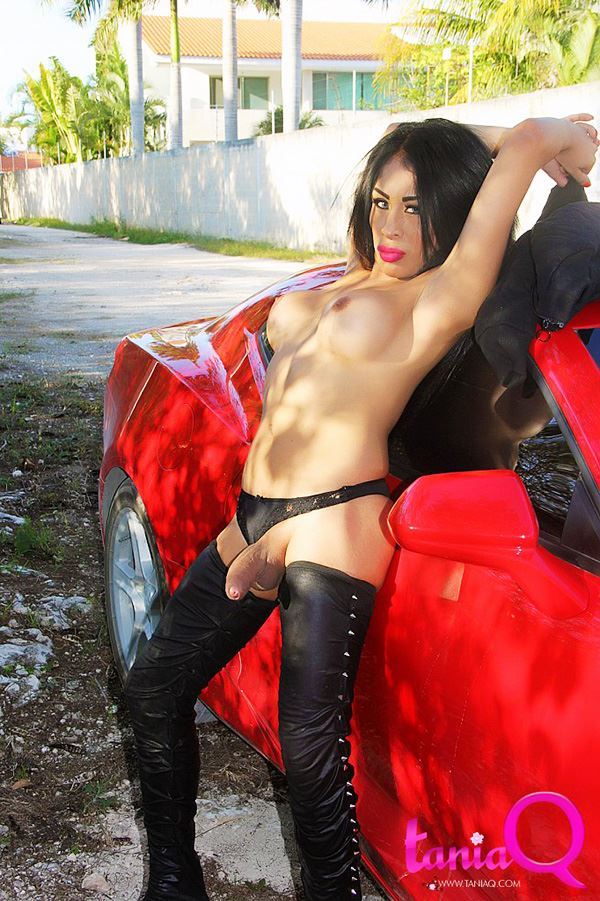 So the next time you get to suck some cock. Make sure the tranny girl is nice and hard. Do what ever it takes to make that happen!
Stick your finger into her ass! Or you could also let her stick one in yours while to nibble on the head of her erection!
Click here to see some other hot samples of my cock!
Firm Tranny Boobies! TaniaQ outdoors flashing! Yes Again! I love showing off my bobbies and for that my cock as well. And yes I do have firm tranny boobies and I also have a big cock. So if you like both and to be around a tranny girl! Then come and hang out with me. Lets go flashing. And you can take the photos. Then when we are both hot and horny we can get naked some place and caress each other. Licking and sucking and also a lot of fucking really hard. I am versatile so you should be as well so we can max our fun together!
Click here to join me now and see more!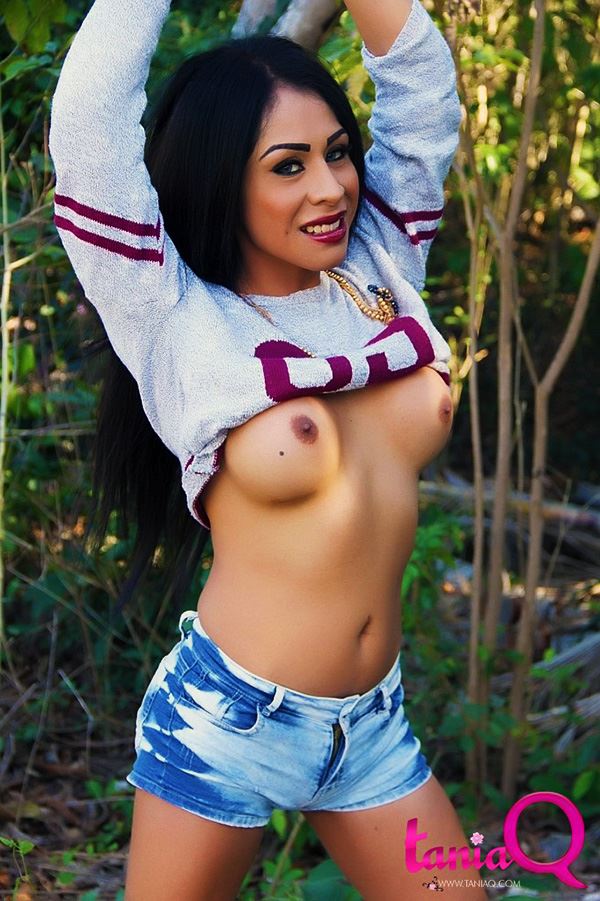 If you like you can also surf around this blog for more samples of me and my boobies!
TaniaQ cock and club clothes! So not only does TaniaQ have a nice big cock but she also looks pretty damn hot in club clothes. She has told us that she wants to get off before going out! As this helps prevent an erection when in club Clothes. These cock shots are not un heard of as she tends to get hard easy!
Right now is your chance to check out the members area of this site. Filled with photos and videos for Tania in every bit of action you can think of. Click here to join right now.
The video below is a tease for you. In the members area it is HD and worth watching with the full cum shot of the amazing TaniaQ Cock!
Oh and guys do not forget to check out some of the free sample photos I have here. If you ask me, they are hot and sexy!
Happy tranny Halloween! With hung trans TaniaQ! Hi guys its me TaniaQ. I wanted to wish you all a Happy tranny Halloween! Enjoy the photo below and see you in my members area very soon.
Click here to join me now.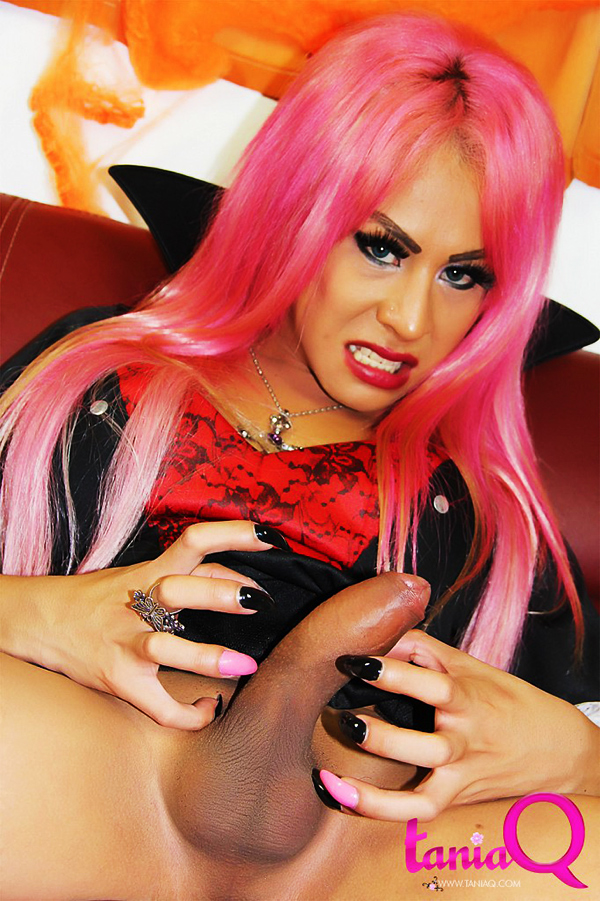 Or surf other samples of my body here.
Kisses.
TaniaQ
OK guys its a pool day and I want to know who would like to hang out with me. Some sun and fun and wild times and if we can we will grab some photos. Its always a nice time.
Who will join me?
Check out my members area and let me know in there. Email me.
Kisses to everyone and Happy Tanning!
TaniaQ
Hey guys. I love to shoot content out doors and I am sure you have noticed a lot of my content is in the sun or in public places. I am also always looking for new pleaces to shoot so if you have ideas post them here on the blog or in my members area.
Shooting in the sun can be hard as I need to get in and out of air conditioning or I melt in the sun. 🙂
But the photos come out so amazing that I love to do them for you. Im sure you have seen some that you just loved.
So watch for more posts of me here and in my members area soon of more shooting in the sun.
XOXO
Tania.
Dont miss out on this live action. Your going to love it.
If the Live stream above is not playing:
Choose Firefox > Tools > Add-ons.
Select Plugins.
In the list of Add-ons, look for Shockwave Flash (another name for Flash Player) and check the status that appears to the right of the plug-in name.
Select Always Activate.
Close the dialog box.
Wet Tranny! Just playing in the bath and bubbles! Almost every time I get in a bubble bath, I end up playing with myself until I cum. Because of the bubbles and water mixed I feel so sensual that I get hard and I just need to touch my ass.
This of course makes me want to finger myself! And when I finger my ass, my cock gets harder and needs to be stroked! Can you already see where this is going? Would you like to take a bath with me, a wet tranny? And help me release that pressure that builds in my cock and my balls?
Since you know what I'm talking about, I want you to take a few minutes to enjoy the photo below. I would prefer you did this with your cock in your hand! And now that you are cocked and loaded! You should tell me what your doing. You need to tell me stroke for stroke!
I was sitting in the hot tub after getting naked of course and my cock was hard so I slid a finger into my ass! And before I knew it I had 3 in my ass and my cock was throbbing. Hard as a rock and needing to be stroked! I was thinking about watching a hot guy do the same.
If you dont yet have a membership to my website now is the perfect time to get one. Click right here! Do not wait and do not hesitate. The bubbles will pop and I do not want to be all alone.
Tell me all about your masturbation times. It will get us both hot and horny. And we will both get off talking about it.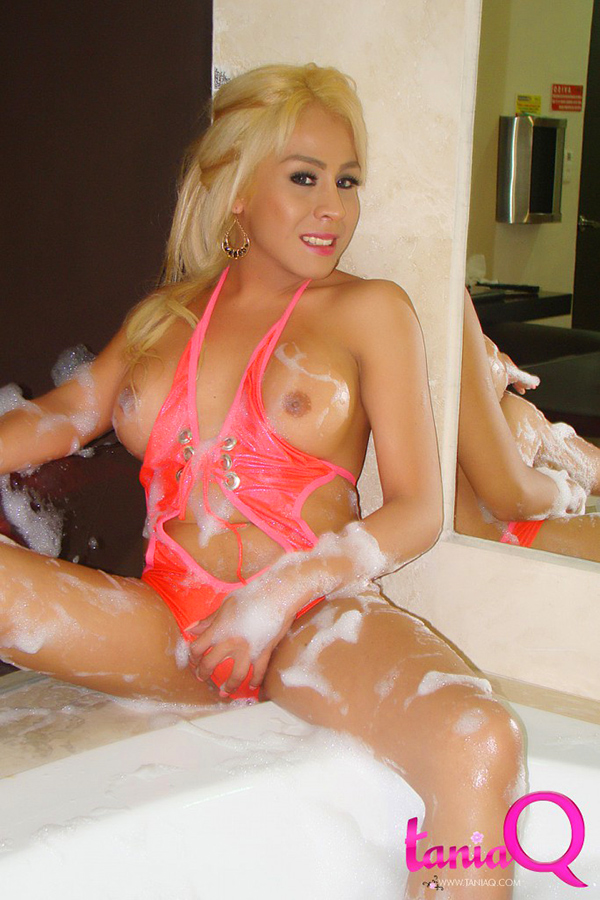 So the next time you start to think about a wet tranny and how sexy they look. Remember me and what I offer. Wet hot and hard and a great great fuck. Just sign up and let me know what you need to get off.
Do not miss your chance to get off with me.
Hot Sites to check out!
Categories