Browsing articles in "TaniaQ"
Spread Legs hard tranny cock and now Im ready for action! Well I am back to show you another photo of me. I found it hot and gave it an appropriate name dont you think? Spread Legs hard tranny cock is the name if the set and as you can see it matches 100%. I opened my legs and while the camera was rolling my cock got hard. Sticking straight out in the sun and wind. It was like having your hot mouth on my cock. What a treat.
Another treat for me would be to have you stroke me. Can you just imagine my hard throbbing meat stick in your hands? I can. I can feel your fingers wrapped around my rod and giving it a squeeze and stroke. Then spitting on it to lube the head so that slides in and out of your fingers with ease!!
The only other thing I needed was something to squat down on and I would have cum!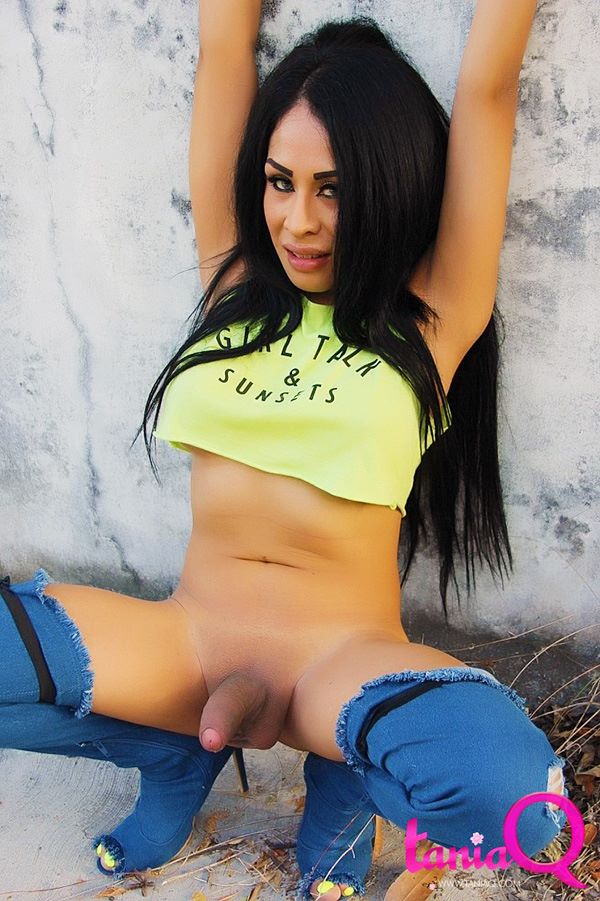 My site is filled with UltraHD photos and also videos that you will love. So join me right now. Make sure and message me and let me know if you will be visiting Mexico any time soon so we can film Together!
Furthermore if you want other samples of me, just click here!
Trannys in Bikinis! Take them to the beach right now! Hey Studs! My Girlfriend and I were getting ready for the beach. I walked outside to check out the day and she joined me. So we did a little photo shoot to share with you. I know most men love trannys in Bikinis, so I could not resist. Let me know what you think of the set and the video.
Most of you know I have an amazing collection of Lingerie and Bikini's. For my members I am always willing to make a video or photo set wearing what ever you like. If you happen to be in my area, maybe you can hold the camera while I get naked. Then we can Fuck!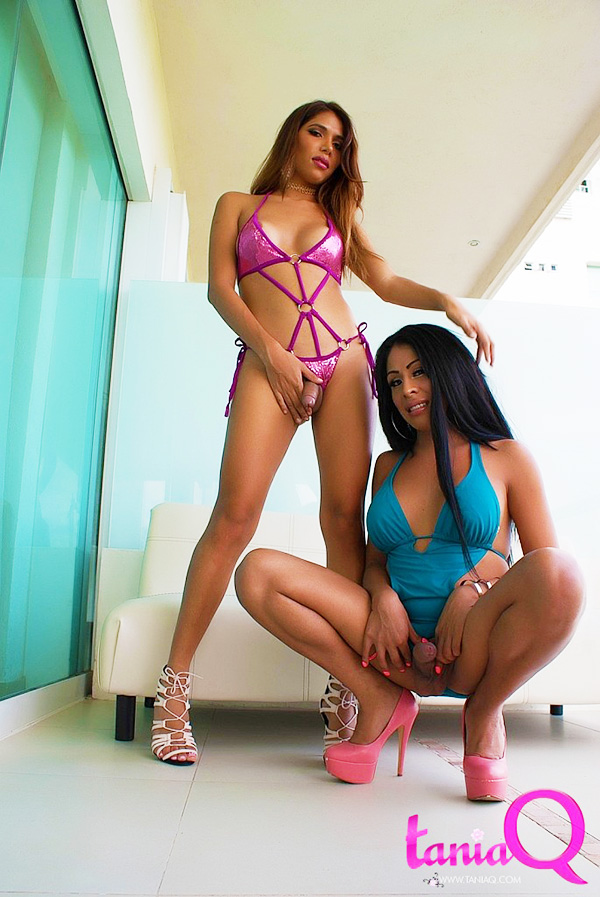 Click here right now if you want to see more of this set in the bikinis.
Otherwise you can surf a few samples here.
Tranny Costumes! Happy Halloween from TaniaQ! Sitting thinking of the topic for this post we needed to ask! What sort of Costume do you think is a good Tranny Costume? First of all do you like trans that play dress up with sexy outfits? Or would you rather a hot trans girl just naked and in heels waiting for you when you arrive at home?
If you answered yes then your going to love TanaiQ and never get enough of her! She not only has costumes but also the most lingerie of any one tranny!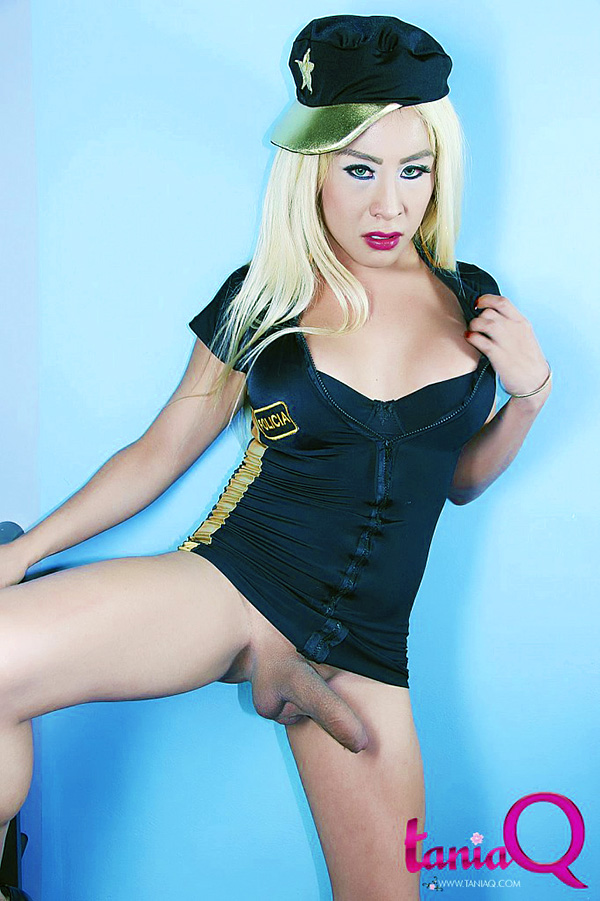 Click here to check out her members area of photos and also videos. From stripping to hardcore with other trannys and also with toys!
Or you can also check out other posts on this site by clicking here and surfing around.
Make sure to rate and also comment for Tania so she knows what you like!
High Heels big cock Tranny TaniaQ! So guys have you been searching for a Trans girl like me? I am TaniaQ and the young lady in the photo below. As is fitting I call this High Heels big cock Tranny! And its pretty easy to see why its titled that. And its pretty easy to see that you want more. Just keep reading. TaniaQ wants you to be hard happy and cum!
If you will now tell me in the comments below what it is that you like to see. How I can pose for you. I will do what I can. I want your cock to be so hard that it aches. That you can feel the throb of the head as you touch it. All while looking at my photos.
Click here now to join my members area and watch me stroke my own throbbing tranny cock!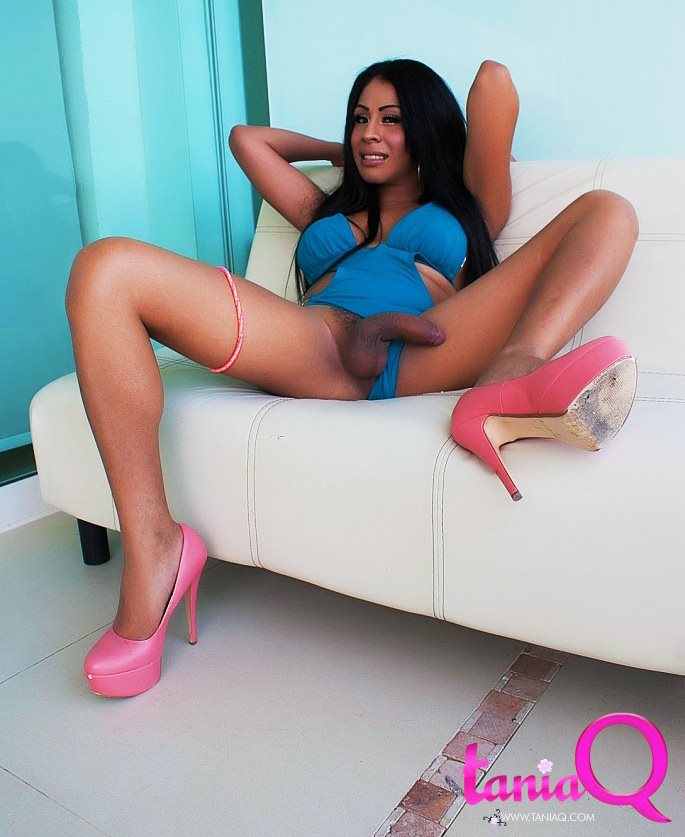 Right now is the best time to join me. I think you will love it and getting off with me is a lot of fun. Dont miss this chance.
Otherwise if you want to check out more photos you can also surf more samples on this site. Click now for more of me naked
Fuck my tranny ass please. Its time for me to get some big cock into me again and I hope that its yours. I can tell that you are hard and you have your cock in your hand right now. Stroking and squeezing your cock as your hand passes over the head. You are looking at my photo and I need you to come and fuck my tranny ass before you shoot your load. Yes baby. Pump my hole with your love rod and spill your man cream deep inside me!
Do not shoot that load just yet. Hold it back. Don't take your eyes off my love hole. But don't cum. Feel that pressure build up in your balls while you also imagine sinking that head of your cock between the lips of my ass. Push deep and hard. Make sure your hips touch my ass. Push.
Click here to see more photos from this set. Get your cock into my love hole!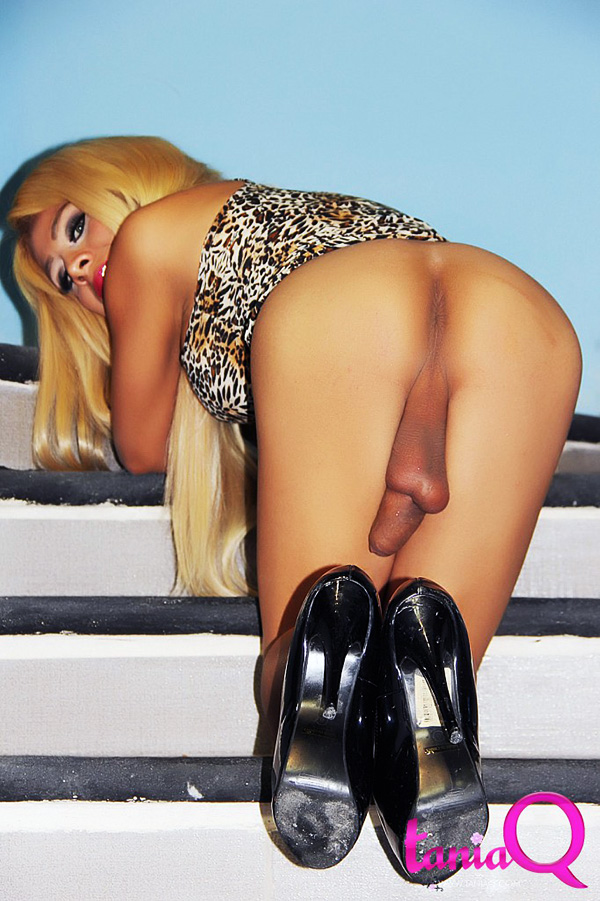 If you are almost ready to shoot your load then its time to get into my members area so you can see this movie. We can then shoot our load together.
Otherwise you can click around here on this blog for more Sexy Shemale photos of me!
SheLesbian Tranny Fuck! Come and enjoy the action! Most girls say they love a good SheLesbian Tranny fuck. But honestly only a few of us do. Nikki Montero pictured with me, TaniaQ below do love it. We had done this so many times we dont even know the count. But its always a good hot fuck. You know you do not want to miss out so keep reading!
So if your up for trying something new like being in bed with a couple of Shelesbian trannys. Then you have come to the right place. This video in my members area is nice and hot. It also has a photo set along with it. Your going to love watching! Dont hesitate to join Tania and any of the girls she has in her site. They would all love to meet you.
Click here to watch the hot SheLesbian action!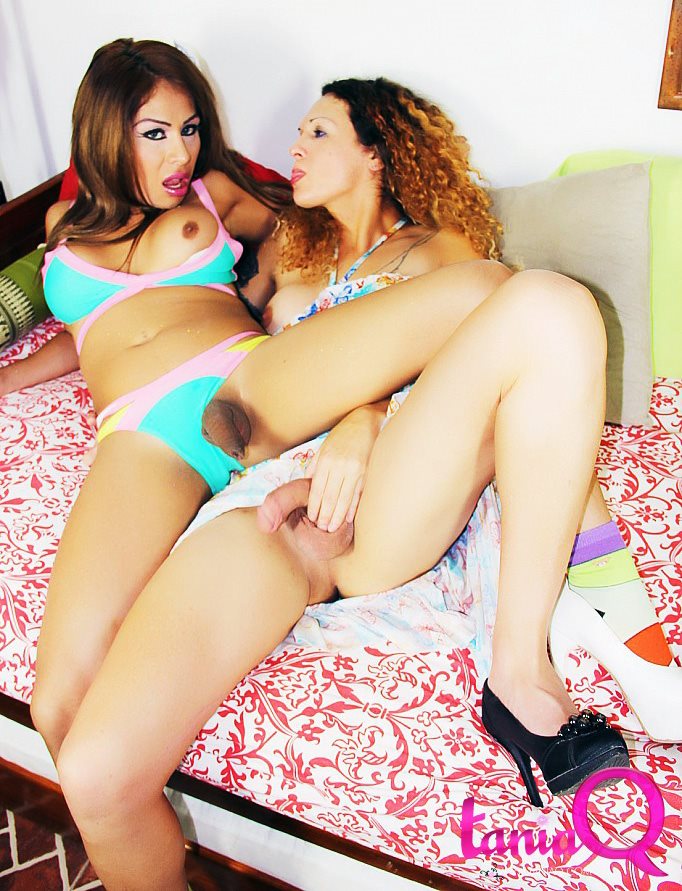 A hot tranny fuck is always fun to watch or better be a part of. So if you in the area and horny next time we shoot. Feel free to drop by and jump into the bed party!
Click here to see more of this set of shelesbian action!
Otherwise surf some more hot samples of me showing off my big juicy cock!
Tranny Bikini Babe TaniaQ! He guys its me again with a hot new photo to share with you. I do hope you like it. For obvious reasons I titled it Tranny Bikini Babe TaniaQ! I know that a lot of men like to see a sexy body in a hot little bikini. For some of you guys I happen to have that body. And yes I do actually wear this bikini to the beach. And some times that becomes a problem. 🙂
Imagine me at the beach. Lounging back with my knees up tits up and eyes closed. Something catches my attention and I sit up and look around only to find a hot man staring at me. Then for what ever reason he adjusts his cock in his swim shorts. That right there will cause my cock to stiffen. And in a bikini this small its hard to hide an erection with a cock the size of mine!
Click here to see the rest of this Hot Bikini photo set!  Do not miss out on getting this hot body naked! TaniaQ!!! Just for YOU!!!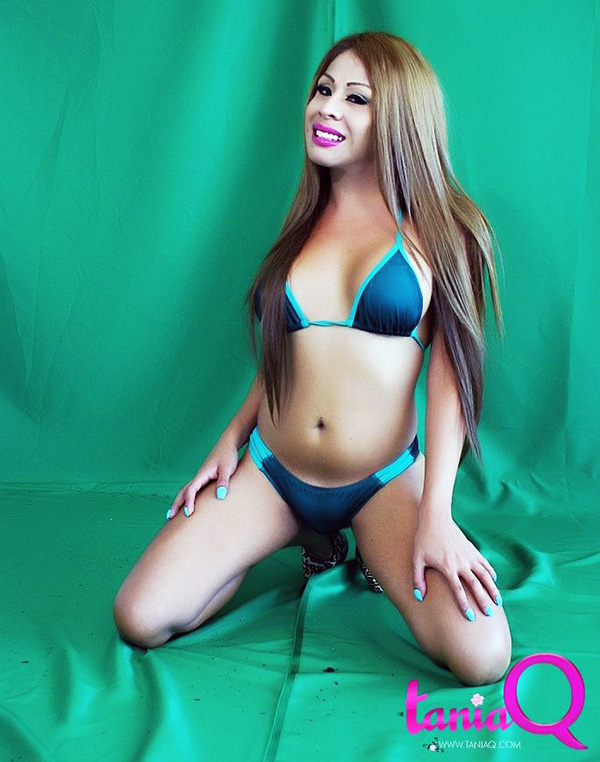 Also if you like seeing this bikini on me, I have several photos and videos of me in others as well. Just join my members area for more Bikini photos and videos!
Further more guys. I have a lot of samples here on this site that you can surf around and enjoy. Hot Photos! Just please rate and also comment on the photos that you like the most.
XOXO
TaniaQ
High Heels and Tranny Cock.
What does one have to do with the other? High Heels and Tranny Cock? Nothing but they look nice when they are both in the same photo. Take a look at my photo below. I was working for a photo guy and he had me on the balcony of his condo. Strangely the way the building is built its easy to see onto each others balcony and there was a guy watching us do the photos. This of course made my cock even harder than it would have been. Especially because the guy could see me very clearly and started wanking while watching.  His cock kept getting stiffer and so did mine until I just needed to cum. My balls hurt so bad watching him.  It was So hot.
Click the image below to see more of this photo set. Also do not forget to rate and comment in the members area.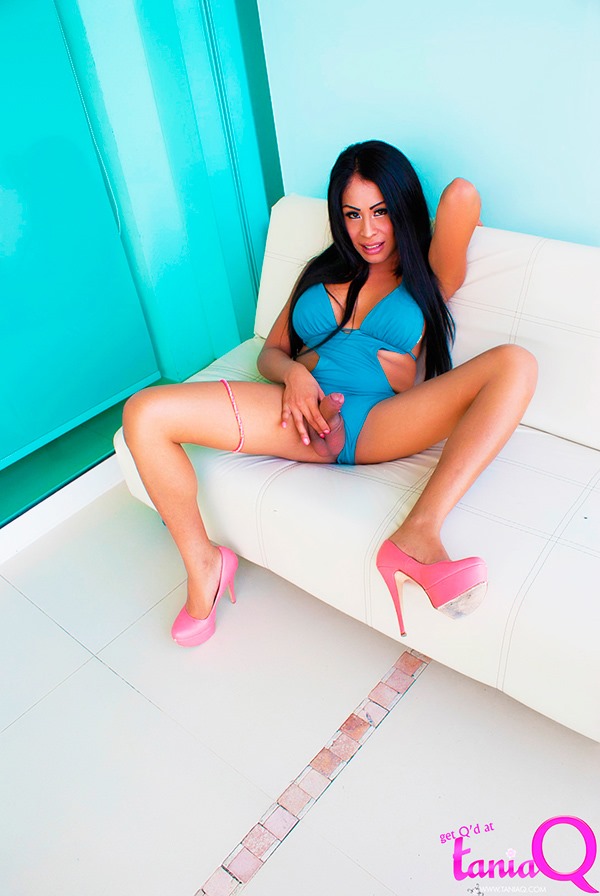 Also please do me a favor and make comments below. I want to know what you guys think about the color of the swim suit I am wearing in the photos. Personally I think it looks amazing on my skin. Let me know what you think.
XOXO
TaniaQ
I think that everyone here has come looking for the same basic thing. We all love and want a big cock trans girl and that is exactly what we have in this beauty TaniaQ. She is a big cock trans girl with a killer set of tits. A hot wet and hungry mouth and also a nice tight little trans girl ass hole. She is the perfect girl in many ways and all you need to do is message her. Watch her movies and enjoy her photo sets to get off with her.
Now about this photo set. Tania was wearing this shirt when the photoG picked her up. Its completely transparent when viewed from the front. And that may not be very important until you know that she was standing in front of the busiest shopping mall in the sun and you could see right through it. Tania also had on that short skirt and very high hooker heels. The panties she had on were super tight to hold her cock up and back but they were about to fail.
Click on the image to see more of this sample set.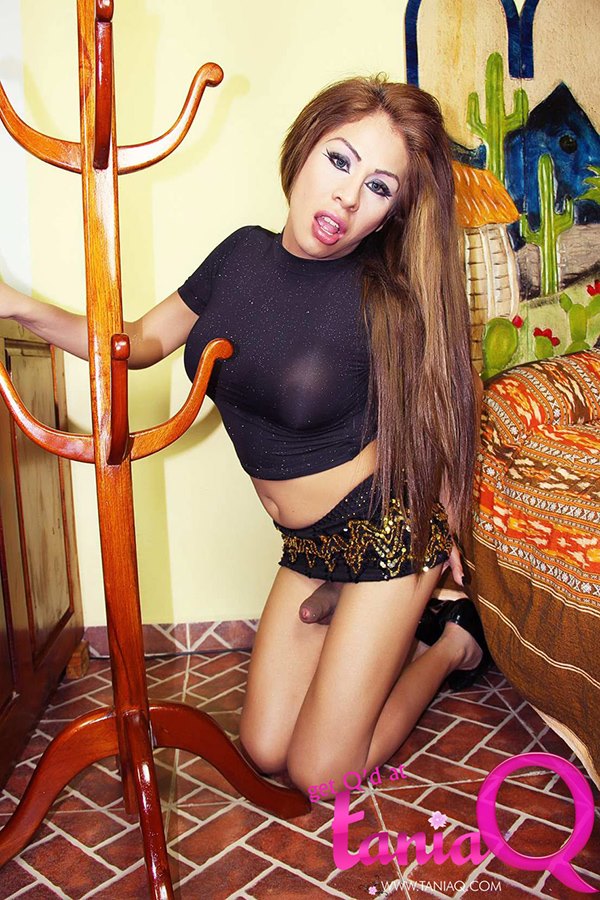 Dont miss out on see this set of photos. Also do not miss out on all of Tania's movies. Click right now to have some fun with her.
Blonde trans girl nipples. Yep this is it. The Blonde trans girl nipples photo you have been looking for. And that means its almost time for you to shoot a hot load and enjoy getting off with TaniaQ.
For those of you who do not know TaniaQ she is the blonde beauty in the photo below. She is a Mexican trans girl and she loves to have a good time. From dinner out to dancing and walks on the beach or in the mall. Coffee at a cafe and ice cream. But in everything that Tania does she makes sure to dress like a proper little slut for you. Just let her know what you want to see. And you can almost always count on seeing this Blonde trans girl nipples. She always has them showing in one way or another.
Clicking this image will get you more samples of this photo set.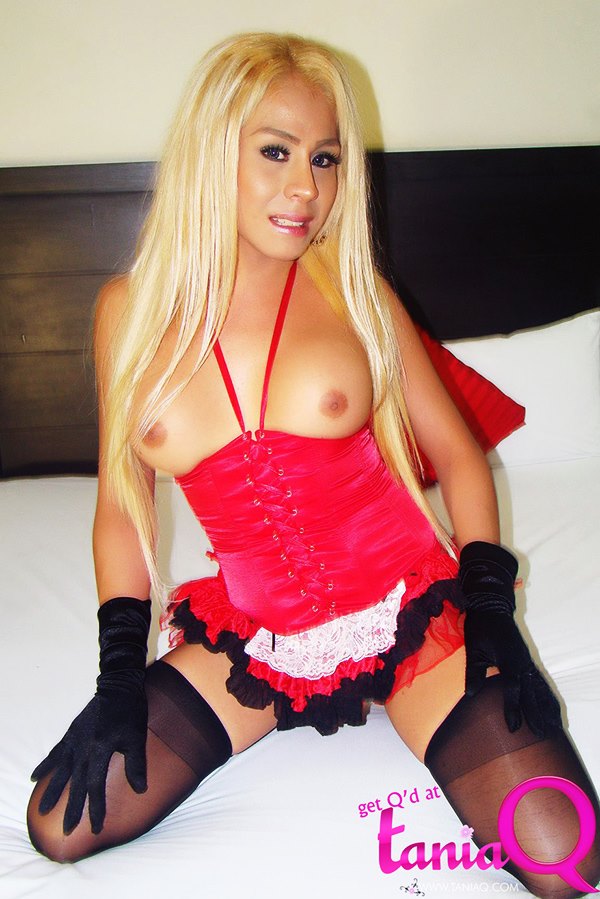 So back to our trans girl nipples. Tania has a great set of firm tits. Its one of the reasons that she can go out without a bra and she can show them off. Bikini or transparent top. Anything and everything looks amazing on this girl. The firmness of the way her tits stand out. Seeing her nipples as they push against the fabric of any top she has one makes you want to reach out and touch them.
Click right now and see more now!
You can always count on TanaiaQ to do the hot shoots. This Trans girl upskirt shot is hot for so many reasons. So lets count them off. Starting at the bottom we see that Tania has on a nice set of high heels. In fact those high heels are the kind that most guys referr to as hooker heels. So fucking hot and we can never get our GG to wear them. But Tania looks smoking hot hin these high heels.
Then lest move up to those sexy stockings. Note that the sexy stockings only go to just above the knee. As though they were made for her legs or something. Super hot to see the combo of High heels and sexy stockings. Got to love that slut look on a hot trans girl. Another nice thing and hot thing about nice sexy stockings is that like the heels she can keep them on while you fuck.
Next on out trip up this nice body is a double hit. She has that beautiful short skirt and amazing black lace panties. So the Trans girl Upskirt shot turns into something super hot. The idea of a hot skirt is that it is as short as can be. You can clearly see that this one fits the bill. Add in the black lace panties trying to contain Tania's cock and that is something that is super hot. She skirt is so short that her panties almost show anyway so enjoy this shot of her hot black lace panties.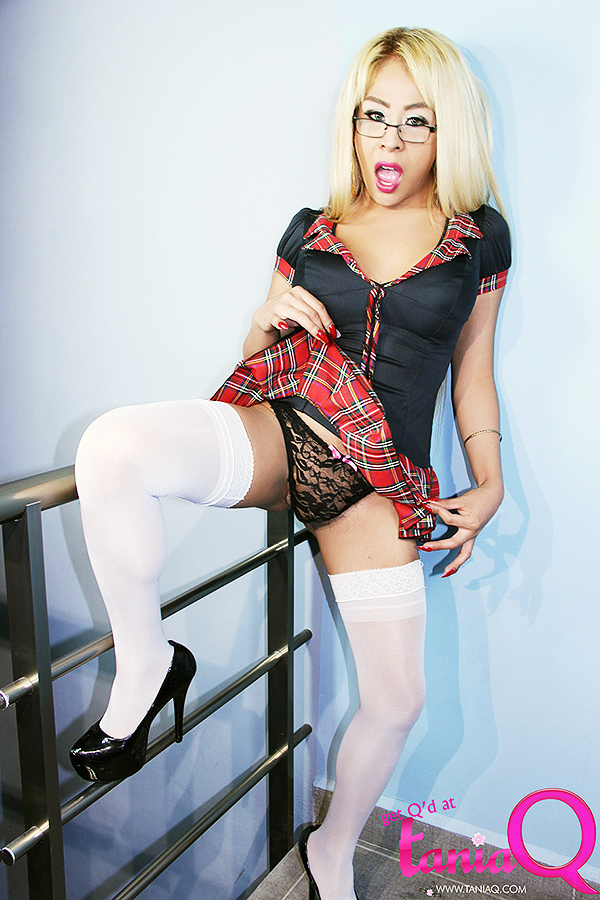 Now you do not get to see much of Tania's tits in this hot trans girl upskirt photo, but you do get a hot shot of her wet and warm mouth waiting to take in your cock. Click now to see more.
Well as you can see in the image below TaniaQ's Thong panties do not hold anything in place. But holy hell do they ever look sexy! For those of us that are into Thong Panties this pair is amazing. White and small with a very small string. They go right up her tight tranny ass. Do we care if they actually function as regular panties? No we dont. In fact we dont really want them to. Thong panties are supposed to be super sexy. And this pair clearly is.
Click on the image below to see more of the samples from this set of Tania And her lingerie.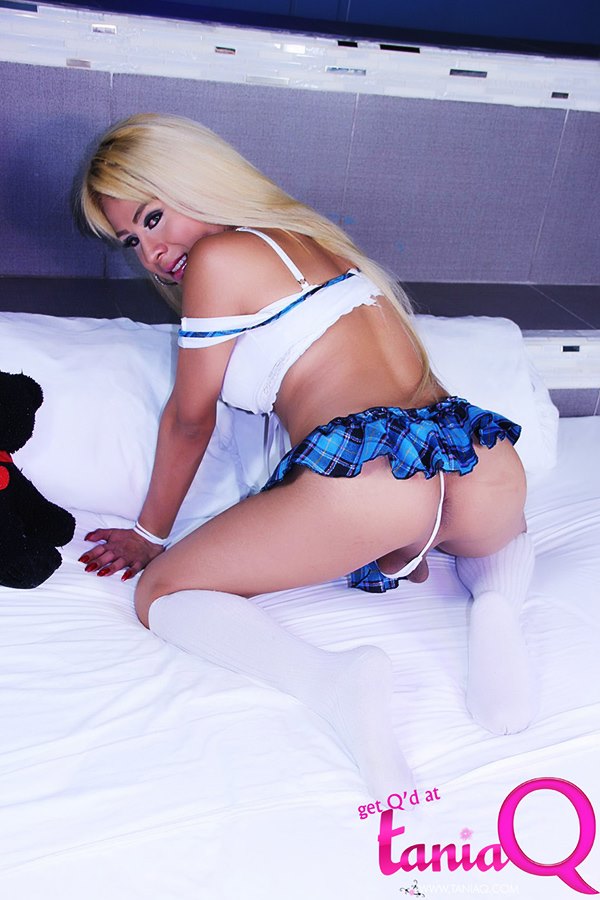 When you look at the super short skirt. Those sexy white socks or stockings and then the panties. Well you can tell that Tania is ready for some fun. So you simply have to ask yourself. What would you do? How would you get things started?
Tania is not only a top but she is also a bottom. Versatile is what its called. She loves to have a man take charge but if you want her to direct the action she will. And with that big love wand that gets nice and hard the action is a lot of fun!
Hot Sites to check out!
Categories