Browsing articles in "TaniaQ"
Tranny tits!
And notice a whole lot more in this photo! This of course is the amazing TaniaQ and she has her perfect tranny tits exposed once again. Did you also note that she is outdoors? Yep and that's her juicy cock hanging down! Can you imagine walking or driving by the location and seeing Tania pose like this for the camera? How hot would that be? What would you do?
For those of you who do not know! This is TaniaQ! She is the amazing Mexican tranny babe that keeps popping up all over the internet. If you have to ask yourself why then you have not looked. With Round tits and also a thick cock she is perfect and horny as hell. Tania is also always on the lookout for some fun. So if you are in her area make sure to say hello and maybe you can star in a video with her.
Click here to join TaniaQ right now and have some fun with her!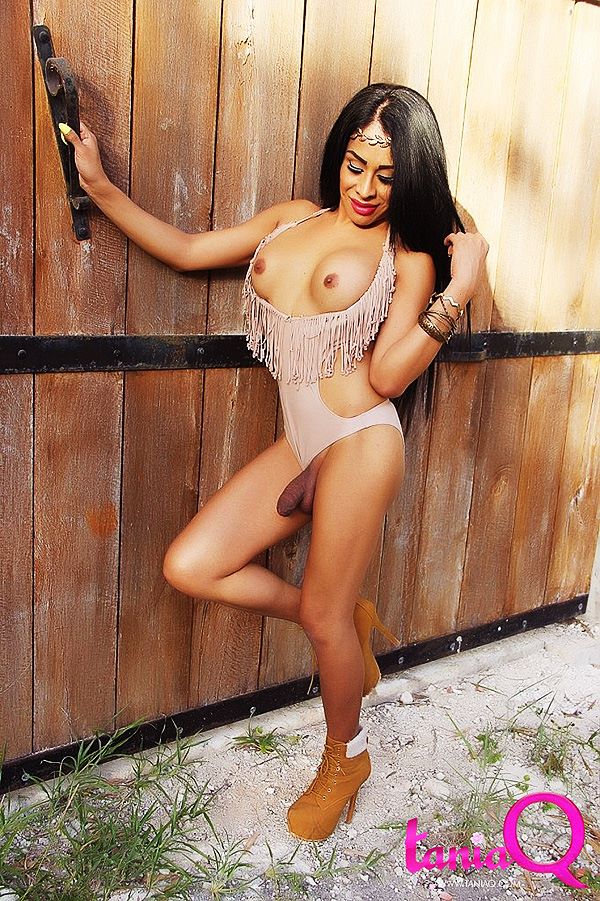 Do not forget to play with those amazing tits as soon as you can get them into your hands.
Further more if you want to see other samples of TaniaQ, just click around here on this site.
Tranny Lesbian Action with Nikki Montero! So, is everyone here familiar with Nikki Montero and also with me, TaniaQ? I am the lusty top in the photo below about to get my ass hole rammed with her big cock. If you have not watched tranny Lesbian action before its time you do so!
Because of the intensity of most tranny girls your going to love watching us fuck tranny lesbian style. And just so you know this video will be in both sites! Nikkis and also mine! Just click the links below to check out the movie! Oh, and dont miss out on the photo as well!
Almost all of the videos in my members area have been shot in UltraHD and have awesome photos to go along with them. So sit back and really enjoy them. If you want to be in a set with me let me know! Just contact me in the members area! That way we can hook up soon.
Do you see in the image below that both Nikki and I also have a good amount of foreskin? Since you are a man of taste and want to watch some tranny lesbian action, this is going to be a turn on for you.
Right now you have the chance to see the rest of this set! You also get to see the video and the action. So don't wait and don't miss out on anything. Join me right now!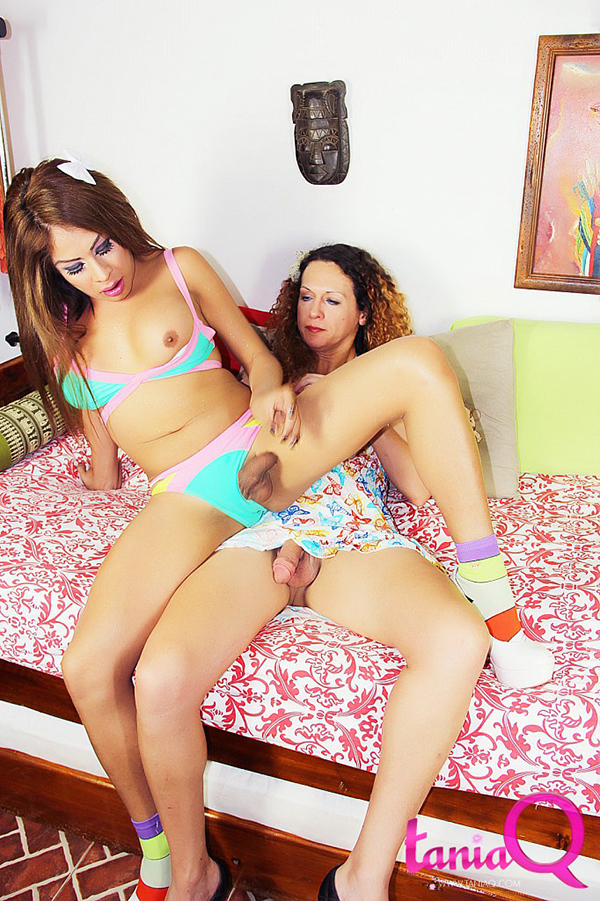 If you want to see me as the top with Nikki or any other tranny babe please let me know. I love fucking as a top or bottom. Sex is a big turn on and I want more and more. So get into my site now and lets at least masturbate together!
I want you to cum over and over and get off with me. Click right now so we can get started having fun.
Please comment here on the blog and also my members area!
Ass Fuck! I'm ready for your cock and some hard core action! Im also ready for a great ass fuck. We just now need to decide who receives and also who is going to take it. Since you seem to be looking for a hot tranny and a good Ass Fuck, I want to offer mine. I have a nice tight little ass that can take a big or small cock. Im very tight that way.
Another thing is I also like a good mouth fuck. So if you have a hard cock and need action, Im your girl! I also happen to have a big cock so If you would like I can put mine in you. Mouth or ass hole I dont care either. As long as we both get off.
This photo of me below is one showing off my tight little hole. I know for a fact you like it. You also get a nice shot of my hard cock and balls in this photo. And let me say, pushing my cock down that far was a bit hard to do. I have a thick 9 inches and I know how to use it. So right now, grab some lube and lets get it on!
For those of you that like it, I also wear a lot of costumes! If getting off with a hot maid is good for you, Let me know!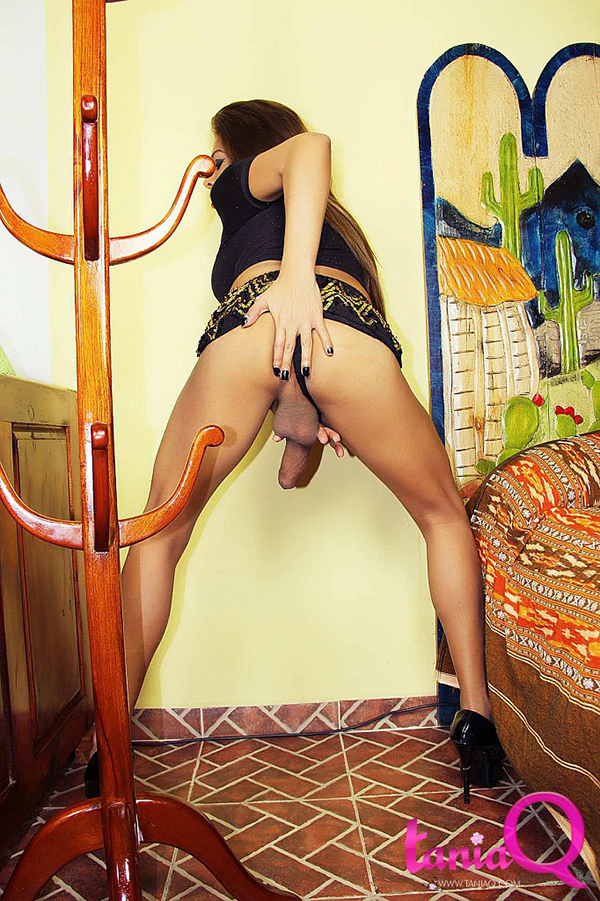 This photo set was a lot of fun to shoot and I ended up making a hell of a cum shot in the next video. Because Most men like to cum I want you to join my site right now and watch the videos. All of them and make sure you get off.
The members area is set up for you to enjoy yourself and see what others liked as well. Take a minute right now to join the site. Click here.
If you miss this, well, its your fault!
Wet Tranny! Just playing in the bath and bubbles! Almost every time I get in a bubble bath, I end up playing with myself until I cum. Because of the bubbles and water mixed I feel so sensual that I get hard and I just need to touch my ass.
This of course makes me want to finger myself! And when I finger my ass, my cock gets harder and needs to be stroked! Can you already see where this is going? Would you like to take a bath with me, a wet tranny? And help me release that pressure that builds in my cock and my balls?
Since you know what I'm talking about, I want you to take a few minutes to enjoy the photo below. I would prefer you did this with your cock in your hand! And now that you are cocked and loaded! You should tell me what your doing. You need to tell me stroke for stroke!
I was sitting in the hot tub after getting naked of course and my cock was hard so I slid a finger into my ass! And before I knew it I had 3 in my ass and my cock was throbbing. Hard as a rock and needing to be stroked! I was thinking about watching a hot guy do the same.
If you dont yet have a membership to my website now is the perfect time to get one. Click right here! Do not wait and do not hesitate. The bubbles will pop and I do not want to be all alone.
Tell me all about your masturbation times. It will get us both hot and horny. And we will both get off talking about it.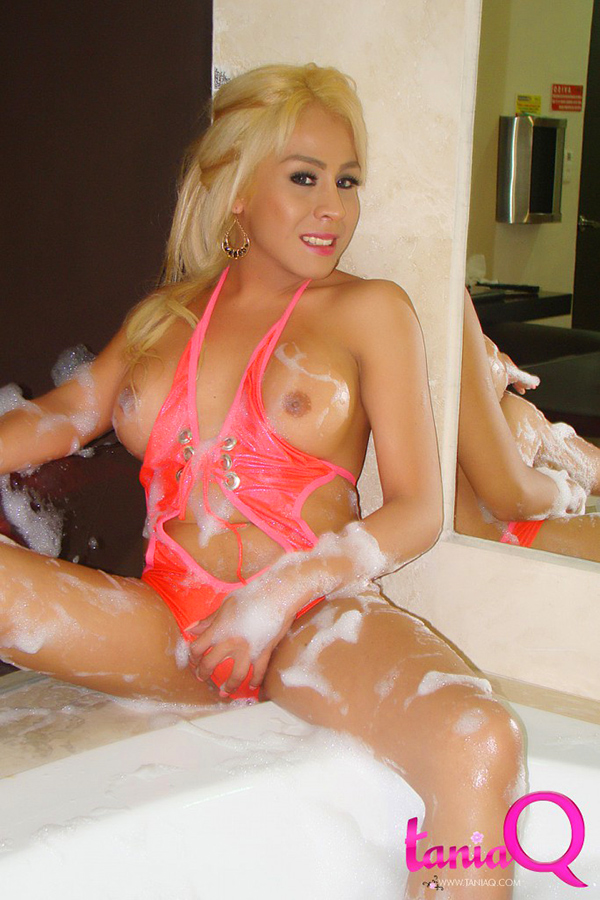 So the next time you start to think about a wet tranny and how sexy they look. Remember me and what I offer. Wet hot and hard and a great great fuck. Just sign up and let me know what you need to get off.
Do not miss your chance to get off with me.
Categories
Hot Sites to check out!