Browsing articles in "TaniaQ"
If there is any trans girl out there that loves to wear a short skirt. It has to be TaniaQ. This girl will go anywhere and always half naked. We found her leaving the office dressed like this and just had to get some photos of her. TaniaQ is the one girl that will do anything to get attention and if that means that her skirt is so short you can see her panties! Then so be it!!!
Now lets get back to this short skirt set. Once we got to a location where we could take the photos and the videos of TaniaQ, those panties flew off and hit the wall. She said her cock needed to come out and breathe some fresh air after being tucked between her legs all day.
But I have to say as thick as her cock was hanging when she took off those panties. I think someone had been playing with it recently! Take a look for yourself and see what you think!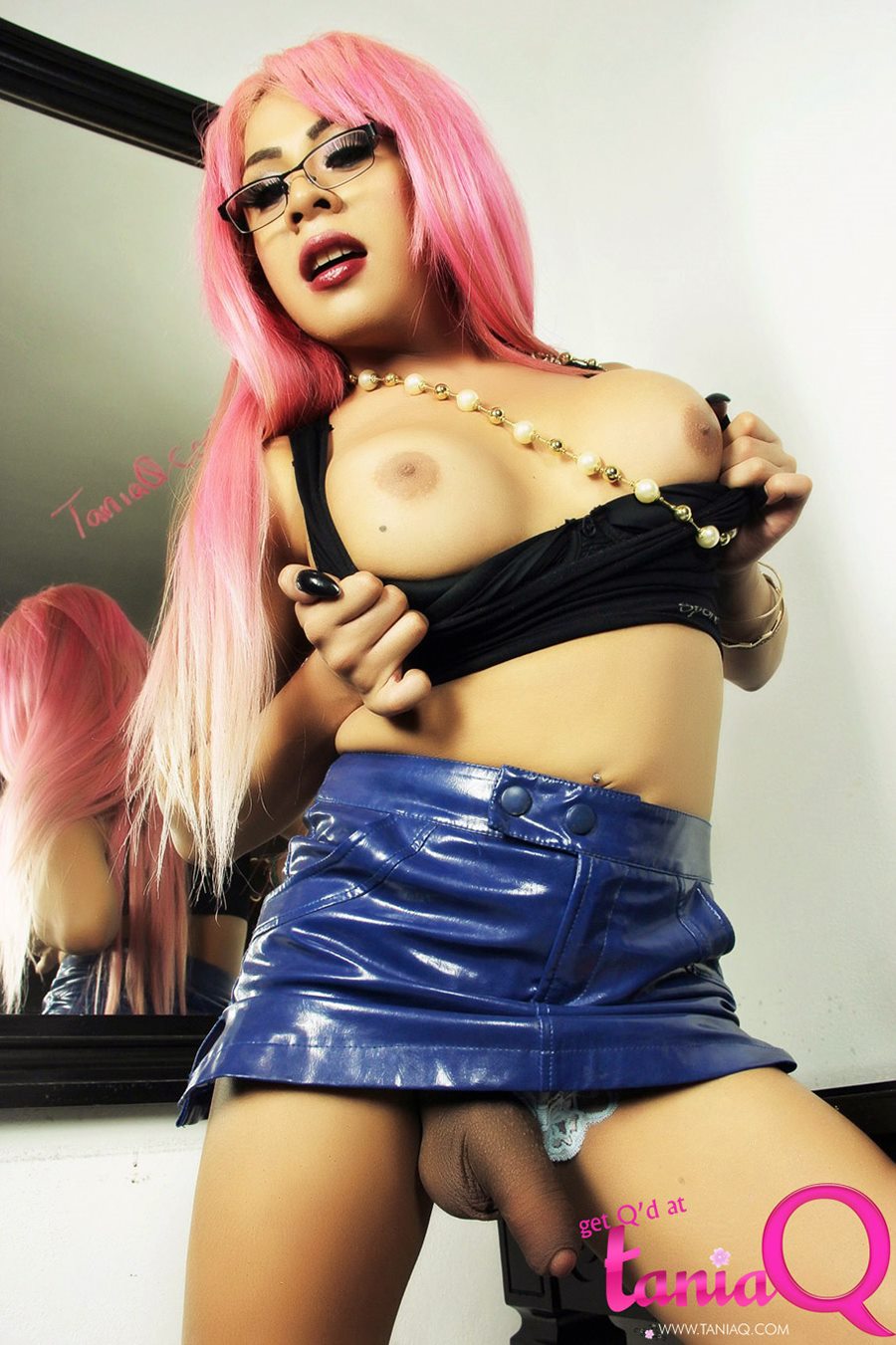 So, what do you think? Was someone playing with that big fat cock? And if so what do you think they were doing. Me personally I think that someone was sucking off TaniaQ
Masturbating Outdoors with TaniaQ! Check this photo out. And yes this is a part of a photo set that can be found only in the members area of TaniaQ's site. She is once again Masturbating outdoors and wanted you to watch. So take a look at this photo and then find one of the text links below and click. Also remember that TaniaQ is available to film with and also hook up with. Do not miss this chance to see more of her and that thick and hard cock. Watch her stroke it everywhere she goes!
Click here to join the website right now and prove to TaniaQ what a fan you are!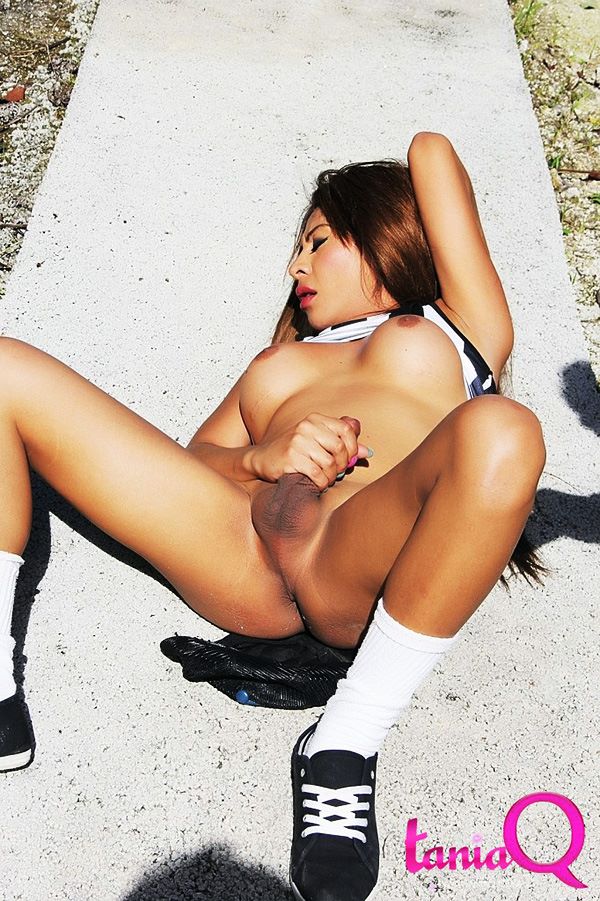 Another thing that you might want to consider about Tania. She is both active and also passive and that makes her a lot more fun than some of the other girls.
Click here to check out other samples on this site.
Tranny Boots on long tranny legs! Check out TaniaQ's Tranny boots! They make her legs look longer and tighter and they bring attention to that swinging cock. And TaniaQ has a nice cock on her that is well worth paying attention to. When you hook up with a tranny girl like Tania. Make sure to pay attention to the things that turn her on!
Also, do you like the look of boots on a woman? Most men do and they always want more. So take a look at this set and come and see more of it. These photos are only in her members area.
Click here now and see the rest of this set!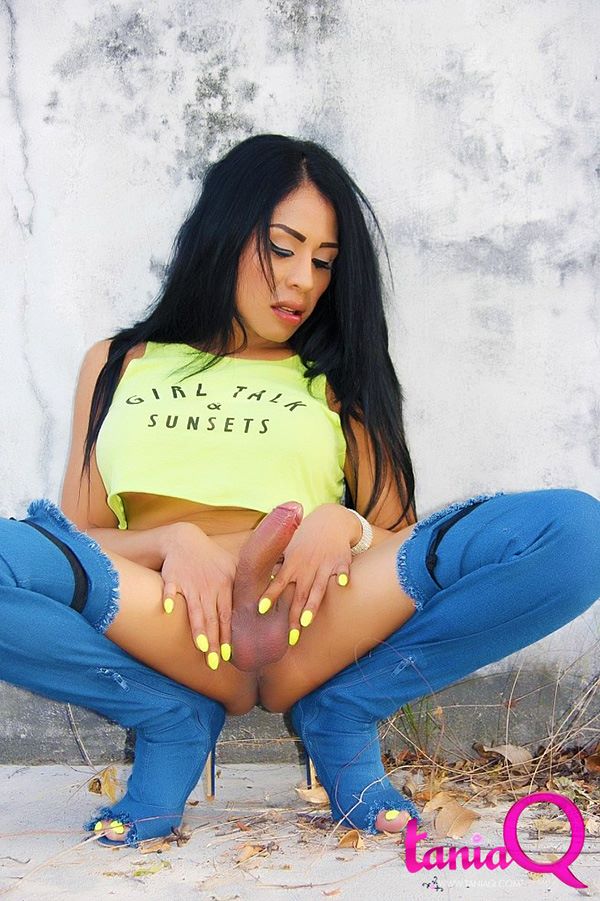 For more of this set, you need to click now.
Also you can rate and comment on the sets in her members area and also on this site.
TaniaQ's tits.
When searching out a hot babe with nice tits it can be a daunting process. But we wanted to make sure that you were finding your way by pointing out the fact that TaniaQ's tits are some of the best you will find. They are very firm and perky sticking straight up. Her nipples are medium size and not very dark but also not bright pink. And one of the best parts is, Tania tells us that her tits are very sensitive and connected to her cock.
Yeah that kind of made is go Uh?? She told the camera guy to touch one of her tits. To caress the nipple and watch her cock. Honestly with one finger stroke her cock grew at least 30% hard from being completely soft. When he released her tit, her cock remained that way for about 1 min and then started to soften again. This means that TaniaQ's tits are directly connected to how hard her cock is and stays. The more you play with them, the more you kiss and suck her tits. Pinching her nipples and biting them the harder TaniaQ is.
Click on the image below to check out more from this set.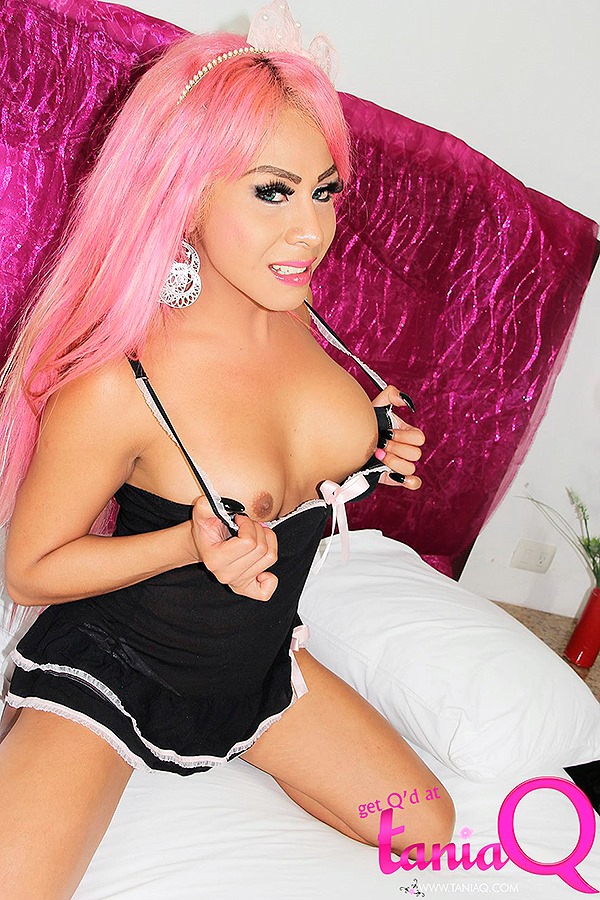 To help Tania a little with knowing what to record next please leave a comment below. Remember that she is very into Cosplay or dress up if you prefer and that she loves to have sex. Top or bottom she will take anything she can get as long as your cock is hard.
If you want to see another sample or two, you can click here. TaniaQ's Ass
Hot Sites to check out!
Categories