Browsing articles in "TaniaQ"
Hard Cock Tranny TaniaQ! Hi guys. It is me again your favorite Hard Cock Tranny TaniaQ! And I wanted to show you another video clip of how hard my cock actually gets! I know your going to love touching and playing with it. And you can be sure Im going to play with yours. I love sucking cock and also fucking a guy in his tight ass. If you love getting off as much as I do then I a sure we are going to get along amazingly well.
Click here to check out more photos and videos of my cock getting rock hard!
Click the image to check out my website.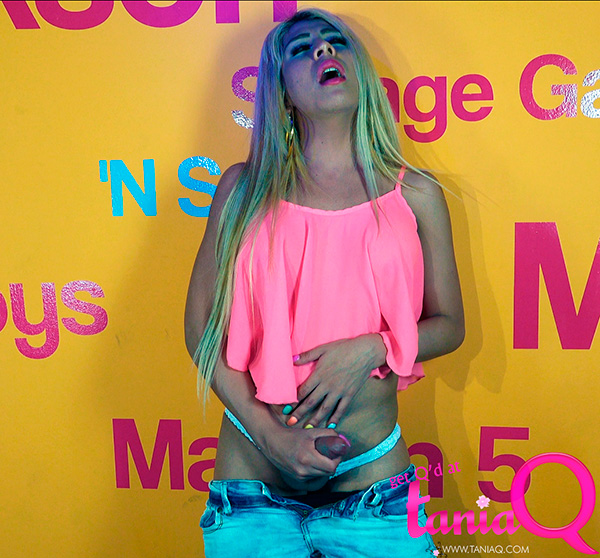 So guys. If you want to get off and also help me get off. Join my members area so we can cum together.
If you can not afford to join me right now. You can surf more of the lower quality samples of me Naked and masturbating right here on this site!
SheLesbian foursome action! Have you seen this? These hot and amazing SheLesbians are ready! Are you? Check out this SheLesbian foursome action right now. They are from left to right. Naomi chi, Nikki Montero, Nina StrongHold and on her knees, me! TaniaQ.
If you have not yet seen this photo set or watched the movies. You need to right now so you don't miss out. Watching all four of us shelesbians getting naked! You know you want to join us for this cock party. Its a trans cock party that you wont soon forget.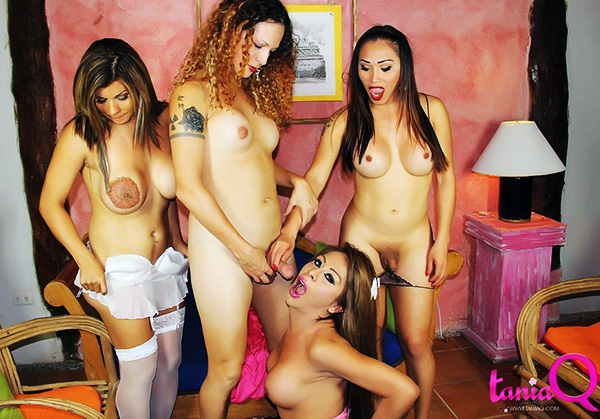 Just imagine all that trans cock in you face. Or maybe you want all four of those cocks in your ass? No matter what these SheLesbians will help you get off like never before!
Click here now to join my members area and see this set!
Otherwise you can surf a few more samples here on this site of me! TaniaQ
Further more if you want to check out some hot live trannys on webcam. Click and do it at that link!
Tranny Orgy! TaniaQ, Nina StrongHold, Nikki Montero and Naomi Chi! So who else would love to have a tranny orgy? If you could get your hands on me, also Nina and Nikki and maybe Naomi, would you dive in cock first? Maybe you would like us lined up behind you to pound you ass in a train! Well we would love to do it with you. To give you a taste we have this photo set and also the video to go along with it. Its wrapped up nice and neat in my members area.
Click here now to join and watch the movie!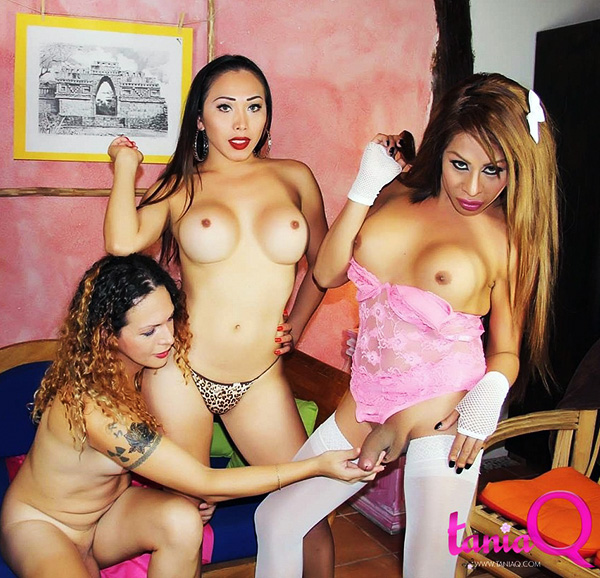 If you have never had a chance to watch or be in a trans orgy or similar. Now is as good a time as any.
Join my site and watch two different orgys with the same girls. It was hot and your going to love seeing them!
click now to join.
Or you can also surf around my blog for more samples of updates I have in the members area.
XOXOXO TaniaQ!
Tranny Cock flashing at a public pool! Hi guys. I was at a public pool for the day and decided to grab a few photos. Once things slowed down a little and there were only a few couples left, I started showing some skin in the photos. And I finally did a big a Tranny Cock flashing! It was actually more exciting than I expected to have about 14 men and women watching me. So of course my cock got hard in my bikini and I popped it out for them to see!
Click here to see the rest of this photo set of my cock flashing fun!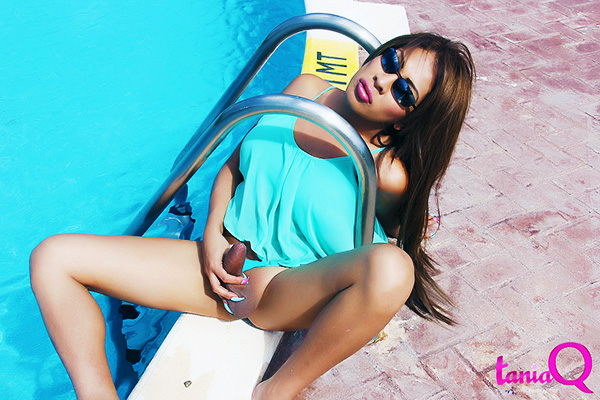 Tranny cock is exciting no matter what. We are the perfect mix of male and female and we also love to fuck more than most!
Click here to see my members area and join me.
Otherwise you can check out some more samples on this site of me, " TaniaQ "!
Tranny Cock In Boots! Hi guys. I know you all love to come and see my amazing photos and videos. And I know even better you love the outfits I come up with. Its a lot of Cosplay and other things. And I was told that a number of you also like to see Trans girls in Boots.If your favorite trans girl does now have a pair of boots maybe its time that you buy her some. She will wear them for you and you will love seeing her! In fact the first time you might cream before you get your cock into her ass hole!
So I made this set Tranny Cock In Boots! Get it? Cock In boots. Rather than puss in boots? jijij. Just playing with words a little and I really hope that you like the photos from this set.
Click here to see more of my cock in boots!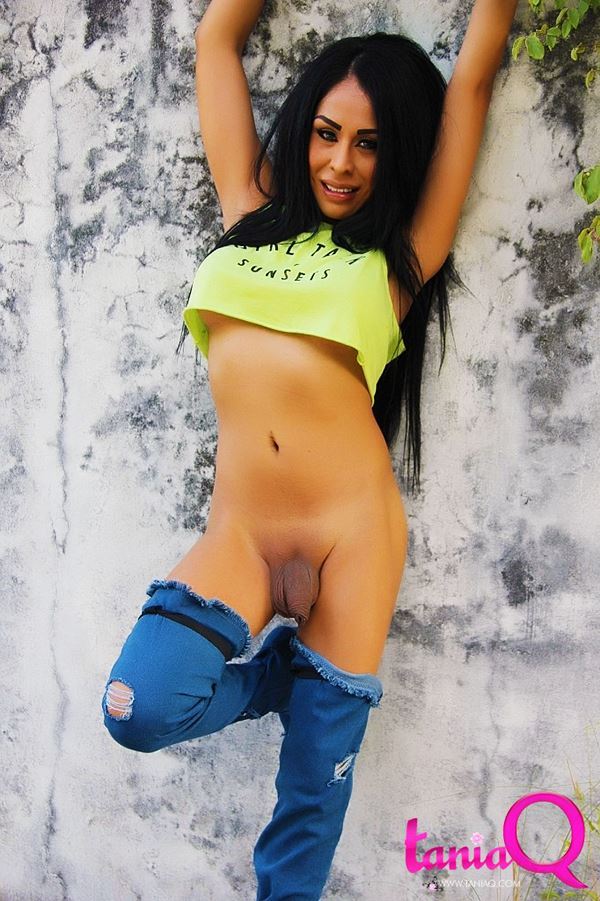 I also have a number of hot movies in the members area where I have on either these boots or another pair. I love to dress up. Its so much fun!
Click now and join me.
Otherwise you can surf around here for more hot samples. Some I am naked in!
Hot Tranny TaniaQ wants to invite you to get naked outdoors! Thats right. For her next photo shoot she wants you to be with her. Naked out doors with both your cocks swinging in the breeze. For a sample of what the shoots look like take a look at this one called Hot Tranny TaniaQ !This is going to blow your mind. Seeing that hard tranny body outdoors and getting naked!
As you can see clearly Tania is outdoors and naked with her cock in the breeze. She says that she gets really excited doing this and then when she is getting dressed again its hard to keep an erection down. One of the things she loves about shooting outdoors is being a hot tranny getting naked where people can see her. So her idea is simple. She shoots outdoors with you and also some of your friends. Then you guys pick a nice soft patch of grass and relieve that tension in your balls. All over each other she said she prefers.
Click here to see more of TaniaQ outdoors!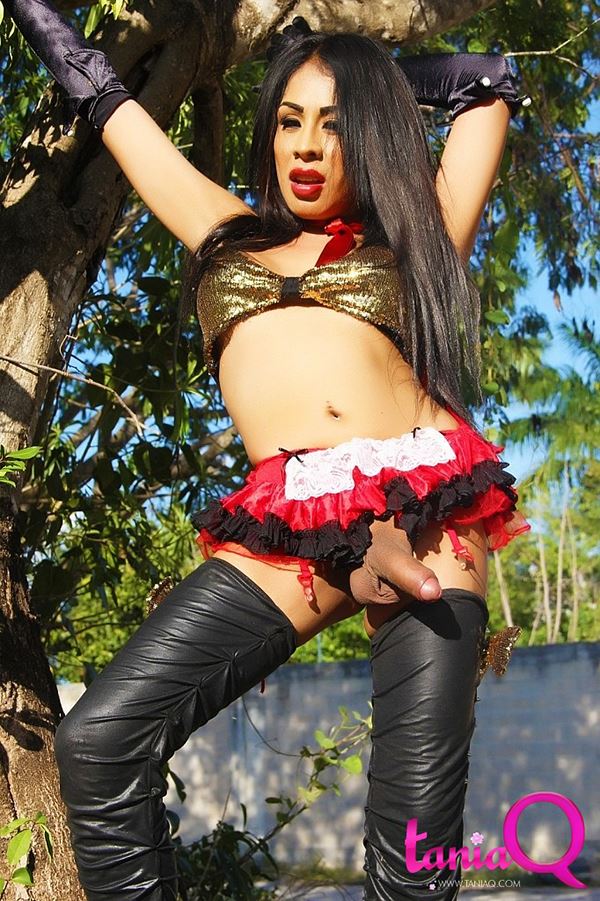 For more information join her members area right here. Tranny TaniaQ!
Other wise if you want to surf free samples that as simple as clicking here. Get Tania Naked!
Tranny High Heels and sexy stockings! Hey guys. Yes this is another shot of me in Tranny High heels and also a nice pair of sexy stockings. And I want your opinion on the outfit. If you would also like to take a moment to compliment me on my cock and tranny balls in the photo. That would be very nice and quite hot of you. I do so love when a hard man tells me I have a nice cock. I also love to play with a man that wants me to take over and do what I want with him from time to time! So lets get together!
Click here and watch this video of me in this cute outfit with my cock and balls showing!
Dont miss out! Click right now and get these tits in your hands today!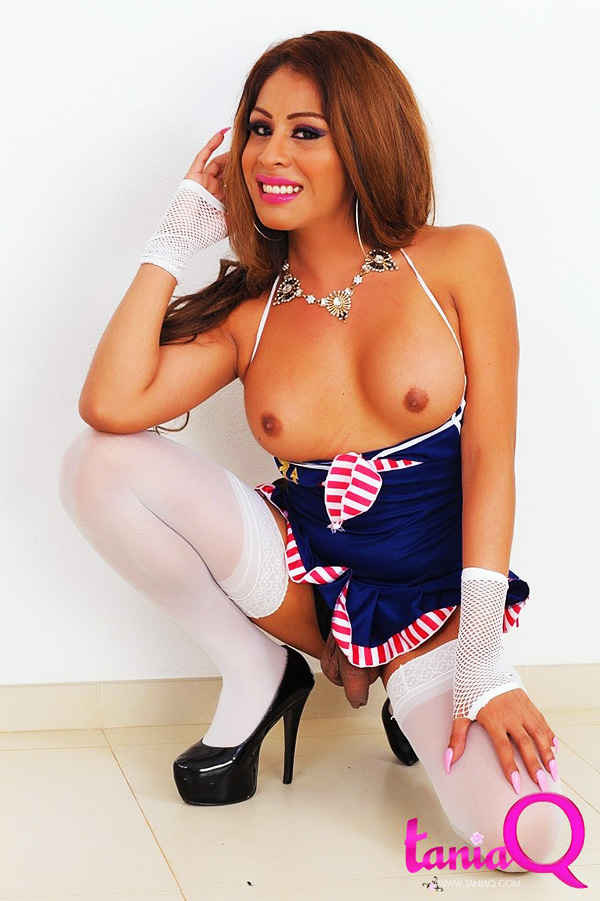 For those of you who love hot trans movies I have them and I want to share them with you. So sign up for my members area right now and get off with me! I desperately want to cum with you.
Otherwise you can surf a few more samples of me here on this Blog. Tits out and Cock out!
Tight Tranny Panties! Come and peel mine off! Yes boys. I love to wear Tight Tranny Panties! But I love even more when a man will peel them off of my body with his teeth! Are you a man like that. Using your tongue and teeth to peel my panties off. And once my cock is hanging free you use just your lips to suck it deep into your mouth. Can you just imagine the feeling of it growing hard in your mouth as you suck it! Come on babe. Suck hard and try and get all of my milk out. Make sure to move your tongue around on the bottom of my cock. Move it in and out of your mouth as you move your head. YES baby!!! Yes!!!
Click now to get in line to be the man to take my panties off!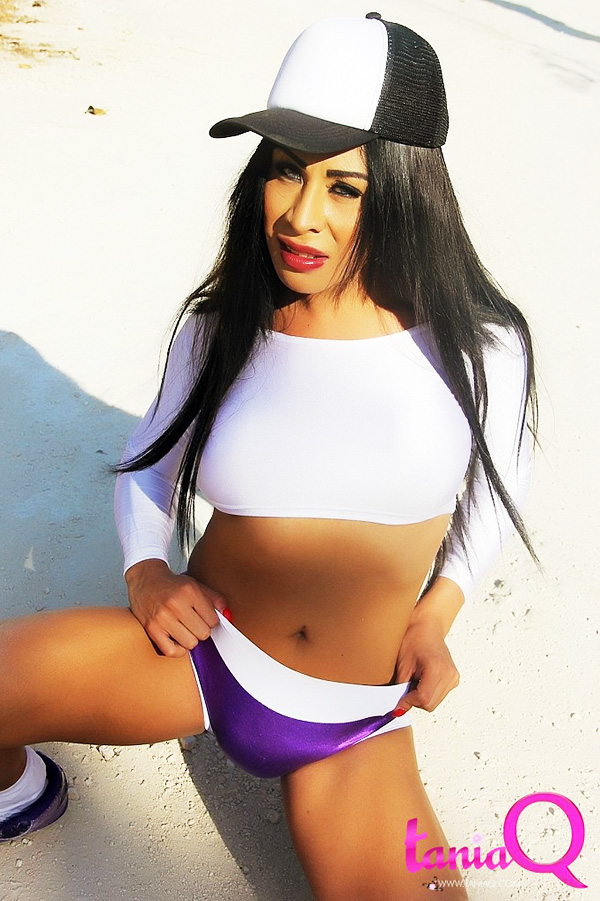 Also guys. Remember that everything I grab on photo I have some sort of video of. This set is a BTS video but you still get to watch my cock come out!
Join me right now and watch it all in one place.
Dont forget that your membership helps me continue to make photos and videos for you.
Further more you can surf around here on this site. See me Naked! But please rate and comment and look at as many pages as you can.
Every click counts!
Halloween Tranny cock! TaniaQ is ready! Playing Dress up is one of TaniaQ's favorite things to do and Halloween means that she can really go out in public and have fun. She can also take girlfriends with her and people love it. Another thing is that Tania Q loves to show off her Halloween tranny cock! Just take a look at the photo and then log into the members area and also enjoy the movie!
Join me today and let me know what you want me to dress up as for Halloween. The sex on that night is always out of this world. I will make you cum like you can not imagine. You will literally howl at the moon!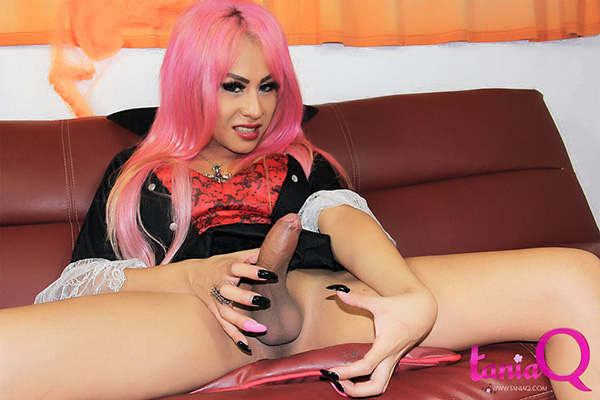 For more photos and also videos of this hung cock. Click right here!
Check out other sampels of TaniaQ here on this blog!
Dont miss out on this hung tranny that loves cosplay and also to fuck.
Stockings and Heels.
When a hot trans woman wears Stockings and Heels for you what do you think? For me, I love to wear them. They look great and feel so sexy and sensual. I can not get enough of them actually. My legs are a little thin because I am a very small trans girl. The stockings make them look very curvy! The heels of course make my tight little ass stick out and you will love the look as I strut around the room and strip for you.
Click the image to see more of this free sample gallery.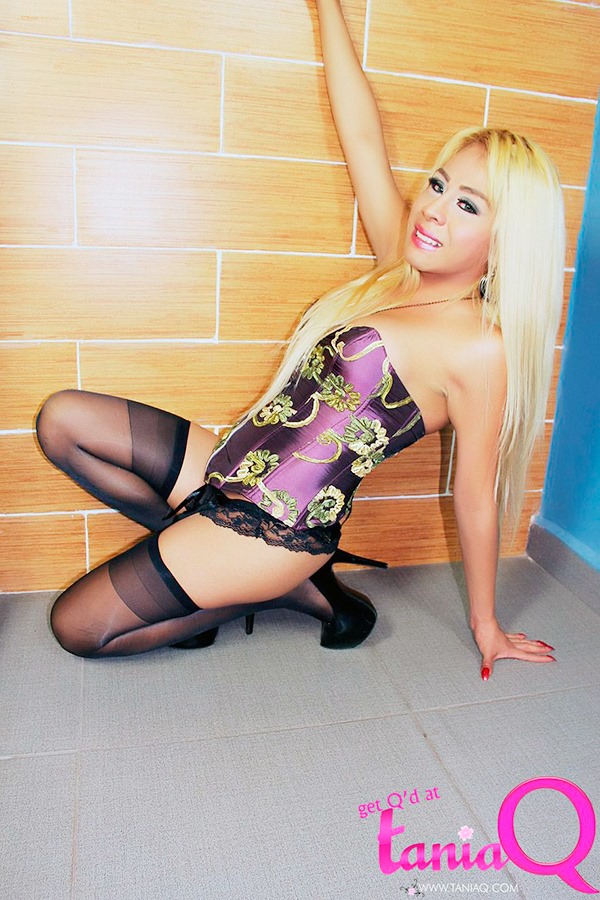 Take a look at these photos and then join me in the members area. You will love it. I promise. I of course will love having you there. Click now!
Stroke Shemale Cock. TaniaQ is inviting you for some fun! Thats right guys You can come and stroke shemale cock and let TanyaQ get off in your hand. All she asks is that you let her make a movie or photos of the event. Then when you are done if she is still hot she also wants to fuck your ass. But the best thing about TaniaQ being hot is that she is versatile. That means that as your cock gets hard again you get to drive it deep into her tight little hole as well. She says to just bend her over and shove it deep and hard.
Further more now is a great chance to get on her good side so that you can visit more often. Just join her site today and let her know your interested. Also make sure and send her a photo of your face. Not of your cock.
Click here to join TaniaQ instantly.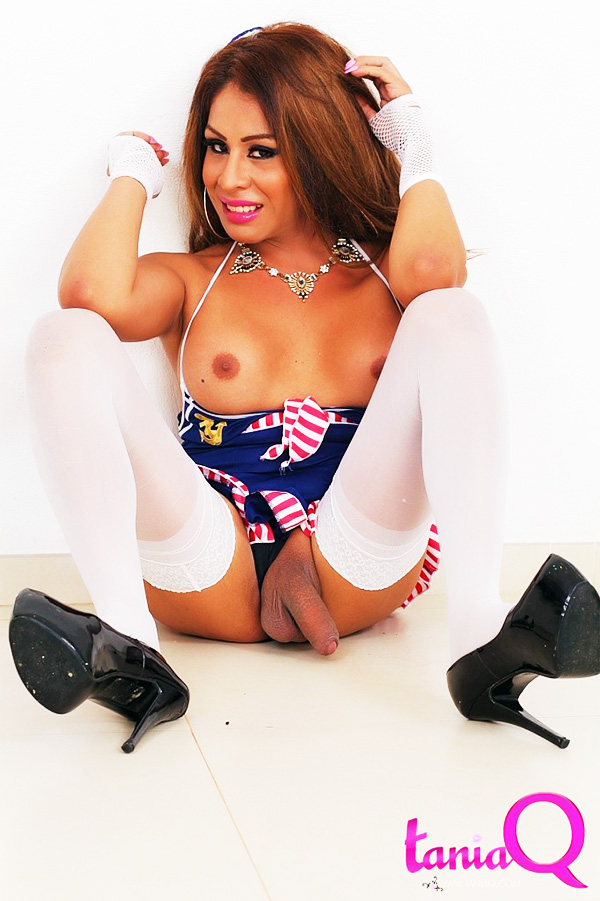 Just look at that photo and think about having that thick and heavy cock in your hand. You can do it today.
Also remember to rate and comment here on this blog.
Further more dont miss the more sample photos here.
Fat Hard Tranny cock! With TaniaQ of course!
Yes guys you know me and you know that my name is TaniaQ. You also know that I have a fat hard tranny cock. And I am also certain that you know what I love to do with it. Not sure? Let me explain where I want to stick this cock. Lets start with in your mouth! Pumping the head of it into your lips and past your teeth! Feeling it go to the back of your throat and then bend to go down your throat deep. Feeling your teeth as they rake across the head and then down the shaft! Uhhhh I need it. By the way, this is not just any tranny cock your getting.
This fat hard tranny cock belongs to me. PornStar TaniaQ! And I personally want to suck your cock! Lick your balls and shaft! And then my handsome young man. I want to fuck your tight hole really hard. However because I am quite versatile you can do all of that to me as well. I can suck your cock until your cum boils. Then you can either shoot your hot sticky man load in my mouth and over my tits. Or you can flip me over and shove your pole into my hole and unload in my tight little tranny ass.
Click here to join and also contact me!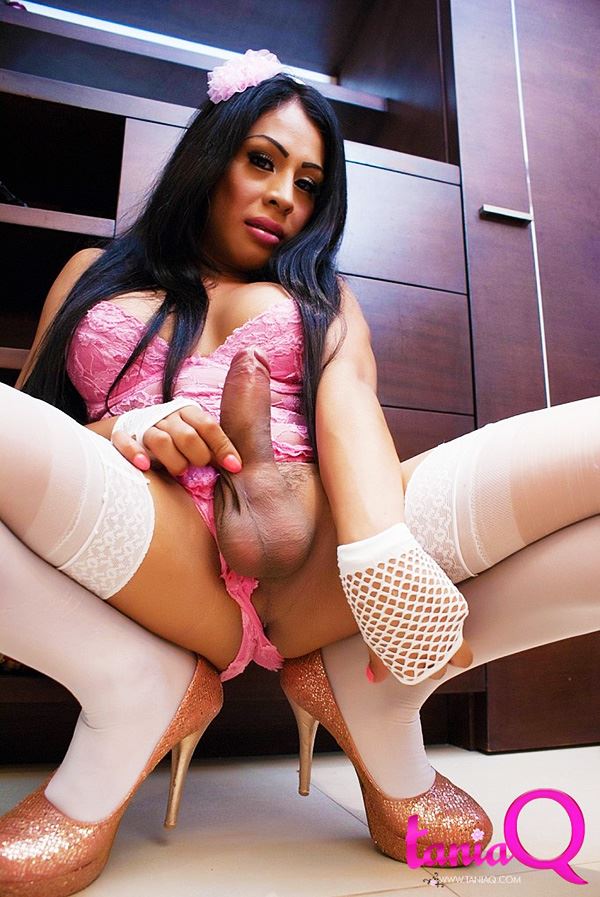 Another thing. Please rate and also comment on your favorite sets in my site!
Click now to see other hot samples of me, TaniaQ
Hot Sites to check out!
Categories