Browsing articles in "TaniaQ"
OK so no this is not a traditional upskirt photo. In fact that is not even a skirt. But it serves our purpose on many levels so that is what we are going to talk about right now. And this is kind of hot once you engage your brain and your cock at the same time.
In this Upskirt photo we have TaniaQ actually wearing a piece of lingerie. But its hot and kind of looks like a very small dress. So lets go with that! The idea is not to see what is up under her skirt. But to imagine it. Of course I am going to give you a little help because I know what is in the next photos. Now, close your eyes. Think about her from her feet up. She has on high heels. Her legs are long and have a fair amount of muscle. They are firm and tan. Let your thoughts go up and as they do they brush the skirt.
As the skirt flips up just a little you get a peek of Tania's tight little ass. You can see a perfectly shaped ass cheek. Round, tan and very firm. Your mind reaches up a mental hand to caress her ass. As your mental hand goes up, the front of her skirt flips up. Hanging there is 9 inches of a fat cock. Its not hard yet but has started to thicken. The head beginning to swell. Can you see this in your mind?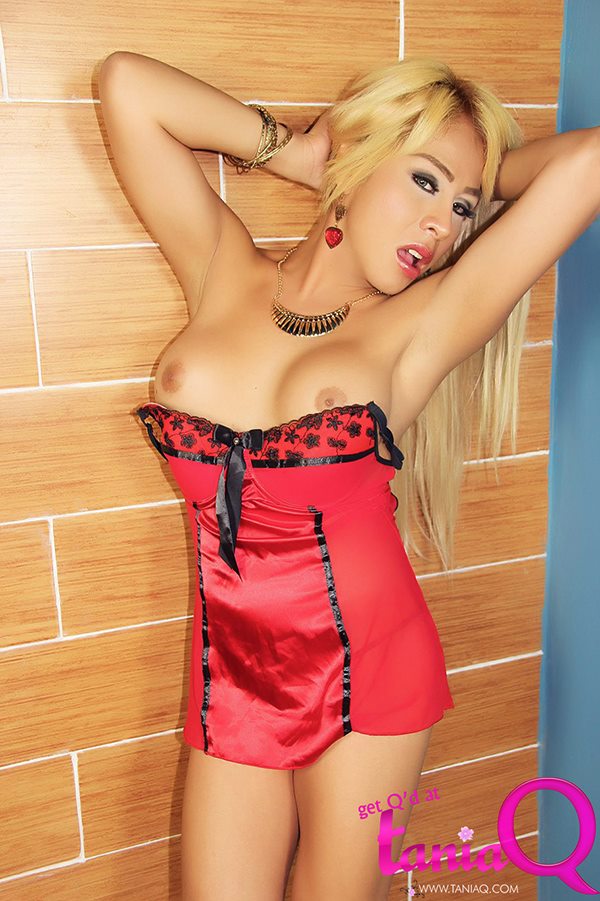 Then click on the image right now to see exactly that!
I am sure none of you are asking why a tight tranny ass is important. But I am guessing that some of you also enjoy doing more than just sticking your cock into a tight tranny ass. In fact I am also guessing that some of you like to play games with your favorite trans girl. From lick and stick to what all can I get in there. And the best part is a good number of these trans girls will let you put almost anything inside that you want.
Take TaniaQ here. She was playing nurse and wanted someone to take her rectal temp. She really wanted you to play and stick something into her tight tranny ass. Playing these games excites both you and her and she can never get enough of that excitement. So make sure and play with her when you meet up! Oh, yeah, simply message her from her members area and that way you can work out a way to have some personal fun with her.
Click on the image below to check out more of this sexy and hot shot of her tight tranny ass. And yes its waiting for your input.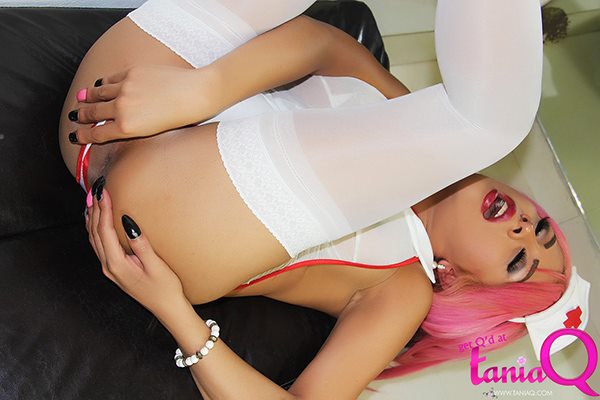 Also please if you would, rate and comment below on this photo.
Everyone and I do mean everyone loves a hard cock trans. There is nothing more disappointing than a trans girl that can not get an erection. So today I present you with a hot photo of our favorite Hardcock trans. Yes that means we are going to share a photo of TaniaQ showing off her hard cock. I know its rare that we do this. The turth is, this site helps Tania reach out to new potential members and that means that she needs to tease most of them. Then if they get hot enough they buy a membership and that is how she earns a living. So even if you know of her and about her its time to become her fan. Get your membership and support Tania so she keeps recording for her website.
As you can see she is a hot hard cock trans and looks amazing showing off her body. From her firm tits to her big cock and her tight little tranny ass. This hard cock trans girl has it all and wants you to take her and do with her what you want. You and flip her around like the fuck puppet she is and work every wet hole she has. And if its not wet, use lube! She loves to fuck and get fucked nice and hard.
Click on the image below to get your membership to her website right now!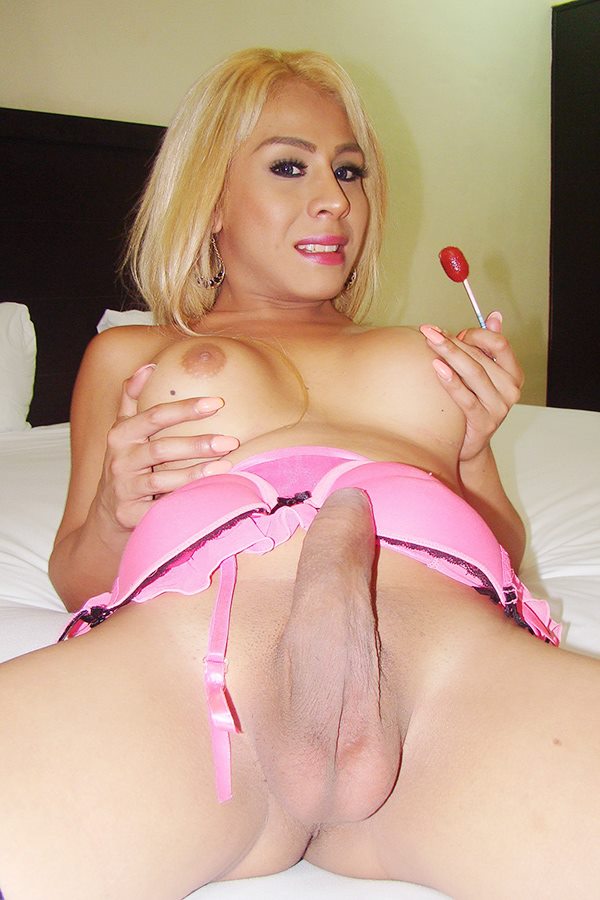 Everyone loves to play with a sex toy. Especially when you are with a trans girl that you enjoy. Take for instance TaniaQ. She loves a good sex toy because when she is alone it takes the place of a man. And when she has a man naked and hard in bed its an addition to the wild time that she wants to have. Just think of all the things that she and you can do with that toy. Yeah now you are getting some hot ideas in the back of your mind. So why dont you tell us about them? We would love to know so that we can share them with TaniaQ.
Just take a look at the photo below of Tania as she poses with one of her toys. What ideas come to mind with this? What would you use that toy to do once you got her naked. Would you have her laying on her back like in this photo? This of course would not only thrust her tits into the air but her cock would be standing up hard and waiting for attention.
Or would you lay her face down with her hips propped up a little on a pillow? That way her love hole is open and ready for anything that you do. Using the dildo to work her ass, or you can lube your cock and slip it right in. What do you prefer?
Click on the image below to check out more of this set and to see what she does with that sex toy!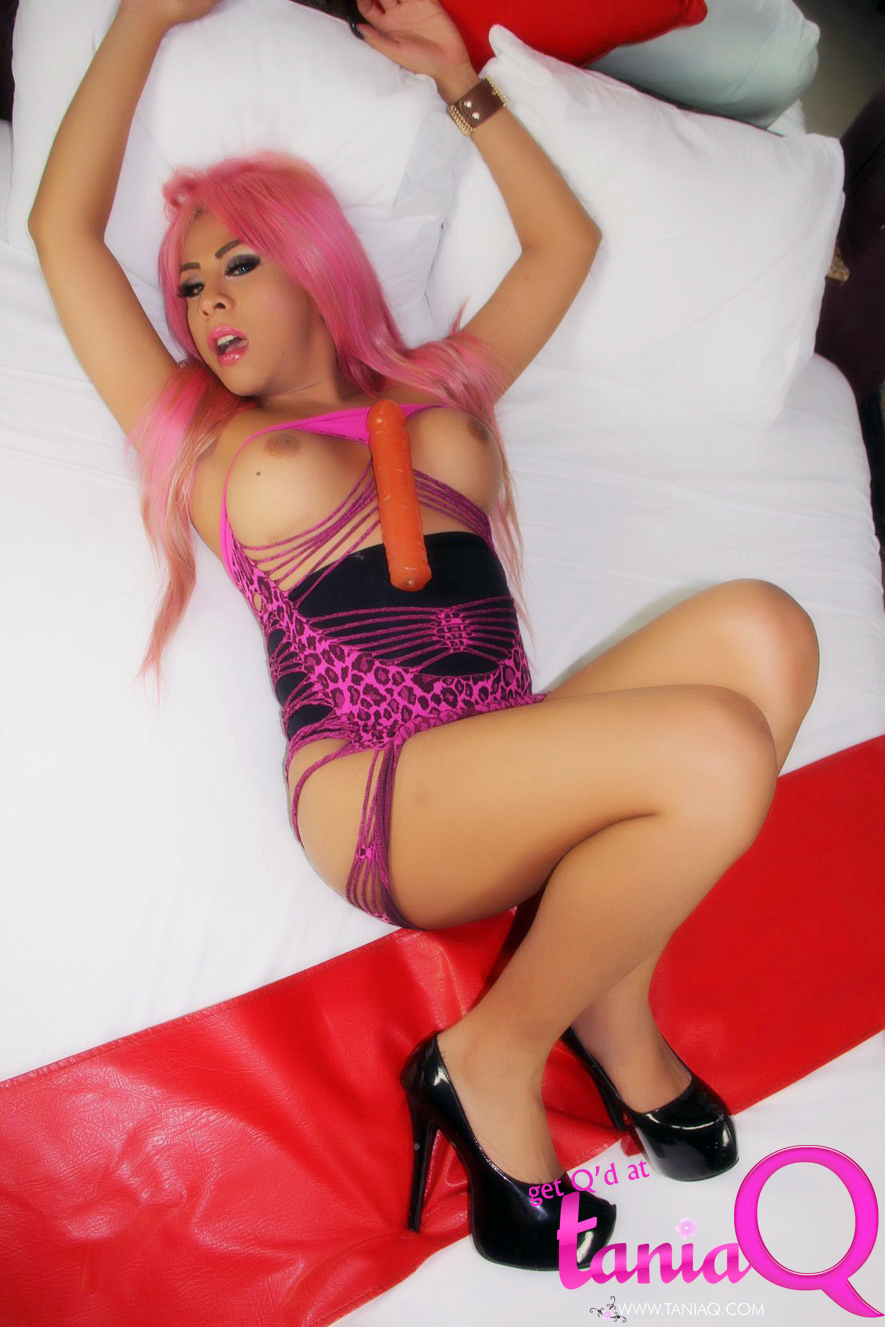 Well guys I am sorry I have not posted here for a few weeks. This Pandemic is really making things hard. But I do have a photo set to share with you and I hope you like this. I am calling this photo Tranny tits outdoors. And as you can clearly see its for a reason. I am showing my nice tranny tits outdoors! Now I do want to ask. How many trans girls do you know that will do this?
If you look closely I am standing on the side of a road way. No its not a busy street and there are not many people around. But from time to time a car passes and there are some people walking by. It was fun shooting this photo set because I actually got caught by a couple driving. They slowed down and then stopped for about 3 minutes to watch. Good thing I did not yet have my cock out. Not sure how they would have reacted. I do so enjoy getting naked.
Click on the image below to see more of this photo set.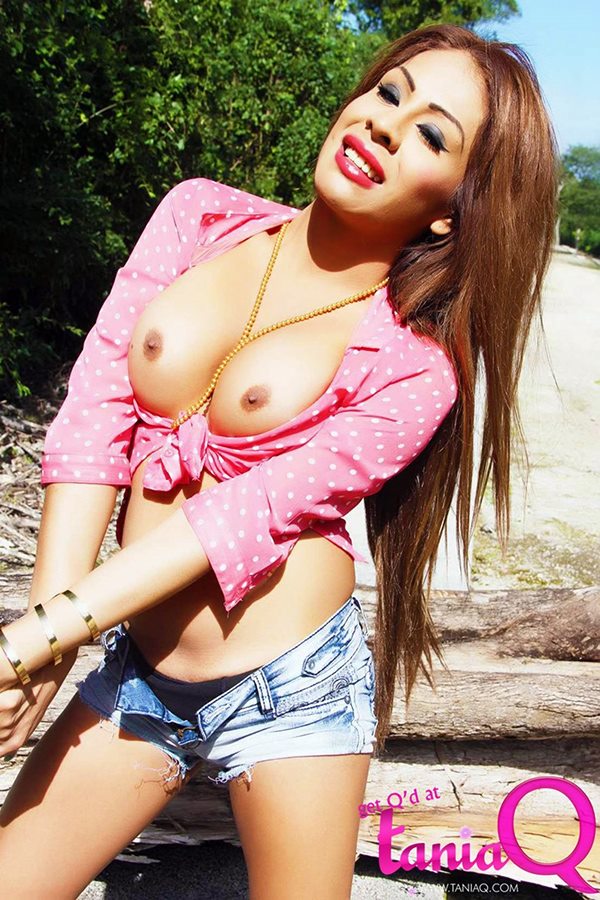 Its way past time for you to get your fill of Tranny tits outdoors. It is also time for you to get yourself into the members area of my website. This way I can share with you all of the photo sets and also the movies I have.
Most of the trans girls that are famous tend to appear on each others sites at one time or another. TaniaQ and Angeles Cid have shot together a number of times and had a great time doing it. The image below is from one of the first sets they ever did together.
Now as most of you know TaniaQ has a big cock. And that gave her the idea of using her big cock to show the real true size of Angeles Cid. So TaniaQ and Angeles Cid did a bit of a cock compare and its all waiting for you in the members area of her website. It really is a must see to enjoy!
If you have not yet joined Tanias site go ahead and click on the image below or a text link. Get into the members area right now and take a look at all the sets that are offered by TaniaQ and Angeles Cid. They are all hot and you will love especially the hardcore ones.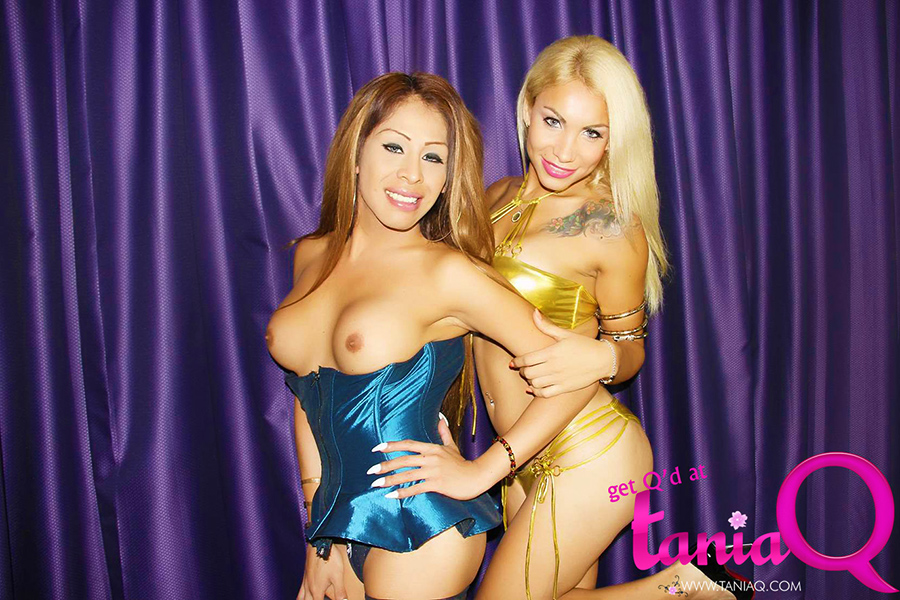 Who else could we be talking about other than the hot, wild and a little crazy girl TaniaQ. I mean really. Flashing Trans girl cock? Yep that's her and she is actually standing in a public pool. It was adults only day and there was some heaving swinging going on so TaniaQ decided that it would be perfect for some photos.
That means that it was a lot of fun for her because everyone was watching. However there were some shocked faces when she started flashing trans girl cock to everyone. A couple of the ladies blushed and a couple wanted to play. But all the men stared in rapt attention as that big cock came out of her bikini bottoms.
So she got into the pool and drew a couple of looks. However it was when the cock came out that everyone started to really pay attention. She even had some applause when she was done with the photos. And Tania says it was the eyes on her that made her cock stiff.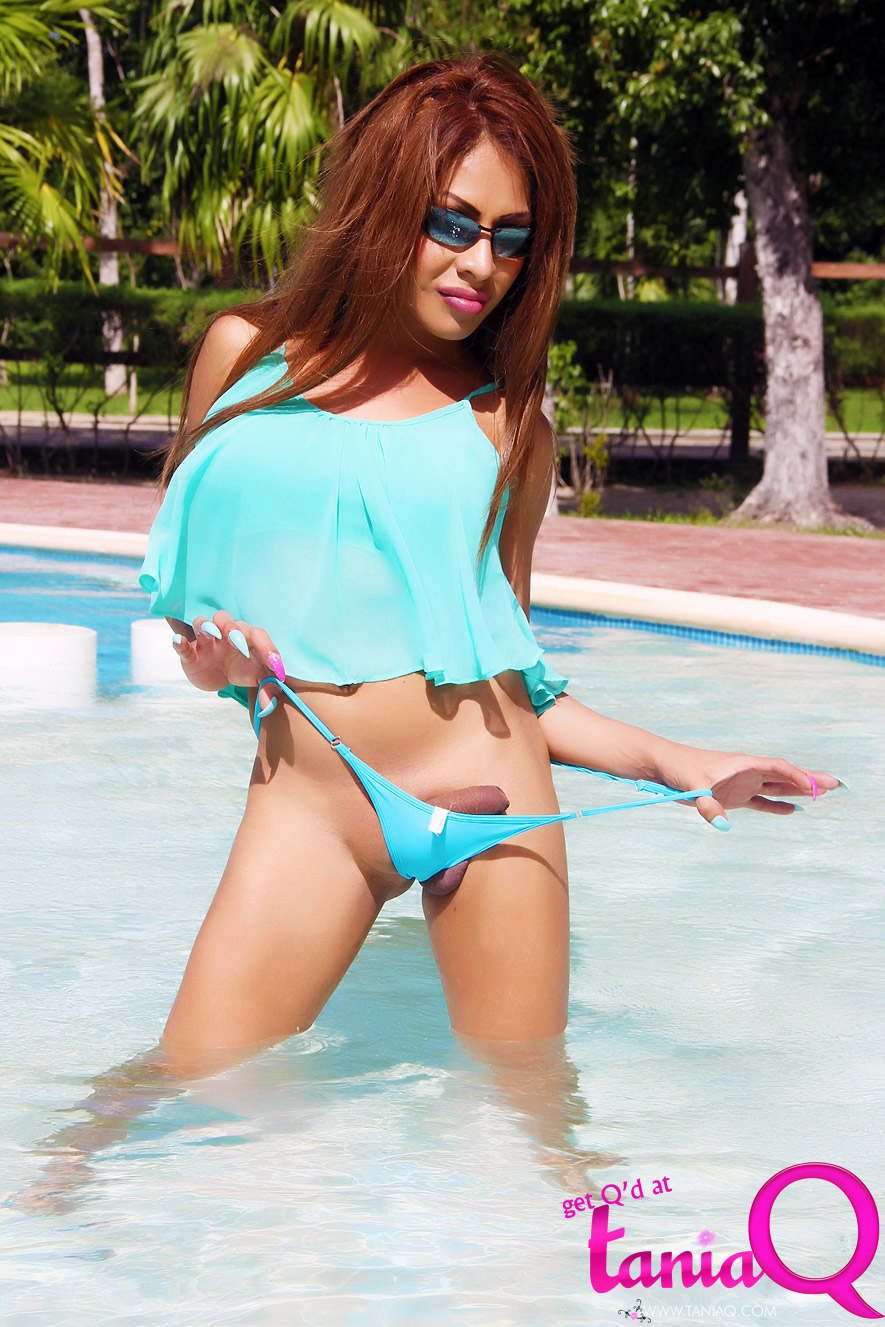 This set is a good one and she has a couple others from the same day at the park. Make sure to enjoy them all and rate and comment on them as well.
What to check out a set of firm trans girl tits? Well you already know they are here so just take a peek below. TaniaQ once again is outdoors and almost naked. I swear this girl cant keep her clothes on for more than 5 minutes. Than GOD. Because we love to see these firm trans girl tits. And she seems to love showing them off for us.
Now most of you know TaniaQ and you know that her tits are very fucking firm. But did you also know that she loves to feed them cum? If you want to know how she does that its pretty simple. The two of you get hot and hard and fuck the hell out of each others ass. Then when you are ready to cum, you shoot her load on this set of firm trans girl tits. Then she rubs it in and shoots her own load onto her tits. And that is one of the parts you simply must see.
Do not miss out on watching Tania and her amazing body. Get your fuck on with her and those firm trans girl tits.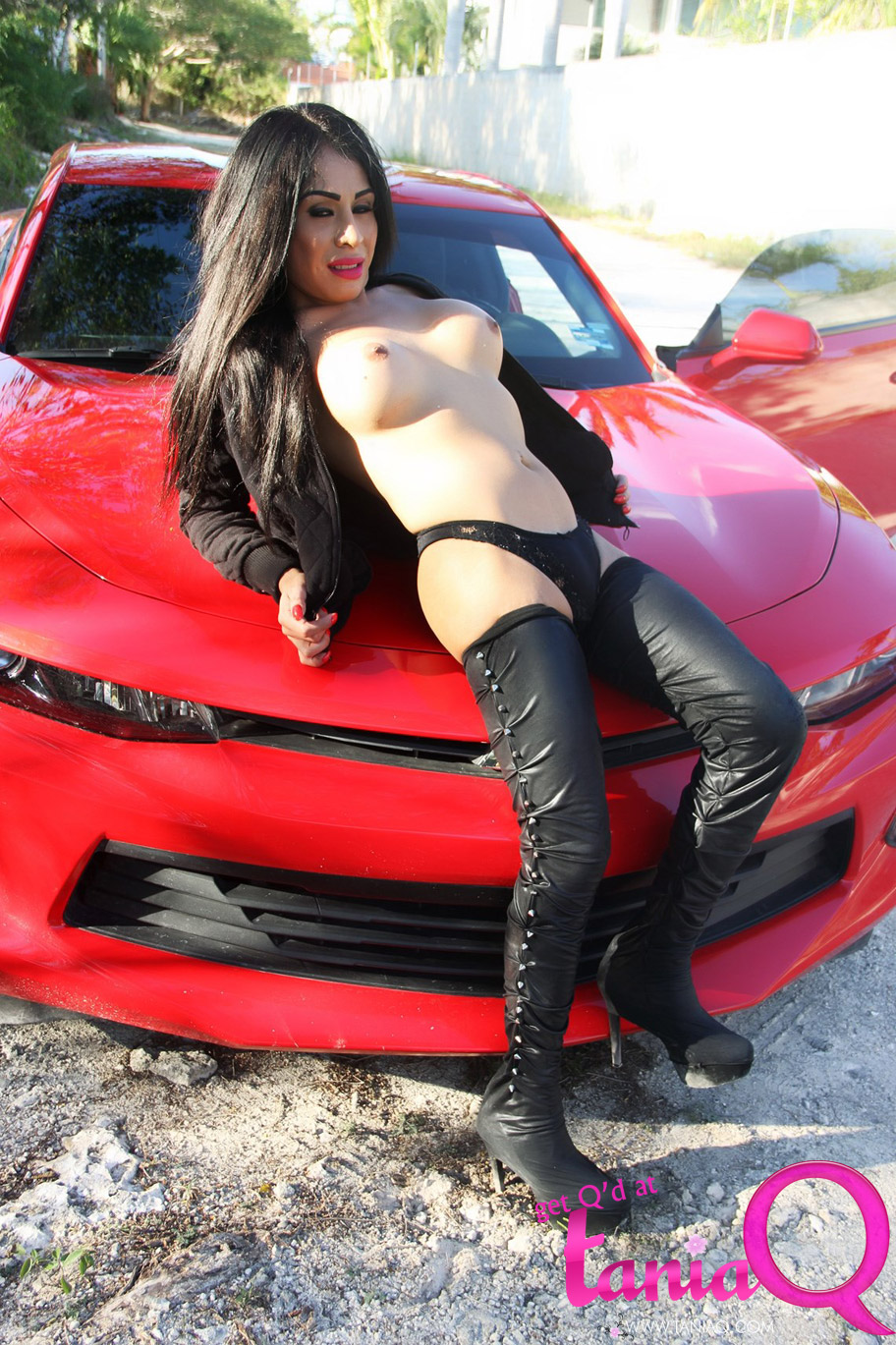 You do not want to miss the rest of this photo set. Its hot to see her outdoors with her tits and cock out!
Make sure and rate and comment on this photo set as well as all the others. Oh, and all the videos in her members area as well. You will love them so get started right now!
What to know one of the hottest things about looking at photos of a spread legs trans girl? Its simple and in this photo quite obvious. You know she is packing some heat between those thighs.
In fact in this photo below of TaniaQ our spread legs trans, you can quite clearly see her bulge and it looks oh so tempting. And I mean super hot. Can you just imagine being able to trace your fingers over her shorts? Caressing her cock as it throbs below the silk of the shorts? Watching it grow stiff as you touch her big firm tits and play with her ass. Then pulling that cock out the bottom of her shorts and caressing the head as it drips precum!
Getting to enjoy photos or videos of a spread legs trans girl is always hot. You are getting to enjoy her without all the other issues that can be involved. And you are also getting the chance to get off with her and at no risk at all. And that is another turn on about TaniaQ. She wants you to cum as hard as you can. And if you try to time it, you will shoot your hot load at the same time she does.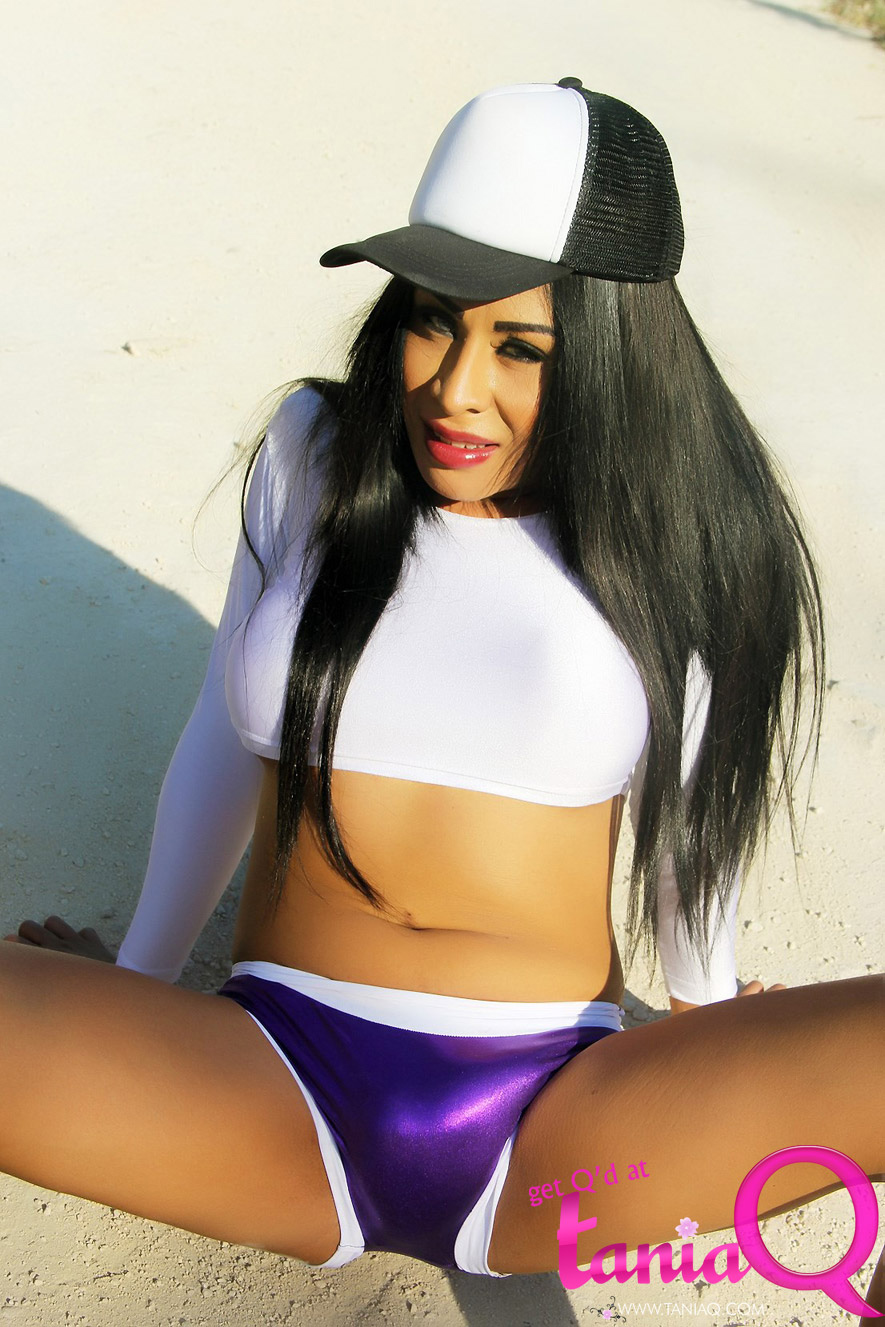 Do not miss what happens next!
What to check out some sexy high heels outdoors? How about that and some hot tranny ass. With some firm tranny tits and a big tranny cock?? Yeah We all love this kind of Hotness and TaniaQ loves to share wit with us. Now, today for this post we are going to focus on the sexy high heels outdoors. Can you just imagine the kind of tranny slut it takes to dress like this at a public part? Well thanks to the gods for giving us the tranny slut TaniaQ.
Now for those of you who want to see a wild and hung trans girl. Tania is the girl for you. Standing at 5 foot 6 inches tall she has a nice 32C set of tits on her. Her ass is a bit small but very natural. And her cock is a full 10 inches. Hard of course and when asked what gets her hard. Wearing High heels outdoors gets her hard. She just loves to be looked at.
The photo below is one of a set with TaniaQ posing at a public park. She had a lot of fun and yes she shows off not only her tits but that big fat tranny cock as well.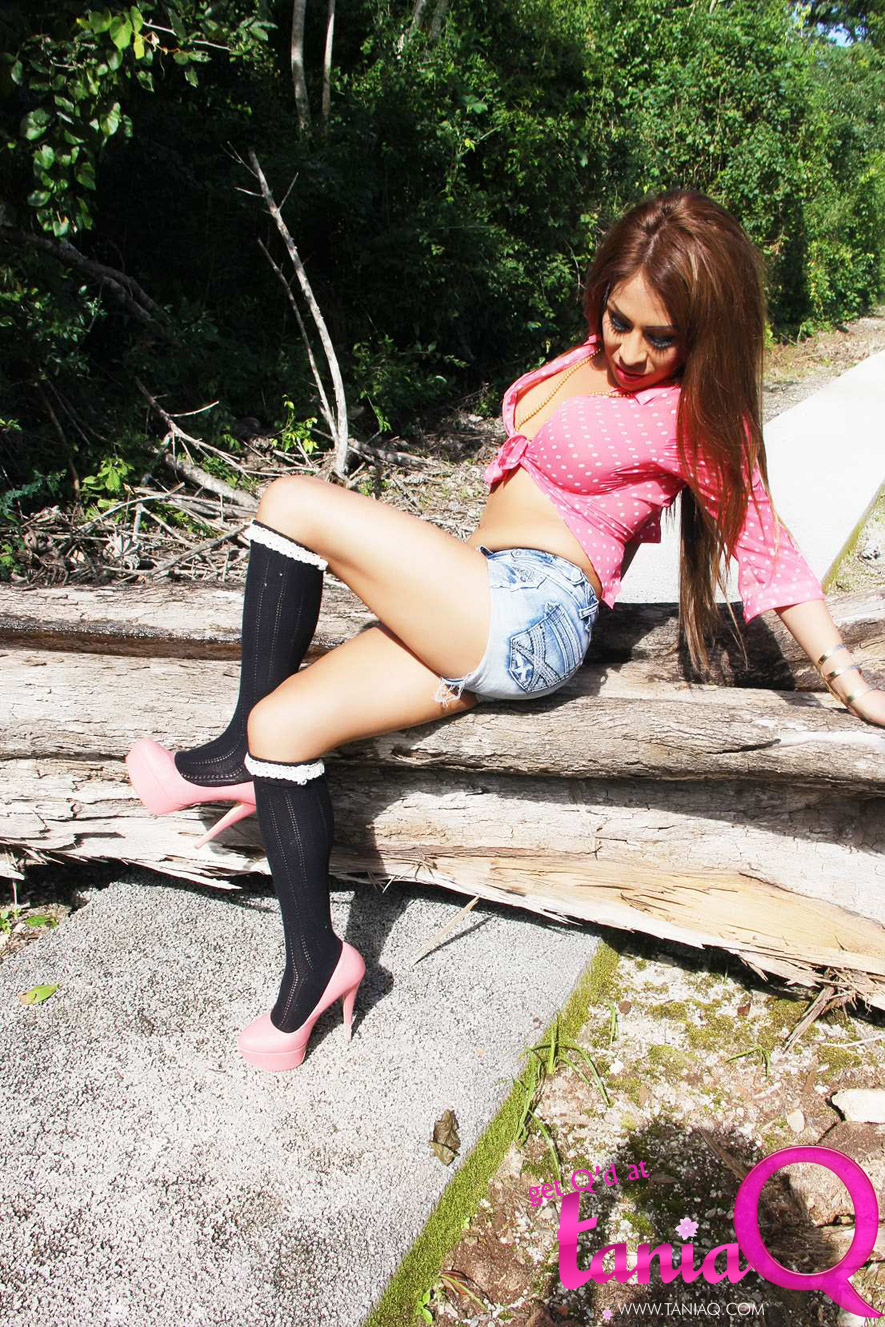 Want to check out another set of her in high heels. Click that link <---
Want to take a look at this photo of TaniaQ the thick cock trans of your dreams? Yeah you know you want to see it so just take a peek. But once you get this sample burned into your brain its time to see the rest of this set.
Most of you may not know who she is. But some of you are ardent fans that follow her and are also members of her website. The important thing to know is that TaniaQ has a thick cock and she loves to use it. But she also loves a man that will take charge all the while making sure that she is getting all the pleasure that she needs and wants. Like stroking that thick cock of hers. Tania is mostly active but when the guy is right and takes control. She will take it in the love hole like a good little fuck doll.
This photo was shot at the right time for her. She had her cock out. The lingerie was smoking hot and she was hard and ready for some fun. The video is just as good as the photo set. She is clearly the thick cock trans for you. So enjoy her!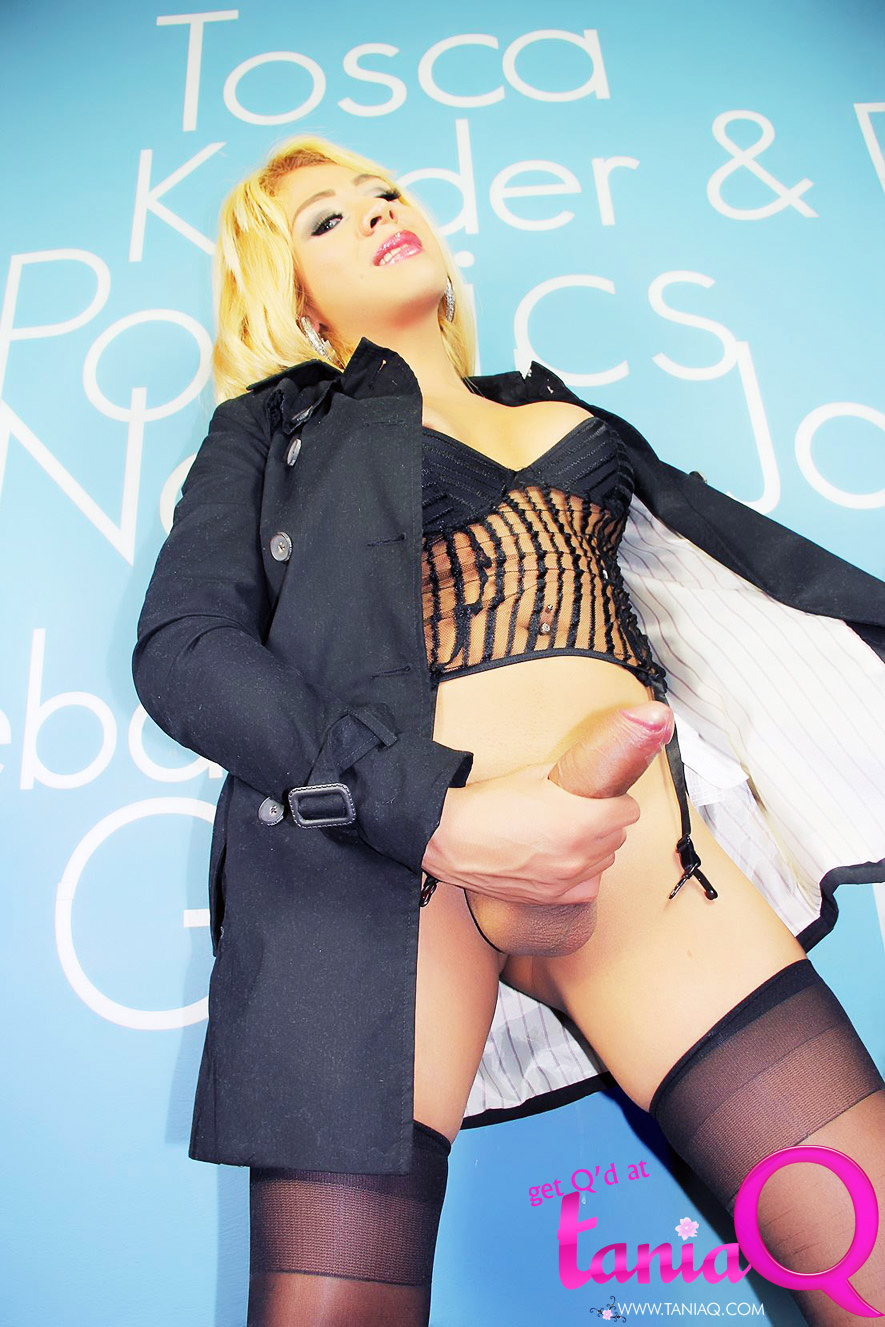 Click on the image above and get a whole lot more of this thick cock trans.
White Panties! Sexy Tranny and spread legs! So, do you like white panties as much as most men do? I love to see them and wear them. If you are also into white panties I want to know about it. You need to post here and tell me so we can talk. Talk is hot and so am I and I want you now!
Hi guys, I'm TaniaQ and I wanted to show off some samples of my photos and videos here on my blog. Please forgive me if anything is misspelled as English is not my language and I have someone helping me.
Now, lets get back to talking about white panties! As you can see in the photo below I have on a sexy pair of panties as well as stockings and other lingerie. I was just outside on the blacony messing around and decided to fill the hot tub and jump in! Would you like to join me some time?
Have you ever been with a tranny when she has on a pair of sexy white panties? Stroking her cock with the panties covering it. Stroke until it gets hard and pops out the top and then you can suck the head of her cock? Its a lot of fun and a real turn on and something you might want to try next time your with your favorite tranny! She will love you for it.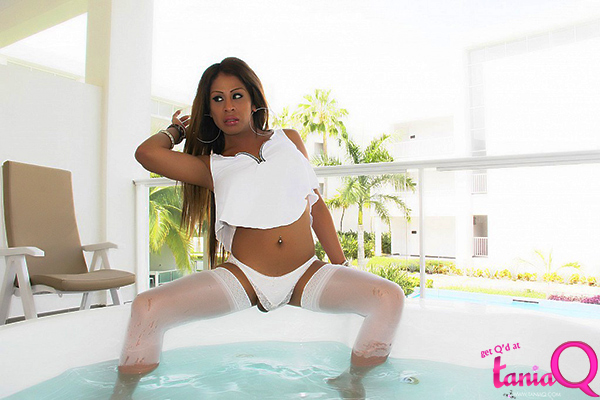 Well If you have not already been into my website now is the perfect time. You had this tease photo and enjoyed it so now its time for me, Naked spread and hard. If you want to meet up we might be able to work something out. So let me know right away.
I love my members and seeing comments from them so make sure to say hi there in the members area and also here on the blog.
Let me know what else I can show you samples of !
XOXO TaniaQ!
Hot Sites to check out!
Categories