Browsing articles in "OutDoors"
What to know one of the hottest things about looking at photos of a spread legs trans girl? Its simple and in this photo quite obvious. You know she is packing some heat between those thighs.
In fact in this photo below of TaniaQ our spread legs trans, you can quite clearly see her bulge and it looks oh so tempting. And I mean super hot. Can you just imagine being able to trace your fingers over her shorts? Caressing her cock as it throbs below the silk of the shorts? Watching it grow stiff as you touch her big firm tits and play with her ass. Then pulling that cock out the bottom of her shorts and caressing the head as it drips precum!
Getting to enjoy photos or videos of a spread legs trans girl is always hot. You are getting to enjoy her without all the other issues that can be involved. And you are also getting the chance to get off with her and at no risk at all. And that is another turn on about TaniaQ. She wants you to cum as hard as you can. And if you try to time it, you will shoot your hot load at the same time she does.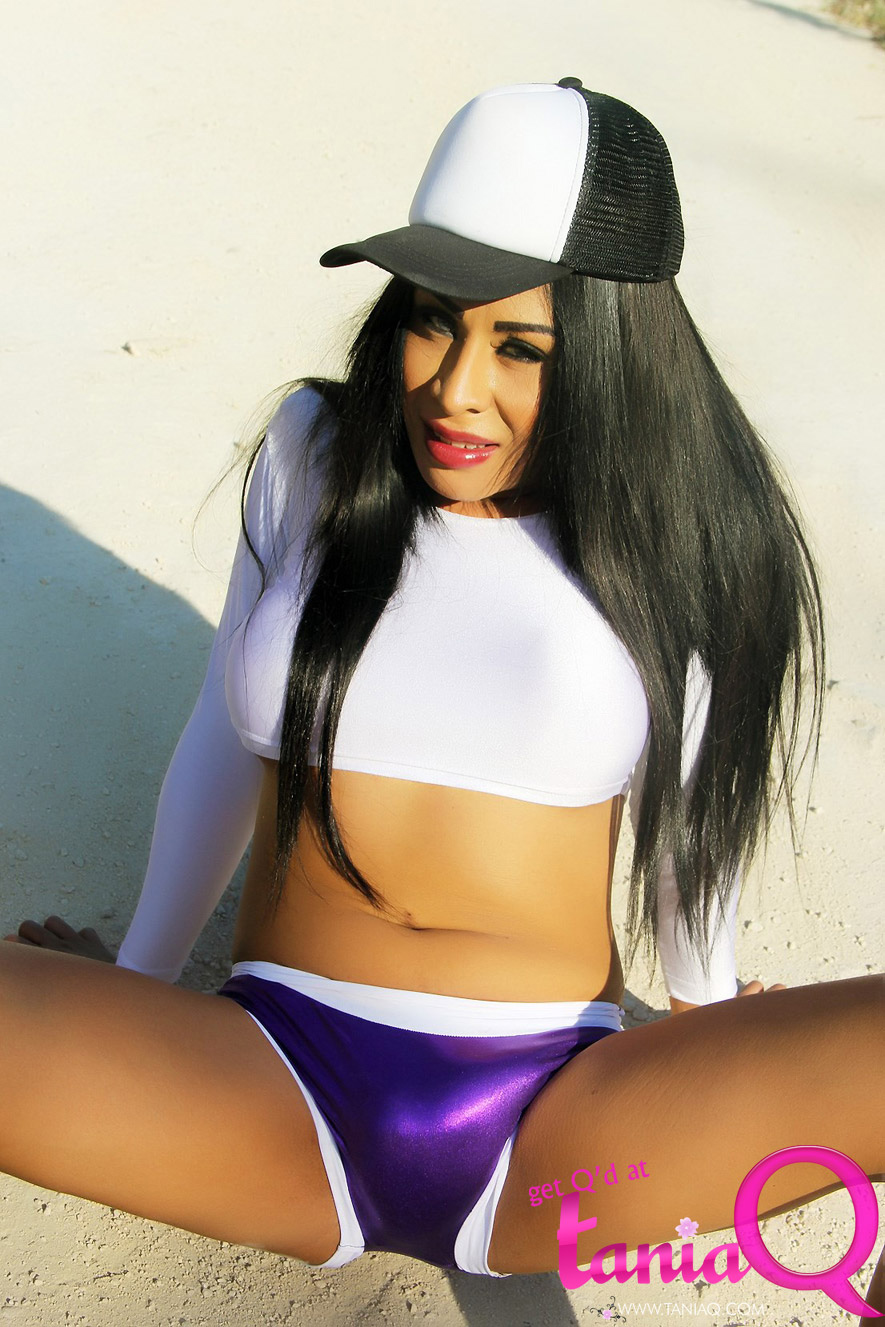 Do not miss what happens next!
What to check out some sexy high heels outdoors? How about that and some hot tranny ass. With some firm tranny tits and a big tranny cock?? Yeah We all love this kind of Hotness and TaniaQ loves to share wit with us. Now, today for this post we are going to focus on the sexy high heels outdoors. Can you just imagine the kind of tranny slut it takes to dress like this at a public part? Well thanks to the gods for giving us the tranny slut TaniaQ.
Now for those of you who want to see a wild and hung trans girl. Tania is the girl for you. Standing at 5 foot 6 inches tall she has a nice 32C set of tits on her. Her ass is a bit small but very natural. And her cock is a full 10 inches. Hard of course and when asked what gets her hard. Wearing High heels outdoors gets her hard. She just loves to be looked at.
The photo below is one of a set with TaniaQ posing at a public park. She had a lot of fun and yes she shows off not only her tits but that big fat tranny cock as well.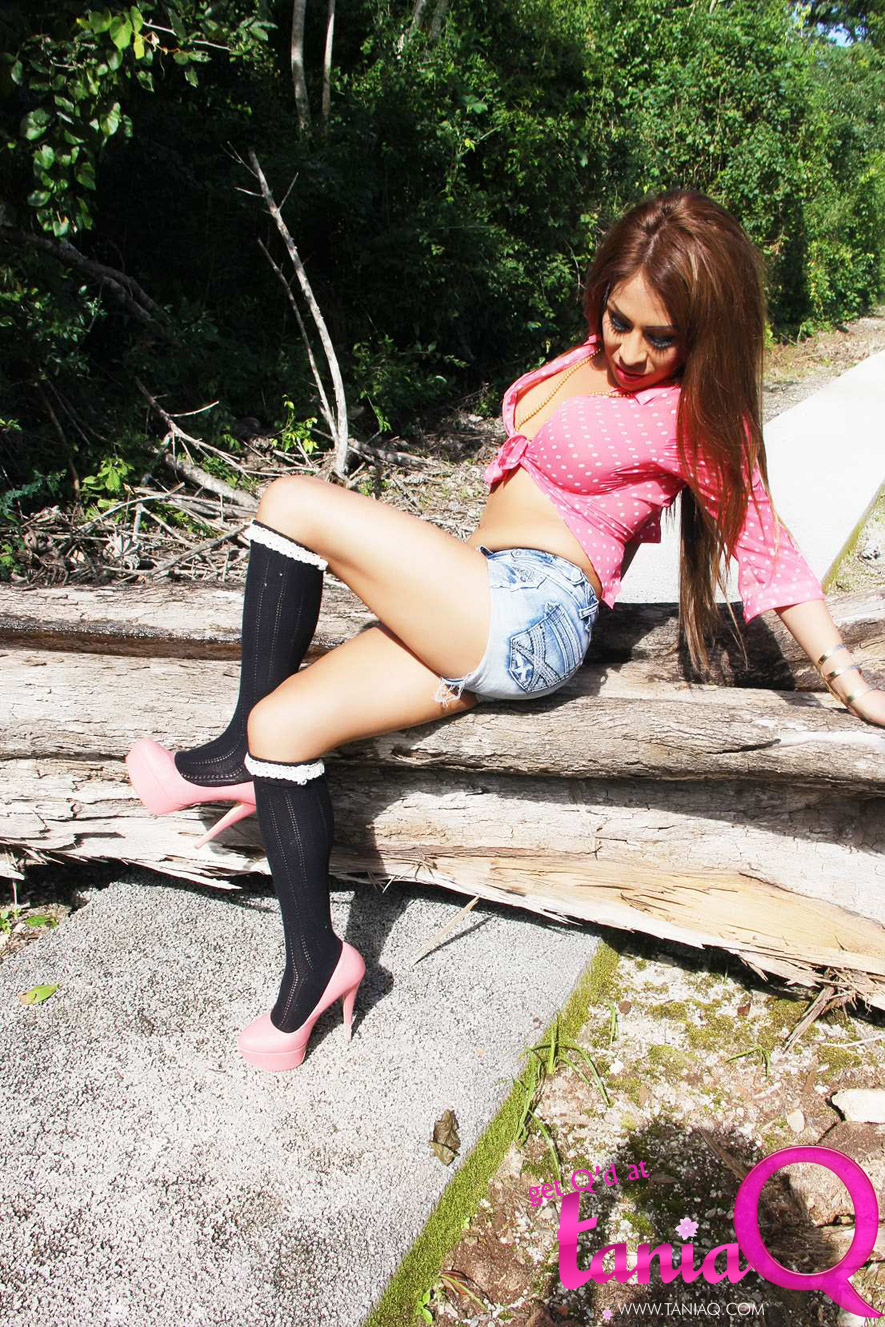 Want to check out another set of her in high heels. Click that link <---
White Panties! Sexy Tranny and spread legs! So, do you like white panties as much as most men do? I love to see them and wear them. If you are also into white panties I want to know about it. You need to post here and tell me so we can talk. Talk is hot and so am I and I want you now!
Hi guys, I'm TaniaQ and I wanted to show off some samples of my photos and videos here on my blog. Please forgive me if anything is misspelled as English is not my language and I have someone helping me.
Now, lets get back to talking about white panties! As you can see in the photo below I have on a sexy pair of panties as well as stockings and other lingerie. I was just outside on the blacony messing around and decided to fill the hot tub and jump in! Would you like to join me some time?
Have you ever been with a tranny when she has on a pair of sexy white panties? Stroking her cock with the panties covering it. Stroke until it gets hard and pops out the top and then you can suck the head of her cock? Its a lot of fun and a real turn on and something you might want to try next time your with your favorite tranny! She will love you for it.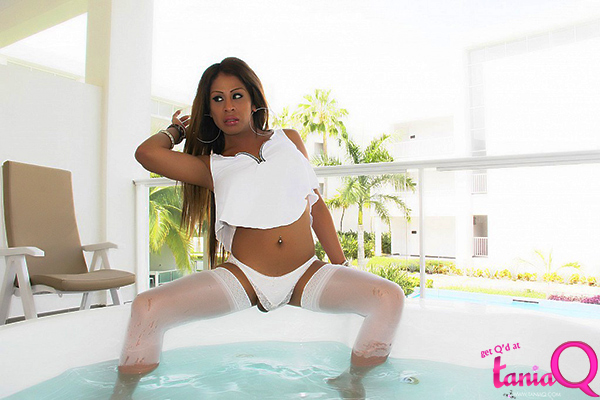 Well If you have not already been into my website now is the perfect time. You had this tease photo and enjoyed it so now its time for me, Naked spread and hard. If you want to meet up we might be able to work something out. So let me know right away.
I love my members and seeing comments from them so make sure to say hi there in the members area and also here on the blog.
Let me know what else I can show you samples of !
XOXO TaniaQ!
Sometimes its a lot harder to hide trans cock in panties. It just depends on a few things. First and foremost it depends on the size of the panties. And then secondly it depends on the size of the trans girls cock. So for a girl like TaniaQ its a lot harder than for some. If you are not following on why its because she has a big cock and the damn thing is almost always hard. So its harder to hide in panties. The other thing is, that for Tania at least, she really does not want to hide her cock. She wants you to know that she has one and that its a big one.
So take a look at this trans cock in panties set we have here. Yes those are panties and not shorts as they are a part of one of her cosplay outfits. However with her half shirt fitting her tits so well she decided that the panties combo was hot enough for a photo shoot and also a movie. And now that you have seen this sample photo your cock is already begging you to see more. That is the ache that is building low in your balls and the twitch in your cock. So make sure they both get pleased and click to see more of this trans cock in panties.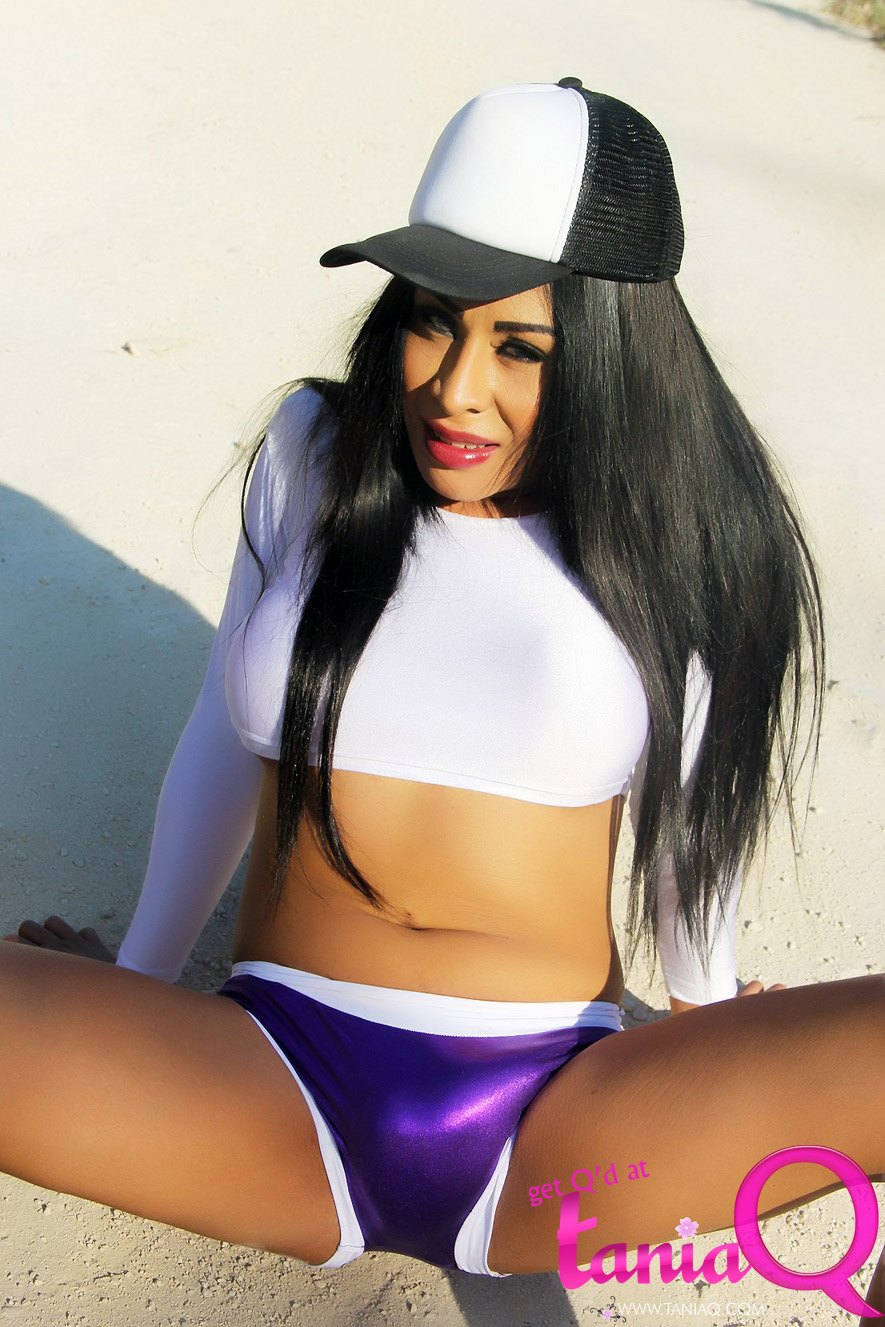 Hot Sites to check out!
Categories