Browsing articles in "OutDoors"
Big Tranny Cock! TaniaQ loves to fuck in the car! The amazing and sexy lady in the photo is yes, you guessed it. ME! TaniaQ and I wanted to talk about my big tranny cock and fucking in the car.
Have you ever fucked a tranny in the car? How about on the side of the road? Well guys I am a fuck slut and love to have a cock in my ass. Or If your willing I also love to get my cock in a guys ass. So lets pull over some place and fuck each other really hard. it does not matter to me if people see or not. This is all about pleasure and I want cum dripping down my leg. And the only way to get that is with a cock shoved deep in my ass hole. So get your pole out and lets go!
Click here to check out my members area NOW!
Another thing, remember to rate and comment on my photos and videos please!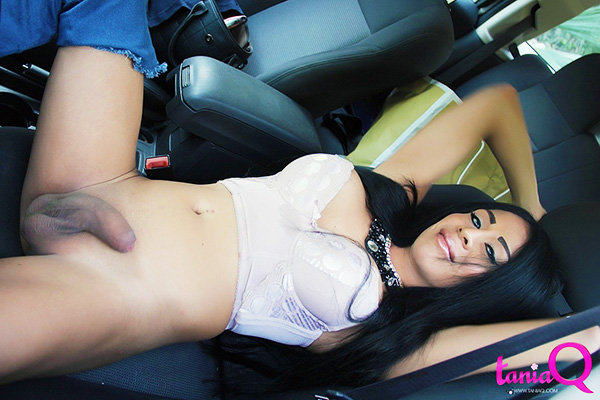 So if you want to play with my cock and also fuck me, Join right now and tell me about it.
Lets see if we can also make your fantasies come true.
Further more you can check out some older samples of me here!
Tranny Erection outdoors! What gets Tania hard? First of all this tranny erection is a good one. Her cock is laying hard on her leg and also looks amazing. We are guessing that Tania gets these erections because of the fresh air. So if you want to fuck, take her to a park!
For that matter just blow on her cock a little. That seems to do the trick. If you really want to work her hole and her pole then maybe sitting a floor fan blowing on you would keep things rocking! Give it a try you never know. She says she gets hard at the slightest thing.
And how about those boobs also? Do you like the small and firm ones or more for the big and floppy! Tania has firm tits that need a load of cream as you can see in the photo below. Indulge her and fill her up! Make sure to suck on those nipples a little before you cream them.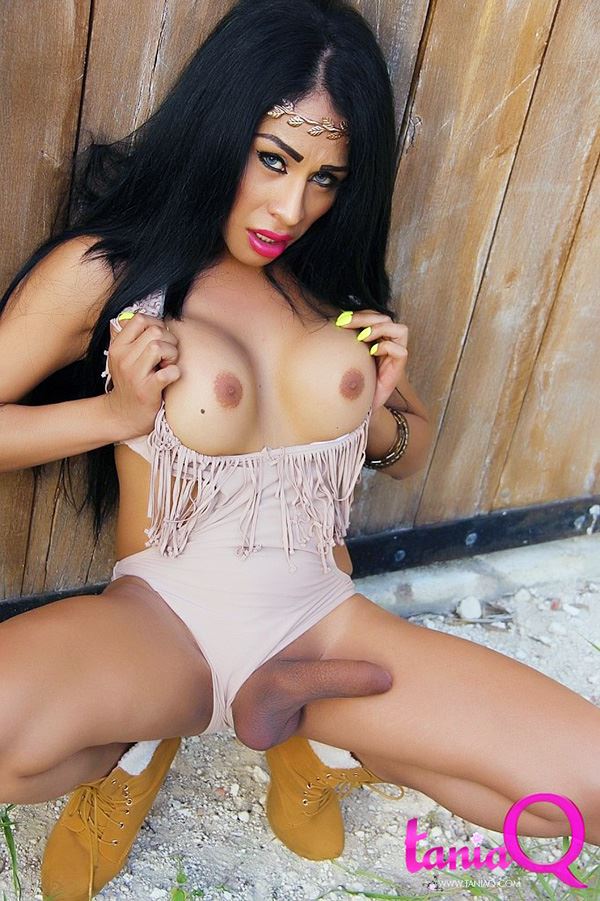 Click here now to join the members area instantly. Also make sure to rate her photo and video sets.
Or you can also click here and check out some of the other sample posts on this blog!
Spread Tranny ass with TaniaQ outdoors! Damn this girl cant keep her cloths on outdoors for anything. And for that matter she can not keep them on indoors either.  Just look at this spread tranny ass photo! I am guessing that she just walks around half naked all the time and also with that amazing cock swinging! Anyone got evidence to the contrary? Figured! So if this is something you really enjoy watching and we are sure you do. Then you need to get to know more about Tania right now. So read on or start clicking.
TaniaQ has a website filled with photos and also videos of her doing all sorts of wild things. From hot 4somes to one on one banging guys on top or bottom! Therefore you can bet your ass this site is a great one to be a member of. Happy and hard all the way! And once you get your membership we are certain you will say thank you. Not only to the sensual and slutty TaniaQ but also to us.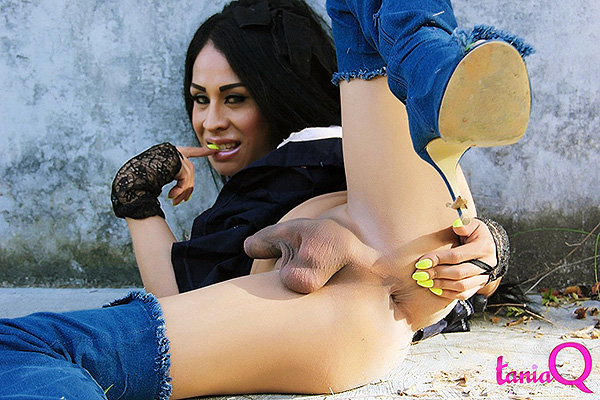 Click here not to see the rest of this photo set. Also enjoy all of the videos in Tania's members area!
Or you can check out other samples here on the blog but please rate and also comment!
Stockings panties and cock. With TaniaQ! So now that your attention is focused between those legs. And you have also torn your eyes away from stockings panties and what ever else! You can see that nice cock buldge in her panties. Right? If not then you really need to either get glasses or, get into her members area to see the bigger photos. This is a smaller and lower quality version of the photo set.
For more of this photo set. Click here right now! Dont miss it.
Also make sure to watch the video of Tania in the same clothing. Thats right you will get to watch as she gets her hot body wet, and the clothing becomes transparent. You will also get to see her cock get stiff in those panties.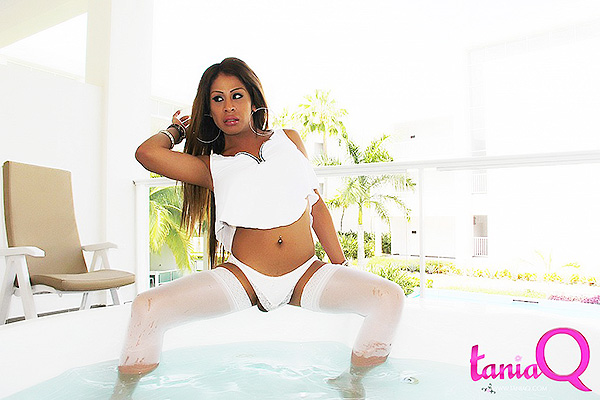 And Another thing! Check out older posts of photos and also videos here on the blog.
Make sure to rate and also comment as you go. That way Tania can give you more of what you love!
To check out Tania on some of the other sites we have, you can click here.  Tania in Black skirt. Or you can see some Cosplay with TaniaQ
Do Not hesitate to click any of the links on this website.
Naked Outdoors and stroking my cock! First of all its fucking hot to see an amazing body naked outdoors and when its a tranny with a thick and juicy swinging cock! Its even better. And honestly you have a huge chance of running into TaniaQ and her also being naked when you do. Just make sure you peek around your favorite park as you might see her there.
As a matter of fact it is often hard to keep Tania dressed. And for you and I that is a great thing. This little tranny slut is always so hot she just strips where ever she is and we get to enjoy watching and touching this amazing body.
Another thing is its fun to fuck outdoors and that's what TaniaQ was hoping for when she shot this set. Sadly there were no guys around with their cocks swinging!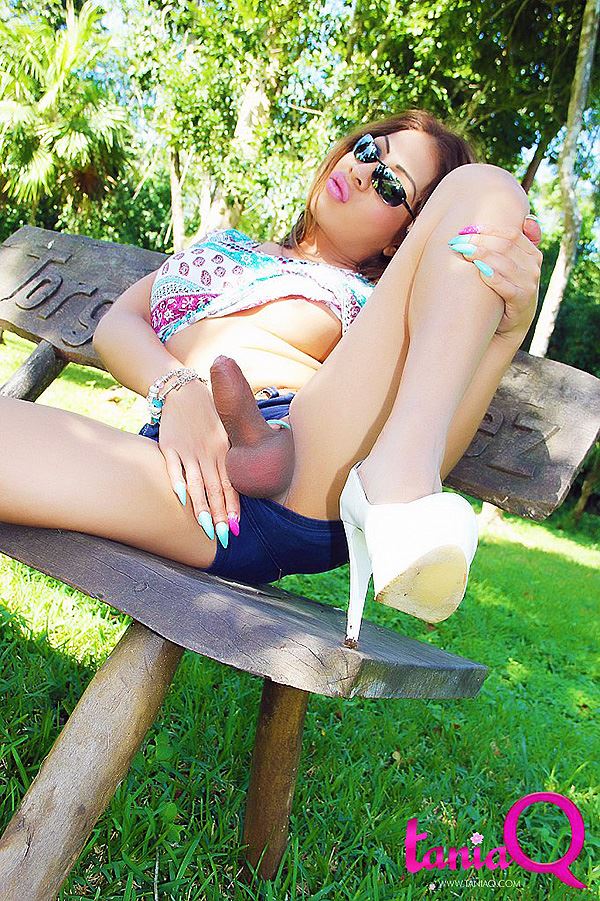 If you have a cock thats ready for some action and also ready to cum. Join TaniaQ right now!
You can check out other posts of her here on this blog.
But always remember to rate and also comment. Make sure that Tania knows who you are and how you found her. Also make sure you tell her what else you want to see and do.
Can't see the cam feed? Then Click right here. Your Browser is blocking it!
Trans girl pool flash! Join me right now to get wet! Also don't bother with a swim suit. This is a private pool and we can get naked and fuck anyplace we want. So this is more of a post than just a Trans girl pool flash! I just wanted to share how much fun it is to get naked and have fun in the sun. Add in the cooling water of the pool and its amazing.
This photo set was very fun to shoot and also hot. But in a bikini it feels great and once I was nude pool side it was even better. I could not stop getting hard even when I did not need to. The sun was warming my balls and the head of my cock and making them both Sensitive. At one point I brushed by the camera girl and even got hard touching her. And I only like men.
Check out the rest of this photo set in my members area.
Click here to join right now.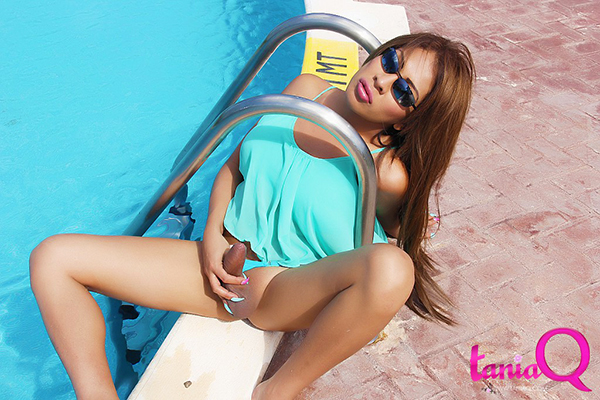 Check it out today so you dont miss out on any of the content Tania has.
Also remember that Tania has a lot of photo and video samples. You can check some out right here and enjoy this Hard cock trans girl.
HighHeels and Shorts! Outdoors in the sun for fun! Almost every time I leave the house, I am wearing highheels! I love them and think they make my legs look long and slim. So tell me, what do you think? Also let me know if you just like heels in general! I want to have as many pairs as I can so if you have a favorite company let me know and I will see if I can get them!
Another question about highheels is what colors do you like and how big of a heel. The pair I have on below are a great fit and I can walk with no problems. But I feel they are a bit to small in the heel. While I wear them I do see a lot of looks from ladies and men also. I think the ladies like the shoes and the men like whats in them! 🙂
Another thing is I think Highheels make almost any clothing sexy! They can turn regular shorts into slutty shorts. Or a average dress into a club dress! Part of that of course depends on the woman in the dress.
Don't miss this outdoor set. It is as hot as I got. Come and enjoy me.
And no, I want you to check out my photo in my heels. I do so hope that you like it. It was a warm day but the heels were amazing and the shorts were short and sassy!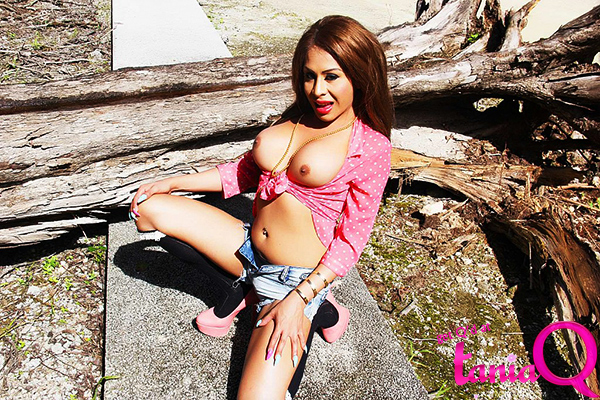 If you want to see the rest of this set of photos and any videos I made that day, then check out the members area of my website right now.
Cosplay outdoors with TaniaQ! When TaniaQ runs out of characters to dress up as in her Cosplay outdoors. She then starts to make some up using different parts of the outfits that she has. In the outfit you see in the photo she says she is playing! Little red and gold in suck my cock in the woods.
If you have never heard of this nursery story and anime online or tv. It is probably because TaniaQ made it up. The guess is she also just wanted to be half naked outdoors again. And for us, thats a good thing. Now all Tania needs is a line of guys willing to play with her when she is naked outdoors. She loves showing her stuff and being wild. So check her out right now. If you are willing, she is MORE than willing to fuck and suck in the sun.
Click here to join the members area to see the rest of this set.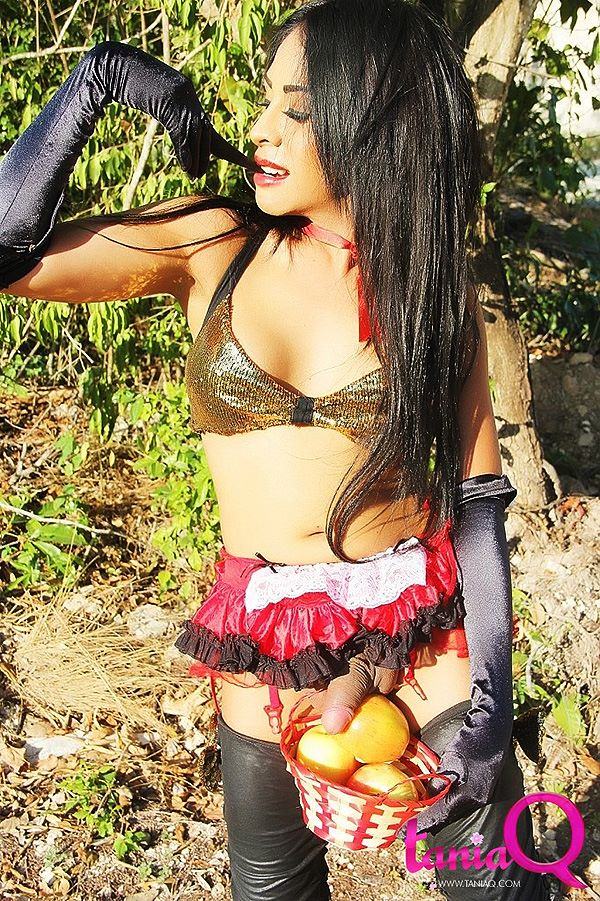 Did you happen to notice whats in the fruit basket? Yes that is her fat cock starting to get hard thinking of you playing with her in the woods. Come and stroke it for her and see how big it gets.
For more samples on this website, click here.
Other wise do not miss this chance to see the amazing TaniaQ completely naked and a huge hard on!
Tranny Cock Outdoors! TaniaQ is at it again! This woman always has her cock out! And she seems to always have it out, outdoors!
Its amazing really. Tranny cock outdoors is a major turn on and TaniaQ seems to be the queen of these photos and videos. She also loves getting off. Tania says its not all about penetration. Building to that is the best part. So like going to dinner and the entire time you sit caressing each others cocks. Then you go to a movie and slowly stroke each other. Or better for Tania, go for a walk and sit in a public area and play with the head of each others cocks while outside.
Check out her members area right now to see her photos and also videos. Inside or outside she has videos to match all tastes. Further more she has the photos to match as well. You just need to surf around in her members area to see them.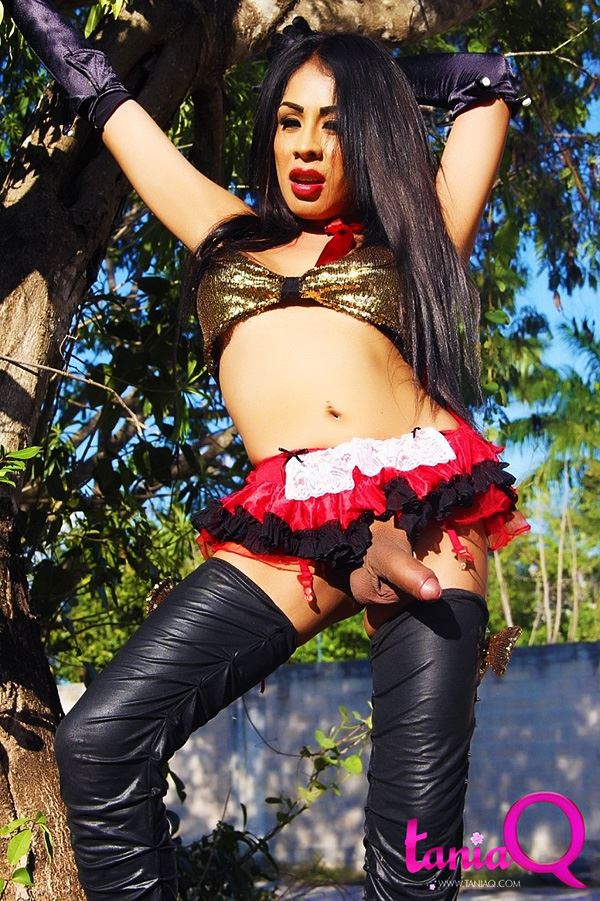 Click here to check out the members area of TaniaQ's site right now.
Rate and also comment on this blog please.
Further more remember that there are plenty of amazing sample photos and videos right here on this site.
Tranny tits!
And notice a whole lot more in this photo! This of course is the amazing TaniaQ and she has her perfect tranny tits exposed once again. Did you also note that she is outdoors? Yep and that's her juicy cock hanging down! Can you imagine walking or driving by the location and seeing Tania pose like this for the camera? How hot would that be? What would you do?
For those of you who do not know! This is TaniaQ! She is the amazing Mexican tranny babe that keeps popping up all over the internet. If you have to ask yourself why then you have not looked. With Round tits and also a thick cock she is perfect and horny as hell. Tania is also always on the lookout for some fun. So if you are in her area make sure to say hello and maybe you can star in a video with her.
Click here to join TaniaQ right now and have some fun with her!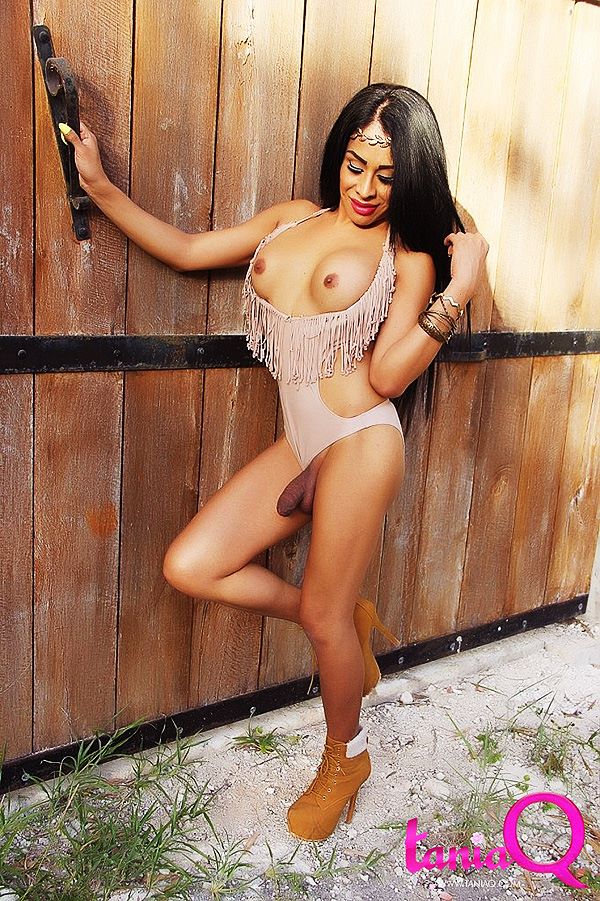 Do not forget to play with those amazing tits as soon as you can get them into your hands.
Further more if you want to see other samples of TaniaQ, just click around here on this site.
Hard Nipples and boots! Yes I said boots! But I am certain your focus is on my hard nipples! Or at least I hope it is! If your a boob man you just might enjoy mine. They are very firm and my nipples get nice and hard when someone touches them. So yes that means that when this photo was taken someone had been touching them. Or maybe Kissing or licking them.  So tell me, are you into boobs? Or do you want to play with my tight little love tunnel?
Did I also mention that my tranny tool is a pretty big one? Its just at 10 inches long and very fat.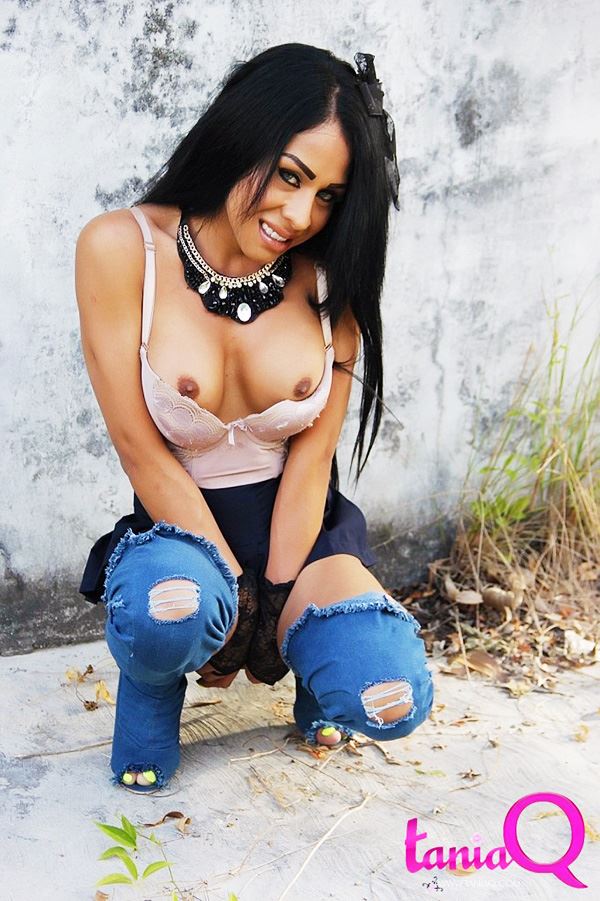 For those of you who like soft care photos and videos. I have them. But I also have hardcore and toys.
Let me know what you prefer and maybe you can even come and shoot with me? I am always looking for a hard man to shoot with and play with. We can get into some hot and hardcore fun on camera. That of course adds to the pleasure of it.
Click here to join my members area now.
Or surf some older posts on this blog. Also make sure to rate and comment as you go.
Red Lips Perfect tits! And a big cock! Also a tight ass that needs some attention! Just so you know her tits are a perfect C. Her cock is 8.7 inches and hard as hell. And lets not also forget that her love hole is to tight you can peel a banana pushing it in.
Join TaniaQ and enjoy this set of little red ride me hood shot outdoors and with a beautiful car. Her cock was so hard from pressing against the metal! Can you just imagine bending her over the hood of this car. Just locate the perfect deserted road. Pull to the side and get out. Then yank her panties down and push her face down on the hood and slam home your hard cock. Ride her ass hard and make her scream in pleasure.
TaniaQ loves it a bit rough so be the man you want to be and give it to her.
Now TaniaQ just needs you. Click here to join!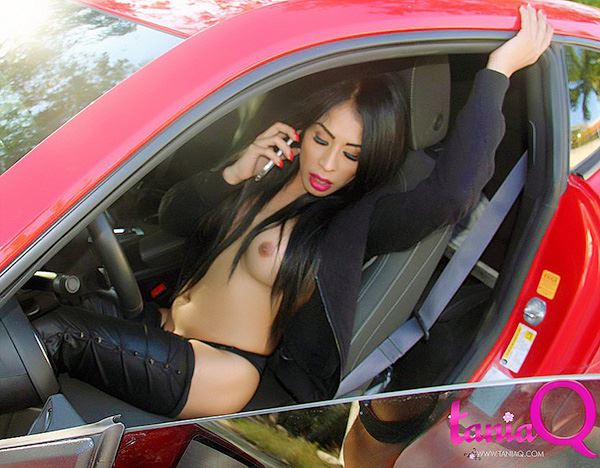 And yes with Red Lips Perfect Tits and a hard cock she is the perfect girl for you!
Click here to join now.
Hot Sites to check out!
Categories