Browsing articles in "Panties"
Thick Juicy Tranny Cock! TaniaQ has a hot one! Yes guys I do! Or at least I have been told I have a thick juicy tranny cock! And the good thing about that for you? I get nice and hard in your mouth or hand and then I can stick it into your ass hole and spread you wide. Pumping in and out. Making it hurt! Or I can go soft and slow and the only pain is from the girth of my cock spreading you love hole wide open! Just imagine the head of my cock piercing your anus! Also think about you getting behind me and doing the same thing. Stroking in and out and everything you can imagine!
Click here right now to enjoy this photo set!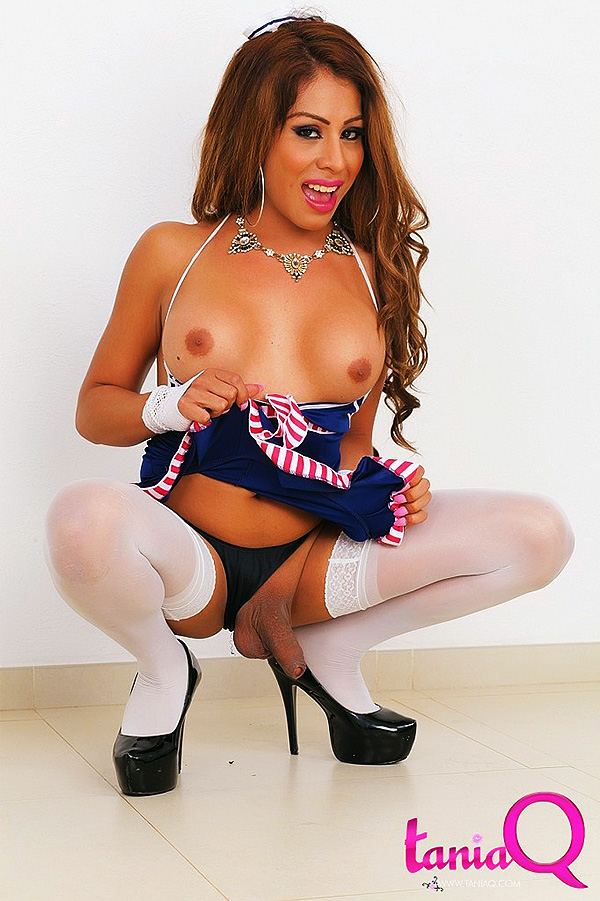 You can also surf around this blog for some more samples.
Further more once you are in the members area. Contact me right away! I can not wait to meet you and fuck.
Lingerie heels and TaniaQ cumming! OK check out the photo below. Thats the amazing and stunning TaniaQ in lingerie heels and a load of cum on the floor! First of all do you know TaniaQ? She is one hot and sassy tranny that loves lingerie But she also loves heels and often makes a combo out of them. But more than that she loves to get off with men!
Take a look at the image below and also dont miss out on the video in the members area. Another thing is you might be able to shoot a movie or photos with her so contact her now! Join Here!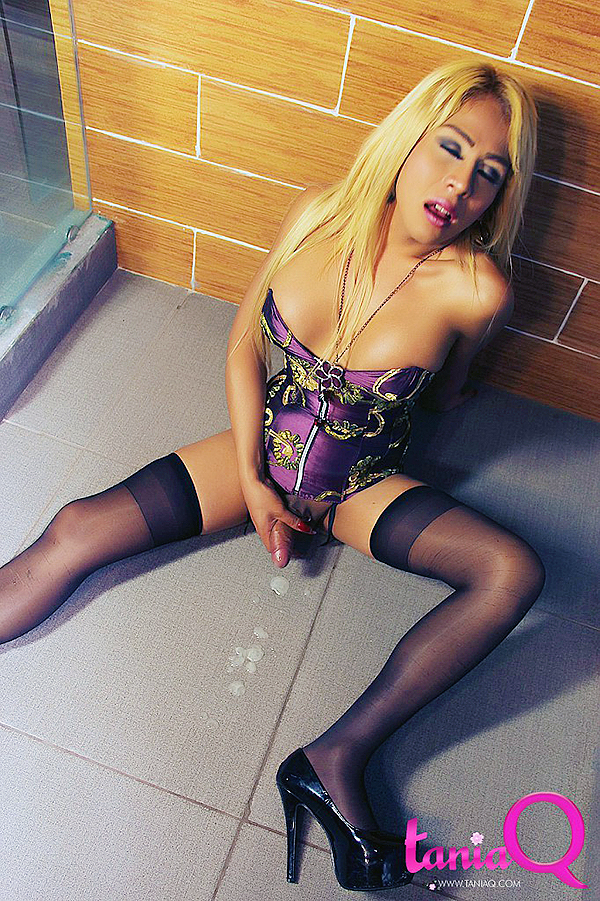 Click on this link to get into the members area and also the time of your life.
Also like webcams? Check this out for free!
Furthermore guys. Do not miss out on some of the other sample photos Tania has if this is not doing it for you. She has so many you might get lost on this site. So if you do, click a banner and find it all more organized and her Trans Cock rock hard!
TaniaQ stockings and heels. And check out that spread! When it comes to sexy clothes, like stockings and heels TaniaQ stockings always look the best. No thats not the name of the actual clothing thats the name of the amazing tranny girl thats in them. Also the name of the girl you need to remember.
And if you dont know who TaniaQ is just take a look at the image below. The hot tranny sitting there is Also one of the hottest girls online and one of the best fucks.
Another thing, Tania sure loves her panties. TanaiQ stockings always are shown with sexy panties !
Join her members area right now to see more!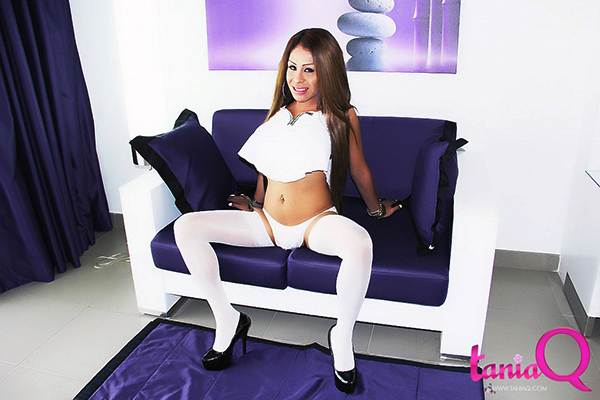 Right now and also this week is your best chance to get with TaniaQ. Message her in the members area.
Also guys did I mention that there are hundreds of photos and video sets for you to enjoy? Well now I have. So feel free to click around here for more free samples of me in Lingerie!
Well well. Once again we have something super hot from none other than TaniaQ. Its a lot more Side boob stockings and heels. And I for one and so horny, errrr Happy to see this photo set. So now back to the hotness of this photo.
Lets break it down and see what your favorite part is. I will tell you mine. But I have more than one. So for me we start by checking out those hot and sexy red high heels. I think that red high heels look amazing on any girl and that these make Tania's legs look great. Then as we move up we get to the stockings. Tight and black and all the way to her thigh. So nice to caress with your hands and tongue. From there we see the nice curve of her ass and the contrast of the color of her skin and the knee high stockings. All that is a combo made to make your cock hard.
From there up we get to a super hot side boob shot. And in this shot her side boob looks huge! Tasty and lickable! So now that you get this view of side boob stockings and heels. Its time to see more. Just click that image below.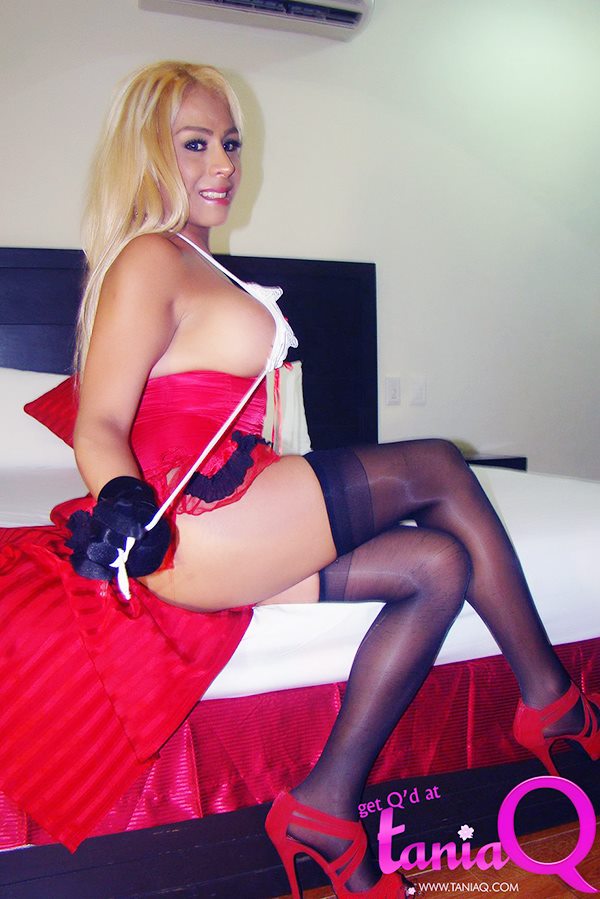 Find more about the Sensual Trans TaniaQ. Click her name <—-
Heels! What kind do you like to see? High heels or the lower ones? First of all, I personally feel the high heels tend to make a girls legs look better. Another thing is they tend like to make a girl stand more straight. This of course also pushes her boobs out! Giving you a better look at her body and how nice it a is. Most of all I think they just look very sexy!
The next thing is what kind of heels do you like shoe wise. For instance here I have on a small boot with a heel. I was working after all and have to look the part! Wink wink! This heel also is a little higher than normal for a boot. Its not the highest I have seen but I found it sexy!
Dont you just think I look adorable as a secretary? Come and sex me up and make me take your DICK tation!
Are they hard to walk in? Not really! Once you get the hang of them you can also run in them! But dont worry guys, I wont run away. tranny? I will run right to you!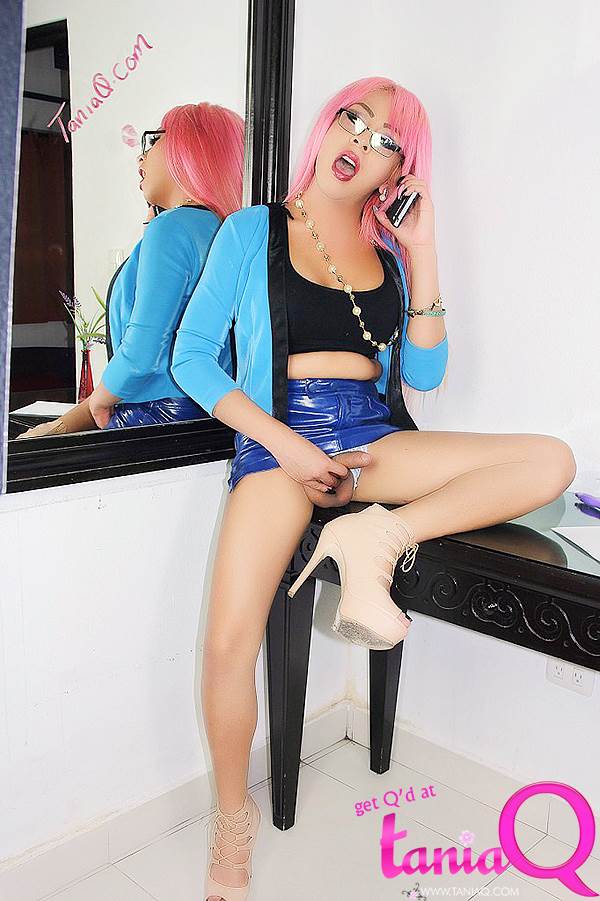 The next time I go to work and grab a few photos to share with you what should I wear? Should I also wear a skirt or a longer dress or maybe shorts? I do love to dress up and get men hot and I want you to know what you like to see. What kind of sexy clothing or heels turn you on?
Lets chat in my members area or you can just post some comments here on the blog.
Either way I do hope to hear from you. I want ideas for photos and videos and I also want them for sex! I love to fuck and can never find enough ideas to keep things hot. So if you have them let me know.
Kisses to you Babe.
SO who wants to see an upskirt panties shot? Yeah I know you do so that means just look below! The topic of this blog is of course TaniaQ and that is her hot little tranny ass in the photo below. Now. Not only is this an upskirt panties photo. But its a bit of a cleavage shot as well. And if you ask me. That is HOT. Getting to see cleavage and panties at the same time? Yeah and on a hot little slut like Tania!!!
Now most of you already know TaniaQ and you love this little tranny slut. She is always dressed up and or doing something that is a bit wild and crazy. She is also the girl that loves to get naked outdoors and show off her firm trans girl tits and fat and juicy tranny cock. But honestly one of the hottest things that she does is to wear short skirts and flash her panties. Yeah I mean its smoking hot. And she does it all the time.
Click on the image right now.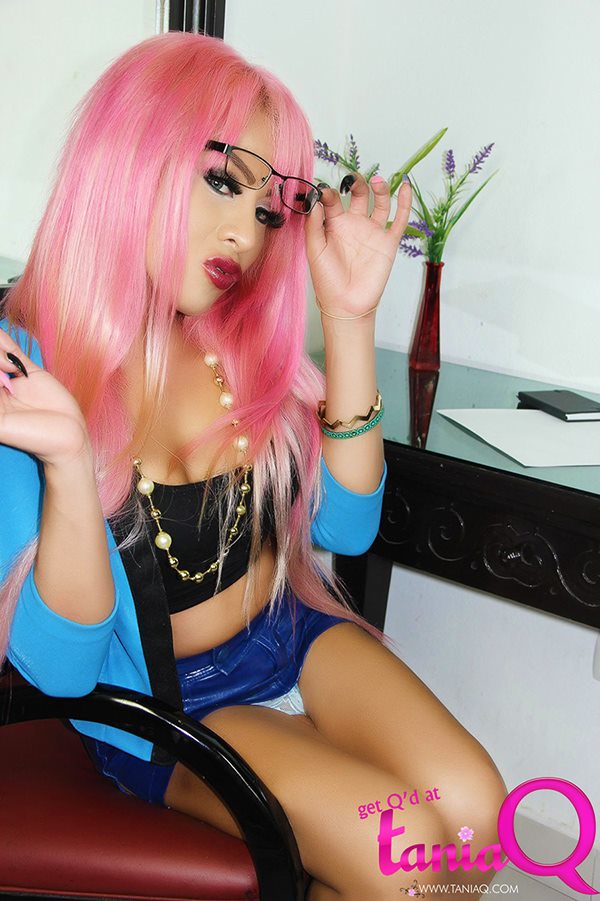 As you can see in this Upskirt panties photo, Tania has on lace blue panties that match her skirt. And as we all know she has a fat and juicy cock hidden inside those panties.
Now I am sure we have talked about this topic before. However, when I saw this photo and the set it is in, I just had to share with you once again. Spread tranny legs are such an invitation to a lot of people and most of you do not really know about it. Trans girls usually have to be more careful about how they sit. As well as what they wear in public. After all they need to rely on their panties keeping their cock tucked back an in place. Most of the trans girls that is. Some are different.
Take a look at this photo of these Spread tranny legs. Yes that is TaniaQ and she is showing off another one of her sexy outfits. But the super hot thing about this is, that she actually will wear this to a club in public. Not just the high heels, stockings and short skirt and short top. But also those lace panties. And whats so hot about those panties? Well they are not the kind that can control her cock. That means if she gets hard her cock will either pop out or rip them open.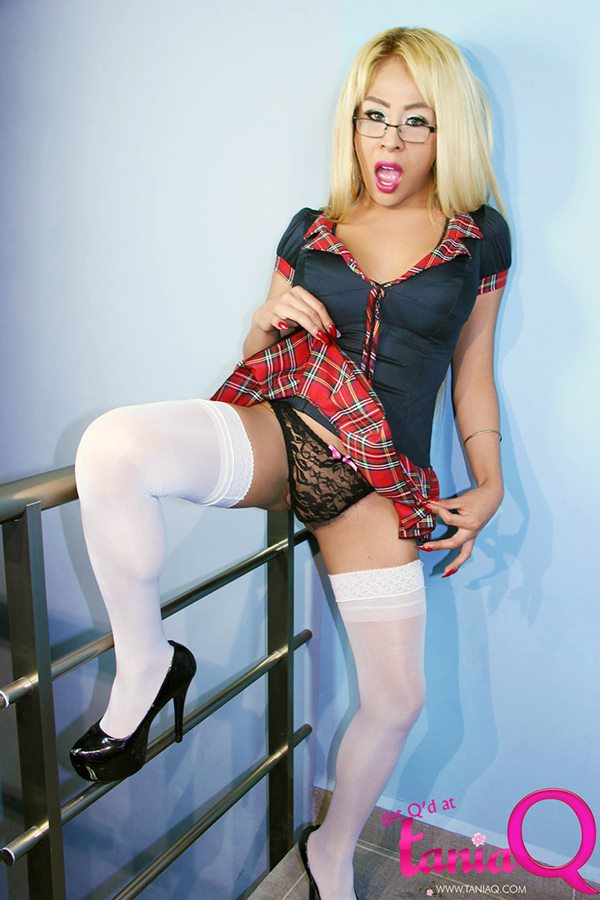 Now one of the hottest things about these spread tranny legs. Is simply that TaniaQ will do this in a public place if enough people want to get hot and have some fun.
Everyone loves to play with a sex toy. Especially when you are with a trans girl that you enjoy. Take for instance TaniaQ. She loves a good sex toy because when she is alone it takes the place of a man. And when she has a man naked and hard in bed its an addition to the wild time that she wants to have. Just think of all the things that she and you can do with that toy. Yeah now you are getting some hot ideas in the back of your mind. So why dont you tell us about them? We would love to know so that we can share them with TaniaQ.
Just take a look at the photo below of Tania as she poses with one of her toys. What ideas come to mind with this? What would you use that toy to do once you got her naked. Would you have her laying on her back like in this photo? This of course would not only thrust her tits into the air but her cock would be standing up hard and waiting for attention.
Or would you lay her face down with her hips propped up a little on a pillow? That way her love hole is open and ready for anything that you do. Using the dildo to work her ass, or you can lube your cock and slip it right in. What do you prefer?
Click on the image below to check out more of this set and to see what she does with that sex toy!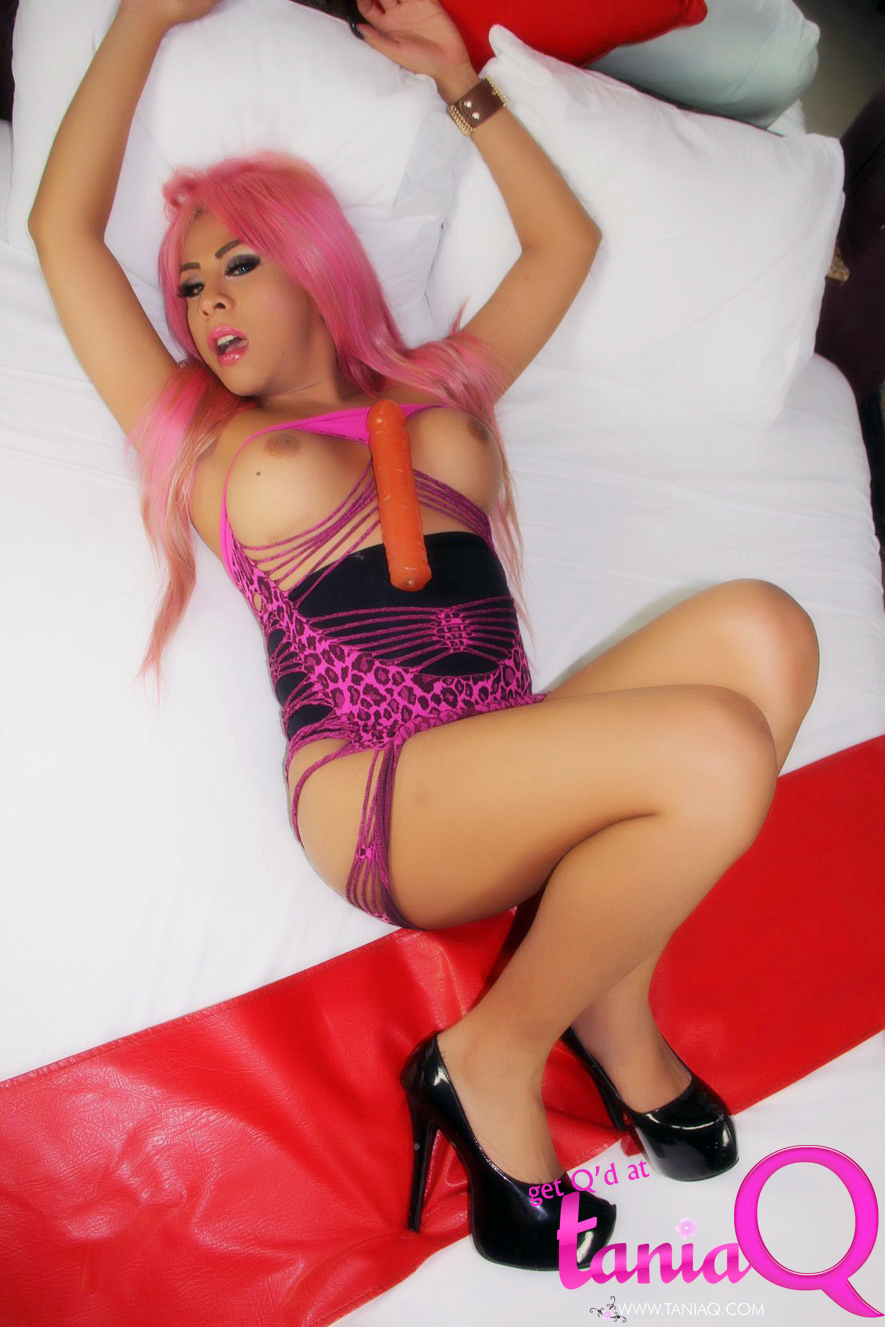 Who else could we be talking about other than the hot, wild and a little crazy girl TaniaQ. I mean really. Flashing Trans girl cock? Yep that's her and she is actually standing in a public pool. It was adults only day and there was some heaving swinging going on so TaniaQ decided that it would be perfect for some photos.
That means that it was a lot of fun for her because everyone was watching. However there were some shocked faces when she started flashing trans girl cock to everyone. A couple of the ladies blushed and a couple wanted to play. But all the men stared in rapt attention as that big cock came out of her bikini bottoms.
So she got into the pool and drew a couple of looks. However it was when the cock came out that everyone started to really pay attention. She even had some applause when she was done with the photos. And Tania says it was the eyes on her that made her cock stiff.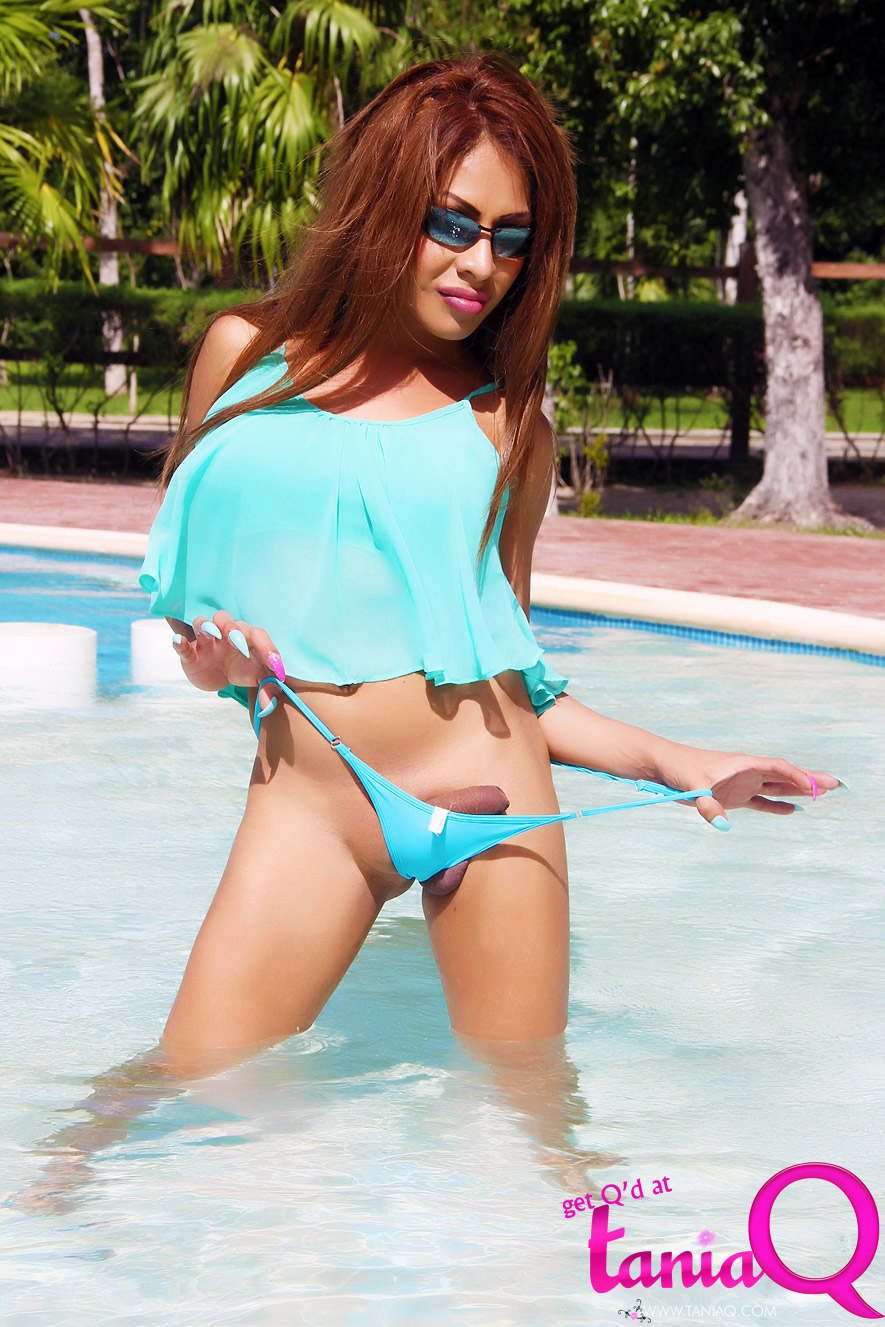 This set is a good one and she has a couple others from the same day at the park. Make sure to enjoy them all and rate and comment on them as well.
What to know one of the hottest things about looking at photos of a spread legs trans girl? Its simple and in this photo quite obvious. You know she is packing some heat between those thighs.
In fact in this photo below of TaniaQ our spread legs trans, you can quite clearly see her bulge and it looks oh so tempting. And I mean super hot. Can you just imagine being able to trace your fingers over her shorts? Caressing her cock as it throbs below the silk of the shorts? Watching it grow stiff as you touch her big firm tits and play with her ass. Then pulling that cock out the bottom of her shorts and caressing the head as it drips precum!
Getting to enjoy photos or videos of a spread legs trans girl is always hot. You are getting to enjoy her without all the other issues that can be involved. And you are also getting the chance to get off with her and at no risk at all. And that is another turn on about TaniaQ. She wants you to cum as hard as you can. And if you try to time it, you will shoot your hot load at the same time she does.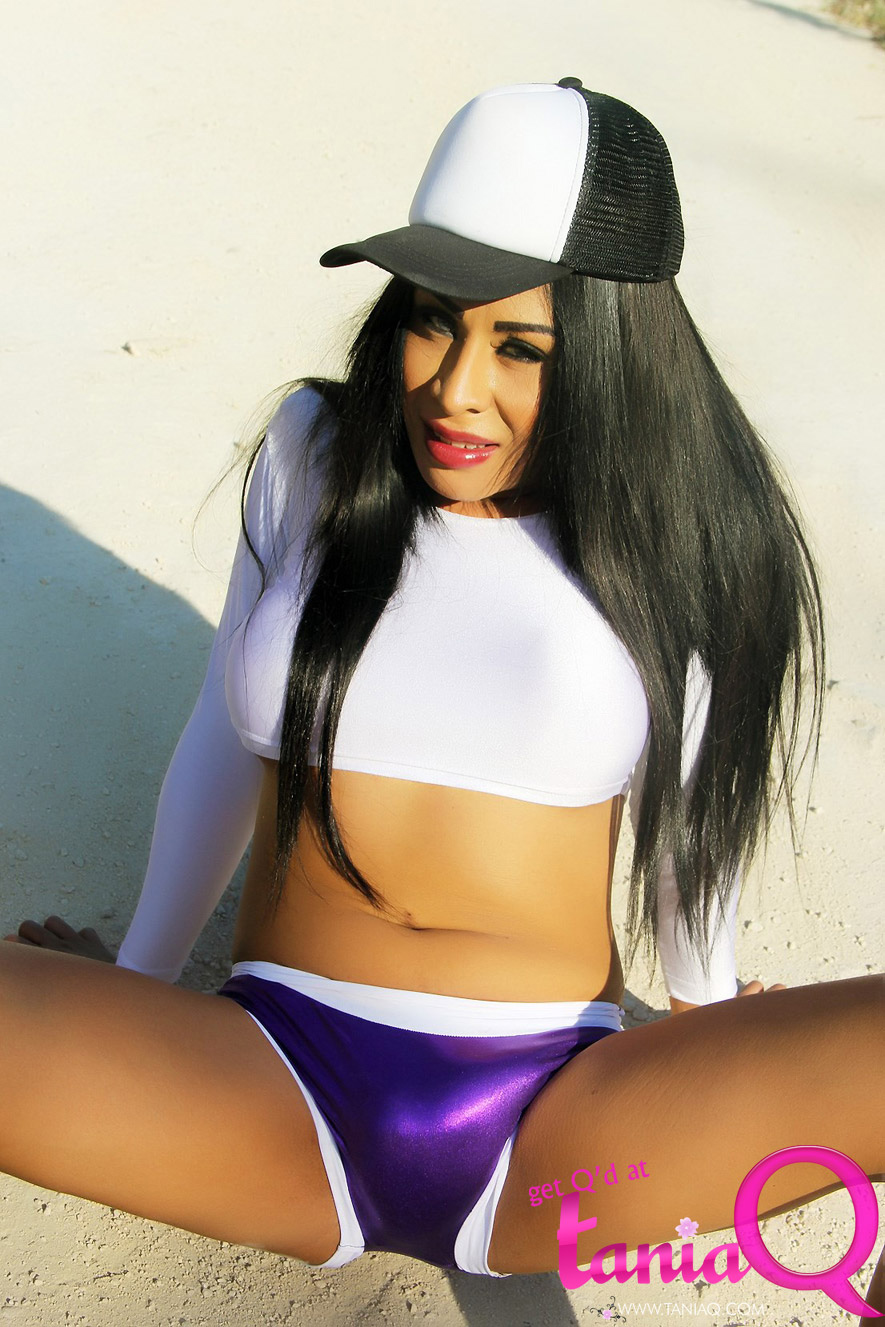 Do not miss what happens next!
White Panties! Sexy Tranny and spread legs! So, do you like white panties as much as most men do? I love to see them and wear them. If you are also into white panties I want to know about it. You need to post here and tell me so we can talk. Talk is hot and so am I and I want you now!
Hi guys, I'm TaniaQ and I wanted to show off some samples of my photos and videos here on my blog. Please forgive me if anything is misspelled as English is not my language and I have someone helping me.
Now, lets get back to talking about white panties! As you can see in the photo below I have on a sexy pair of panties as well as stockings and other lingerie. I was just outside on the blacony messing around and decided to fill the hot tub and jump in! Would you like to join me some time?
Have you ever been with a tranny when she has on a pair of sexy white panties? Stroking her cock with the panties covering it. Stroke until it gets hard and pops out the top and then you can suck the head of her cock? Its a lot of fun and a real turn on and something you might want to try next time your with your favorite tranny! She will love you for it.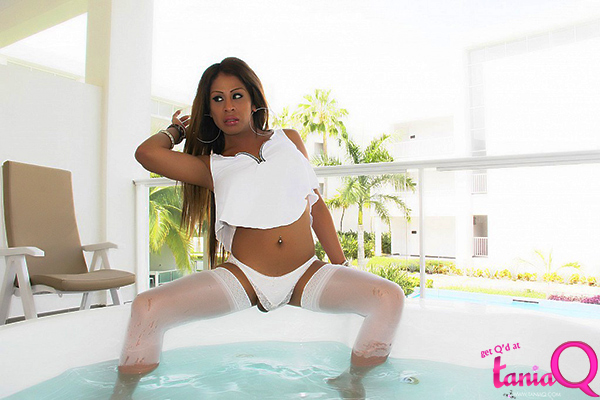 Well If you have not already been into my website now is the perfect time. You had this tease photo and enjoyed it so now its time for me, Naked spread and hard. If you want to meet up we might be able to work something out. So let me know right away.
I love my members and seeing comments from them so make sure to say hi there in the members area and also here on the blog.
Let me know what else I can show you samples of !
XOXO TaniaQ!
Sometimes its a lot harder to hide trans cock in panties. It just depends on a few things. First and foremost it depends on the size of the panties. And then secondly it depends on the size of the trans girls cock. So for a girl like TaniaQ its a lot harder than for some. If you are not following on why its because she has a big cock and the damn thing is almost always hard. So its harder to hide in panties. The other thing is, that for Tania at least, she really does not want to hide her cock. She wants you to know that she has one and that its a big one.
So take a look at this trans cock in panties set we have here. Yes those are panties and not shorts as they are a part of one of her cosplay outfits. However with her half shirt fitting her tits so well she decided that the panties combo was hot enough for a photo shoot and also a movie. And now that you have seen this sample photo your cock is already begging you to see more. That is the ache that is building low in your balls and the twitch in your cock. So make sure they both get pleased and click to see more of this trans cock in panties.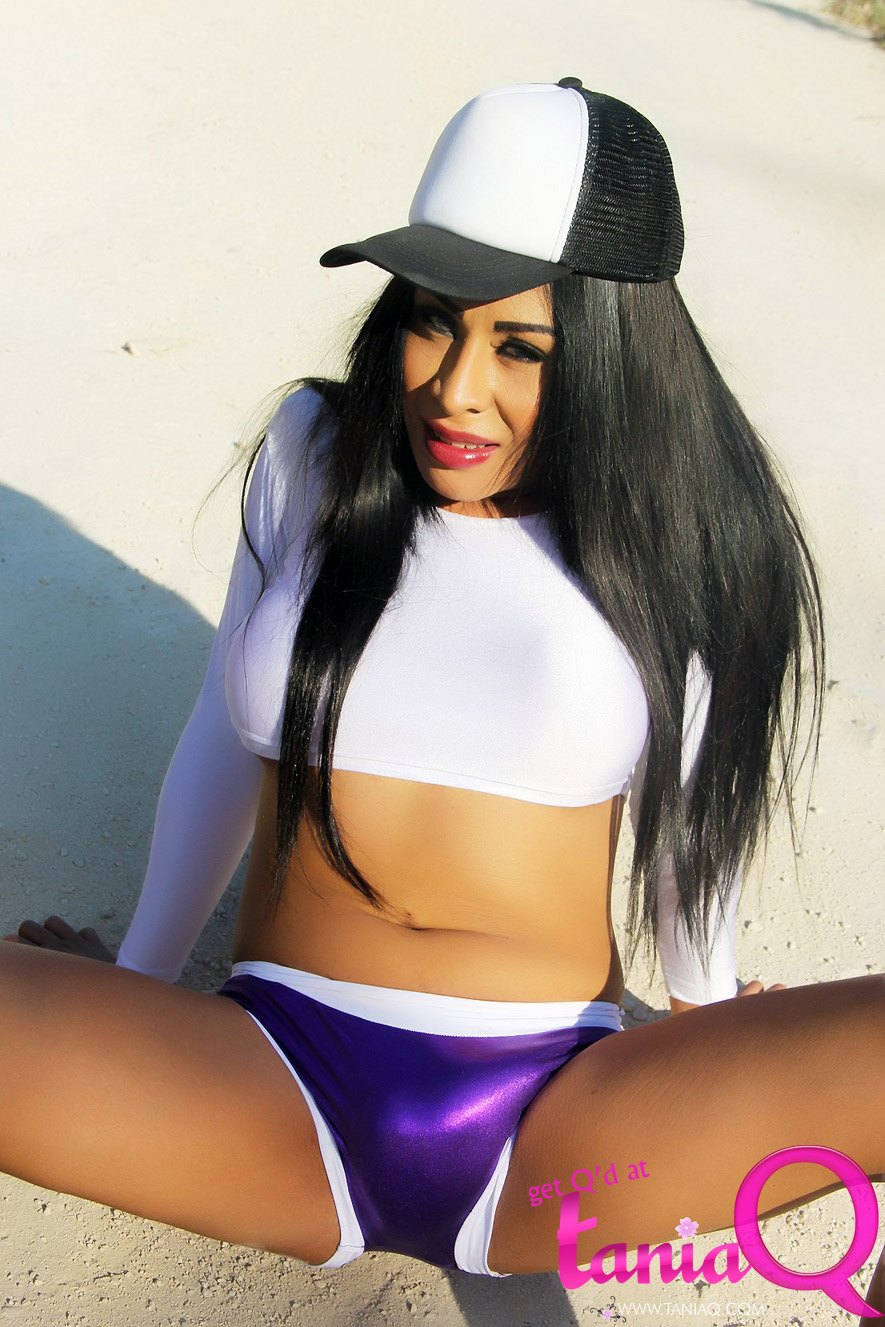 Hot Sites to check out!
Categories