Browsing articles in "Tits"
SheLesbian Tranny Fuck! Come and enjoy the action! Most girls say they love a good SheLesbian Tranny fuck. But honestly only a few of us do. Nikki Montero pictured with me, TaniaQ below do love it. We had done this so many times we dont even know the count. But its always a good hot fuck. You know you do not want to miss out so keep reading!
So if your up for trying something new like being in bed with a couple of Shelesbian trannys. Then you have come to the right place. This video in my members area is nice and hot. It also has a photo set along with it. Your going to love watching! Dont hesitate to join Tania and any of the girls she has in her site. They would all love to meet you.
Click here to watch the hot SheLesbian action!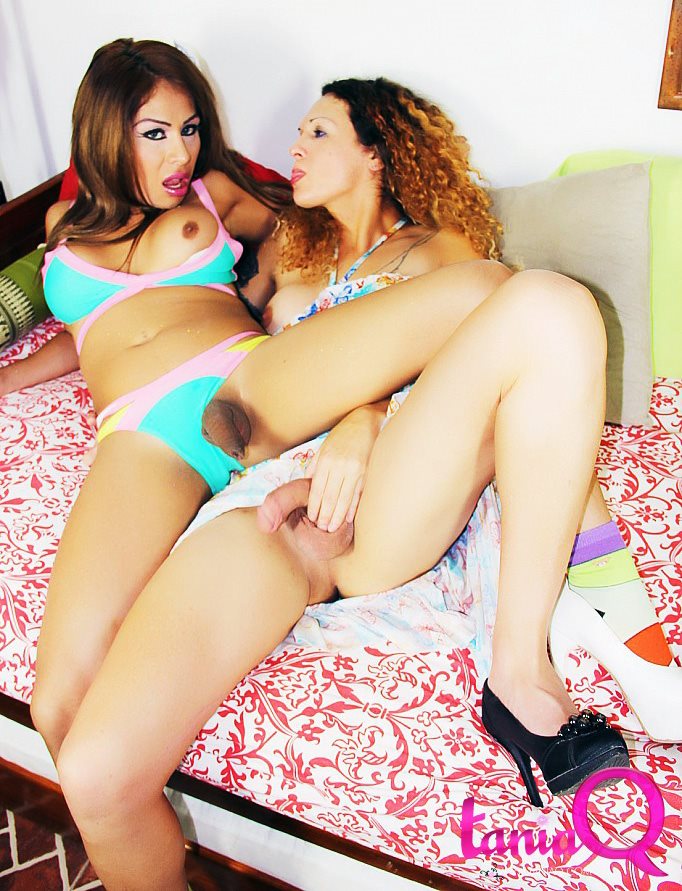 A hot tranny fuck is always fun to watch or better be a part of. So if you in the area and horny next time we shoot. Feel free to drop by and jump into the bed party!
Click here to see more of this set of shelesbian action!
Otherwise surf some more hot samples of me showing off my big juicy cock!
Blonde trans girl nipples. Yep this is it. The Blonde trans girl nipples photo you have been looking for. And that means its almost time for you to shoot a hot load and enjoy getting off with TaniaQ.
For those of you who do not know TaniaQ she is the blonde beauty in the photo below. She is a Mexican trans girl and she loves to have a good time. From dinner out to dancing and walks on the beach or in the mall. Coffee at a cafe and ice cream. But in everything that Tania does she makes sure to dress like a proper little slut for you. Just let her know what you want to see. And you can almost always count on seeing this Blonde trans girl nipples. She always has them showing in one way or another.
Clicking this image will get you more samples of this photo set.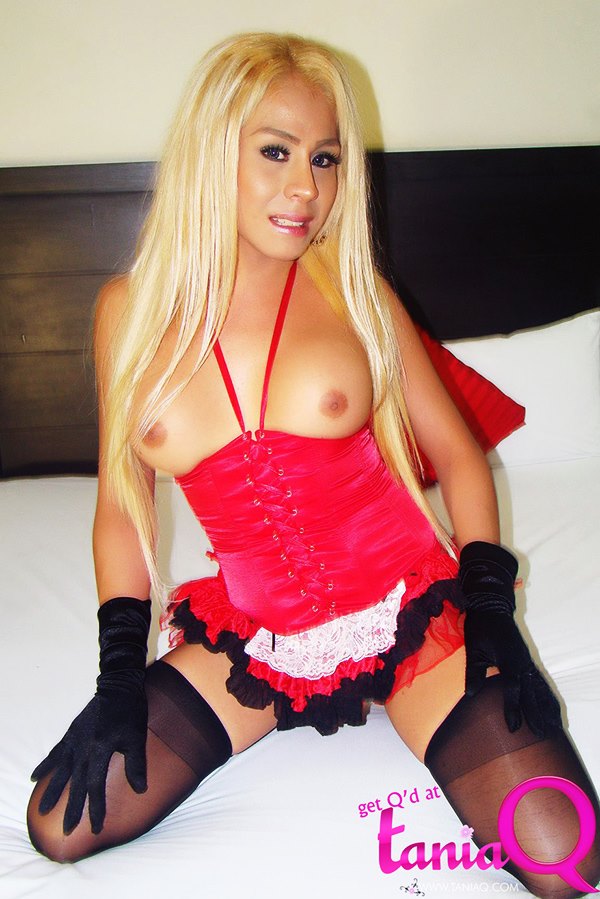 So back to our trans girl nipples. Tania has a great set of firm tits. Its one of the reasons that she can go out without a bra and she can show them off. Bikini or transparent top. Anything and everything looks amazing on this girl. The firmness of the way her tits stand out. Seeing her nipples as they push against the fabric of any top she has one makes you want to reach out and touch them.
Click right now and see more now!
Naked Outdoors and stroking my cock! First of all its fucking hot to see an amazing body naked outdoors and when its a tranny with a thick and juicy swinging cock! Its even better. And honestly you have a huge chance of running into TaniaQ and her also being naked when you do. Just make sure you peek around your favorite park as you might see her there.
As a matter of fact it is often hard to keep Tania dressed. And for you and I that is a great thing. This little tranny slut is always so hot she just strips where ever she is and we get to enjoy watching and touching this amazing body.
Another thing is its fun to fuck outdoors and that's what TaniaQ was hoping for when she shot this set. Sadly there were no guys around with their cocks swinging!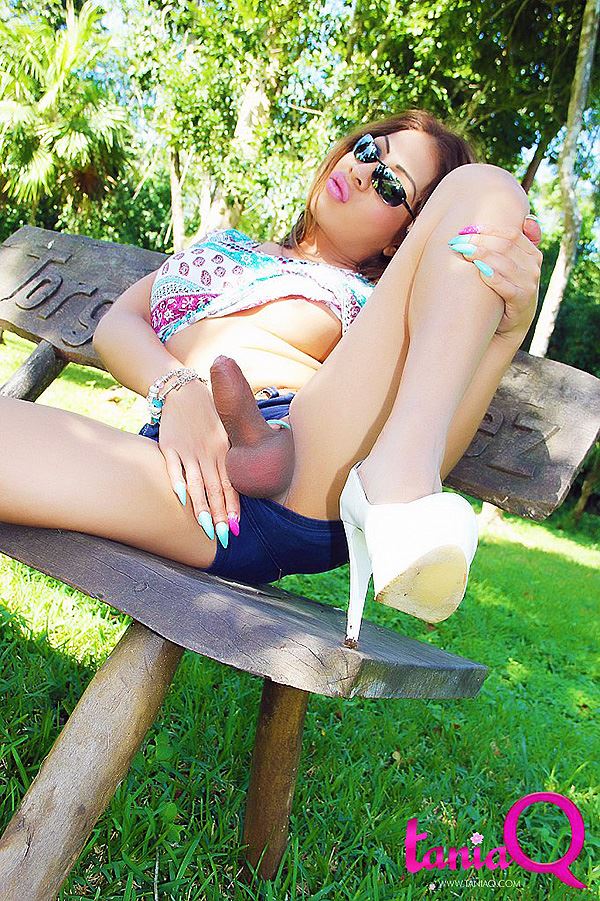 If you have a cock thats ready for some action and also ready to cum. Join TaniaQ right now!
You can check out other posts of her here on this blog.
But always remember to rate and also comment. Make sure that Tania knows who you are and how you found her. Also make sure you tell her what else you want to see and do.
HighHeels and Shorts! Outdoors in the sun for fun! Almost every time I leave the house, I am wearing highheels! I love them and think they make my legs look long and slim. So tell me, what do you think? Also let me know if you just like heels in general! I want to have as many pairs as I can so if you have a favorite company let me know and I will see if I can get them!
Another question about highheels is what colors do you like and how big of a heel. The pair I have on below are a great fit and I can walk with no problems. But I feel they are a bit to small in the heel. While I wear them I do see a lot of looks from ladies and men also. I think the ladies like the shoes and the men like whats in them! 🙂
Another thing is I think Highheels make almost any clothing sexy! They can turn regular shorts into slutty shorts. Or a average dress into a club dress! Part of that of course depends on the woman in the dress.
Don't miss this outdoor set. It is as hot as I got. Come and enjoy me.
And no, I want you to check out my photo in my heels. I do so hope that you like it. It was a warm day but the heels were amazing and the shorts were short and sassy!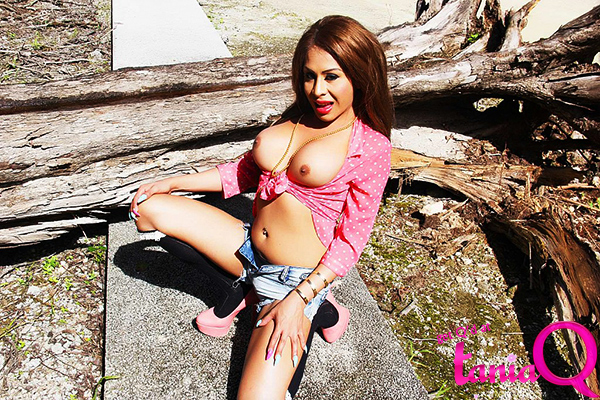 If you want to see the rest of this set of photos and any videos I made that day, then check out the members area of my website right now.
Hot Sites to check out!
Categories