Browsing articles in "Tits"
Well guys I am sorry I have not posted here for a few weeks. This Pandemic is really making things hard. But I do have a photo set to share with you and I hope you like this. I am calling this photo Tranny tits outdoors. And as you can clearly see its for a reason. I am showing my nice tranny tits outdoors! Now I do want to ask. How many trans girls do you know that will do this?
If you look closely I am standing on the side of a road way. No its not a busy street and there are not many people around. But from time to time a car passes and there are some people walking by. It was fun shooting this photo set because I actually got caught by a couple driving. They slowed down and then stopped for about 3 minutes to watch. Good thing I did not yet have my cock out. Not sure how they would have reacted. I do so enjoy getting naked.
Click on the image below to see more of this photo set.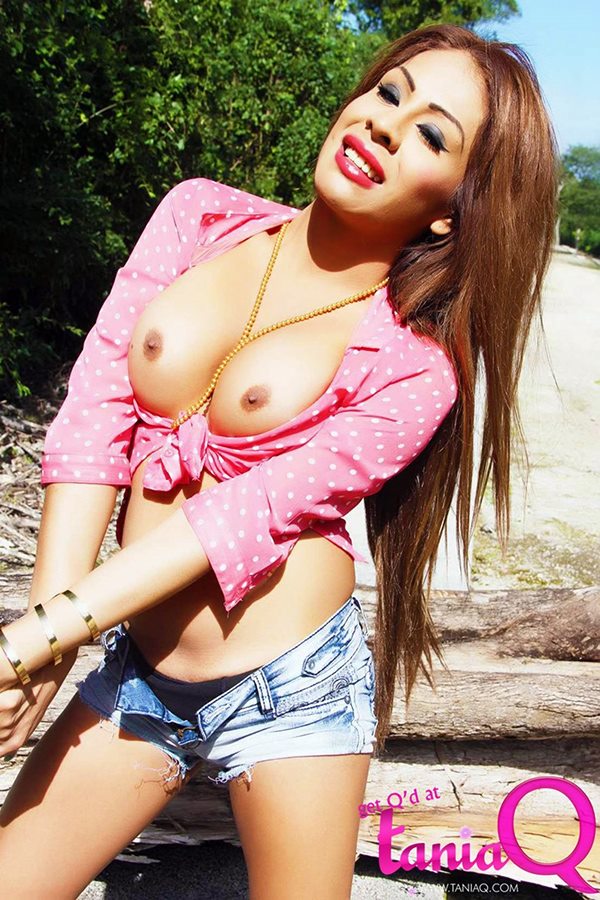 Its way past time for you to get your fill of Tranny tits outdoors. It is also time for you to get yourself into the members area of my website. This way I can share with you all of the photo sets and also the movies I have.
What to check out a set of firm trans girl tits? Well you already know they are here so just take a peek below. TaniaQ once again is outdoors and almost naked. I swear this girl cant keep her clothes on for more than 5 minutes. Than GOD. Because we love to see these firm trans girl tits. And she seems to love showing them off for us.
Now most of you know TaniaQ and you know that her tits are very fucking firm. But did you also know that she loves to feed them cum? If you want to know how she does that its pretty simple. The two of you get hot and hard and fuck the hell out of each others ass. Then when you are ready to cum, you shoot her load on this set of firm trans girl tits. Then she rubs it in and shoots her own load onto her tits. And that is one of the parts you simply must see.
Do not miss out on watching Tania and her amazing body. Get your fuck on with her and those firm trans girl tits.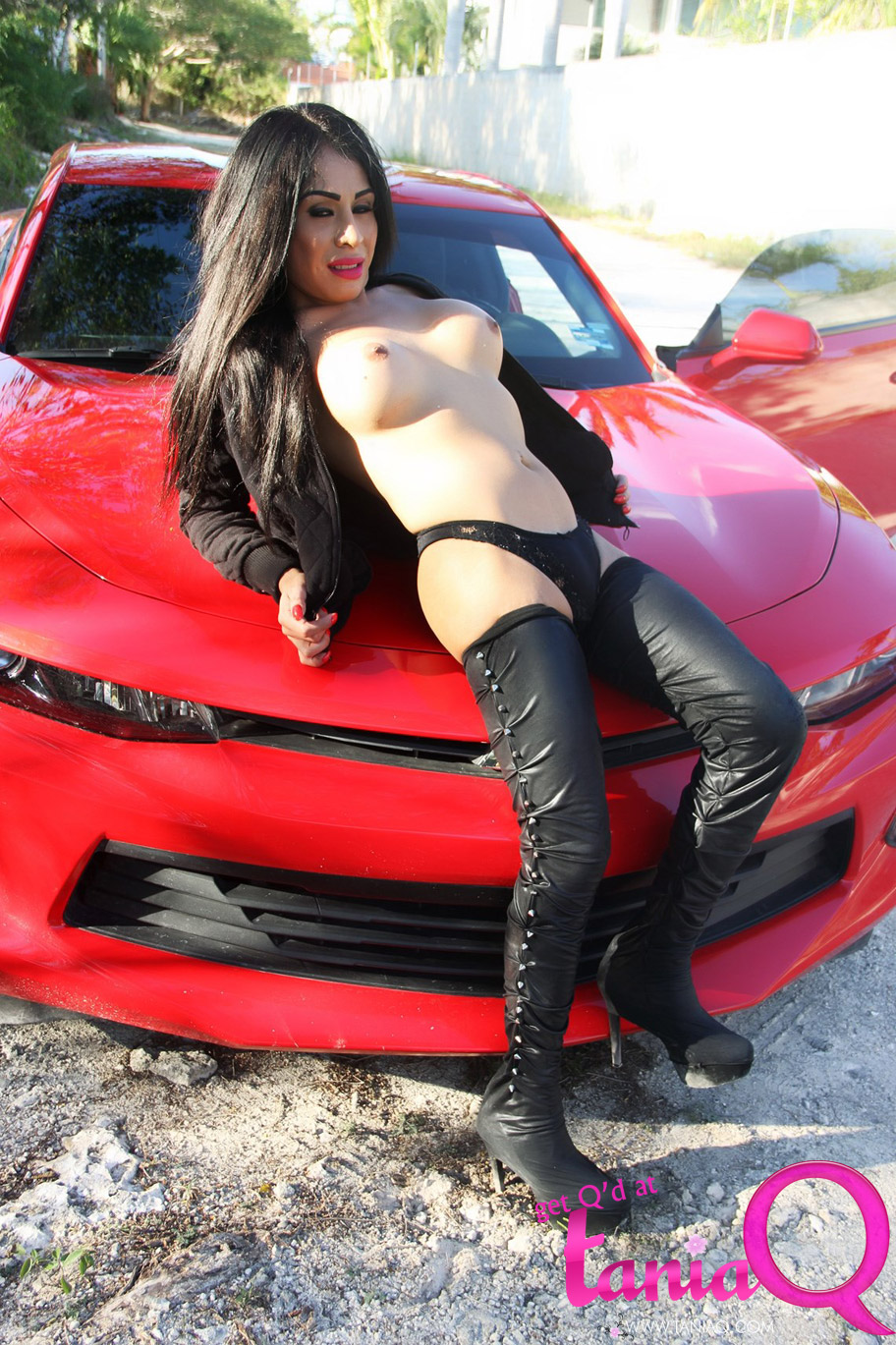 You do not want to miss the rest of this photo set. Its hot to see her outdoors with her tits and cock out!
Make sure and rate and comment on this photo set as well as all the others. Oh, and all the videos in her members area as well. You will love them so get started right now!
Pink Bikini! That's my favorite color. I guess the color of the bikini does not really matter as long as the cut is sexy. But since I like a nice pink bikini, I thought I would show one of mine off. Well? What do you think? About the color and also the cut. I adore them both.
Another thing I like about a sexy bikini other than the color is how it makes a girls body look. My little pink bikini here makes my boobies look bigger and my ass a lot more round. It also fits nice and tight and I like the feel as well. If you like the look I would love to know about it. Make sure to rate my photos or at least comment on them!
Because of the snug fit on my tits and even my ass I will often wear a bikini as panties and bra. Since I am small in general except my cock and that's easy enough to hide. I also like to wear my pink bikini with just shorts and heels. When I do, I can then strip off the shorts and run for the water if I want. It's sexy and often a turn on and that means a quick fuck some times. Bikini's make easy access for that and its exciting.
If you know of another type or color of bikini that might look good or even great on me, Please let me know! Post comments here or in my website about it. Also if you like you can just buy one and send it to me and the next time I film I will wear it for on you.
That's actually how I got this pink bikini. It was from a fan. He loved it on me in the photos so much he came to see me. But I cant show you those photos or that video. Those were private!
Join me now and lets talk about things. Clothing and what ever turns you on.
Slutty High Heels and stockings. Well guys. As you most likely already know, my name is TaniaQ. And yes that is me in the photo below. I was posing in my Sluty High Heels and thought that I would share a photo from the set. I hope that you like it as much as I do. Its very sexy and I was really turned on shooting this set. My cock was really hard and ready to fuck some ass that day.
I guess I always get really horny when I shoot photos and videos. So come and shoot with me some day. Then we can fuck really hard.
Click the image below to check out my website tour.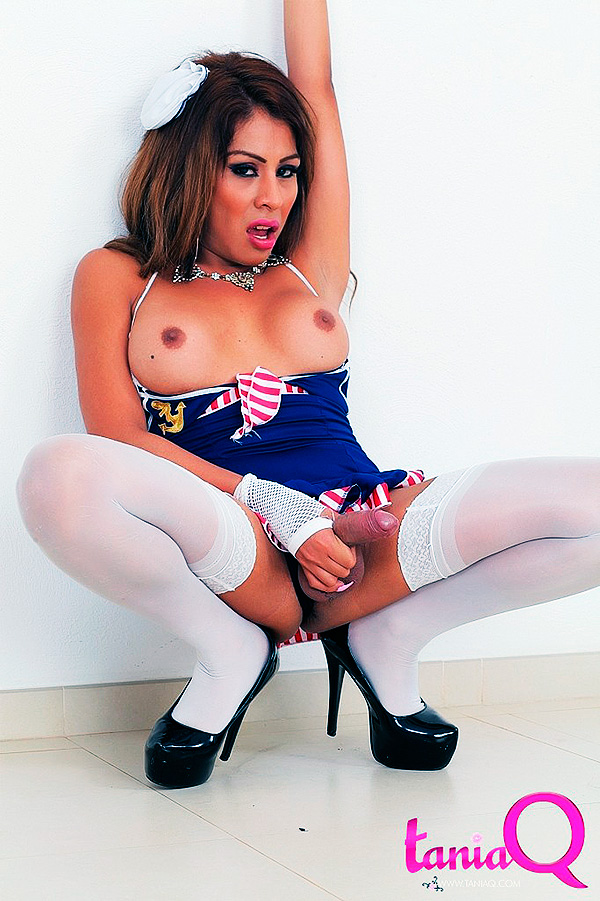 Click here now to join me and see the rest of this photo set.
Other wise you can see more sexy sample photos and videos of me here on this site. Just be sure to understand that these are lower quality than the ones in the members area.
Hot Sites to check out!
Categories