Browsing articles in "TaniaQ"
Heels! What kind do you like to see? High heels or the lower ones? First of all, I personally feel the high heels tend to make a girls legs look better. Another thing is they tend like to make a girl stand more straight. This of course also pushes her boobs out! Giving you a better look at her body and how nice it a is. Most of all I think they just look very sexy!
The next thing is what kind of heels do you like shoe wise. For instance here I have on a small boot with a heel. I was working after all and have to look the part! Wink wink! This heel also is a little higher than normal for a boot. Its not the highest I have seen but I found it sexy!
Are they hard to walk in? Not really! Once you get the hang of them you can also run in them! But dont worry guys, I wont run away. tranny? I will run right to you!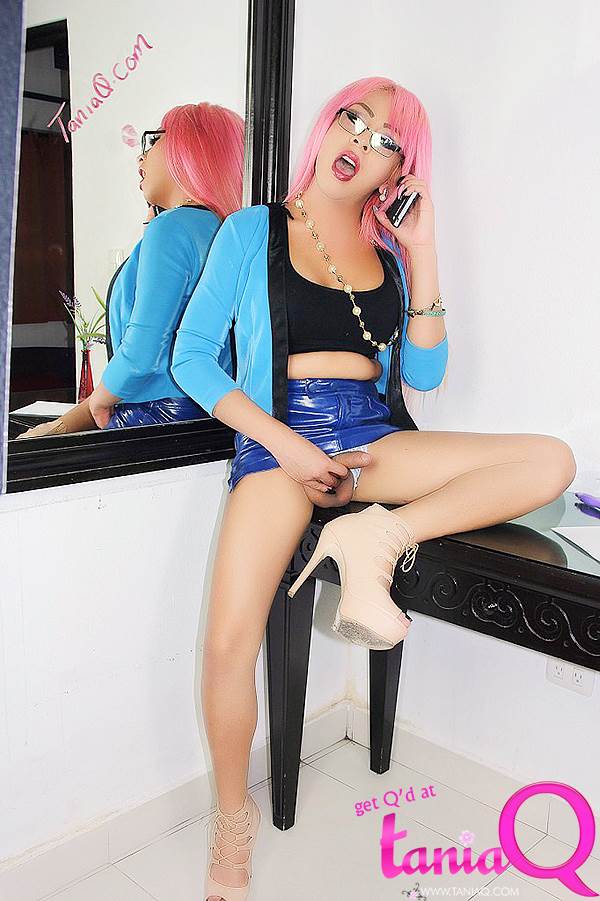 The next time I go to work and grab a few photos to share with you what should I wear? Should I also wear a skirt or a longer dress or maybe shorts? I do love to dress up and get men hot and I want you to know what you like to see. What kind of sexy clothing or heels turn you on?
Lets chat in my members area or you can just post some comments here on the blog.
Either way I do hope to hear from you. I want ideas for photos and videos and I also want them for sex! I love to fuck and can never find enough ideas to keep things hot. So if you have them let me know.
Kisses to you Babe.
Panties! I love panties. The way they hold my cock when I have on a skirt. It feels so sexy. I often end up getting an erection when I have on panties and a skirt! Mostly when I walk any sort of a distance. Then I fan? have to sit down and hide my cock! Until it gets soft again so I can keep walking of course.
I think it has something to do with the way the fabric of the panties caress the head of my cock. It tingles. Some times so much that I end up taking my panties off. But normally I can just wait it out. If that does not do it, I hide my erection with my purse until I can get to the bathroom to masturbate.
That always gives me a 10 to 20 minute window before my cock is hard again. Yes gentlemen its a real turn on to wear them. If you see me in the mall our out in a skirt you can bet I have on panties. Walk by! See if I have a hard on. Make sure to say hello. Be polite and you might get the time of your life. I don't mind flashing my cock in public to fans. So lets see what happens. It might fulfill one of your fantasies. I know it will mine.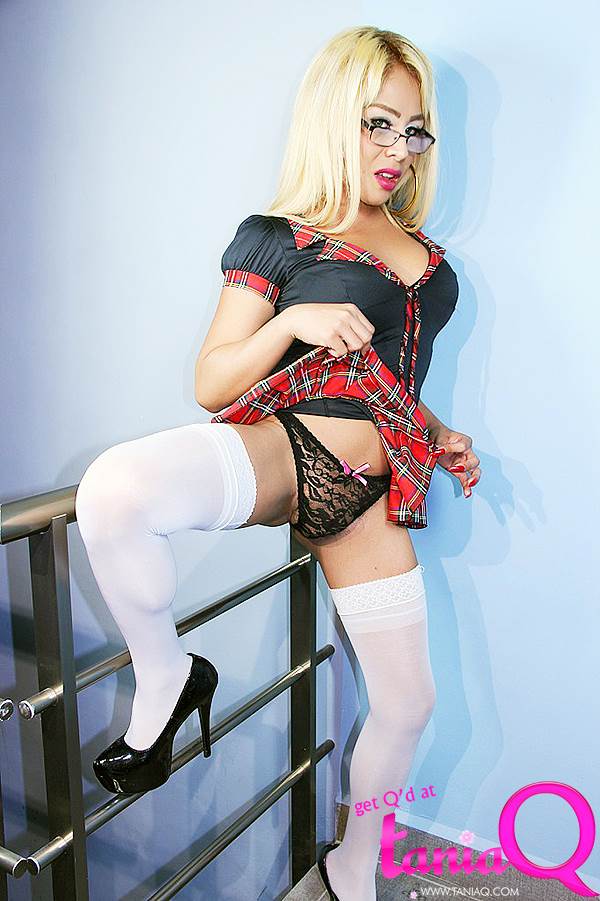 So. What kind of panties do you want to see me in? Or maybe you would rather see me out of them? Also what kind of skirts do you like? For me, the shorter the better! ?
If you have never thought of it, you might want to consider what you want me to wear in movies. If you send me the clothing I would be happy to make the movie fast. Other wise just post the idea here in a comment. I will then make the movie as soon as I can.
Knee Socks! Well? Are you a fan of Knee Socks on women? I kind of like them Stockings! and since I got this pair I have started to like them even more. I also love the way they look with shorts and high heels. What do you think? Take a minute to really look at this photo and see if you like them. I think they accent my legs and also my ass very well. Tell me what you think about them and let me know what colors would look best for me. I prefer black!
Do the knee socks look good with my top? I wanted to have something that was a clash of colors so that the photos outdoors would look amazing. I personally think I did well on the choice. Most of the people watching also liked them Skirt! so I was very happy. But what you think is the most important, so please take a minute and make some comments here to let me know.
I know knee socks and heels outdoors are a little silly but I thought it was sexy enough to pull it off. So I also put on a nice top and went out for the shoot. We had a lot of fun that day even though it was a little on the hot side.
Please make sure to message me about what you want to see me wearing. I love to read your messages!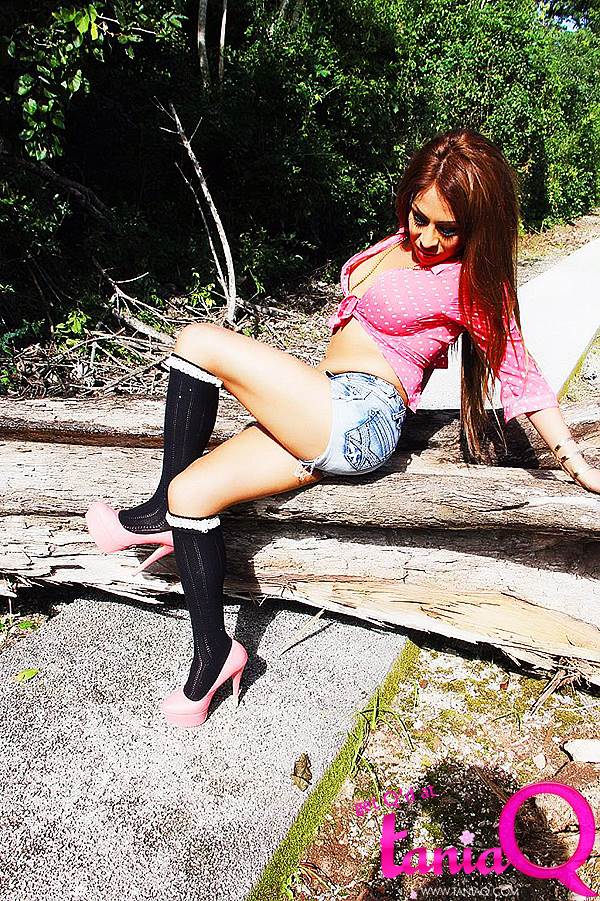 There are so hot many other outfits I plan to wear in future shoots but I want to make sure you enjoy them all. If you join the website right now you can see the rest of this set, as well as a lot of others. Then make a list of what else other than knee socks or Stockings that you want to see me in. And I will of course do my best to post photos and videos of them.
Short Skirt! I for one love them and also everyone of my girlfriends does as well. They love skirts and the short skirt is the one that they always want. For some of us we have motives that are different. Some girls like a nice skirt to show off their legs. Other girls like the skirt to show off their ass! Me, I like a short skirt for easy access.
You can also get into my ass from behind without having to strip my clothes off. Also you can drop down on your knees and suck my cock by just lifting the front of my skirt. Sound like some fun to you? Finally, a sexy skirt just looks very nice! Lets not forget that other ladies also like to look at women in skirts.
I think that part of it is a competition thing. But with a tranny, there Bikini! is no competition. We win hands down because we have something they don't. We have a cock hidden and guys know where to go and look for it. You also know what to do when you find it. Either work it with your hand or your mouth. Because one way or another we want to get off as well.
When you find the right tranny girl in public with a short skirt on, be nice and tell her how great she looks. Also make sure to compliment her shoes and other clothing as well. Most of the girls will be glad to chat with you and you them know this almost always leads to fun!
I know my girlfriends get hot just chatting and talking with men and that leads to wild sexy parties and . Oh wow, Im getting hard. Can you come and re leave my tension in my cock before it lifts my skirt?
Categories
Hot Sites to check out!