Browsing articles in "TaniaQ"
Black Stockings! And some damn sexy lingerie! So, how do you take your black stockings. With or without long legs? In addition to my black stockings I have some nice lingerie in this photo set. So take a few minutes to look this photo over! Let me know what you like the most so I can shoot more photos in that!
Because my fans love the lingerie I like to pose in it for you. I want you to be happy and and horny! So make some comments here and let me know what you want to see. While you enjoy this photo below remember that the ones in my members area are bigger. And also much better quality. This is just a sample to tease you!
Personally I like the look and feel of black stockings or any color for that matter. They are so sexy and feel so good. If you want me to wear something special for you, just let me know what they are so I can get them. Or you could also bring them when we meet! That would be HOT!
I also like the idea of flashing! Maybe I should flash people in an outfit like the one below? What do you thing. So hot and sexy but do you think it would cause problems?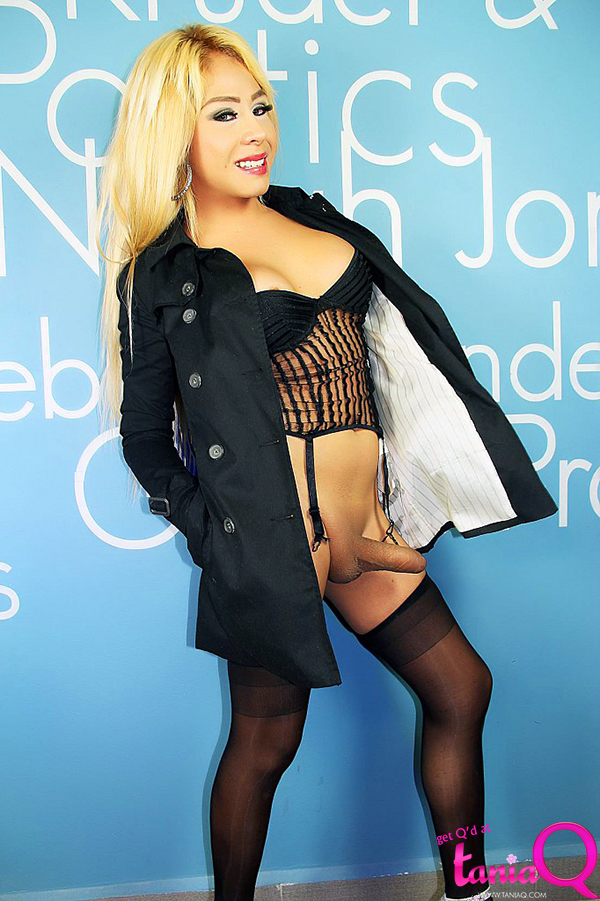 The next time you see a hot tranny in Black stockings or any other color make sure to compliment her on how sexy they look. She will be very happy.
To see the rest of this set of me, Join my site right here and don't miss out. If you have not taste me its about time that you do. So take a minute and join me and then lets hook up soon!
Anal Toy! How big do you like them? So, I am TaniaQ the babe that makes this blog. This site is used for my promotional photos. I love to show them off and need to know what all you want to see. I also want some comments form you. So let go of your cock with 1 hand and make sure to comment here on this site. If its text like ( jheiwjfbjdsb fh ) I will understand. 🙂
First of all. For those of you that do not know me, I am TaniaQ a Mexican Tranny and also a working girl. However with your help on my site I wont be working any more, just filming videos with you. So take a minute to look around here at this site and then check out the members area of my other and official site!
I think maybe your going to love it. All the content was shot in UltraHD! Well almost all of it. Some I shot with a smaller camera to grab some POV action! Check it out today and dont miss any of my updates.
Because I like to please you I want to know what you like in an anal toy! Personally I love a combination of fat and long. But thats only for when Im alone and also masturbating. For cock instead of an anal toy I will take it anyway I can. As long as its Hot with blood and hard!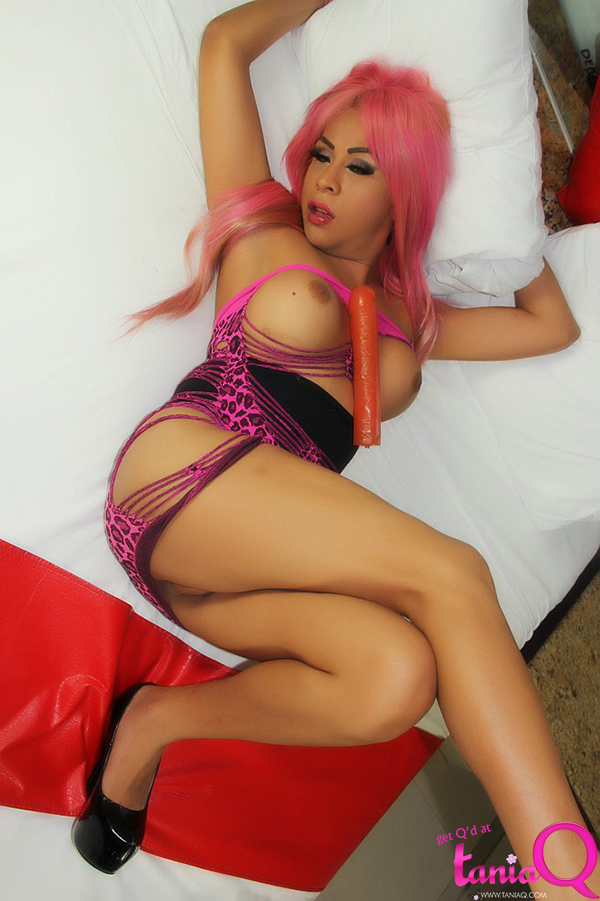 So take a look at the anal toy I have in this photo. If you have one similar maybe we can play together on video. That would be so amazing. I would love to do a video like that for my members area!
Take a few minutes right now to write to me and let me know what you think about my photos and videos. I will reply back as soon as I can. Also drop me some messages in my members area so I can reply there more privately!
Dont miss out on this live action. Your going to love it.
If the Live stream above is not playing:
Choose Firefox > Tools > Add-ons.
Select Plugins.
In the list of Add-ons, look for Shockwave Flash (another name for Flash Player) and check the status that appears to the right of the plug-in name.
Select Always Activate.
Close the dialog box.
White Panties! Sexy Tranny and spread legs! So, do you like white panties as much as most men do? I love to see them and wear them. If you are also into white panties I want to know about it. You need to post here and tell me so we can talk. Talk is hot and so am I and I want you now!
Hi guys, I'm TaniaQ and I wanted to show off some samples of my photos and videos here on my blog. Please forgive me if anything is misspelled as English is not my language and I have someone helping me.
Now, lets get back to talking about white panties! As you can see in the photo below I have on a sexy pair of panties as well as stockings and other lingerie. I was just outside on the blacony messing around and decided to fill the hot tub and jump in! Would you like to join me some time?
Have you ever been with a tranny when she has on a pair of sexy white panties? Stroking her cock with the panties covering it. Stroke until it gets hard and pops out the top and then you can suck the head of her cock? Its a lot of fun and a real turn on and something you might want to try next time your with your favorite tranny! She will love you for it.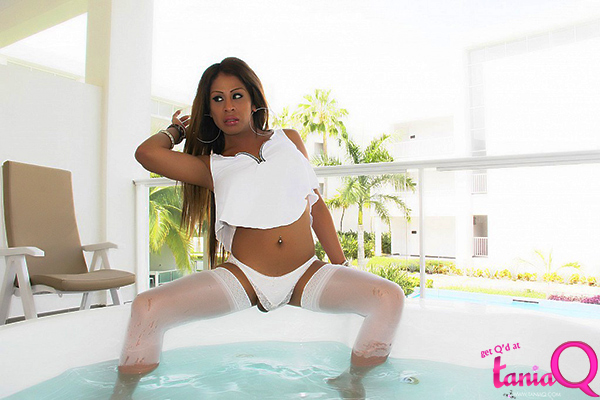 Well If you have not already been into my website now is the perfect time. You had this tease photo and enjoyed it so now its time for me, Naked spread and hard. If you want to meet up we might be able to work something out. So let me know right away.
I love my members and seeing comments from them so make sure to say hi there in the members area and also here on the blog.
Let me know what else I can show you samples of !
XOXO TaniaQ!
Categories
Hot Sites to check out!