Browsing articles in "Skirt"
TaniaQ Tranny Cock! Time to play guys! So I am here in a sexy little skirt and I am thinking about how much fun it would be to play with you. Or rather you to play with me. I have a nice hard tranny cock and I love having guys service me!
So if you are up for some action! And want to get off with me, its time to become a member. Click a link below or the image and join right now!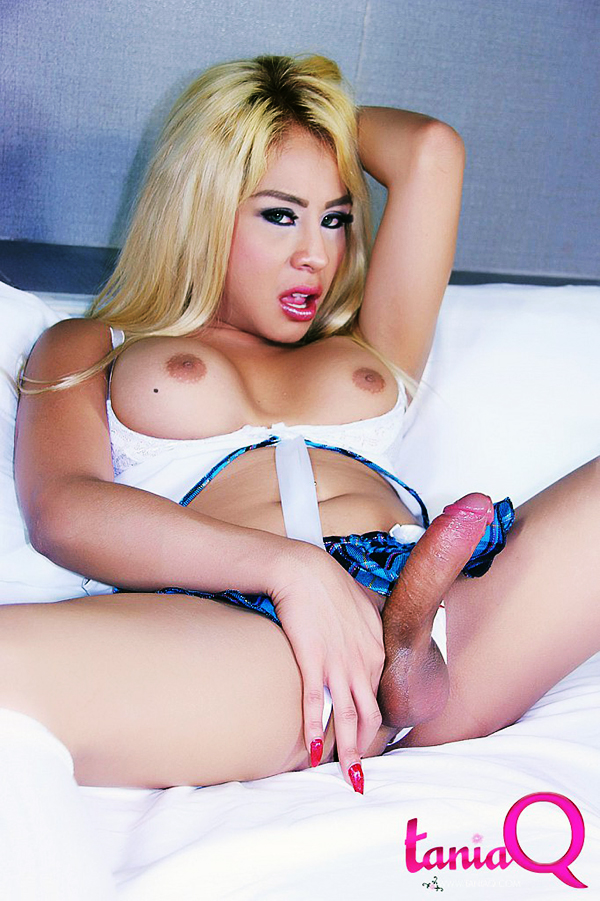 IF you don't yet have your membership you can check out some other samples here on the blog.
Other wise you can join right here and right now and also get off instantly!
Panties! I love panties. The way they hold my cock when I have on a skirt. It feels so sexy. I often end up getting an erection when I have on panties and a skirt! Mostly when I walk any sort of a distance. Then I fan? have to sit down and hide my cock! Until it gets soft again so I can keep walking of course.
I think it has something to do with the way the fabric of the panties caress the head of my cock. It tingles. Some times so much that I end up taking my panties off. But normally I can just wait it out. If that does not do it, I hide my erection with my purse until I can get to the bathroom to masturbate.
That always gives me a 10 to 20 minute window before my cock is hard again. Yes gentlemen its a real turn on to wear them. If you see me in the mall our out in a skirt you can bet I have on panties. Walk by! See if I have a hard on. Make sure to say hello. Be polite and you might get the time of your life. I don't mind flashing my cock in public to fans. So lets see what happens. It might fulfill one of your fantasies. I know it will mine.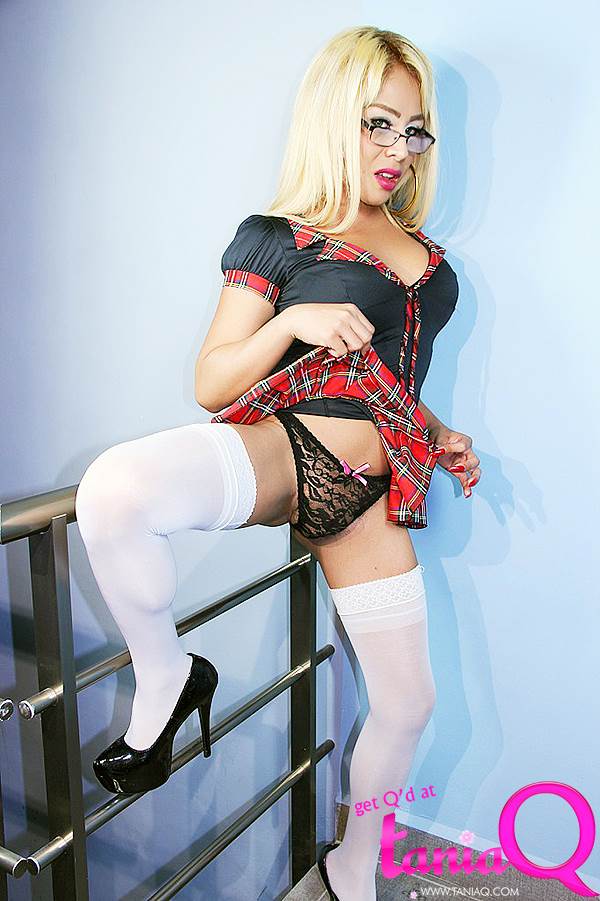 So. What kind of panties do you want to see me in? Or maybe you would rather see me out of them? Also what kind of skirts do you like? For me, the shorter the better! ?
If you have never thought of it, you might want to consider what you want me to wear in movies. If you send me the clothing I would be happy to make the movie fast. Other wise just post the idea here in a comment. I will then make the movie as soon as I can.
Short Skirt! I for one love them and also everyone of my girlfriends does as well. They love skirts and the short skirt is the one that they always want. For some of us we have motives that are different. Some girls like a nice skirt to show off their legs. Other girls like the skirt to show off their ass! Me, I like a short skirt for easy access.
You can also get into my ass from behind without having to strip my clothes off. Also you can drop down on your knees and suck my cock by just lifting the front of my skirt. Sound like some fun to you? Finally, a sexy skirt just looks very nice! Lets not forget that other ladies also like to look at women in skirts.
I think that part of it is a competition thing. But with a tranny, there Bikini! is no competition. We win hands down because we have something they don't. We have a cock hidden and guys know where to go and look for it. You also know what to do when you find it. Either work it with your hand or your mouth. Because one way or another we want to get off as well.
When you find the right tranny girl in public with a short skirt on, be nice and tell her how great she looks. Also make sure to compliment her shoes and other clothing as well. Most of the girls will be glad to chat with you and you them know this almost always leads to fun!
I know my girlfriends get hot just chatting and talking with men and that leads to wild sexy parties and . Oh wow, Im getting hard. Can you come and re leave my tension in my cock before it lifts my skirt?
Categories
Hot Sites to check out!