Browsing articles in "Lingerie"
TaniaQ Tranny Cock! Imagine guys that it is time to play! So I am here in a sexy little skirt and I am thinking about how much fun it would be to play with you. As you can see I am also showing you the TaniaQ Tranny Cock!  Or maybe you would rather play with me. I have a nice hard tranny cock and I love having guys service me!
So if you are up for some action! And want to get off with me, its time to become a member. Click a link below or the image and join right now!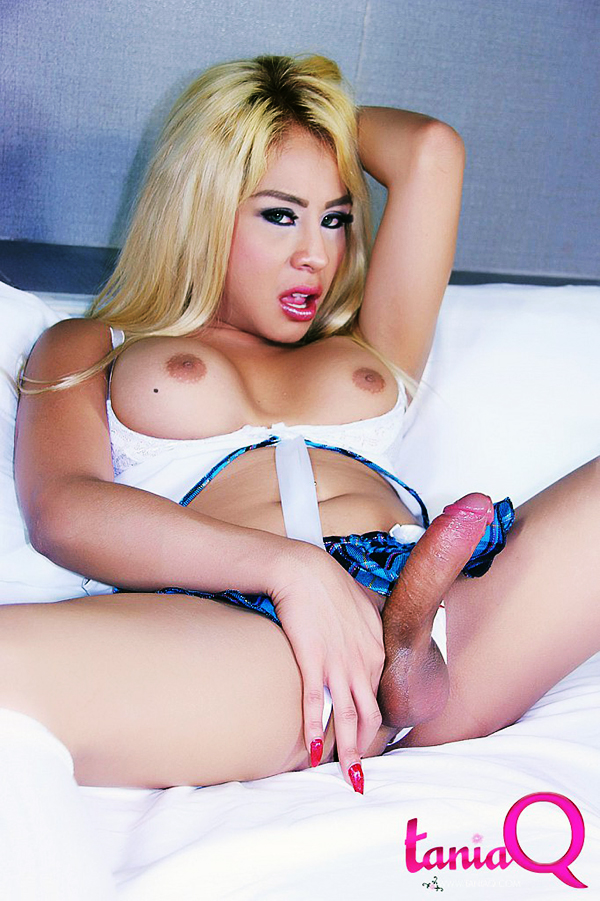 IF you don't yet have your membership you can check out some other samples here on the blog.
Other wise you can join right here and right now and also get off instantly!
Also guys do not forget that you can surf more of my free samples. They are much lower quality than in the members area but they give you a little taste of my love hole and cock.
Do not miss out on this chance to see more and have some fun with me. I do so love to dress up in sexy lingerie to keep things interesting.  Message me as soon as you join and maybe we can even film a movie together!
Sexy Tranny Panties on TaniaQ! Wow. How much do I love sexy tranny panties? So much I wear three or four different ones every day. I love to get them as gifts and also to buy them myself.
So if your looking for a hot gift for me or a sexy tranny of your choice panties is the way to go. Do make sure and ask her the best size as her cock can effect it. Mine does! 🙂
As a matter of fact, the panties that you see me in below were a gift. And I love how shiny they are. They make a nice impression when I wear them under a short skirt. Because as the skirt bounces, you can clearly see the bright purple. I have actually had a few men comment on them.  So the next time you see me in the mall, take a close look and see if I have these on or another pair. If you cant tell, buy me a new pair and I will change right in front of you!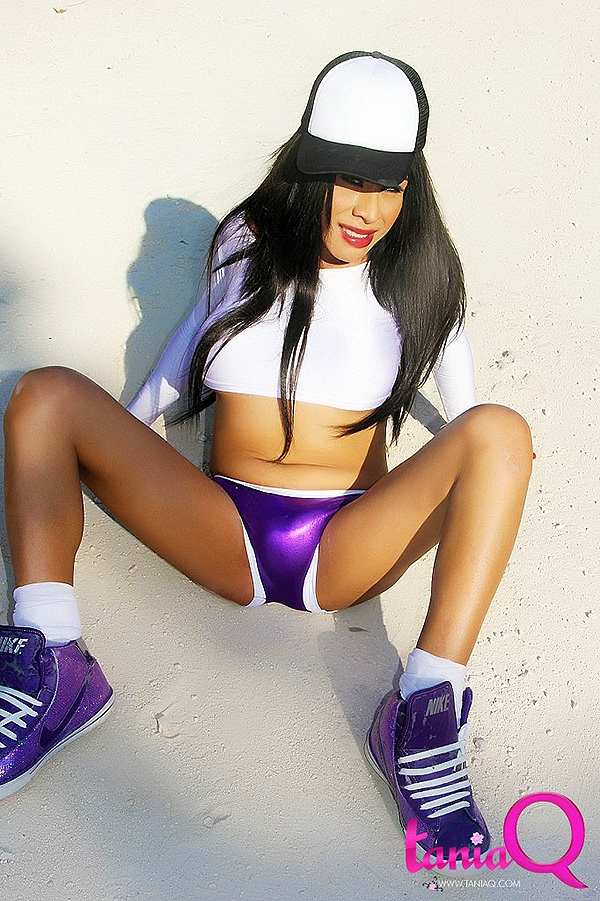 The sexy tranny panties you see me in here were a gift from " Ron " Thanks and also thanks for the new boots!
Click here to join me right now and see the rest of this photo set and also the videos.
Also take a look at some of my other free samples if you feel the need. Right here you can see my tight tranny ass.
TaniaQ flashing cock is nothing new. She almost always has her cock out when she is in public. To most men this idea is super hot and also super sexy!
Just picture this idea! You walk into your favorite restaurant and sit down. You scan the other people in the area and note a petite blonde that is facing you and everyone else. Then you see that she has one high sexy heels and a skirt. If she notices you then there is a 95% chance she will spread her legs and flash her cock right at you. With a demure smile she will then close her legs again to see if you show interest. TaniaQ flashing cock is as much to excite her as it is to excite you!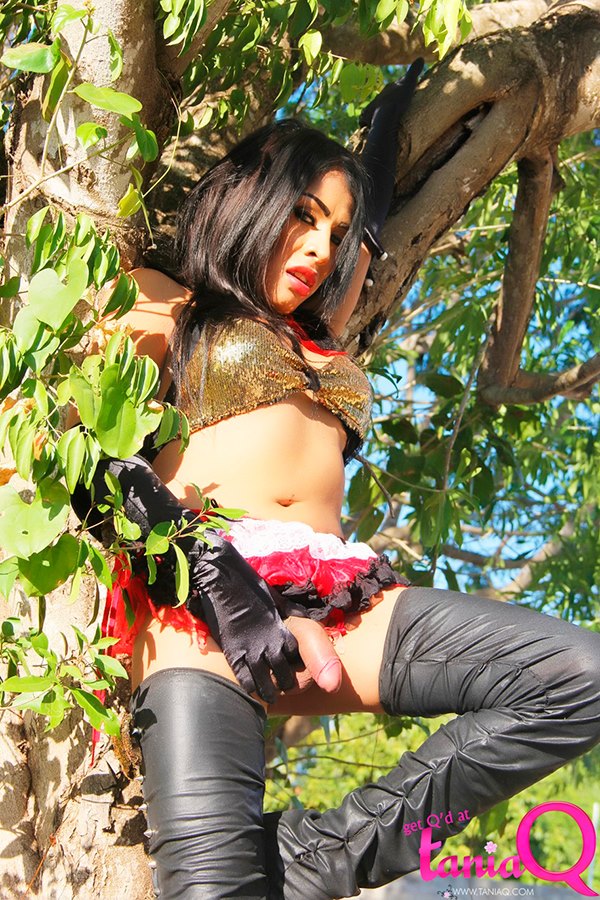 This photo was taken at a park not far from the city center. Because there is no play area its mostly adult and that means you can find TaniaQ here on a regular basis. She actually has several sets she has taken in this park and they are all hot and flashing!
If you want to check out more of TaniaQ then simply click here to see her in sexy panties.
White stockings and tranny cock and oh how you must love this look. TanaiQ loves to wear it and she says that men as for this above all else. The high heels ofcourse helps a lot. But the whtie stockings and tranny cock at the same time is the game changer. Tanaia herself loves the look and also the feel. So when a hot guy asks she jumps at the chance to dress like this for him.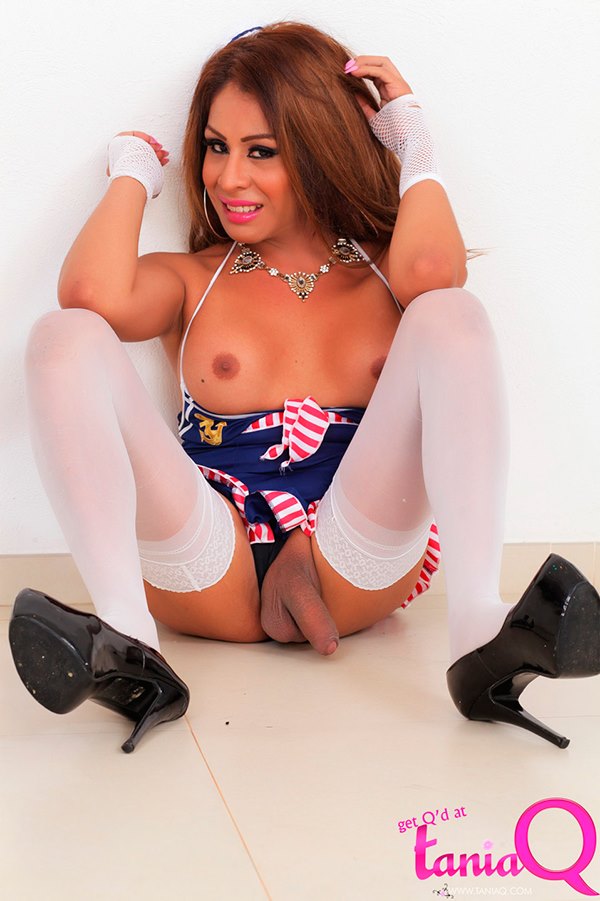 There is never enough tranny cock showing so make sure to enjoy this free sample photo. Tania lets it all hang out and as you can see she has plenty of it to hang.
Click now and check out the rest of this photo set and the twist this set takes. It gets much hotter than you can imagine and you will love it and thank us for it.
Hot Sites to check out!
Categories