Browsing articles in "Ass"
TaniaQ Open ass for sex! Come and get some! Hi guys. Its me TaniaQ and I am back with a new photo set to share. I also wanted to make it an invitation! So sit back and enjoy this sample photo of me in Open ass for sex! I want some cock and it goes right there guys! Right into my title little open ass! So if your hard and you already have your cock out. Its time to get it wet and dip it into my love hole! No NOT hesitate to come and sink your hard cock into my ass hole. I am waiting for you!
Click here to check out more of this photo set. Closeups and all!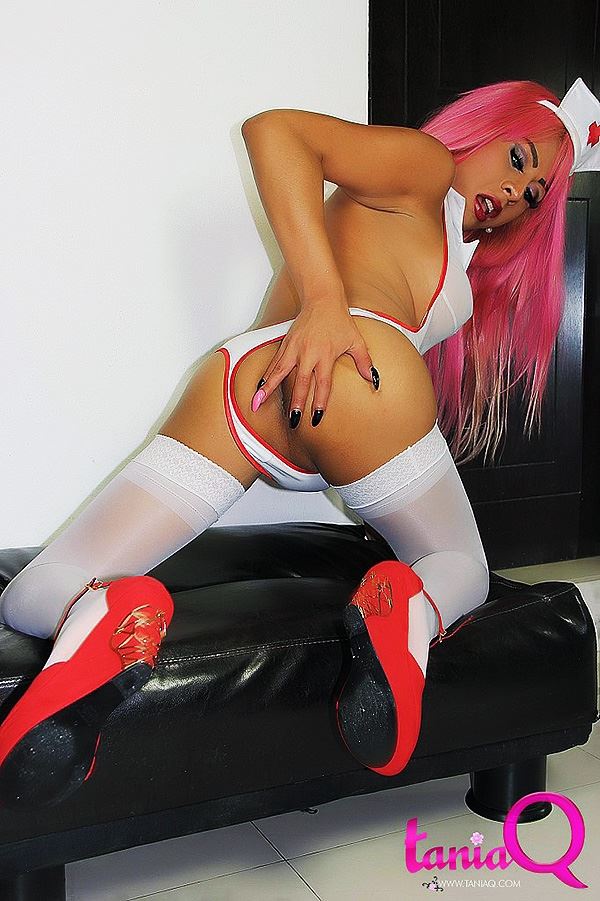 I love getting my ass hammered. And I love to do the same to a tight ass. So come and visit me and let me know how hot you got with this set. Then we can talk about who will top who!
I hope to see you in my members area today. You really do not want to miss my updates!
Click here to join me and also to rate and comment on my sets.
Otherwise you can surf more samples of me on this website right here!
Fuck my tranny ass please. Its time for me to get some big cock into me again and I hope that its yours. I can tell that you are hard and you have your cock in your hand right now. Stroking and squeezing your cock as your hand passes over the head. You are looking at my photo and I need you to come and fuck my tranny ass before you shoot your load. Yes baby. Pump my hole with your love rod and spill your man cream deep inside me!
Do not shoot that load just yet. Hold it back. Don't take your eyes off my love hole. But don't cum. Feel that pressure build up in your balls while you also imagine sinking that head of your cock between the lips of my ass. Push deep and hard. Make sure your hips touch my ass. Push.
Click here to see more photos from this set. Get your cock into my love hole!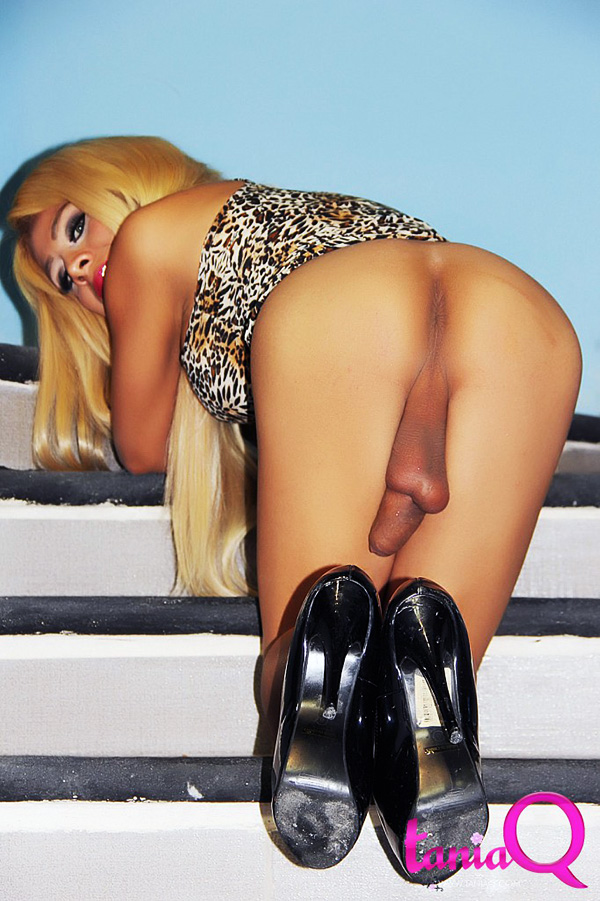 If you are almost ready to shoot your load then its time to get into my members area so you can see this movie. We can then shoot our load together.
Otherwise you can click around here on this blog for more Sexy Shemale photos of me!
Well as you can see in the image below TaniaQ's Thong panties do not hold anything in place. But holy hell do they ever look sexy! For those of us that are into Thong Panties this pair is amazing. White and small with a very small string. They go right up her tight tranny ass. Do we care if they actually function as regular panties? No we dont. In fact we dont really want them to. Thong panties are supposed to be super sexy. And this pair clearly is.
Click on the image below to see more of the samples from this set of Tania And her lingerie.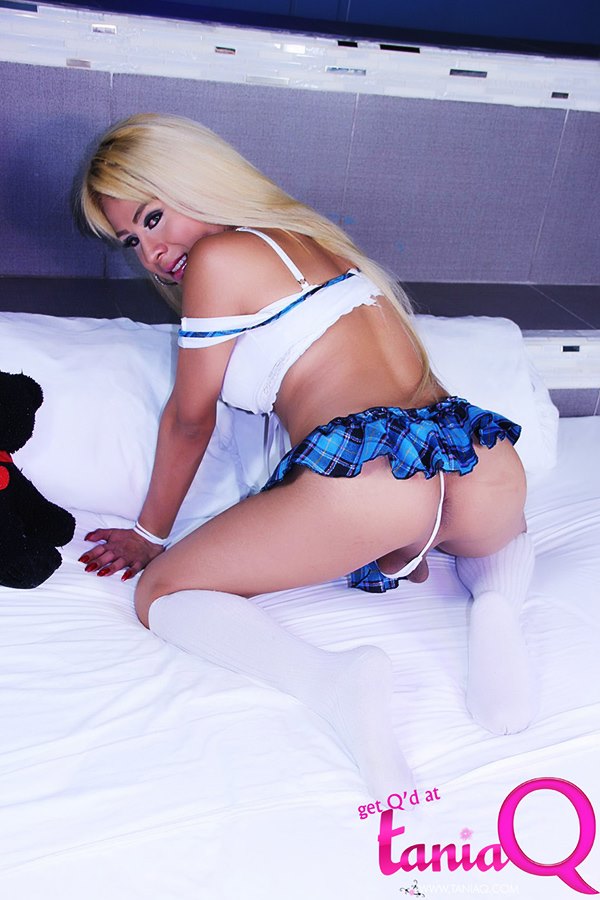 When you look at the super short skirt. Those sexy white socks or stockings and then the panties. Well you can tell that Tania is ready for some fun. So you simply have to ask yourself. What would you do? How would you get things started?
Tania is not only a top but she is also a bottom. Versatile is what its called. She loves to have a man take charge but if you want her to direct the action she will. And with that big love wand that gets nice and hard the action is a lot of fun!
Upskirt Anal with TaniaQ! Yes TaniaQ loves anal like any good tranny does. It's so hot Getting fucked in the ass upskirt anal is Tania's favorite, or fucking you in the ass makes life complete!  So you have to work out who is going to top first. Dont worry it will go both ways. However Tania does tell us one of the things she likes the most is to fuck with her clothes on. So you can get up behind her with your erection and slid it into her awaiting tranny ass and fuck her hard.
Make sure to reach down and pull on her cock. She loves being jacked off nice and hard. Then sit her on top of your cock and stroke her love wand until she shoots a nice big load all over your chest.
Click here right now to join this site and see her members area!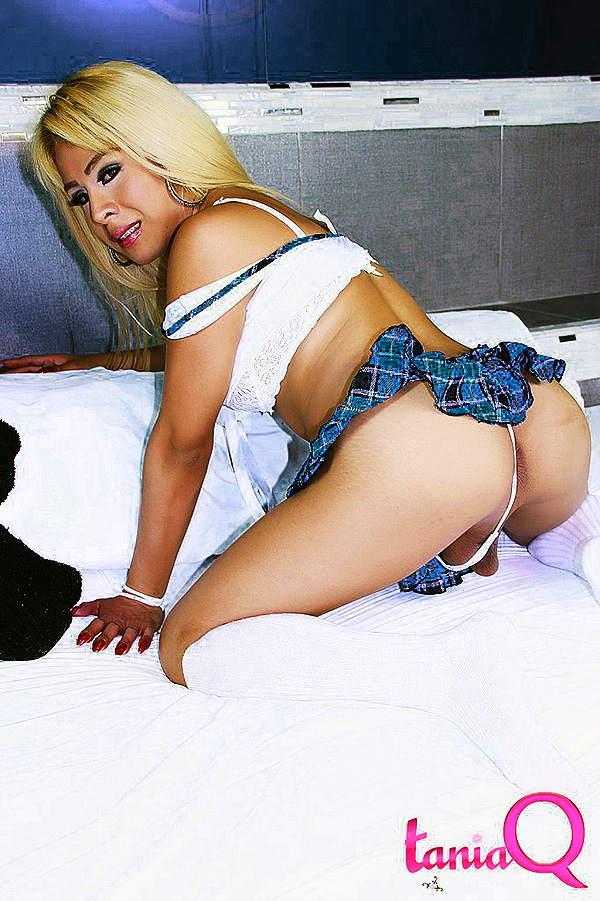 You can also click here to see more samples on this blog of the amazing and sexy TaniaQ!
Do NOT miss this chance. You might also get the chance to meet up with Tania! Just message her that you have arrive in her members area!
Tania is waiting for you right now.
Click and join!
Hot Sites to check out!
Categories